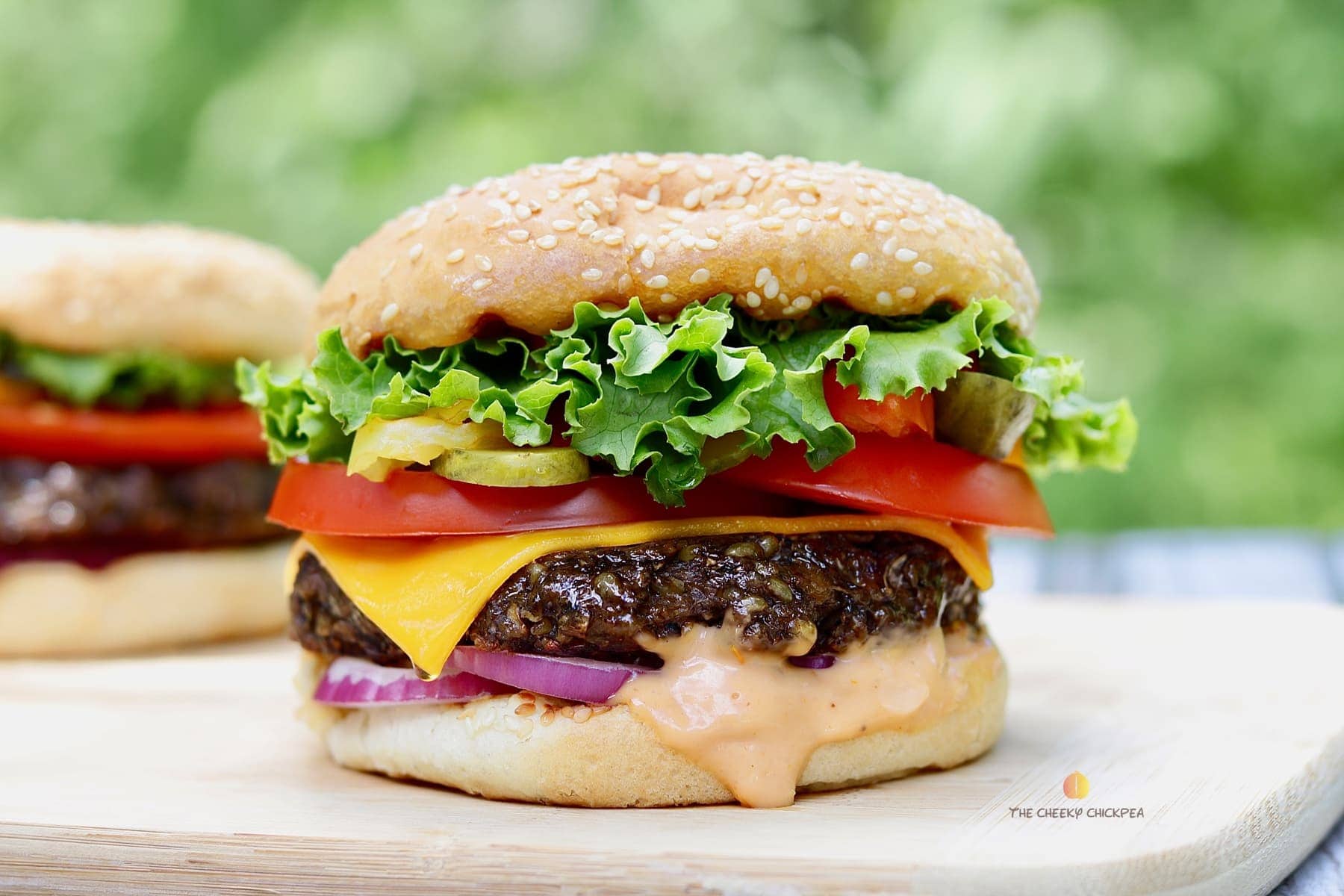 Best Vegan burger Recipe you say!? OH Yah I say! These burgers are made with a lot of flavour and a lot of love, Yup- definitely a labour of love. I have been trying to make an amazing, juicy, won't fall apart, grillable, delicious vegan burger for ages now! and …I think I nailed it!! Thank you Vegan Burger Gods! I was seriously about to throw in the towel.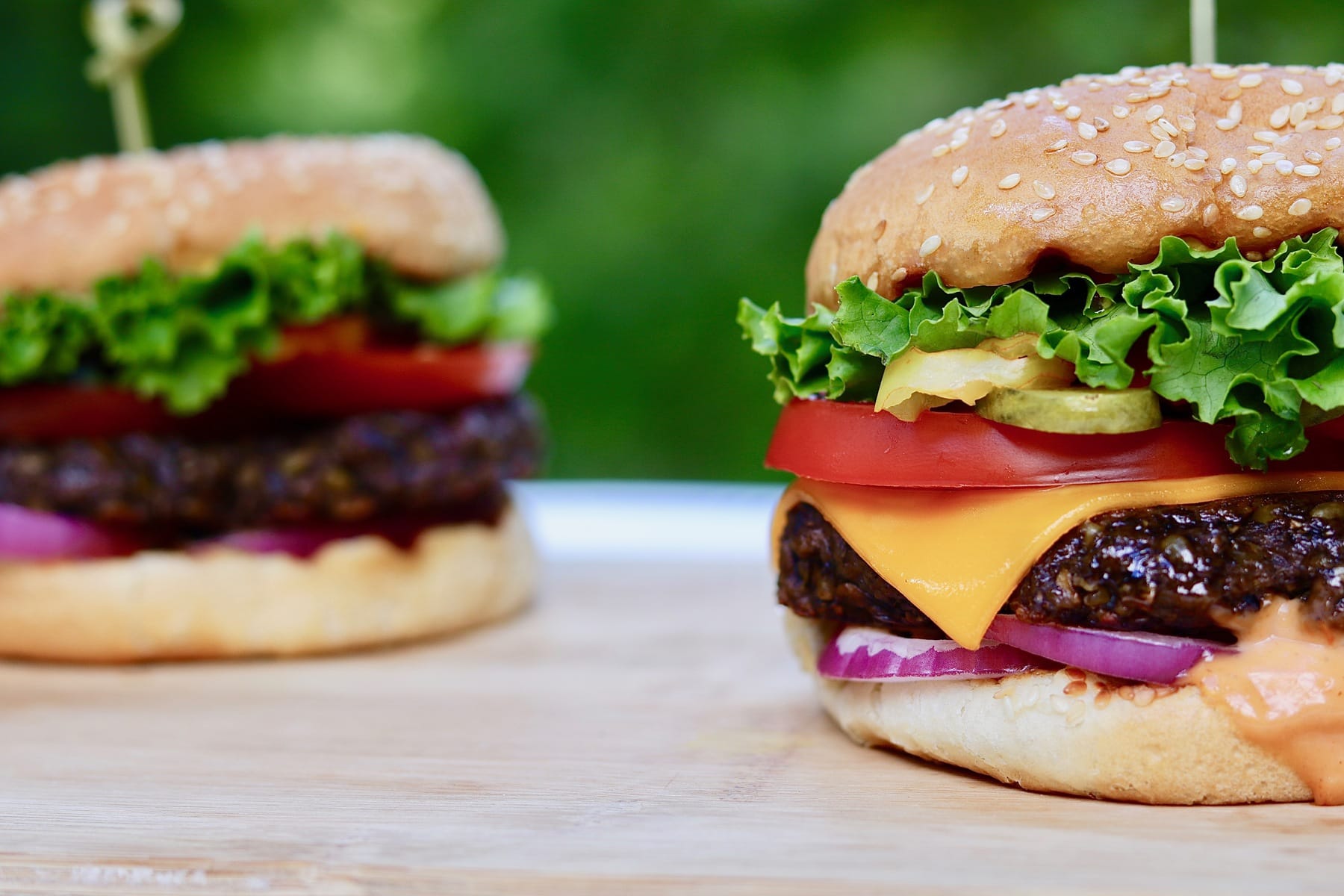 This recipe is easy to make and the patties freeze beautifully . I start by soaking my whole grain bulgur in boiling water, and setting aside for at least 30 minutes. Next get your food processor in action. I add the mushrooms in three batches, you want the size pretty small but not all mush (See video below). Then start adding all your seasonings and liquids. When your bulgur wheat, is ready drain it well, toss it in and give it all a mix. Lastly incorporate your Vital Wheat Gluten and then mix by hand for 2-4 minutes ( 2 usually does it). If your mix seems a little wet, it's all good !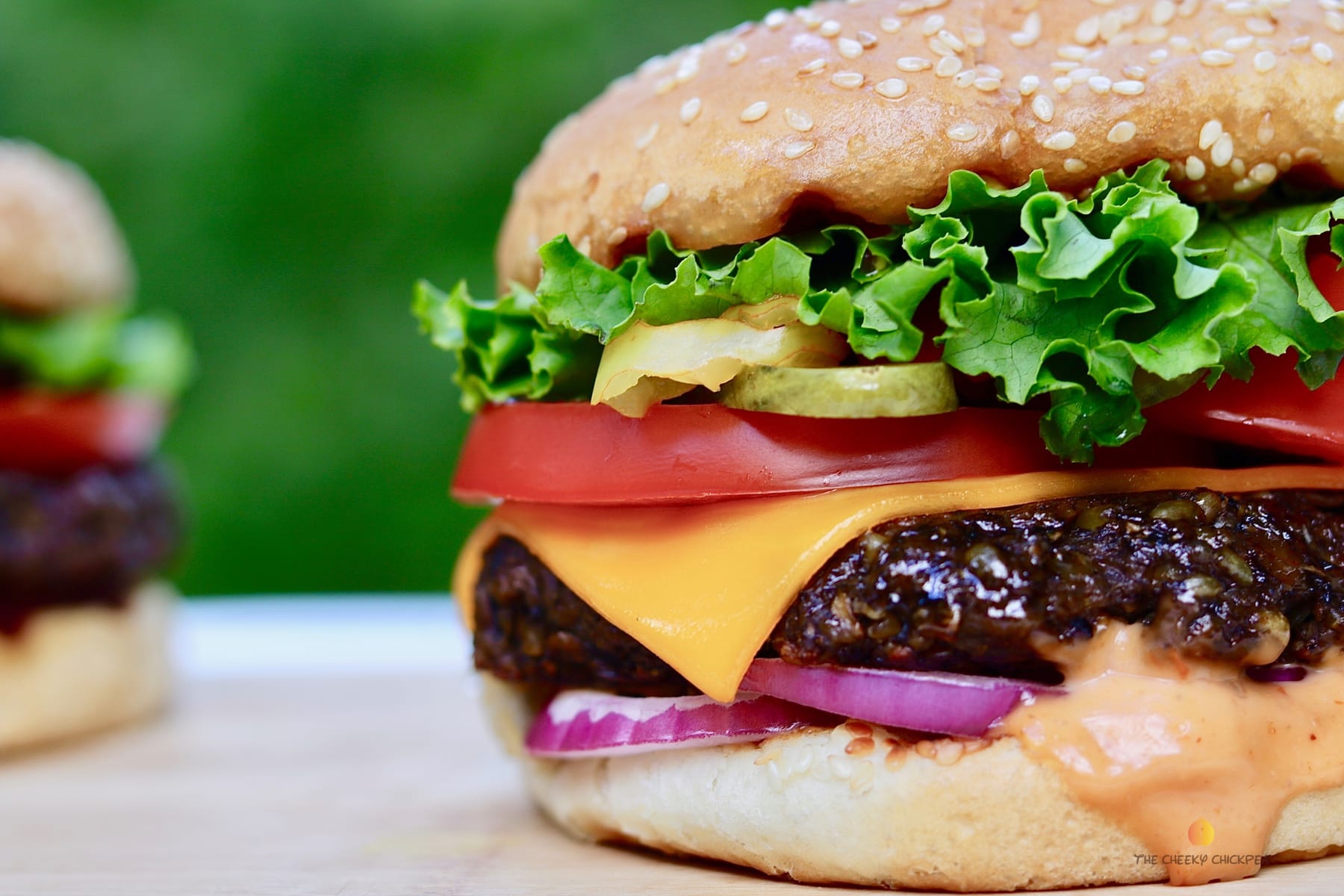 You can cook these patties in advance, chill in fridge ( for later) or freeze then reheat on bbq, oven or frying pan. They will be just as moist and delicious !! So there you have it cook up a batch, toss in your freezer for your next Bbq. If you can't find Vital Wheat Gluten in your grocery store, check your health food store or find it here. You can also find Worcestershire sauce here and Bulgur here. That's it people, go pull out your food processor and get cooking!
These vegan burger patties are:
Amazing
Juicy
Delicious
Slightly chewy
they won't fall apart
Savoury
Grillable
Satisfying
Burgerlicious
my favourite burger
Enjoy you Guys! Happy Day😊
Feel free to comment below. Your feedback is greatly appreciated!
Check out the Vegan Burger Recipe Video below👍
Print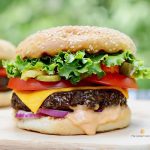 Best Vegan Burger Recipe
Author:

Prep Time:

30 minutes

Cook Time:

25 minutes

Total Time:

55 minutes

Yield:

8 to 10 burger patties

Category:

mains
---
Description
Best Vegan Burger Recipe you say!? OH Yah I say! These burgers are made with a lot of flavour and a lot of love.
---
Ingredients
BURGER MIX
1 and 1/2 lbs white or brown mushrooms ( approx 700 grams)
medium onion ( diced small)
1 tbsp oil ( for onions)
1/2 cup Bulgar Wheat
1 cup water ( for bulgur wheat)
1 and 1/2 cups Vital Wheat Gluten
2 tbsp tamari
1 tbsp Bbq sauce ( I like Bulls Eye Bold Original)
2 tsp boullion paste ( I like "Better than Bouillon Vegetarian No Beef Soup Base")
1 tbsp refined coconut oil ( for burger mix)
2 tsp Worcestershire sauce ( I like 'Annies' or "The Wizards")
1/2 tsp liquid smoke
1 tsp salt
1/2 Tbsp Chili powder
1/2 tsp cumin
1/2 tsp granulated garlic
BURGER TOPPINGS  😄
8 – 10 Burger buns
Ketchup
Mustard
Tomatoes
Red onions
Pickles
Hot banana peppers ( I love them 😄)
Vegan cheese ( opt) ( see notes*)
Lettuce
And whatever else floats your boat👍
---
Instructions
Heat up small skillet, med heat, add little oil, S&P and saute your onions, 5 minutes or so set aside
Add bulgar to soup bowl, add 1 cup boiling water, cover,  set aside 30 minutes
Pre heat oven 350°
In Food Processor, processor your mushrooms in three batches, making them quite small, but not mushy ( see video), add to large mixing bowl
Add sautéed onions, seasonings and liquids.
Add Bulgar when ready( don't worry it will be very chewy, thats good)
Mix it all up
Add Vital Wheat Gluten mix it in and then mix by hand for 2 – 4 min ( 2 is probably good😊)
Form 1/2 cup patties on  lightly oiled large non stick sheet tray. Spray tops of patties lightly with cooking spray.(opt)
Bake 25 min, flipping burgers halfway through
Remove from oven add cheese and broil couple of minutes ( opt)
 Grab a Burger, Toast or grill bun (opt)
Build your Burgers
Enjoy !!
REHEAT FROM FROZEN:
OVEN: preheat 350° cook 5-7 min each side.
STOVE TOP: cast iron or non stick skillet, med heat, tbsp or so of oil, 3-5 min each side.
GRILL: med/high heat, lightly  oil burgers, 3-5 min each side.
---
Notes
I like Follow Your Heart vegan cheeses, the Jalapeño Havarti is really good, cheddar is too, and I like the Daiya Jalapeño Havarti as well, and its cheaper.
Nutritional Chart below is calculated without the Vital wheat Gluten as gluten levels change.
It is calculated with 1 and 1/2 cups whole wheat flour instead
Keywords: best, vegan burger, grillable, best ever, easy, simple, won't fall apart, best, juicy, flavour, delicious, amazing, recipe, love,