This easy vegan hot dog recipe is my vegetarian alternative to real hot-dogs made of seitan that taste incredibly authentic, juicy meaty and better than store bought vegan frankfurters by far! Makes 16 regular wieners or 12 jumbo size. Perfect for potluck or bbq.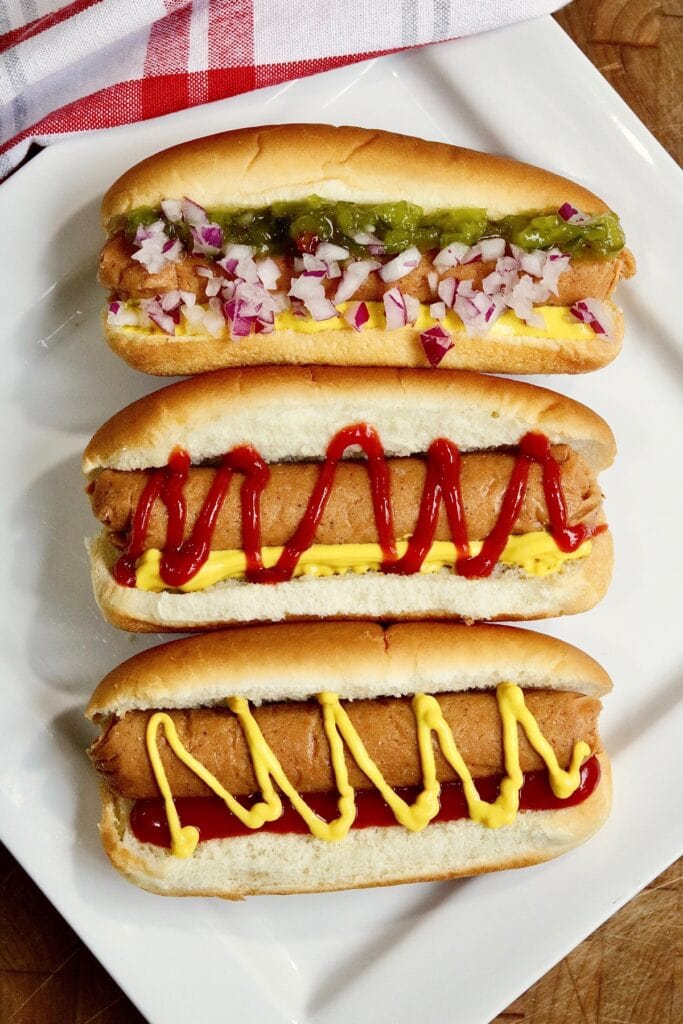 Wait until you taste these homemade vegan hot dogs!! Wow!! I was so impressed with how these turned out! The flavour is amazing. Adapted from my vegan ham recipe
Jump to:
What are vegan hot dogs made of?
These plant based hot dogs are made of tofu and vital wheat gluten which is what is used to make seitan (learn more about seitan in the FAQ section below) The taste and texture is bang on!! I'm so excited to share!!
Honesty you'll think you're eating a real hot dog! Your family & kids will request these often I guarantee it!
Best of all these meat free hot dogs are super affordable, healthy and tastier than your local store bought veggie brands: field roast, lightlife, tofurkey, etc.. ( even Ikea!) and of course the classic real meat variety, chicken beef or pork.
This seitan recipe makes a lot to serve a crowd, can be frozen for when you're craving a hotdog or a quick and easy lunch for the kiddos
Don't be intimidated this is a super simple recipe most of the ingredients are spices!!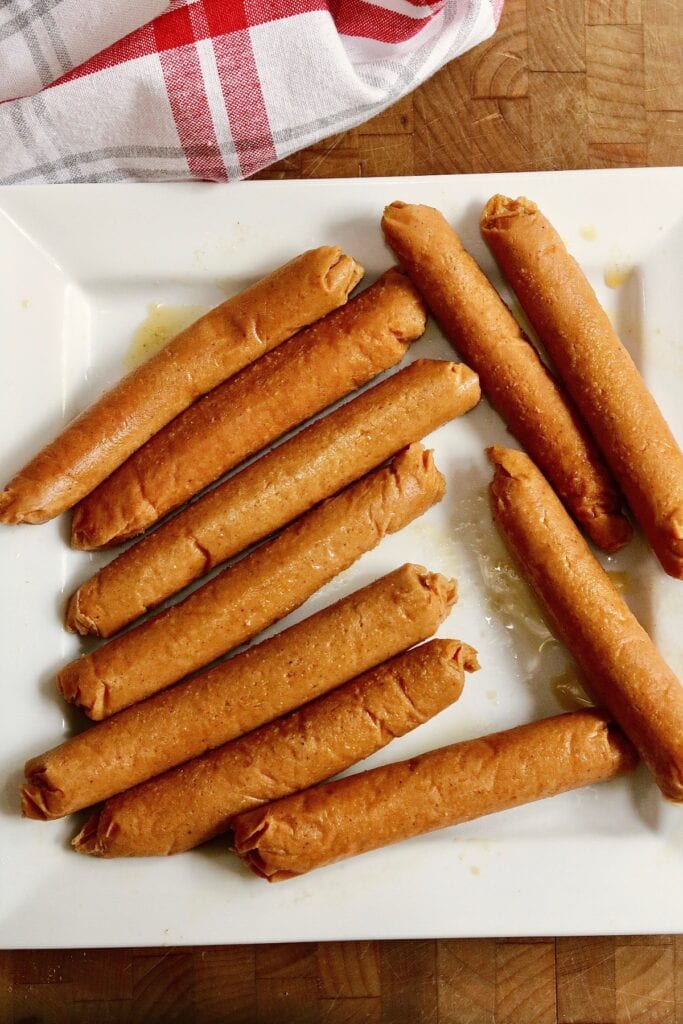 Ingredients needed:
Tofu: adds soy protein, texture, moisture and flavour
Vital wheat gluten: essential for this recipe binds evening together
Bbq sauce: adds wonderful flavour!
Nutritional yeast: a must for umami
Liquid smoke: adds subtle smoky taste.
Sesame oil: makes them juicy and moist
Spices: to mimic hot dog taste: celery salt, allspice, paprika, garlic and onion powder, coriander, salt
Tamari: savoury and salty addition
Mustard and apple cider vinegar: unites the flavours
Vegetarian bouillon: adds depth of flavour, I used better than bouillon no chicken soup base
How to make vegan hot dogs:
You'll be surprised how easy and delicious this homemade hotdog recipe is!
To make the seitan dogs: Add tofu and rest of ingredients to food processor. Puree.
Add the vital wheat gluten mix until just combined
Shape Into a loaf
Knead dough 20-25 times. Portion into 12-16 pieces.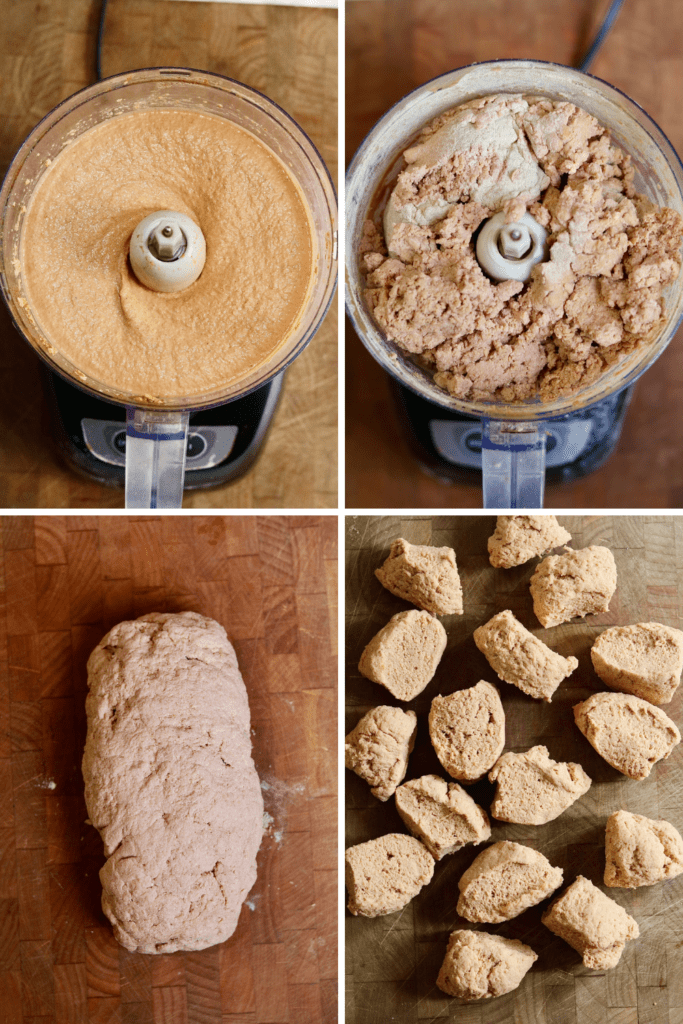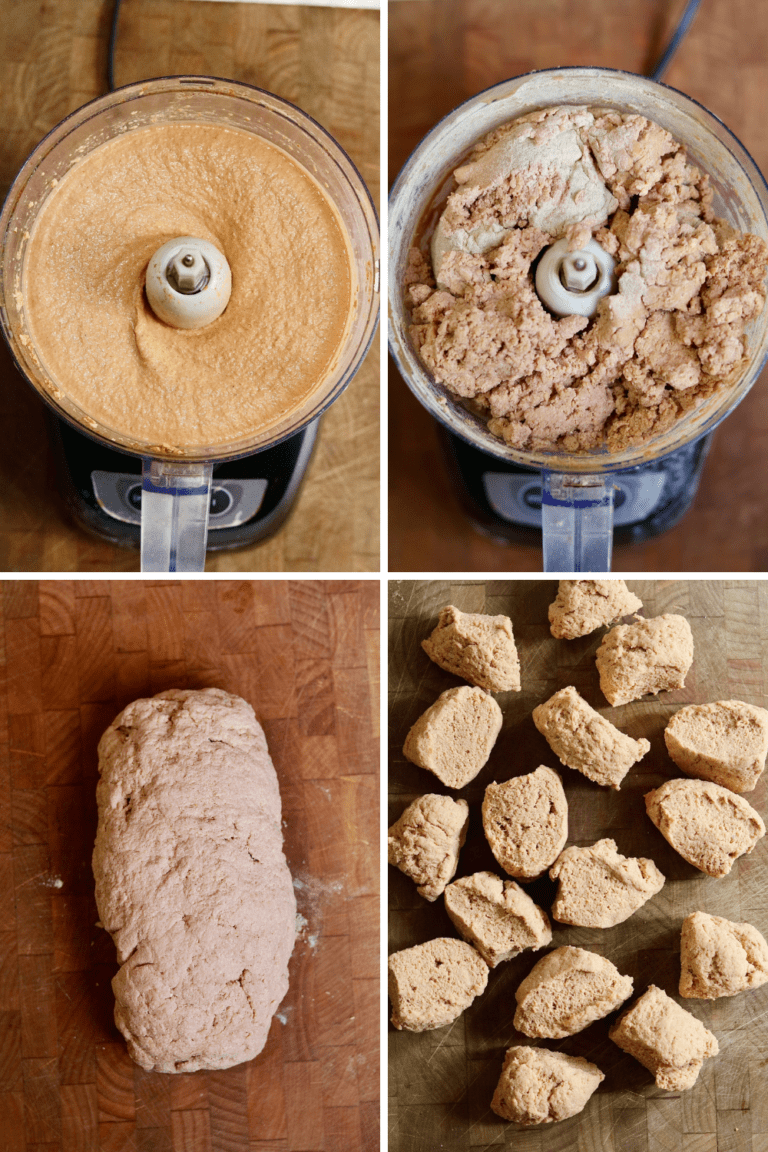 Roll each one in tinfoil, tootsie roll style
To cook them: Steam for 30 minutes
Add to large freezer bag with marinade for couple hours or overnight
Hot dog toppings and sides:
Here's some ideas on what to put on your veggie dog and summer potluck sides to serve with them!
Sauerkraut and regular or dijon mustard, mmm
Make it a chili dog! Top with vegan chili, diced red onions and drizzle of cheese sauce, oh yay!
Classic: hot dog relish, mustard and ketchup!
Chicago dog: yellow mustard, bright green relish, diced onions, sliced tomatoes, pickles, and pinch of celery salt!
or just on a plain bun with butter or with ketchup like my grandkids eat them❤️
Sides: Enjoy with sides like: corn on the cob, watermelon, potato salad ,coleslaw pasta salad, ramen salad, corn salad, fruit salad -so many choices!!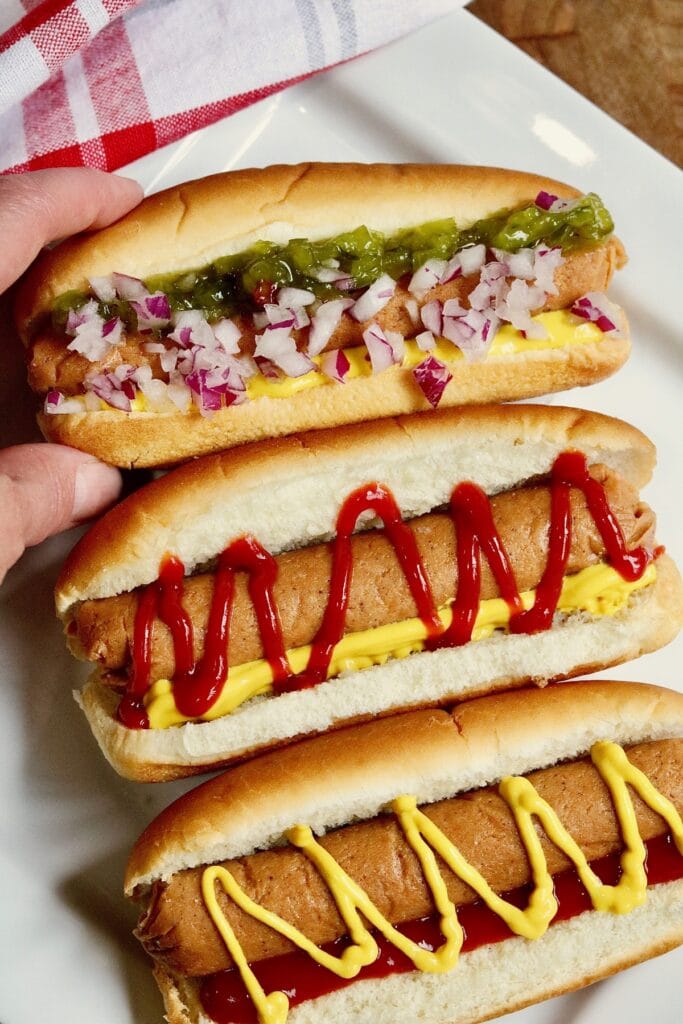 FAQ:
Can you freeze vegan hotdogs?
Absolutely they freeze beautifully just wrap individually and store in a freezer bag or sealed container or freeze in the marinade
Are vegan hot dogs healthy?
Yes I'd say they are a healthier choice compared to real meat dogs which are definitely bad for you. But you still need to check back label for ingredients and sodium levels. Homemade vegan dogs are the way to go in my opinion! Like my recipe😊
Do vegan hot dogs taste good?
Yes my homemade hotdog recipe is awesome and super tasty!! and some store bought brands are better than others. I like field roast frankfurters or tofurky dogs
Can these be made gluten free?
No, this meatless hot dog recipe needs vital wheat gluten to hold together
Where can I buy vegan hot dogs?
Almost all grocery stores like Whole Foods, Trader Joes and super stores like Walmart and Costco, carry a variety of vegan hot dog brands like field roast, lightlife smart dogs, tofurky, Upton, etc…
What is vital wheat gluten?
Vital Wheat Gluten is made from wheat. It is made by washing the wheat flour with water until all the starch has been removed. And you are then left with the gluten which must be cooked before eaten.
What is seitan?
Seitan is a vegan meat substitute made using vital wheat gluten. It is sometimes referred to as "wheat meat"
Tips for success:
Don't over work the seitan dough or the hot dogs could be tough
make the optional marinade for an awesome flavour boost and for extra moisture
Keep the tin foil as smooth as possible when rolling as the frankfurters will take on the rolled shape when they cook and expand to fit the wrapper tightly
Let hot dogs firm up in fridge for at least and hour or two or overnight for best texture (and flavour if using marinade)
If hot dogs are to wide to fit in steamer cut of a little on each twisted end ( I always do this)
This vegan hot dog recipe is:
fun and simple to make
juicy and meaty
healthy
super tasty
kid approved
a must for potluck or bbq!
More vegan meat recipes:
Enjoy everyone! Happy Day! Please feel free to comment below and give this recipe a rating. Your feedback is greatly appreciated!
Follow me on PINTEREST and INSTAGRAM for more tasty Plant Based & Vegan Recipes❤️
Subscribe here for free weekly recipes delivered right to your inbox! No need to scour the internet. Your one stop shop for recipes is here😊 No spam I promise!
Print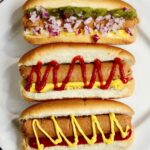 Best Vegan Hot Dogs
---
Author:

Verna

Total Time:

45 minutes

Yield:

12

-

16

hot dogs

1

x

Diet:

Vegan
Description
This easy vegan hot dog recipe is my vegetarian alternative to real hot-dogs made of seitan that taste incredibly authentic, juicy meaty and better than store bought vegan frankfurters by far! Makes 16 regular wieners or 12 jumbo size. Perfect for potluck or bbq.
---
For hot dogs:
1

-

400

gram package extra firm tofu

⅓ cup

water

2 tablespoons

toasted sesame oil

2 tablespoons

bbq sauce*

2 tablespoons

maple syrup

1 tablespoon

vegetarian better than bouillon no chicken soup base

1 tablespoon

yellow mustard

1 tablespoon

liquid smoke

1 tablespoon

tamari or soy sauce

2 teaspoons

apple cider vinegar

3 tablespoons

nutritional yeast

1 tablespoon

paprika

2 teaspoons

granulated onion (powder)

1 teaspoon

granulated garlic (powder)

1 teaspoon

salt

1 teaspoon

ground coriander

¾ teaspoon

celery salt

½ teaspoon

allspice

1

and ½ cups +

2 tablespoons

vital wheat gluten
a couple drops red food colouring (optional for colour)
Marinade (optional)
1 cup

boiling water, from kettle

1 tablespoon

apple cider vinegar

2 teaspoons

tamari or soy sauce

2 teaspoons

vegetarian better than bouillon no chicken soup base

½ teaspoon

celery salt

½ teaspoon

granulated onion (powder)

¼ teaspoon

allspice
---
Instructions
To make: Drain tofu wrap in layers of paper bowl squeeze out extra moisture with your hands. Break into chunks and add to food processor with rest of ingredients EXCEPT GLUTEN and process until smooth like a puree
Now add vital wheat gluten evenly over the top and mix until just combined, it's ok if you see a bit of flour on top.
Turn seitan dough onto counter and knead 20-25 times and form into a loaf. Slice loaf into 4 pieces. Portion each piece into 3-4 sections. Tear off 12-16 pieces of tin foil approximately 6 inches wide. Roll each piece of seitan into a sausage shape roughly the same length as s hot dog bun. Wrap each wiener in the tin foil by rolling up tootsie roll style and twisting the ends.
To cook: Stack them in a steamer insert of a steamer pot. Trim the twisted ends slightly if needed to fit. Fill the base of the pot with water making sure it doesn't touch the steamer insert. Cover and steam for 30 minutes (I steam on medium heat) While they are cooking mix marinade ingredients in bowl
When cool enough to handle unwrap them (at this point they are cooked and can be eaten) Add frankfurters to a large zip lock freezer bag with the marinade.
Squeeze out excess air, seal bag and refrigerate for at least 2 hours or overnight for best flavour and texture.
To serve: Remove from marinade. Pan fry or grill with little oil or microwave them! Enjoy in a hot dog bun with your favourite toppings. Makes 12 jumbo dogs or 16 regular size.
Will keep covered in fridge with or without marinade for up to 5 days and freeze well also with or without the marinade. For step by step photos, Tips, FAQ, and serving suggestions see above post
Notes
Don't over work the seitan dough or the hot dogs could be tough. When kneading the dough it should just start to come together and firm up that's when you stop.
Keep the tin foil as smooth as possible when rolling as the frankfurters will take on the rolled shape when they cook and expand to fit the wrapper tightly
Nutritional chart is calculated without the marinade
can sub ketchup for bbq sauce
Adapted from my vegan ham recipe
Prep Time:

15 Minutes

Cook Time:

30 Minutes

Category:

Mains

Method:

Food processor / Steamer pot

Cuisine:

American, Canadian
Keywords: vegan hot dogs, vegan hotdogs, veggie dogs, seitan dogs