Make these restaurant-quality vegan Hibachi Noodles at home in just 15 minutes! Noodles are tossed in a garlic and umami-loaded sauce, giving you a deliciously rich and indulgent dinner in no time.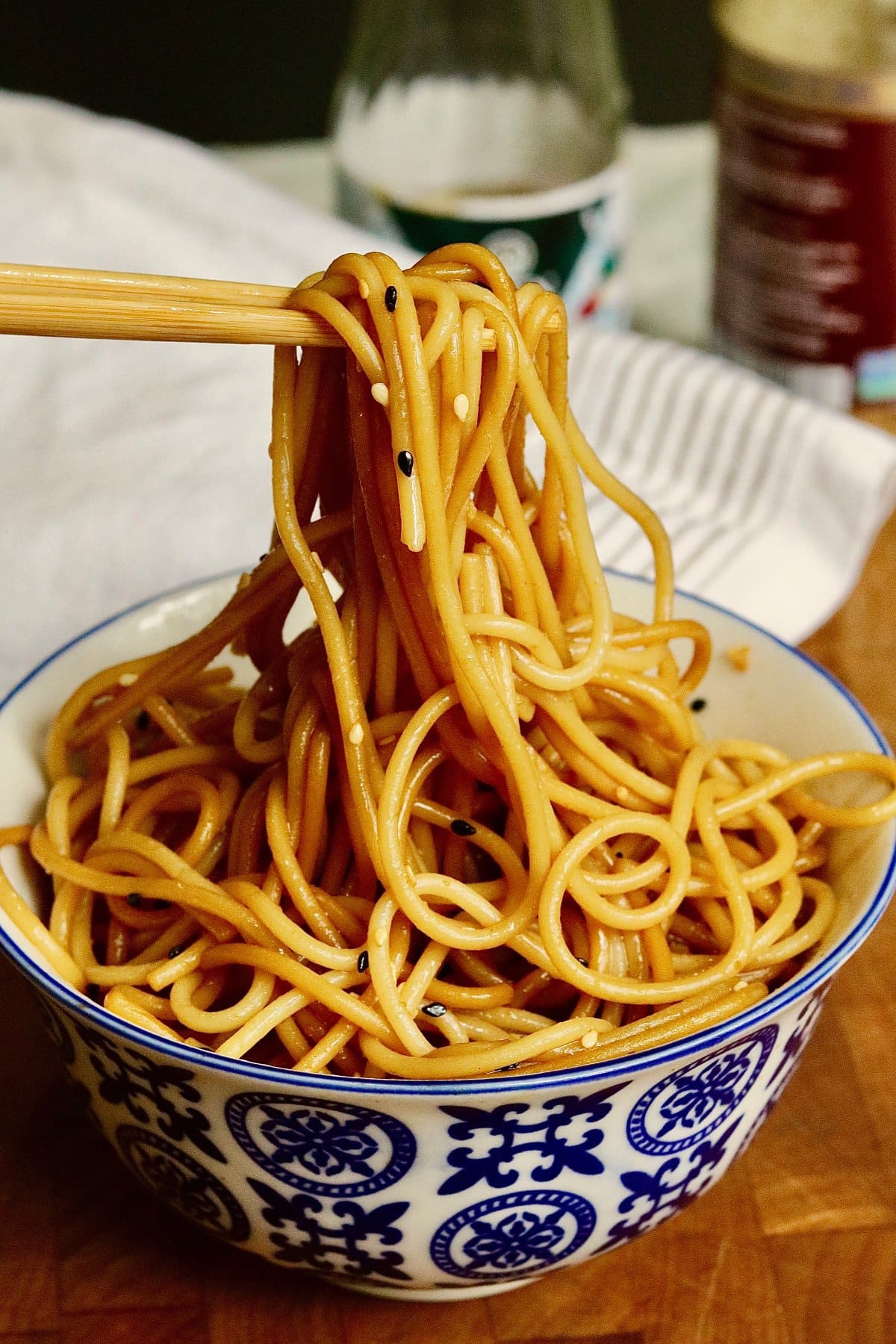 After living in Vancouver, Canada and loving everything I ate at the local Japanese steakhouses, I knew I had to recreate all of my favorite hibachi-style dishes at home. The flavors of their noodle dishes are still with me after all of these years!
The memories came flooding back after I first tried these vegan Hibachi Noodles (Japanese Steakhouse Noodles). Made with noodles and a buttery, umami-flavored sauce, they may even be better than the restaurant version! It also doesn't hurt that the ingredients are easy to find, inexpensive, and vegan-friendly.
Just like my Peanut Noodles and Teriyaki Noodles, these Japanese-inspired hibachi noodles are so easy to put together and are perfect for dinners, lunches, and meal prep. Plus, they'll cost you way less than what the steakhouse charges.
Jump to:
What is hibachi?
"Hibachi-style" cooking gets its name from the portable Japanese cooking tool, the hibachi grill. This type of grill is heated with charcoal and has heat proof grates on top. While "hibachi-style" is used to describe the type of cooking you'll see in many Japanese-American steakhouses (on a large electric griddle), like Benihana, the proper term is actually known as "teppanyaki grilling".
Chefs who practice teppanyaki grilling will slice and dice on a hot griddle while customers sit around the cook top. Hibachi noodles are traditionally stir-fried on the griddle but this inspired version skips this step and substitutes it for a simple stovetop method instead.
What kind of noodles are best for hibachi?
Hibachi noodles are traditionally made with yakisoba noodles. This is a long, flat noodle made of wheat flour. If you can't find yakisoba where you are, make your hibachi noodles with any other long wheat, rice, or gluten free noodles you love.
Ingredient notes
Noodles - If you want to keep this recipe as authentic as possible, look for yakisoba noodles at Asian markets or in the International aisle at major grocery stores. Otherwise, feel free to use spaghetti, linguine, ramen, or udon noodles instead.
Vegan butter - Don't skip it! Melted vegan butter and garlic is the base of the hibachi noodle sauce and is the secret to making this noodle dish so rich and indulgent.
Hibachi noodle sauce - This simple sauce is easy to put together using a handful of sweet, savory, and umami-tasting ingredients. It can also be made gluten free by swapping the soy sauce for tamari.
Toppings and garnishes - Dress up the noodles with a few extra flavors and toppings. My husband's favorite is a drizzle of sesame oil but you could also add sesame seeds, green onions, or lemon juice.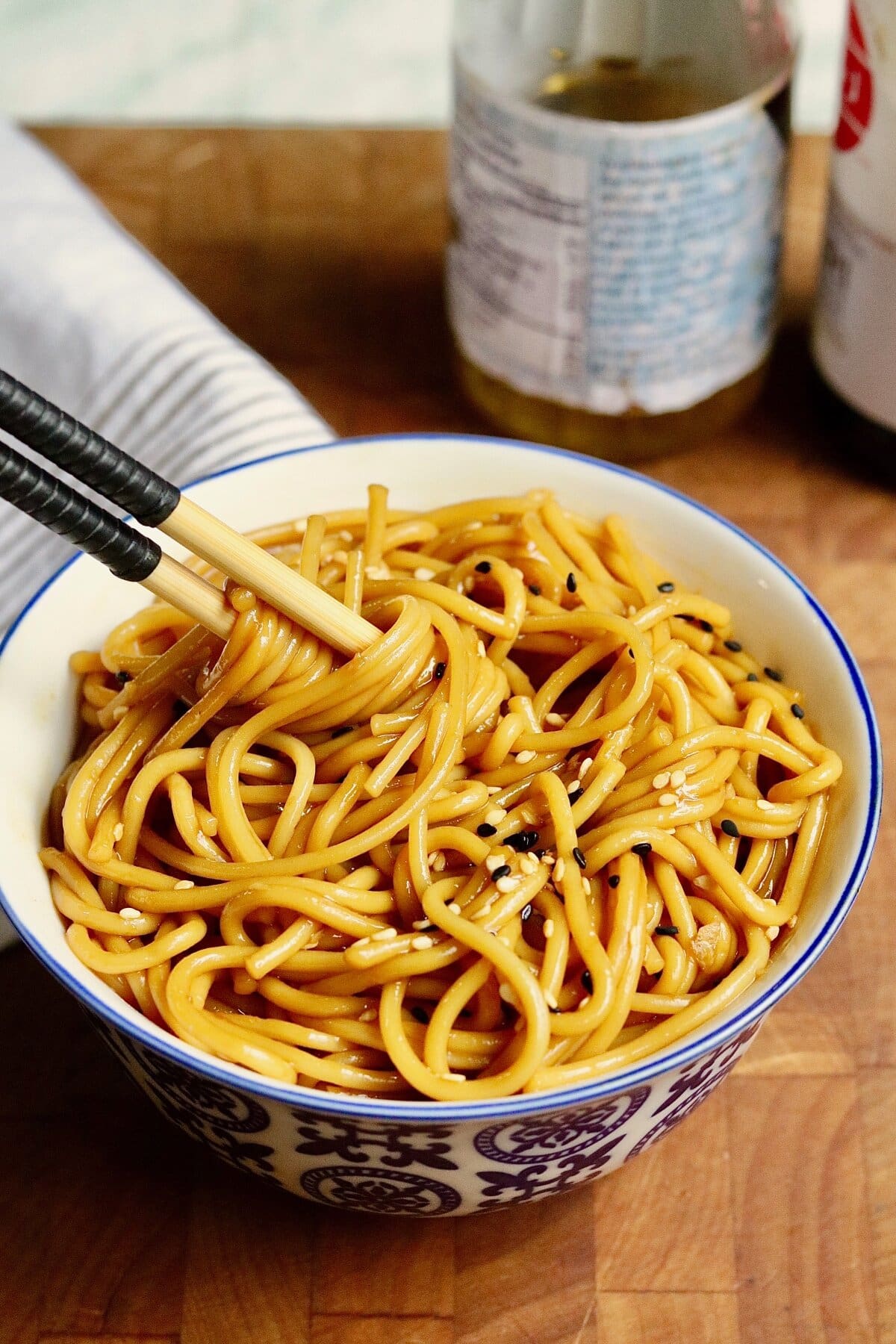 How to make hibachi noodles
This hibachi noodles recipe couldn't be easier to put together! The entire meal is ready to enjoy after 4 simple steps:
Cook the noodles: Boil the noodles according to the package instructions. When they're done, drain the water and add them back into the pot.
Make the sauce: Whisk the melted butter and garlic, with the rest of the sauce ingredients together in a bowl.
Assemble the noodles: Pour the sauce over the cooked noodles in the pot and toss to combine.
Garnish, serve, and enjoy: Scoop the dressed hibachi noodles into bowls and garnish with any toppings you want. Serve and enjoy! For full ingredients and instructions see printable recipe card below.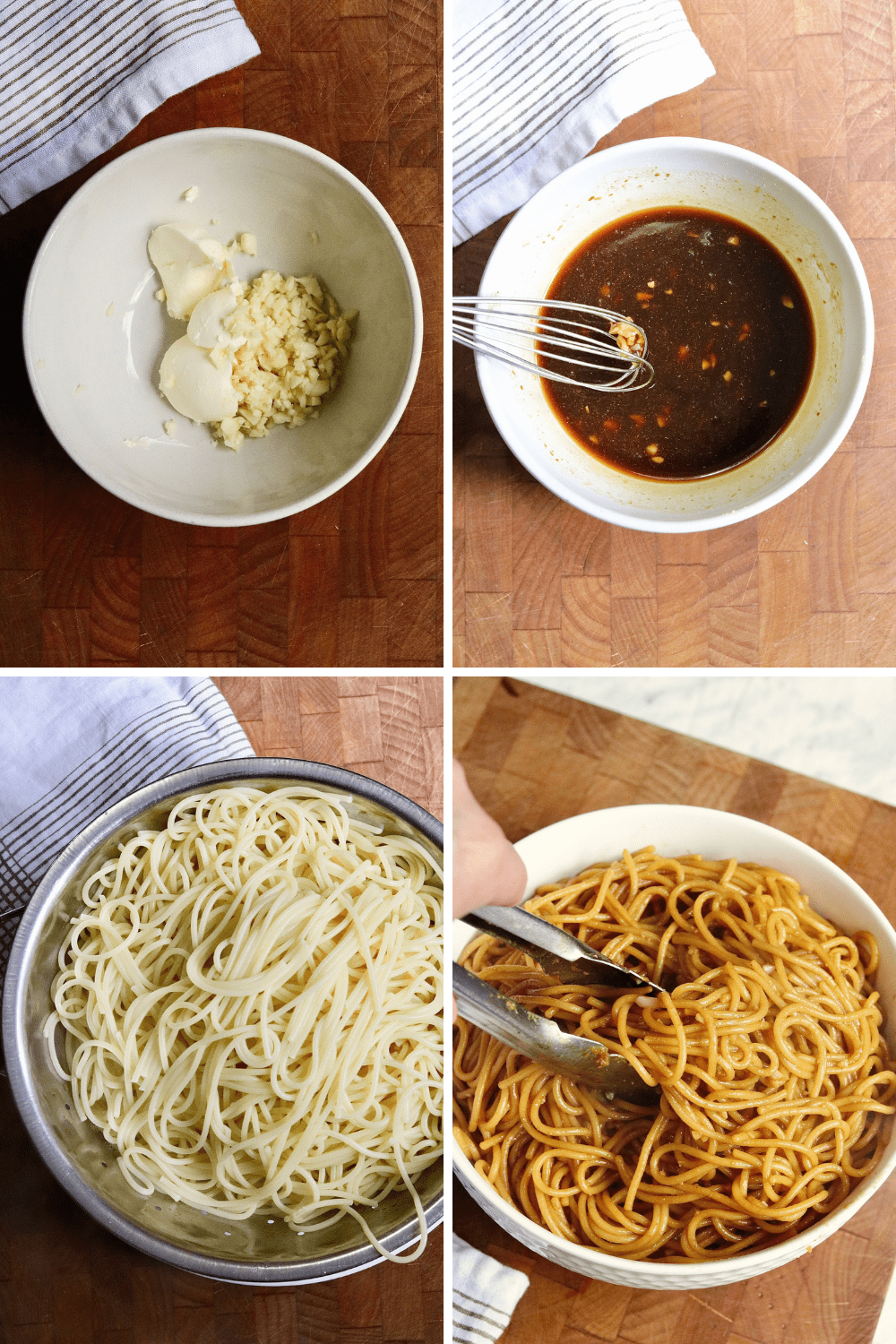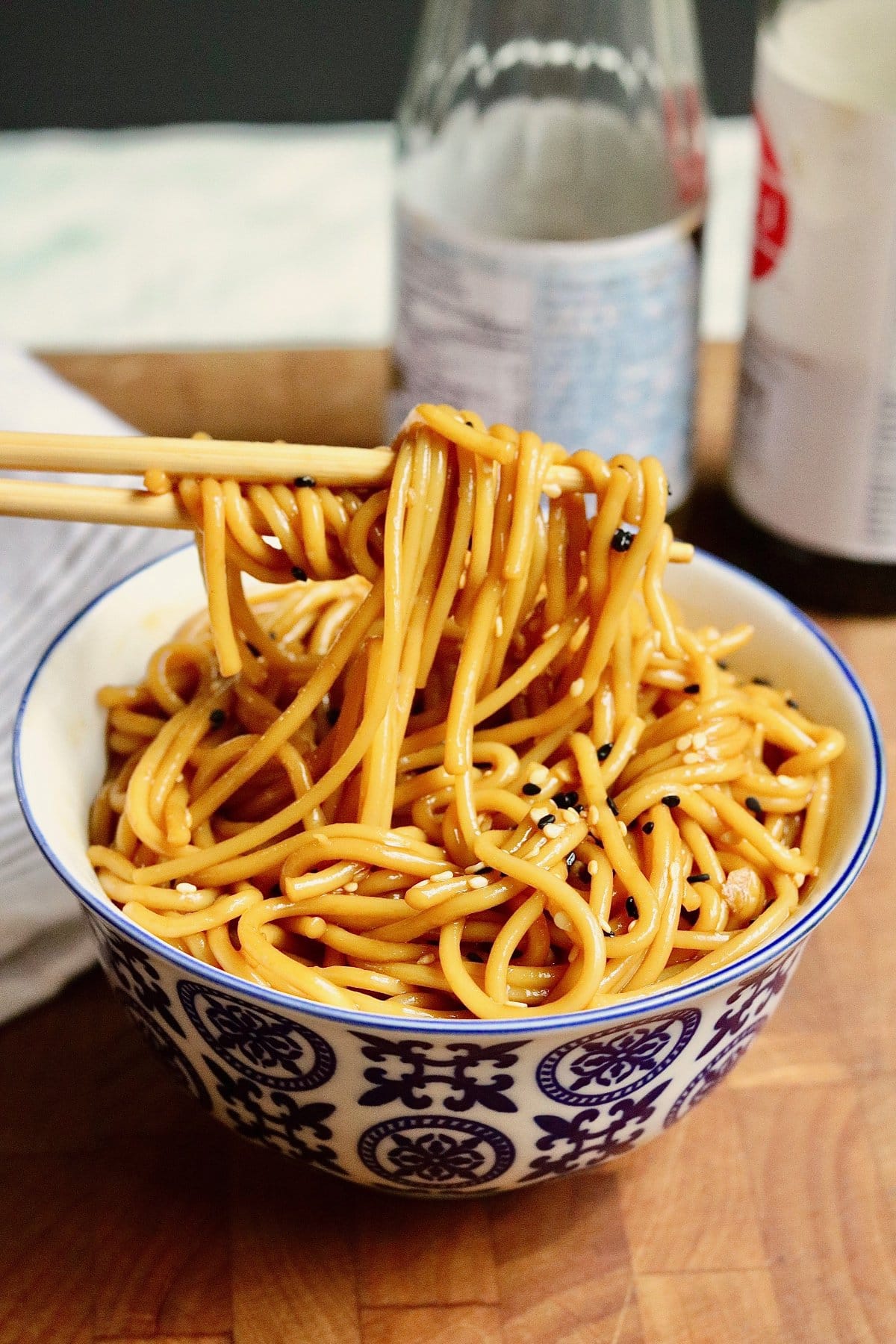 Serving suggestions
Replicate the Japanese hibachi experience with the right side dishes! Hibachi noodles pair well with hibachi vegetables, vegan steak, teriyaki tofu, marinated tofu, or fried rice on the side. You could even switch up and use yum yum sauce dressing or ginger sauce for drizzling and dipping (in addition to your meal).
Make ahead tips
Both the noodles and sauce can easily be made ahead of time. Keep them in separate containers in the fridge, then combine the two and reheat in the microwave or on the stove when it's time to eat!
Hungry for more vegan noodle recipes?
Enjoy everyone! Happy Day! Please feel free to comment below and give this recipe a rating. Your feedback is greatly appreciated!
Follow me on PINTEREST and INSTAGRAM for more tasty Plant Based & Vegan Recipes❤️
Subscribe here for free weekly recipes delivered right to your inbox! No need to scour the internet. Your one stop shop for recipes is here😊 No spam I promise!
Print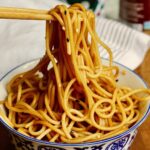 Hibachi Noodles (Japanese Steakhouse Noodles)
---
Author:

Verna

Total Time:

15 minutes

Yield:

4-6 Servings

Diet:

Vegan
Description
Make these restaurant-quality vegan Hibachi Noodles at home in just 15 minutes! Noodles are tossed in a garlic and umami-loaded sauce, giving you a deliciously rich and indulgent dinner in no time.
---
For noodles:
1 lb spaghetti or linguini or any noodles, yakisoba, udon, ramen, etc,..
For sauce:
2 and 1/2 tablespoons vegan butter

2 and 1/2 tablespoons, fresh garlic, finely chopped

3 to 4 tablespoons teriyaki sauce* (see notes)

2 tablespoons Tamari, I use sodium reduced Tamari

1 tablespoon dark soy sauce*

1 and 1/2 tablespoons mirin*

3 tablespoons brown sugar

1/2 teaspoon ground ginger
Optional for serving:
Toasted Sesame seeds

Drizzle of toasted sesame oil

Diced green onions

Squeeze of lemon

Pinch of salt and white or black pepper
---
Instructions
Noodles: Cook pasta according to directions in a large pot. Add a drizzle of oil and a good pinch of salt to boiling cooking water. Cook noodles in plenty of water to avoid gummy starchy noodles. Drain and add back to the pot off the heat, or a serving bowl, set aside.

Sauce: While noodles are cooking, add butter and Garlic to a small microwave safe bowl. Cook for 1 minute or so. Then stir in the rest of the sauce ingredients. Sauce is made!

Assemble: Pour sauce over hot cooked noodles, toss to combine

Enjoy: Serve immediately and enjoy with any of the optional toppings mentioned above. (I personally prefer mine straight up and without sesame oil but that's just me) For photos, tips, suggestions and more see above post.
Alternatively you could fry the butter and garlic in a large non-stick pan then toss in noodles and sauce and serve (I much prefer the flavor of 1st cooking method- as garlic is infused into the sauce).
Notes
Teriyaki sauce:

if not using my homemade sauce then I usually use San-j teriyaki stir fry & marinade, add to taste.
Mirin: I use Eden Brand (rice cooking Wine)
Dark Soy sauce: is richer, thicker, darker, slightly sweeter than regular soy sauce, will give noodles a darker color. Feel free to add more Tamari instead.

Feel free to make extra sauce to bring to the table for drizzling on everything!!

Store: Leftovers will keep in a sealed container in the fridge for 3-4 days. Sauce keeps longer if stored separately.

Can make ahead of time and assemble when needed too! Just heat everything up and toss together.
Prep Time:

5 Minutes

Cook Time:

10 Minutes

Category:

Mains,

Method:

stovetop

Cuisine:

Japanese
Keywords: hibachi noodles, Japanese steakhouse noodles