If you're looking for a delicious and healthy twist on traditional taquitos, look no further than buffalo chickpea taquitos. Not only are they easy to make, but they are also packed with protein and fiber thanks to the chickpeas. A fully plant-based and vegan snack or entree, this recipe is super easy and always a hit on game day!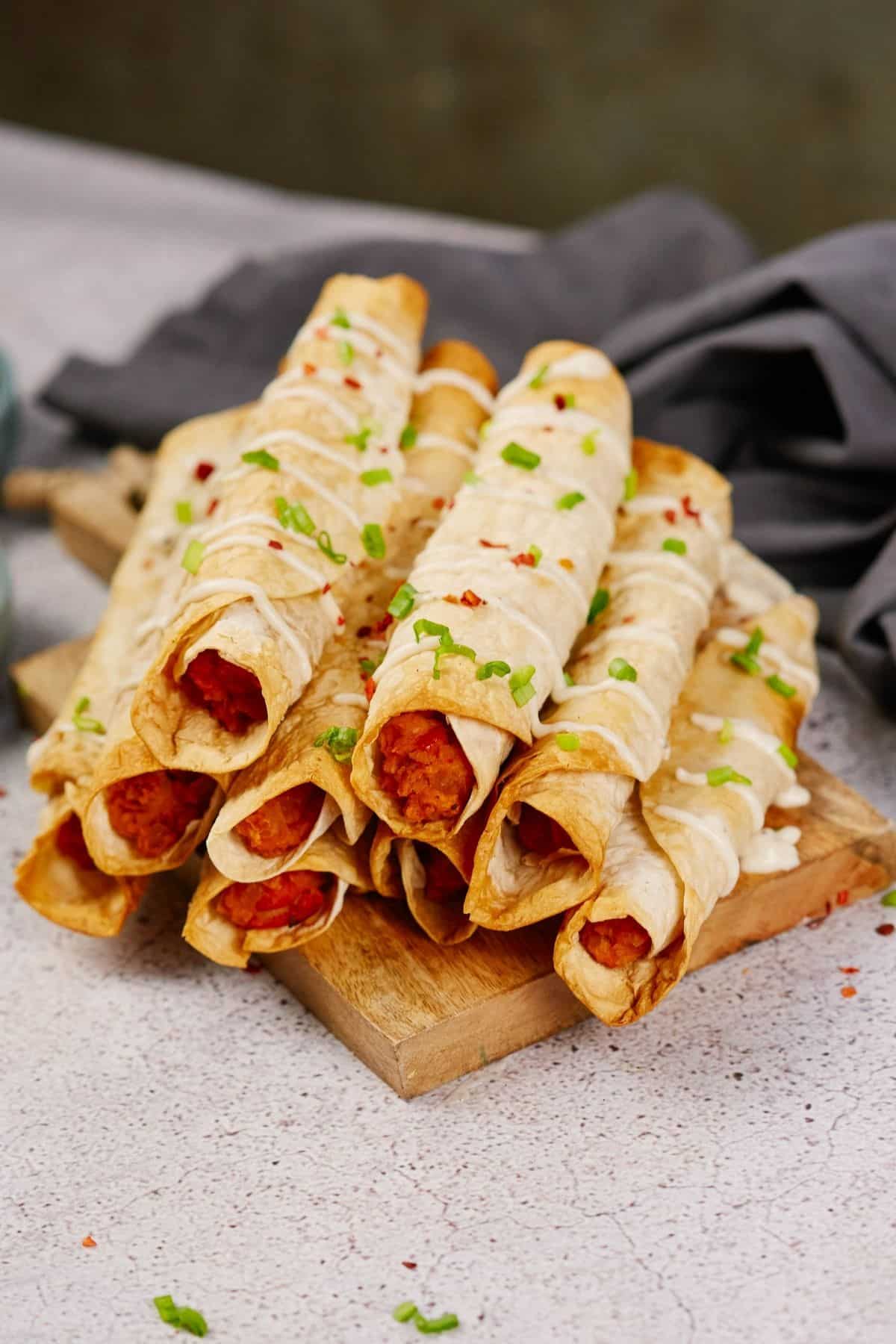 Jump to:
Buffalo Chickpea Taquitos
Chickpeas, also known as garbanzo beans, are a great source of plant-based protein and are rich in vitamins and minerals such as iron, magnesium, and folate. They have also been shown to have numerous health benefits, including reducing inflammation and improving digestion. That makes them an excellent addition to a vegan menu, and their versatility really makes them great for this recipe.
These buffalo chickpea taquitos are great for sharing as a snack or appetizer, but they can be made as an entree and served alongside a nice bowl of our vegan Mexican street corn salad. So tasty and super easy to whip up!
Buffalo-flavored foods often need a dipping sauce to help cool them off. If you like a little something on the side to help get rid of the heat, then make a side of vegan ranch dressing for dipping. You may also find a basic vegan blue "cheese" option, or even a simple non-dairy plain yogurt or vegan sour cream are ideal for this recipe.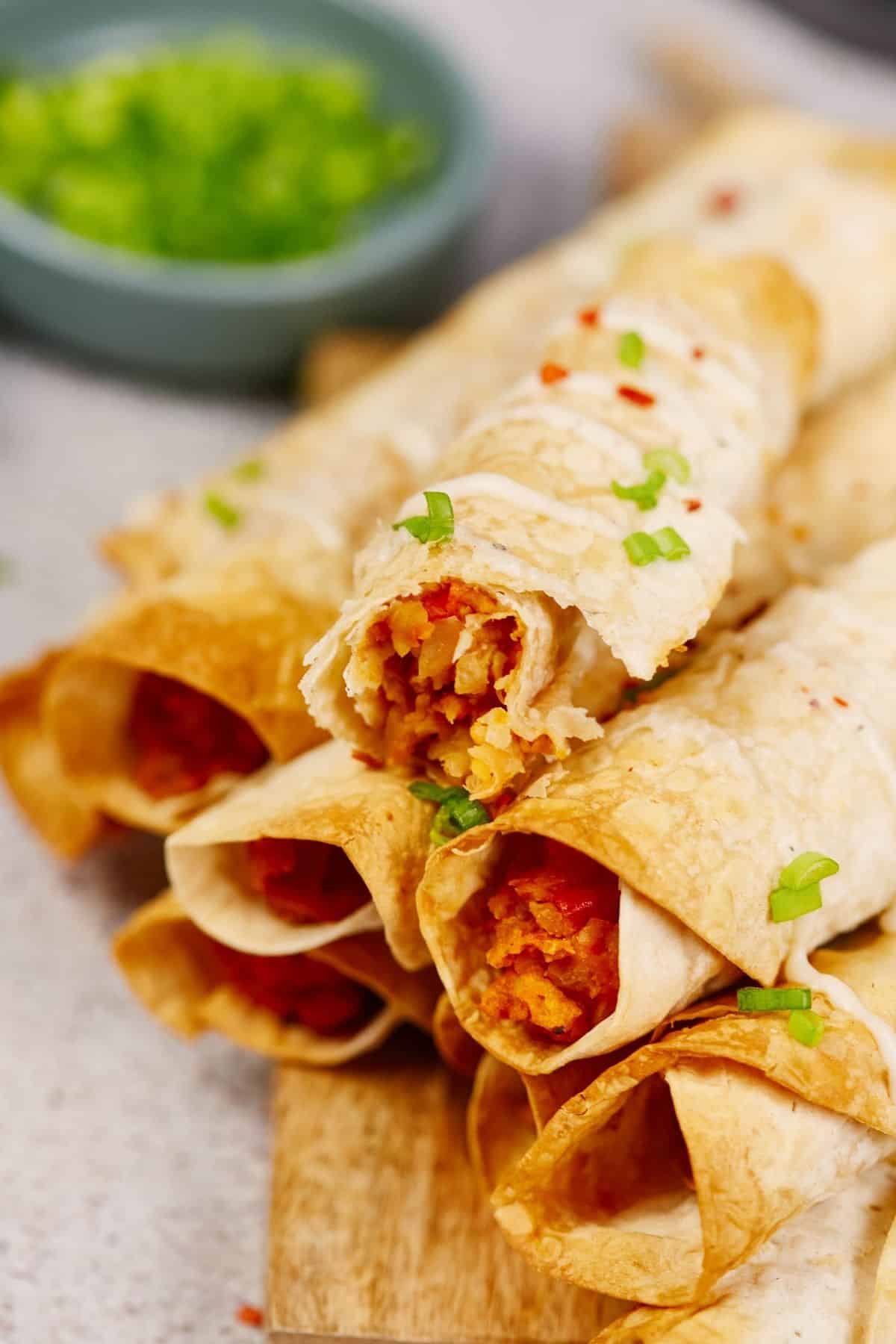 Ingredients
Serves: 9
1 small white onion, chopped
½ red bell pepper, chopped
2 garlic cloves, minced
14 oz chickpeas
1 ⅔ cup canned tomatoes, chopped
1 tablespoon hot sauce
3 tablespoon almond milk
1 tablespoon brown sugar
1 teaspoon ground cumin
9 corn tortillas
For serving:
Vegan sour cream
Sliced green onions
Vegan ranch dip or dressing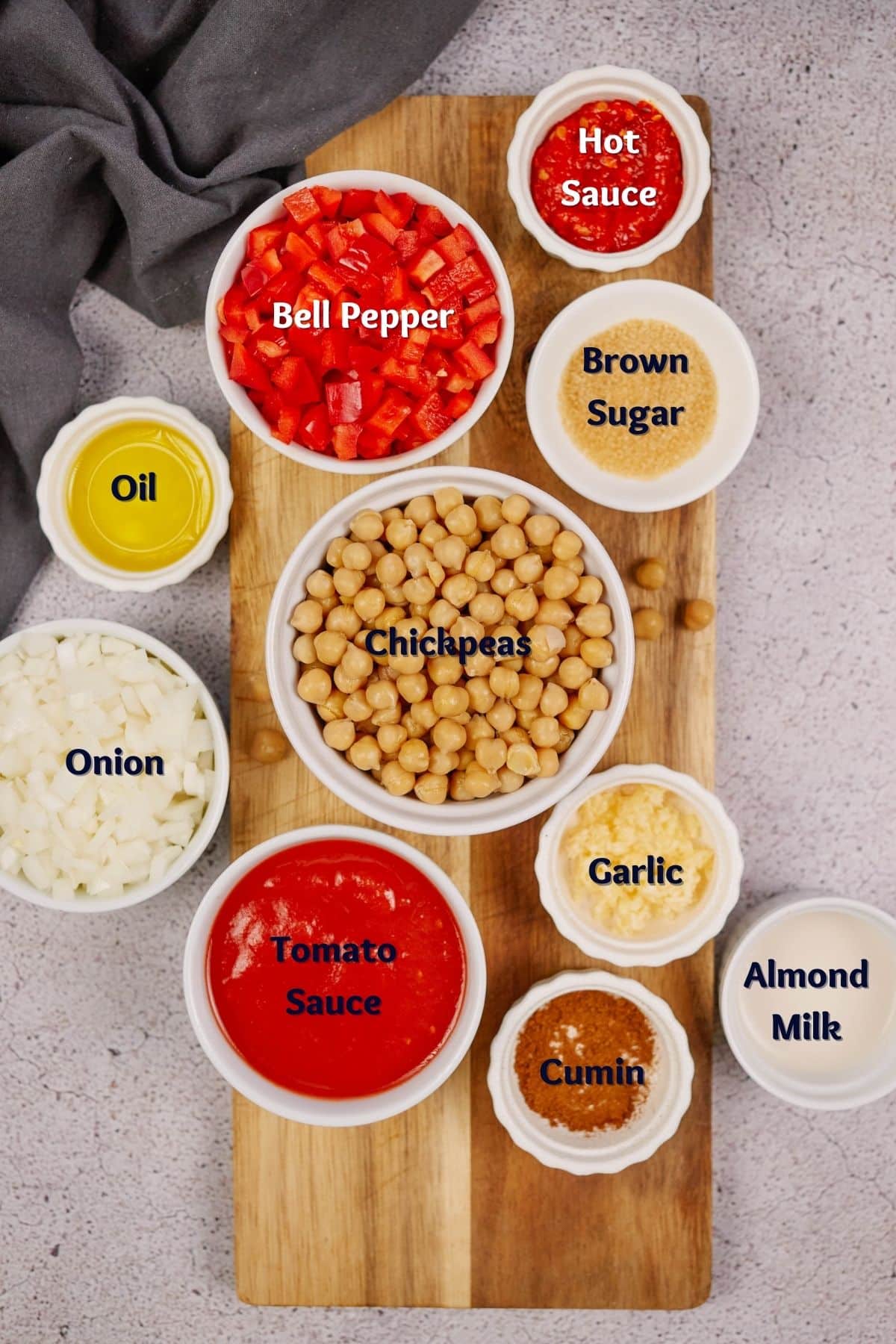 Kitchen Tools Used: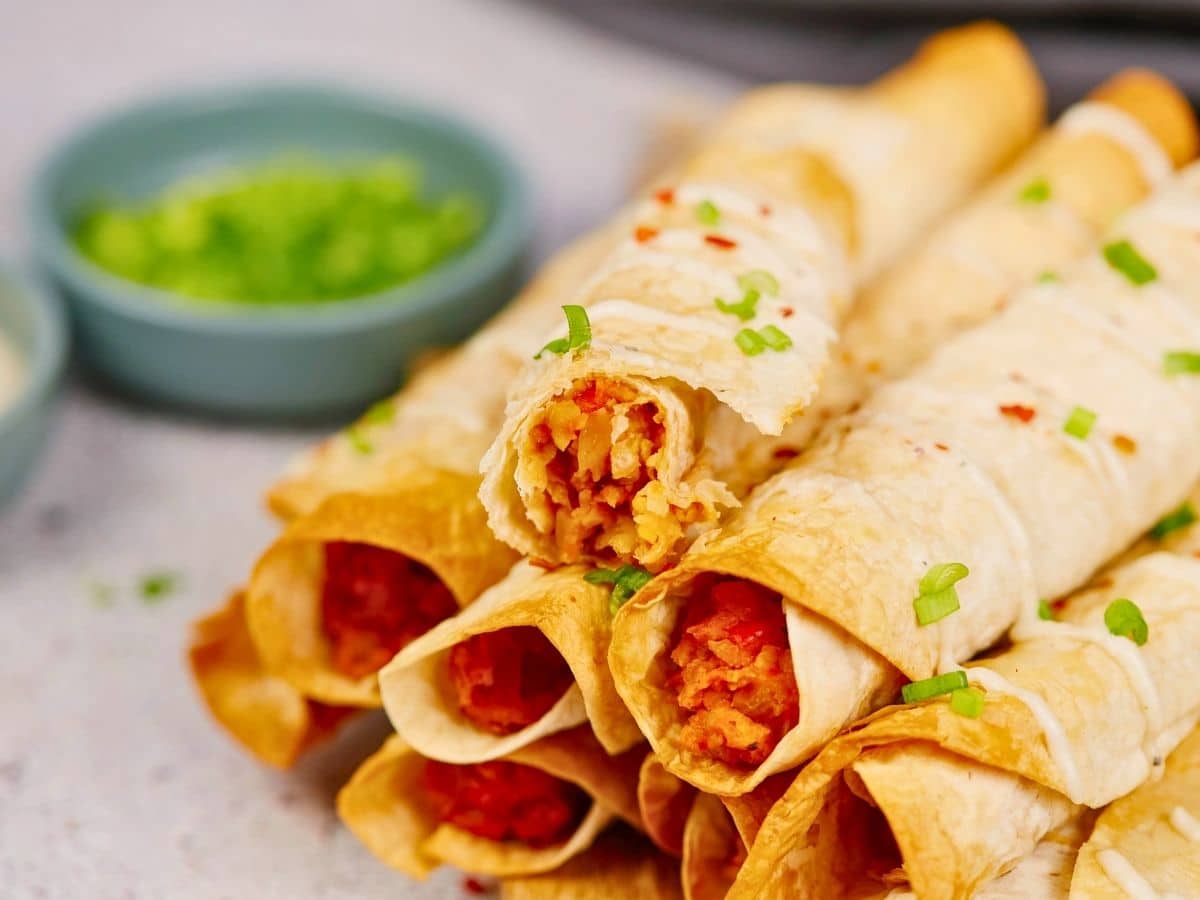 How to Make Buffalo Chickpea Taquitos
In a medium pan, add the olive oil over medium-low heat. Add in the bell peppers and onions, then cook, stirring regularly, for about 5 minutes.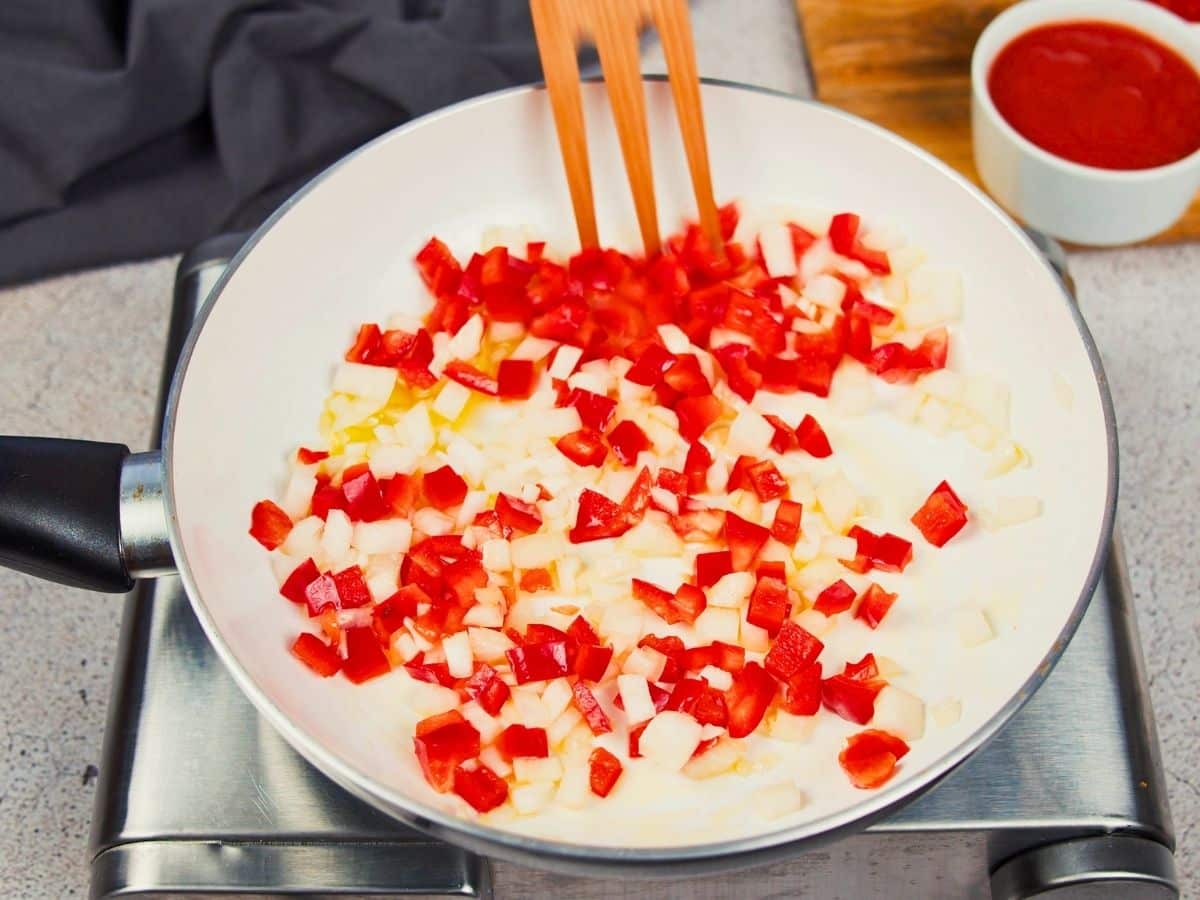 Then, add in the cumin, hot sauce, brown sugar, garlic, salt, and black pepper. Stir together and then pour in the chopped tomatoes and almond milk.
Cook this mixture for 2 to 3 minutes, then mash the chickpeas with a fork and add them to the sauce and stir to combine.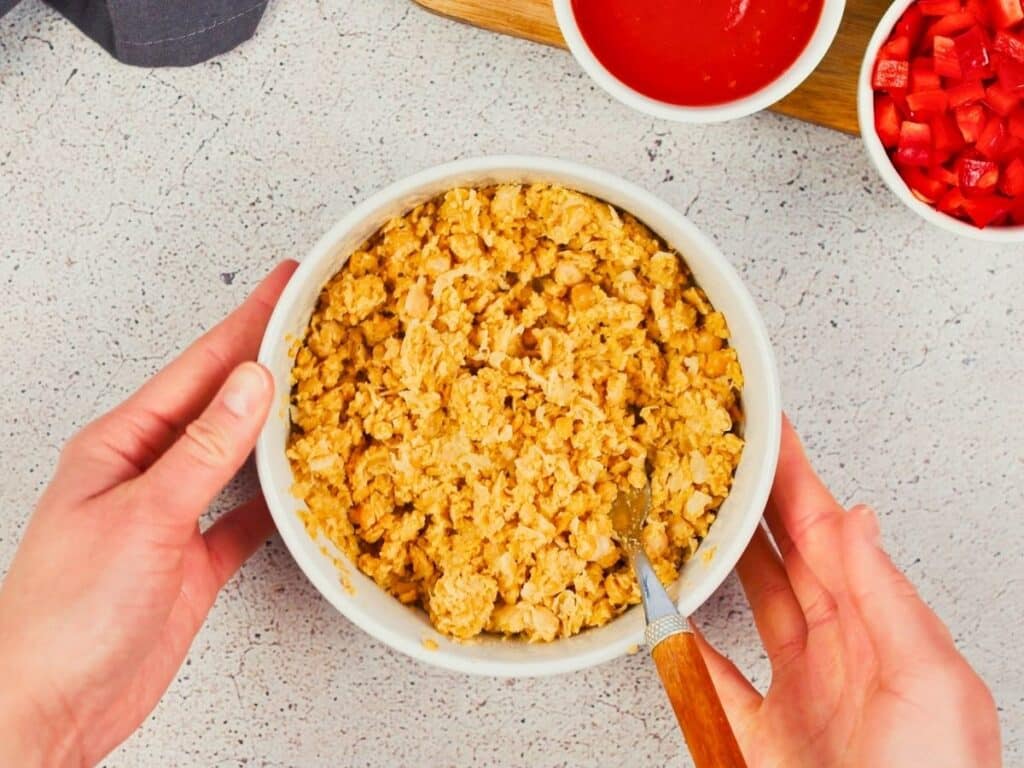 Remove the mixture from the heat and separate the mixture between the tortillas. Roll them tightly and place them seam-side down onto a parchment paper-lined baking sheet.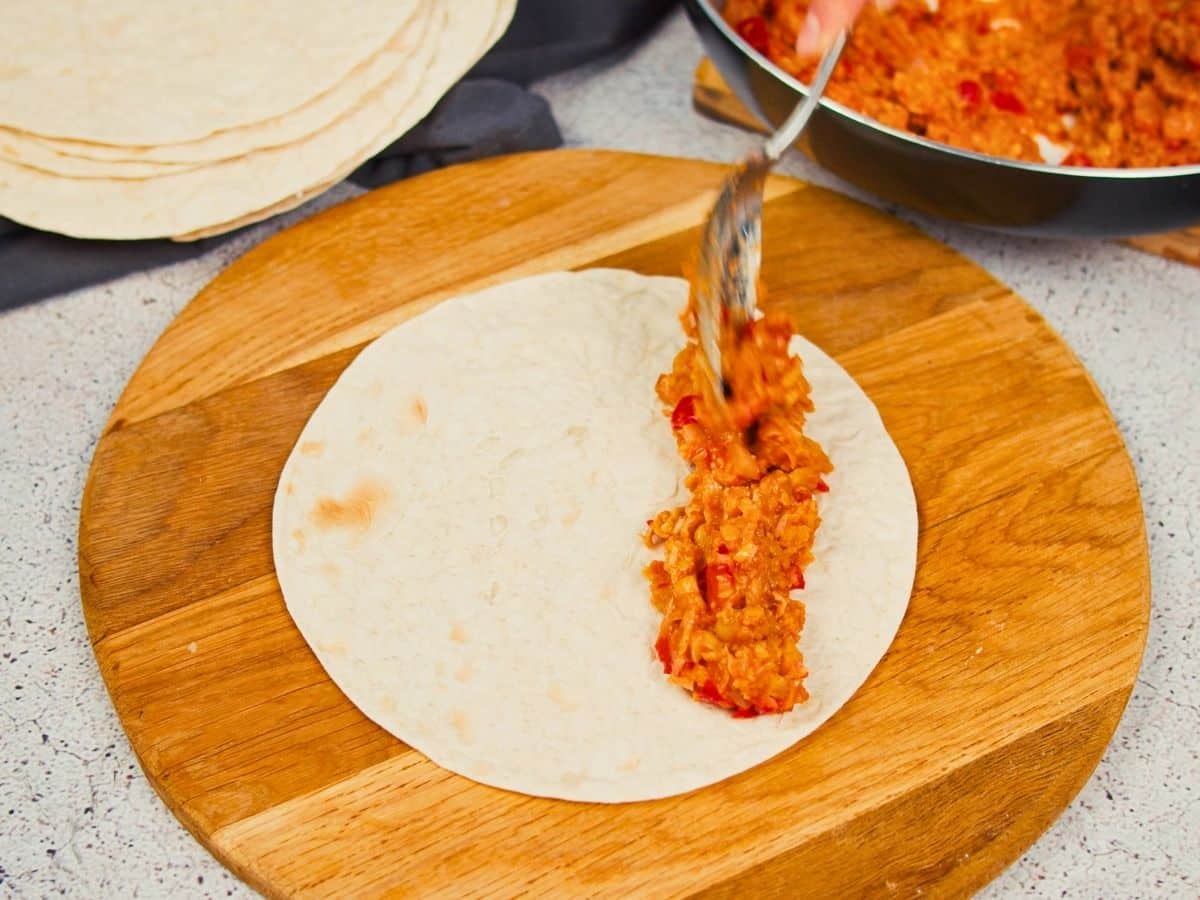 Preheat the oven to 400°F/200°C and brush the top of the taquitos with oil.
Once the oven is heated, cook them for 7 minutes, then turn them over and continue baking for another 8 minutes. Flip them over again, turn the heat to broil, and cook for 2 to 3 minutes, until nicely brown and crisp.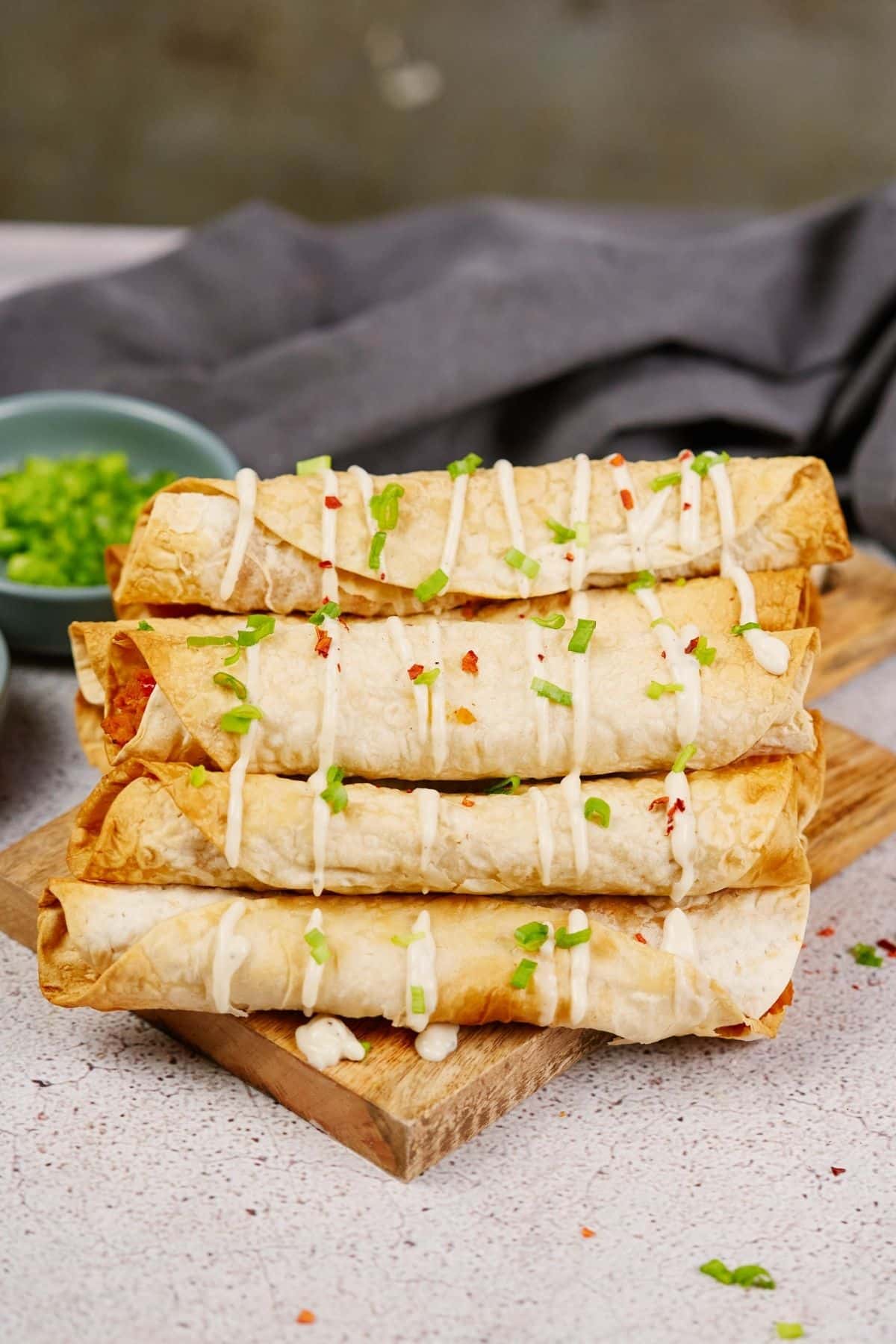 Frequently Asked Questions
Can I use canned chickpeas for this recipe?
Absolutely. That is actually recommended. You could cook dry chickpeas to make these, but would need to add a few hours to your preparation/cooking time. Canned chickpeas are convenient, and affordable, and provide you with liquid for other recipes. The aquafaba they are canned in is ideal for whipping to go into a number of recipes.
What kind of tortillas work best for taquitos?
Traditionally, taquitos and rolled tacos are made with corn tortillas. You can use smaller flour tortillas, but the flavor of corn is much better in this recipe.
How do I make the taquitos crispy in the oven?
One of the best ways to make sure your tortillas on the buffalo chickpea taquitos get crispy is to brush or spray the tops with a bit of oil. The other important factor is making sure you don't overcook them, but cook them at a high enough heat that they crisp instead of slow cook.
Can I make the taquitos ahead of time and reheat them later?
Yes! This is a great vegan appetizer to make ahead of time for the future. They reheat beautifully in a skillet, oven, or air fryer. You can make them and store in the refrigerator for up to 5 days, or freeze them for up to 3 months.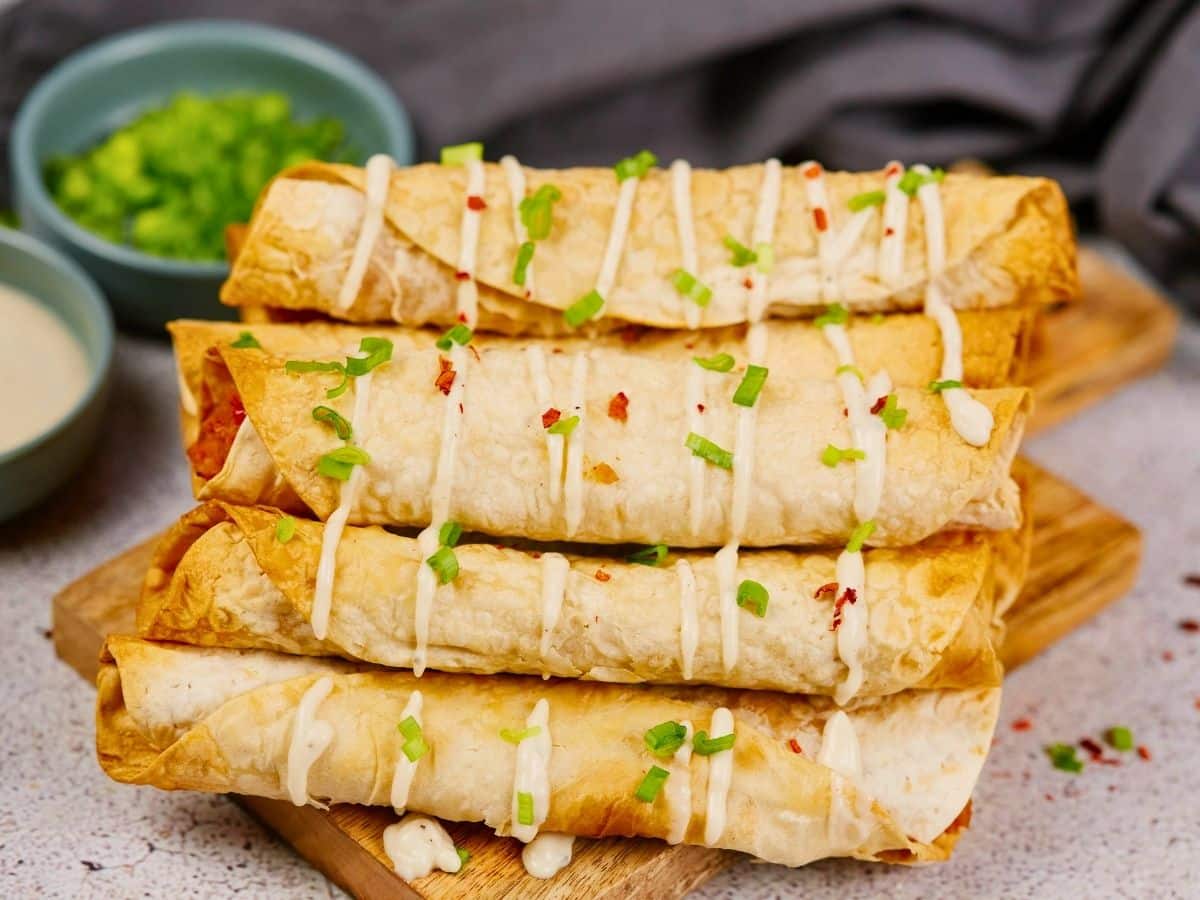 What other fillings can I use in vegan taquitos?
This recipe focuses on the buffalo flavor, but if you want to go traditional, you can add any typical taco filling to a taquito. The thing to remember is that these are served hot and typically have a protein in the center. Below are a few ideas that we love.
Vegan taco meat, TVP, "meat" crumbles", or similar ready-made products in the vegan frozen section of your grocery store.
Lentils, pinto beans, black beans, or red beans.
Shredded seasoned jackfruit.
Scrambled seasoned tofu or crispy air fryer tofu.
Grilled or roasted vegetables such as bell peppers, onions, mushrooms, and tomatoes.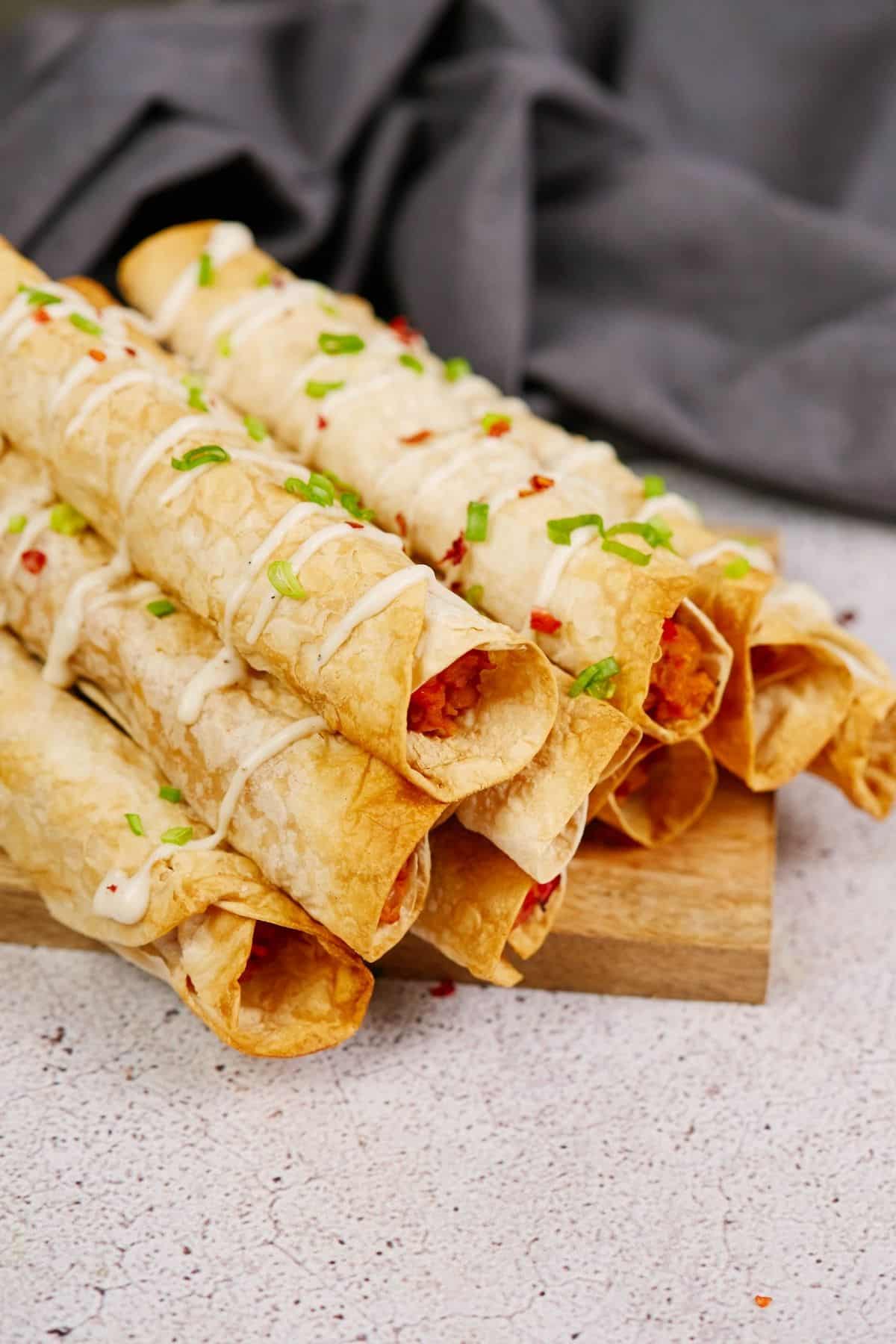 More Vegan Chickpea Recipes
Overall, buffalo chickpea taquitos are a tasty and healthy option for any occasion. They are easy to make, packed with protein and fiber, and can be customized to suit your taste preferences. So why not give them a try and see for yourself how delicious and satisfying they can be?
Buffalo Chickpea Taquitos
Looking for a spicy twist on traditional taquitos? Try our buffalo chicken taquitos recipe! Perfect for game day or any party.
Ingredients
For serving:
Vegan sour cream

Plant-based nacho cheese dip

Vegan ranch dip or dressing
Instructions
Begin by heating olive oil over medium-low heat in a medium-sized pan. Once heated, add onions and bell peppers and sauté for 5 minutes until they begin to soften.

Mix ground cumin, hot sauce, garlic, brown sugar, salt, and pepper into the sautéed vegetables, stirring for 30 seconds before adding chopped tomatoes and almond milk. Continue cooking for an additional 2-3 minutes.

Using a fork, mash chickpeas before adding them to the sauce, ensuring they are mixed thoroughly.

To assemble the taquitos, place a couple of spoonfuls of the chickpea mixture onto a small tortilla before rolling it up. Repeat this step until all the filling is used up.

Brush the assembled taquitos with more oil before baking them at 200C/400F for 15 minutes. Halfway through the baking time, flip the taquitos to ensure even cooking. For extra crispiness, turn on the fan and bake for 2-3 minutes more (be sure to keep an eye on them!).

Serve your buffalo chickpea taquitos with vegan sour cream and a sprinkle of scallions or cilantro. Enjoy!
Notes
Use any preferred hot sauce for this recipe that is vegan. Frank's Red Hot Sauce is a common choice that provides great buffalo flavor.
Serve with carrots, celery, and a creamy dipping sauce.
If making it in batches to freeze, lay it flat on a baking sheet to flash freeze before putting it into a freezer storage bag or freezer container.
Nutrition
Calories:
158
kcal
Carbohydrates:
30
g
Protein:
6
g
Fat:
2
g
Saturated Fat:
0.3
g
Polyunsaturated Fat:
1
g
Monounsaturated Fat:
1
g
Sodium:
120
mg
Potassium:
350
mg
Fiber:
6
g
Sugar:
6
g
Vitamin A:
321
IU
Vitamin C:
15
mg
Calcium:
72
mg
Iron:
2
mg