Today, I'm excited to share an easy and delicious recipe for a vegan Caesar salad that is perfect for a quick and healthy lunch or dinner. This salad is not only vegan but also gluten-free, making it a great option for anyone with dietary restrictions.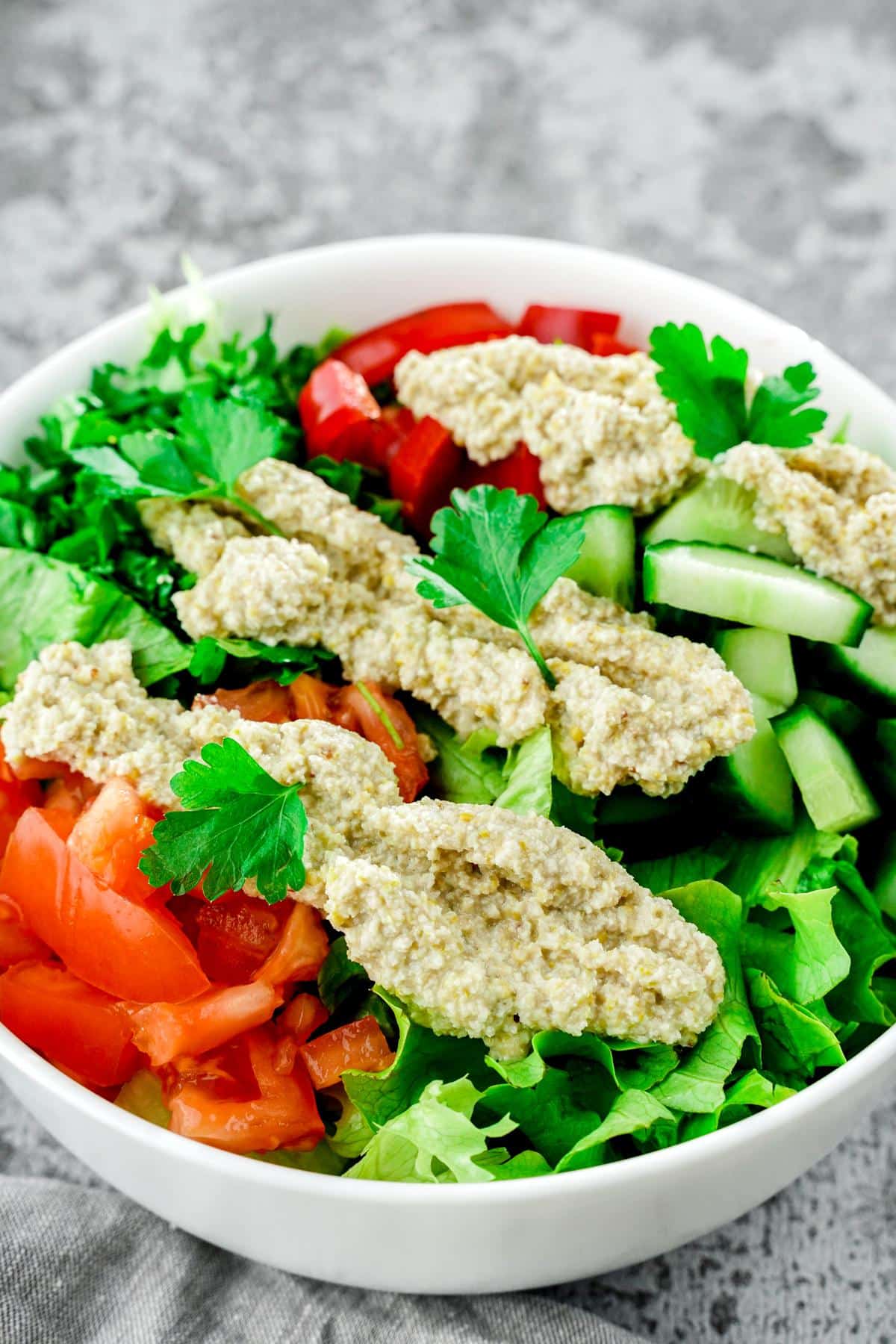 The star of this salad is the vegan Caesar dressing, which is made with wholesome ingredients like sunflower seeds, lemon juice, and capers. You won't believe how delicious and creamy it tastes without any dairy!
If you like this, then check out our creamy homemade ranch dressing. A great choice for your next salad.
🥘 Ingredients
Below are the ingredients for the salad itself, as well as the vegan Caesar dressing. The exact quantities of each of these can be found in the printable recipe card at the bottom of the post.
For the salad:
Parsley
Red bell pepper
Head of lettuce
Tomato
Cucumber
For the dressing:
Sunflower seeds
Lemon juice
Dijon or whole-grain mustard
Capers
Garlic powder
Pink salt
Water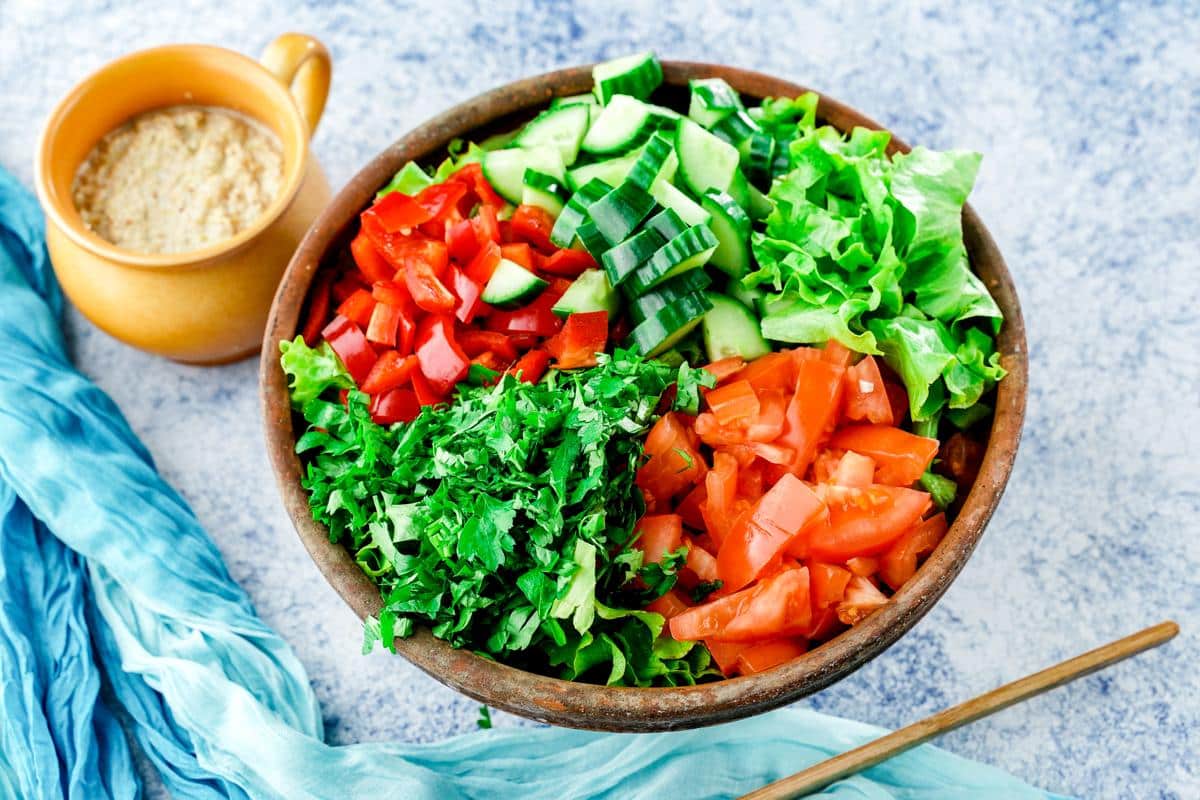 🔪Instructions
Begin by preparing the base of your salad. Wash and dice or chop the parsley, bell pepper, lettuce, tomato, and cucumber. Set this aside.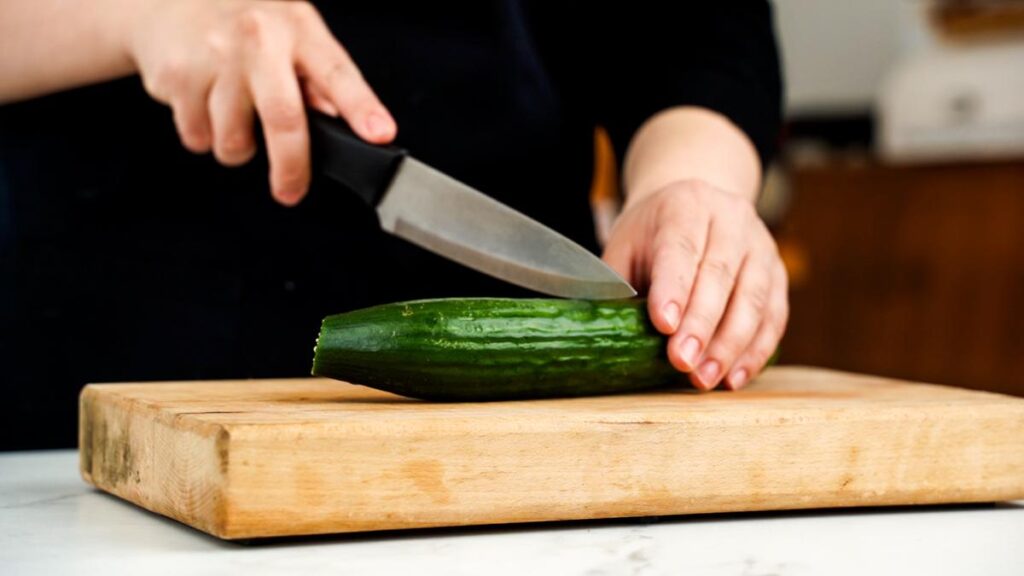 Now, add the sunflower seeds and water to a small saucepan and bring to a boil. Boil for 5 minutes.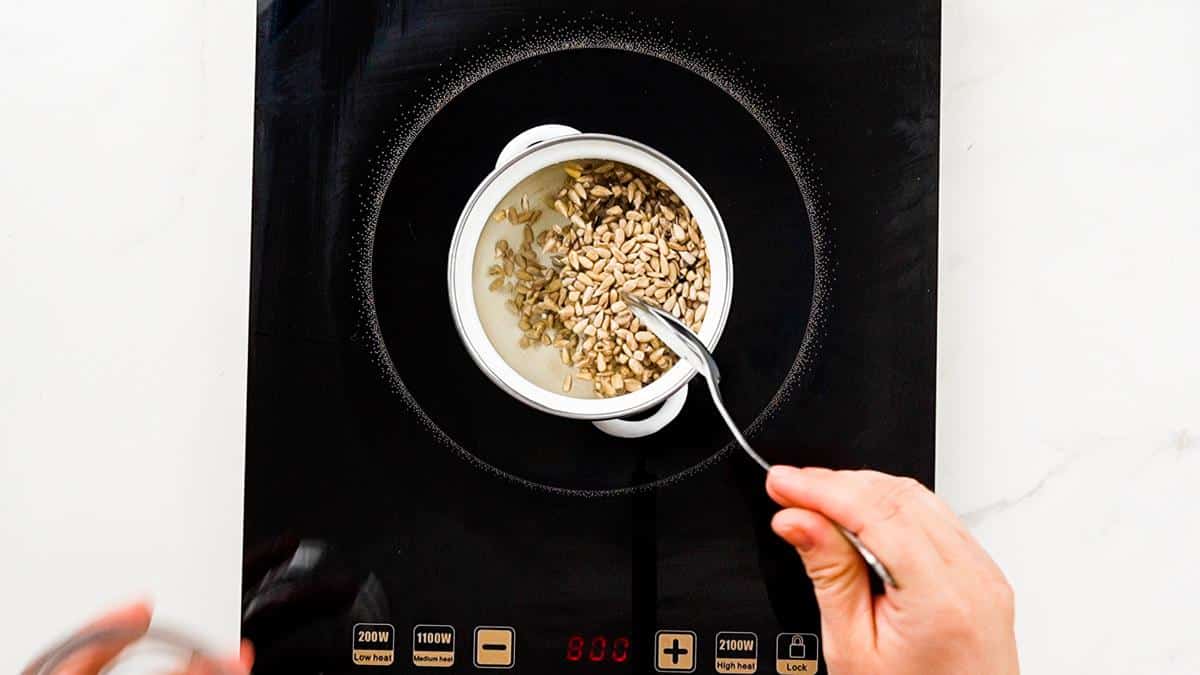 Add the sunflower seeds, lemon juice, mustard, capers, garlic powder, pink salt, and water to a food processor or blender and pulse until creamy.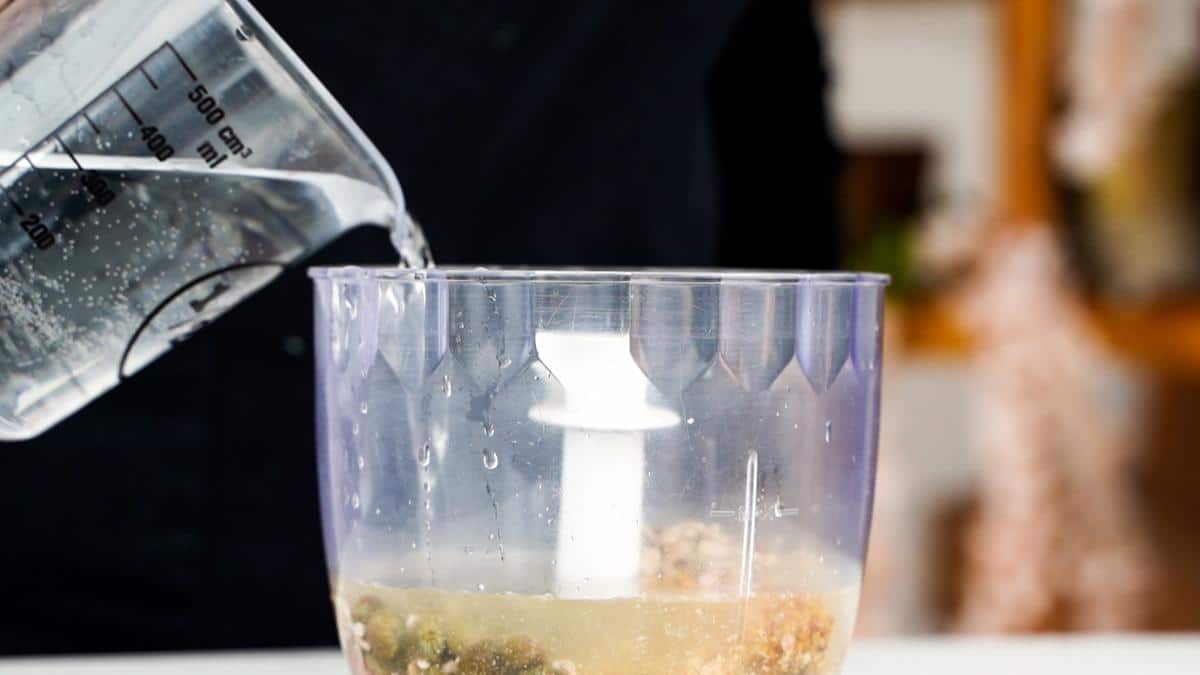 To serve, layer the salad base and drizzle with the Caesar dressing.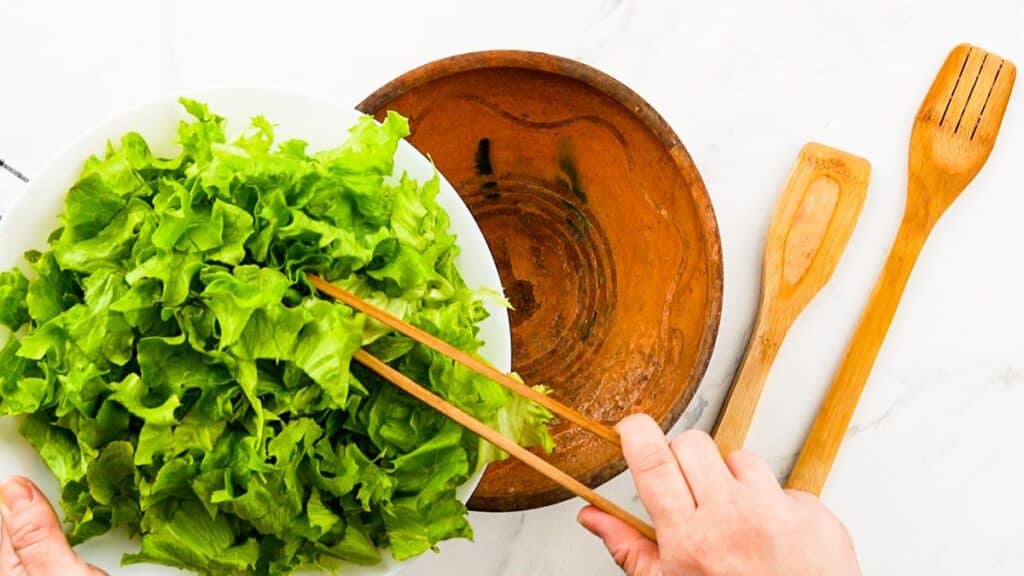 Toss together before serving.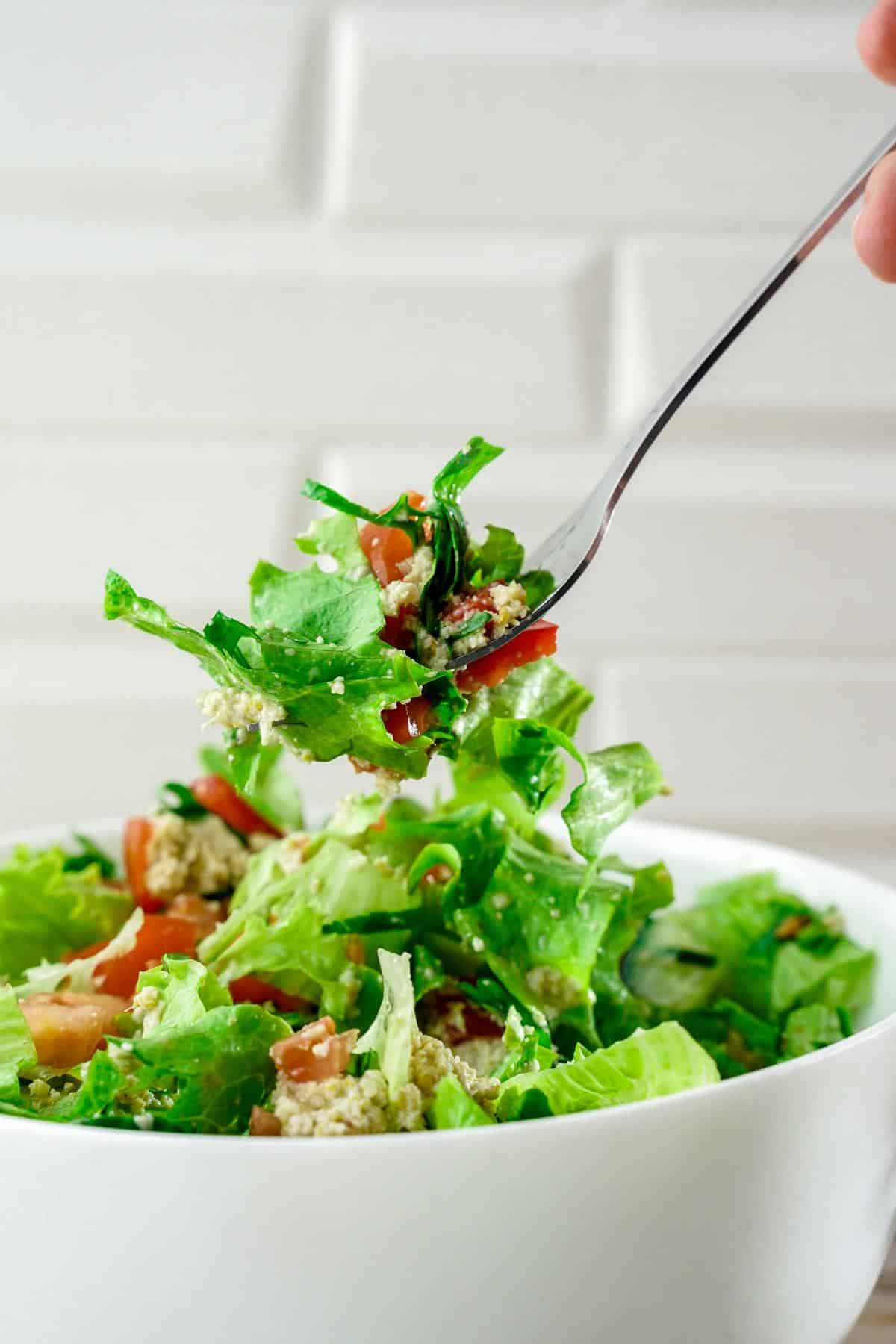 📋Substitutions
For those with dietary restrictions or preferences, I've included a list of ingredient substitutions that you can use to customize the recipe to your liking.
Use any preferred green such as kale, spinach, arugula, or mixed baby greens.
Add 1 cup of shaved Brussels sprouts to replace part of the lettuce.
Use some avocado in the dressing to make it creamier.
📖 Variations
Below are some great ideas for turning this salad into something unique. Get creative and make it your own for lunch, a snack, or a full meal.
Grilled Tofu Caesar Salad: Add grilled tofu and some vegan croutons or vegan parmesan cheese on top.
Kale Caesar Salad: Swap out the romaine lettuce for a bed of chopped kale leaves. Massage the kale with some lemon juice and olive oil to soften it up, then toss with Caesar dressing, croutons, and vegan bacon bits.
Avocado Caesar Salad: Add some creamy avocado slices to your Caesar salad for an extra boost of healthy fats and flavor. Combine chopped romaine lettuce, avocado, croutons, and Caesar dressing for a delicious and satisfying salad.
Roasted Vegetable Caesar Salad: Roast a variety of your favorite vegetables, such as sweet potato, bell pepper, and zucchini, and toss with Caesar dressing and croutons for a hearty and flavorful salad.
Caesar Salad Wrap: Wrap up your Caesar salad in a whole wheat tortilla or lettuce leaves for a portable and easy-to-eat meal. Add some sliced tomato, cucumber, and red onion for extra crunch and nutrition.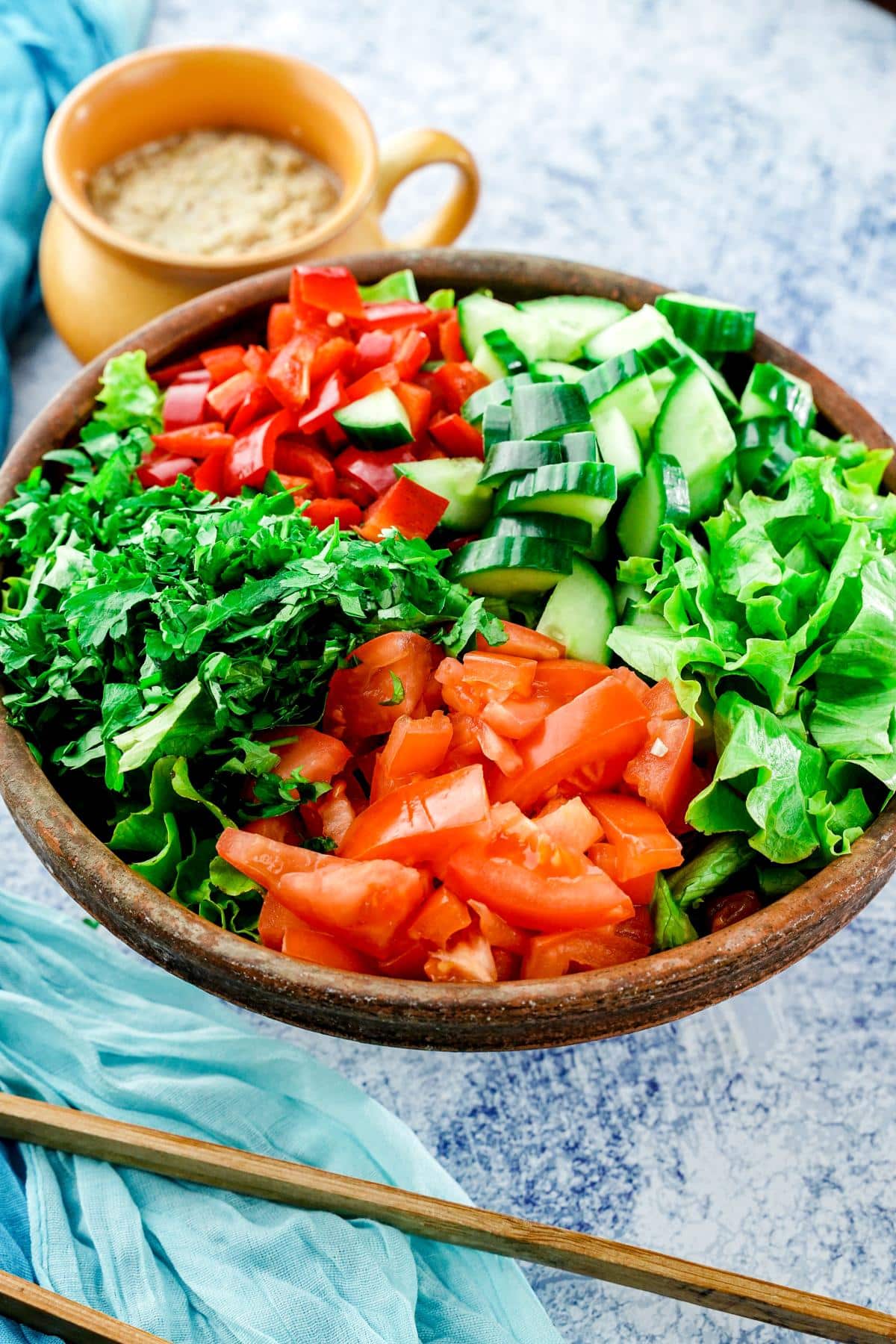 🫙Storage
To make this salad ahead of time, simply store the dressing and salad separately in airtight containers in the refrigerator for up to three days. When you're ready to eat, simply toss the salad with the dressing and enjoy!
This recipe is not good for freezing. It is best to make only as much as you are able to eat within 2 to 3 days.
🍽Equipment
Is your kitchen fully stocked? Below are the tools and supplies used to make this vegan Caesar salad dressing. Add them to your kitchen supply if you don't already own them.
Measuring cups and spoons
Mixing bowls
Cutting board
Chef's knife
Food processor or blender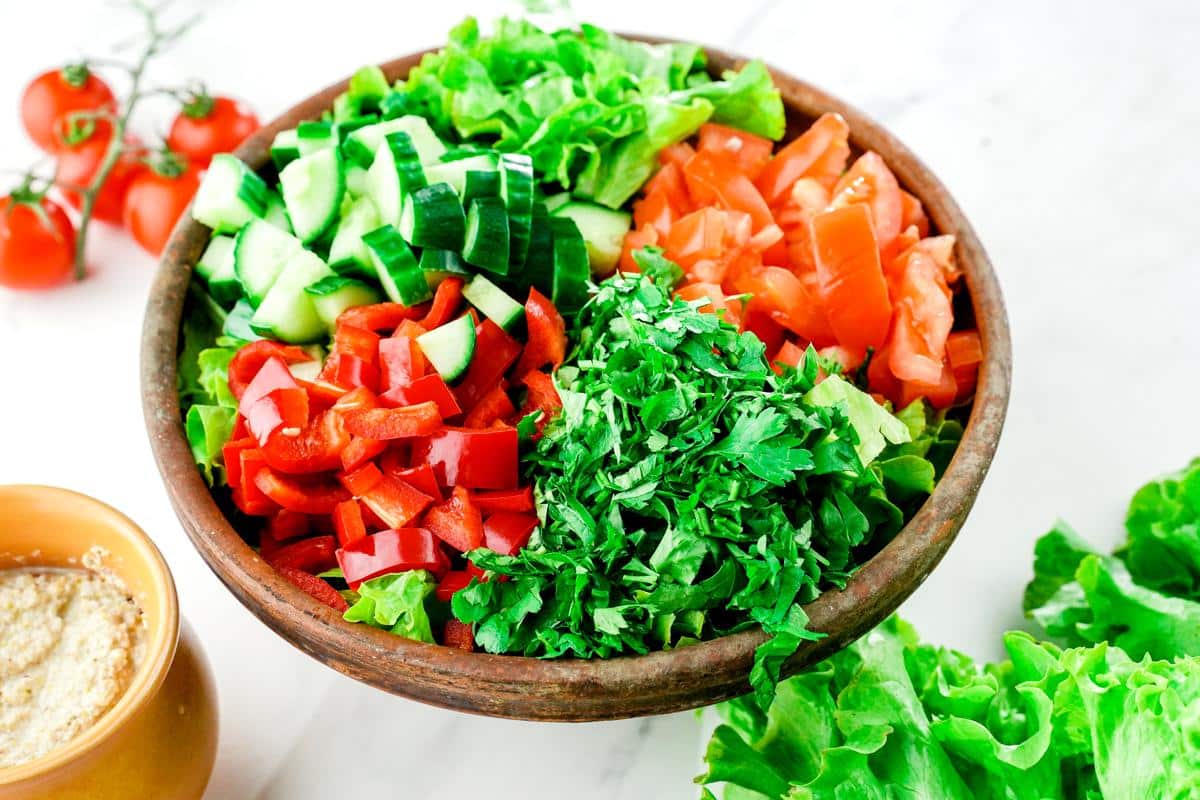 💭 Top Tip
My top tip for making this salad even better is to massage the lettuce before adding it to the salad. This will help to break down the fibers and make it easier to digest, as well as enhance the flavor and texture.
❓FAQ
What lettuce is used for a Caesar salad?
Traditionally, you would use romaine lettuce. You can, however, use any preferred greens with this dressing.
Can I add croutons to this salad?
Absolutely. croutons are a great addition to any salad and are often found on traditional Caesar salads. Make your own with stale bread, or buy vegan croutons and add a few just before serving.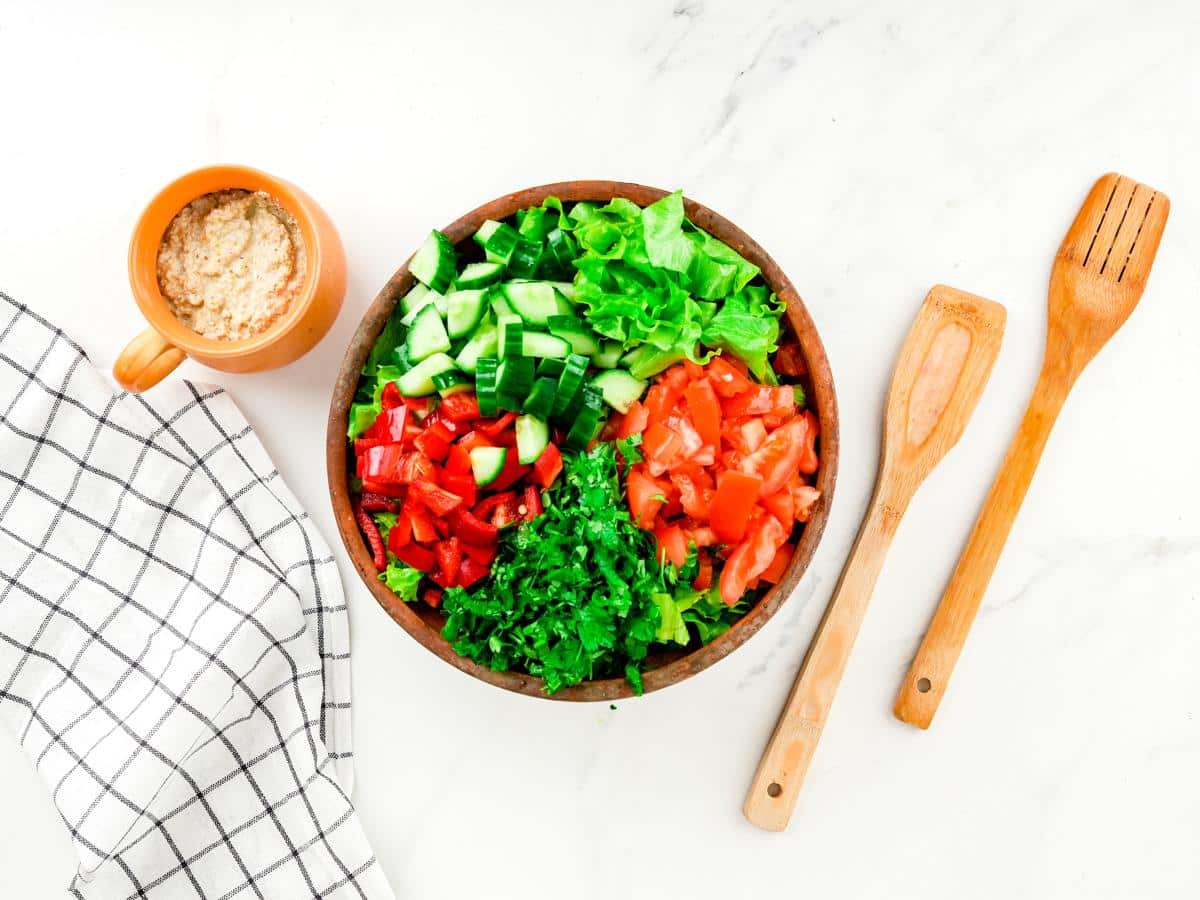 Related
Want more salads on your menu? We have you covered. Check out some more of our personal favorite recipes below and bookmark them to make soon.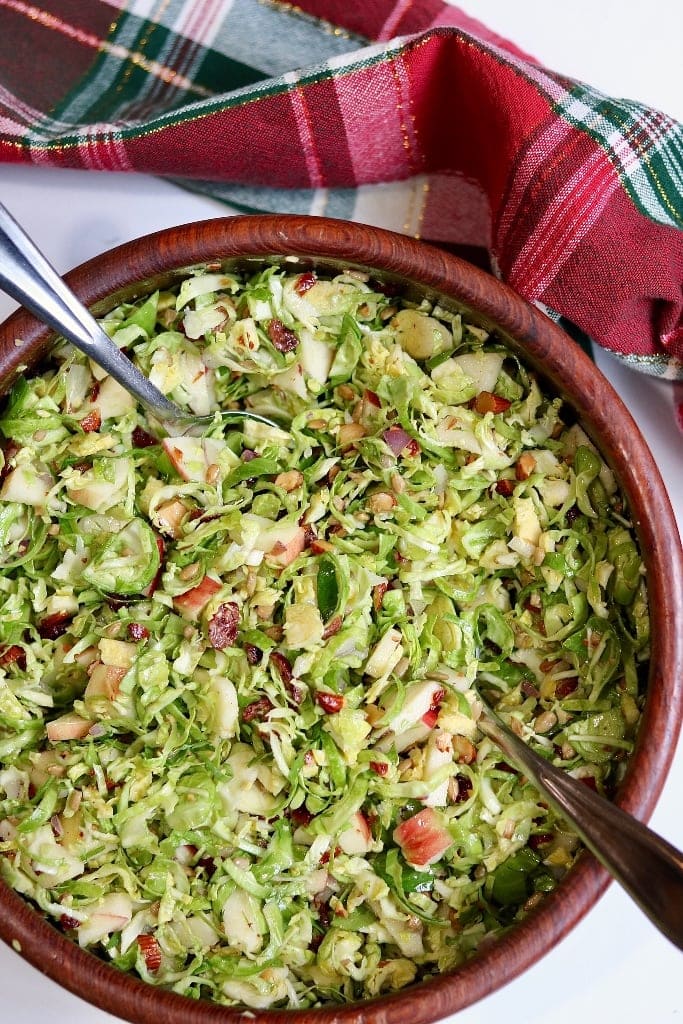 Pairing
Not sure what to serve with this salad? Below are some great proteins to toss with the salad just before serving.
Easy Salad with Vegan Caesar Dressing
Discover our effortless salad, topped with a delectable vegan Caesar dressing. A nutritious and flavorful choice for a satisfying meal.
Instructions
To start, get your salad base ready by washing and dicing or chopping the parsley, bell pepper, lettuce, tomato, and cucumber. Keep this aside.

Next, in a small saucepan, combine sunflower seeds and water and bring them to a boil. Allow them to boil for 5 minutes.

After boiling, transfer the sunflower seeds to a food processor or blender. Add lemon juice, mustard, capers, garlic powder, pink salt, and water, and pulse until a creamy consistency is achieved.

When ready to serve, layer the salad base, and drizzle Caesar dressing over it. Finally, toss the salad together before serving.
Notes
If preparing in advance, save the dressing until just before serving.
Add croutons and vegan bacon crumbles for additional texture and flavor.
Nutrition
Calories:
447
kcal
Carbohydrates:
25
g
Protein:
17
g
Fat:
35
g
Saturated Fat:
3
g
Polyunsaturated Fat:
16
g
Monounsaturated Fat:
13
g
Sodium:
711
mg
Potassium:
968
mg
Fiber:
10
g
Sugar:
8
g
Vitamin A:
3742
IU
Vitamin C:
91
mg
Calcium:
95
mg
Iron:
5
mg
Food Safety
Are you safely preparing the food in your kitchen? Take a moment to check out the tips below and keep them in mind next time you cook!
Always sanitize countertops, cutting boards, utensils, and cookware thoroughly between each use.
Wash your hands in warm soapy water, rubbing for at least 20 seconds before rinsing. Remember, "FROG" means friction rubs off germs.
After serving food, allow it to cool, then place it into the refrigerator or proper storage immediately. Food should be at room temperature for no more than 2 hours for safety.