You are sure to love this delicious and healthy oil-free vegan pasta salad that is perfect for a refreshing lunch or side dish. This pasta salad is bursting with flavor and packed with nutrients.
The cherry tomatoes, chickpeas, celery, and fresh dill create a symphony of textures and tastes that is sure to satisfy your cravings.
If you like this, then you should also check out this super easy cherry tomato pasta recipe.
🥘 Ingredients
This recipe includes the salad ingredients as well as a separate set of ingredients for the dressing. For exact quantities, check the recipe card below.
For the salad
Cherry tomatoes
Chickpeas
Celery
Fresh dill
Pasta
For the hemp seed dressing
Water
Garlic powder
Lemon juice
Hemp seeds
Dried dill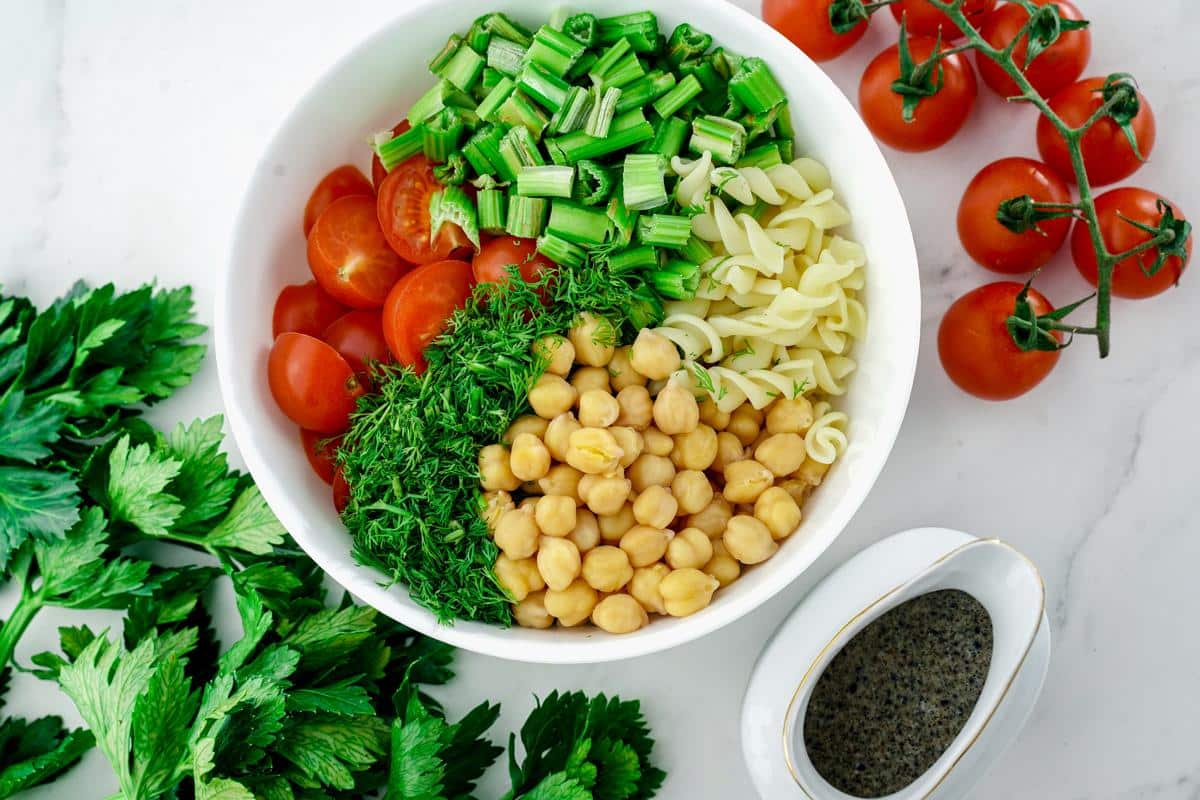 🔪Instructions
Start by cooking the pasta according to the package directions. Drain the pasta and then set it aside.
While the pasta is cooking, prepare the vegetables by cutting the tomatoes and celery into bite-sized pieces. Rinse and drain the chickpeas, and chop the fresh dill.
In a food processor blender, pulse together the water, garlic powder, lemon juice, hemp seeds, and dill until combined.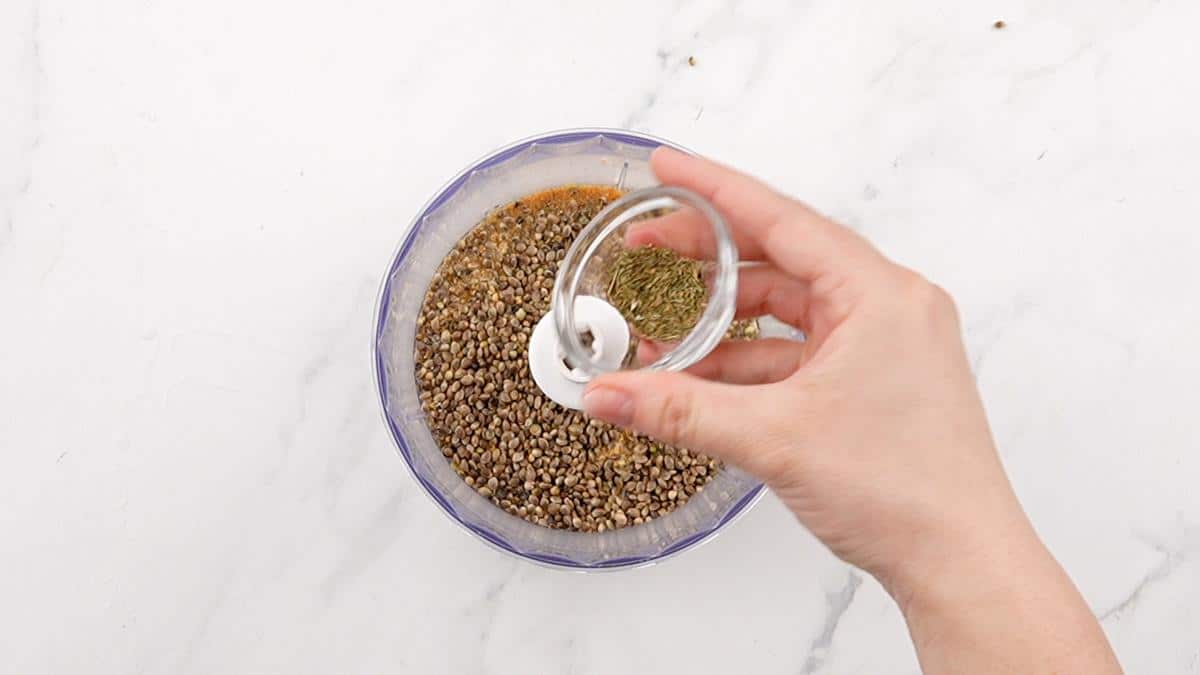 Now, assemble the salad by tossing the pasta and vegetables together with the chickpeas and fresh dill. Drizzle the top with the homemade hemp dressing and toss to combine.
📋 Substitutions
Sometimes you don't have an ingredient on hand or you have a dietary restriction that makes something not work. In this recipe, below are a few common substitutions you can consider when needed.
Replace the pasta with gluten-free pasta if needed
Use black beans, cannellini beans, or kidney beans instead of chickpeas
Replace the processed hemp seeds with a non-dairy yogurt
Fresh parsley, mint, or cilantro can be used in place of the dill
Additionally, if you prefer a spicier flavor, you can add some chili flakes or jalapenos to the salad.
📖 Variations
Want to kick it up a few notches? Consider some of the variations below for this easy vegan pasta salad.
Add bell peppers, cucumbers, black olives, red onions, or mushrooms
Use lentil, chickpea, or edamame pasta
Replace the hemp dressing with a favorite tahini dressing, pesto, or any prepared vegan dressing
Use Italian herbs instead of dill for a different flavor profile.
These are just a few ways you can update this recipe to make it your own. Get creative with spices and vegetables to make it truly unique.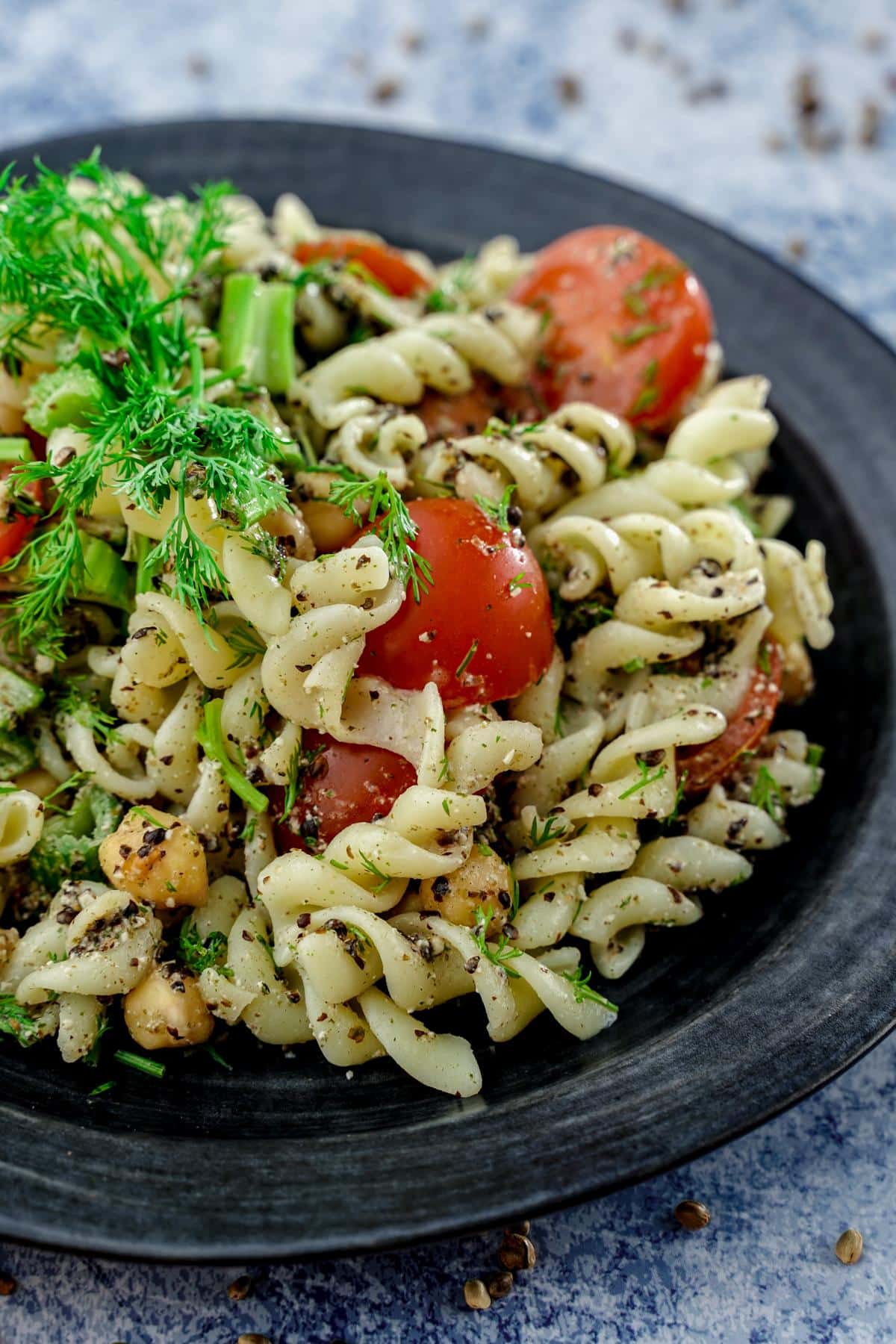 🫙Storage
This pasta is perfect to make ahead. It can easily be stored in the refrigerator in an airtight container for up to four days.
If the pasta is a bit dry when ready to serve, add a few tablespoons of water and toss well to freshen the mixture.
This pasta salad does not freeze well.
🍽 Equipment
If you don't have the items below, I recommend investing. These all will come in handy when preparing meals for your friends and family and are good kitchenware investments.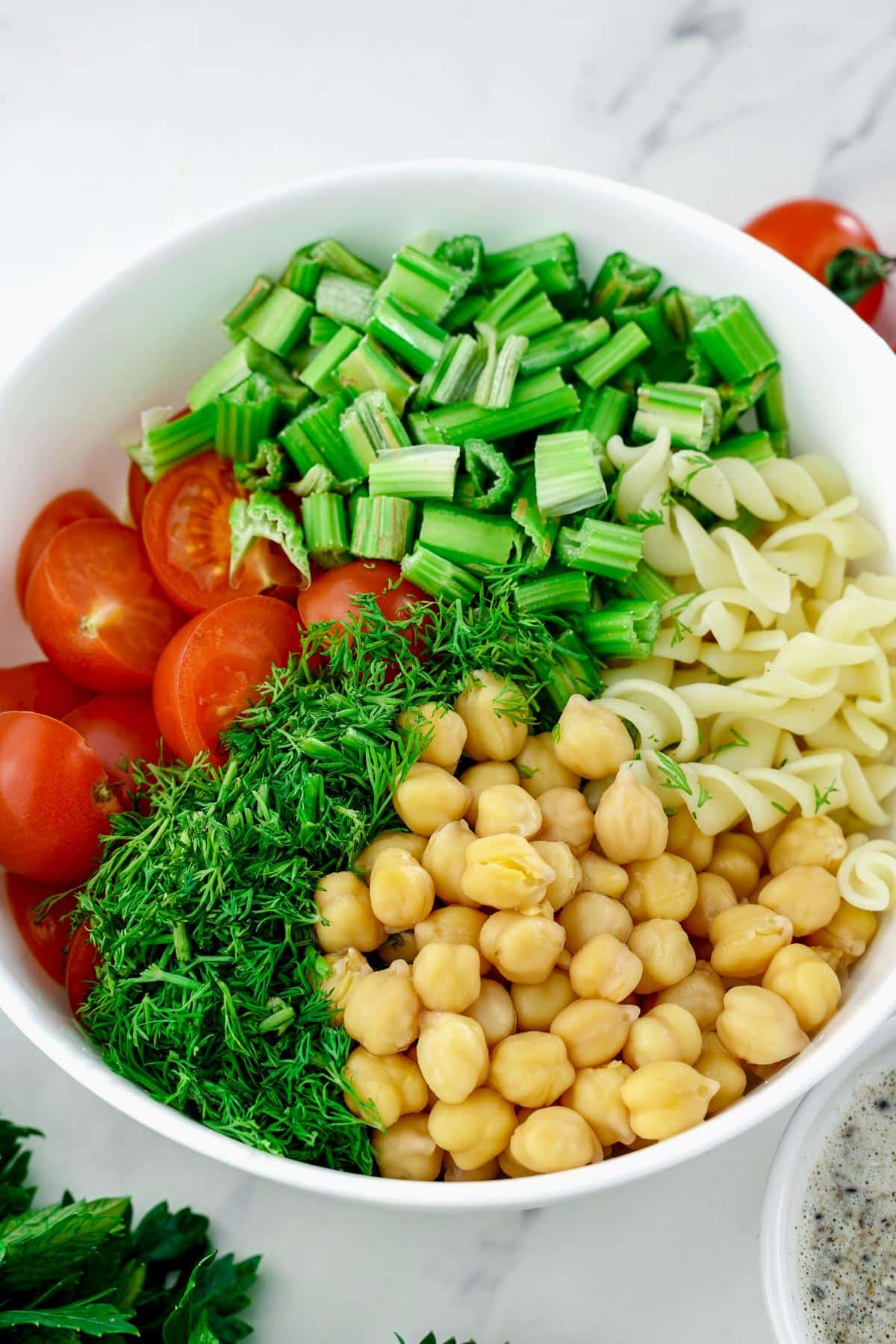 💭 Top Tip
To make this the best pasta salad ever, cook the pasta al dente and rinse it with cold water to stop the cooking process. This will help the pasta maintain its texture and prevent it from getting mushy. Finally, toss the pasta with the dressing just before serving to keep it from becoming soggy.
❓ FAQ
What is the best vegan pasta to use for pasta salad?
You can use any pasta you prefer, but I recommend something small like elbow macaroni, penne, rotini, or shell shape.
How do I make sure my vegan pasta salad stays fresh?
This is best cold and eaten within 2 to 3 days of preparation. Sealing in an airtight container is the best way to keep it fresh. When ready to serve, toss it again to distribute the dressing and vegetables.
Can I make vegan pasta salad ahead of time?
Absolutely. This is good for up to 4 days in the refrigerator. Just toss before serving.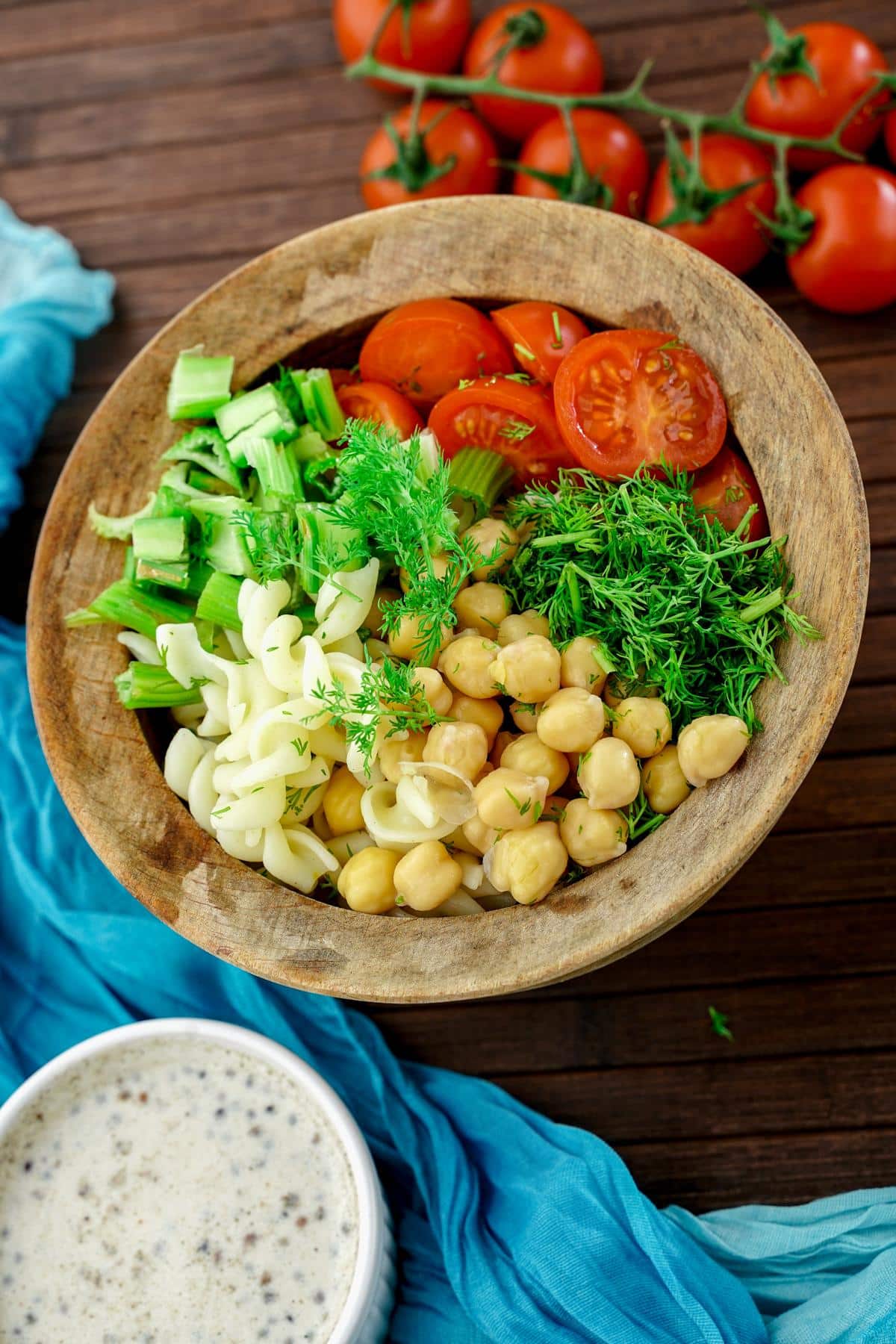 Related
If you enjoy a pasta salad like this one, then you'll love some of our other tasty recipes. Check these out and add them to your menu soon.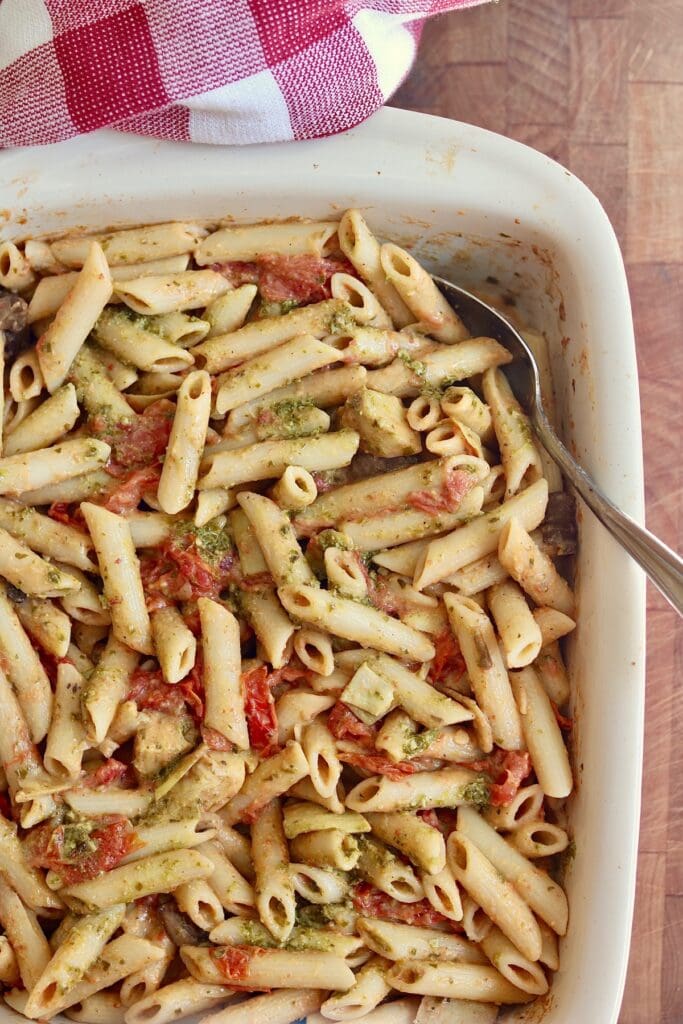 Pairing
Vegan pasta salad is a perfect addition to your menu. It pairs perfectly with a sandwich or some grilled tofu. Below are a few of our favorites to serve with this dish.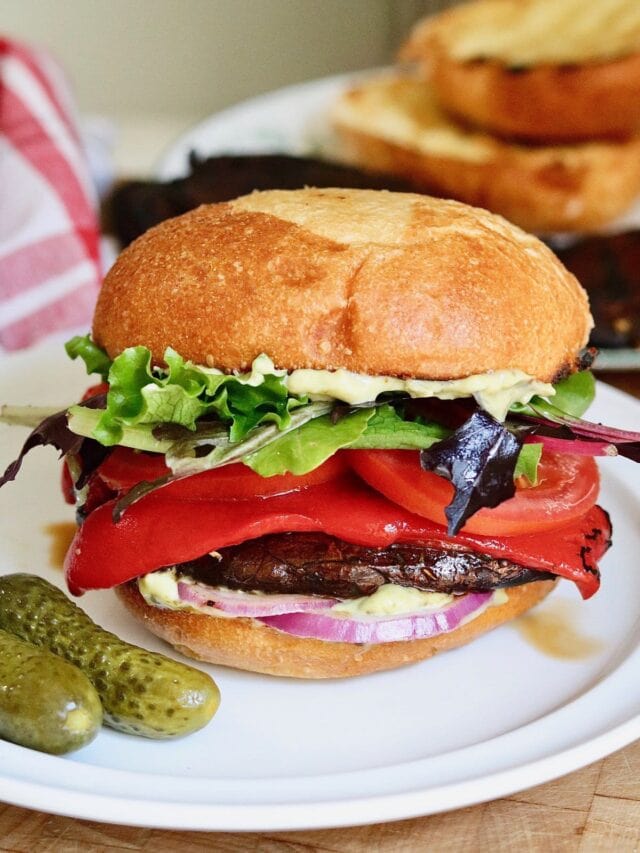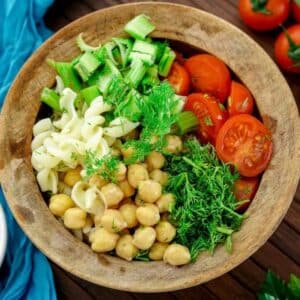 Oil Free Vegan Pasta Salad
Savor the lip-smacking taste of our vegan pasta salad, made without any added oil! Bursting with wholesome goodness and flavors, this dish is an excellent choice for anyone looking for a healthy and delicious meal option.
Ingredients
For the hemp seed ranch:
¾

cup

water

1

teaspoon

garlic powder

Juice of 1 lemon

½

cup

hemp seeds

2

teaspoon

dry dill

1

teaspoon

salt
Instructions
Cook the pasta following the instructions on the package. Once done, drain the pasta and set it aside.

While the pasta is cooking, it's time to prepare the veggies. Cut the cherry tomatoes and celery into bite-sized pieces. Rinse and drain the chickpeas and finely chop the fresh dill.

Next, let's make the hemp seed ranch dressing. Add water, garlic powder, lemon juice, hemp seeds, and dill to a food processor or blender. Pulse until it's a smooth and creamy texture.

To assemble the salad, combine the pasta, vegetables, chickpeas, and fresh dill in a large bowl. Drizzle the homemade hemp dressing on top and toss everything together to mix well.
Notes
Add any vegetables you prefer to this recipe for more texture and nutrition.
If making in advance, leave the dressing off until just before serving.
Nutrition
Calories:
728
kcal
Carbohydrates:
92
g
Protein:
34
g
Fat:
24
g
Saturated Fat:
2
g
Polyunsaturated Fat:
19
g
Monounsaturated Fat:
3
g
Sodium:
1236
mg
Potassium:
479
mg
Fiber:
7
g
Sugar:
4
g
Vitamin A:
645
IU
Vitamin C:
3
mg
Calcium:
130
mg
Iron:
9
mg
Food Safety
Are you following food safety guidelines? Check out our top tips below to make sure your food is prepared safely in your home kitchen.
Always sanitize countertops, cutting boards, utensils, and cookware thoroughly between each use.
Wash your hands in warm soapy water, rubbing for at least 20 seconds before rinsing. Remember, "FROG" means friction rubs off germs.
After serving food, allow it to cool, then place it into the refrigerator or proper storage immediately. Food should be at room temperature for no more than 2 hours for safety.