Discover the perfect balance of nutrition and taste with our rainbow sesame quinoa salad. A protein-packed salad that is ideal as a side dish or an entree.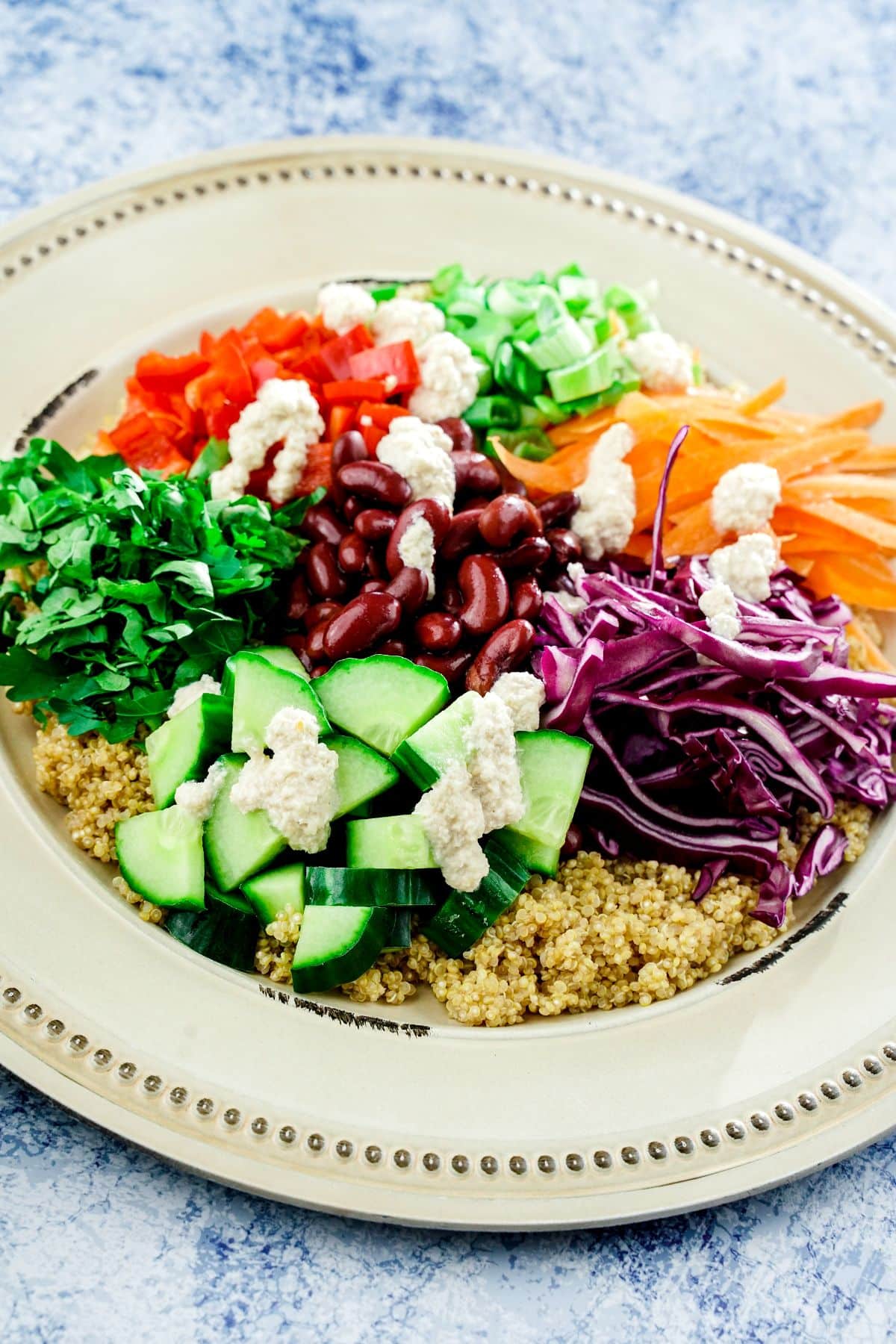 This salad features quinoa, fresh vegetables, and a delectable sesame dressing. With versatile substitutions and storage tips, our recipe is adaptable to your preferences.
If you enjoy this bright and refreshing salad, then make sure you check out our Mediterranean couscous salad too. It's another protein and flavor packed meal.
Jump to:
🥘 Ingredients
Below you will find two separate lists of ingredients. The first is for the base of the salad, and the second set is for the dressing. For exact measurements, check the printable recipe card at the bottom of the post.
For salad:
Red cabbage
Green onion
Bell pepper
Cucumber
Carrot
Fresh parsley
Quinoa (cooked)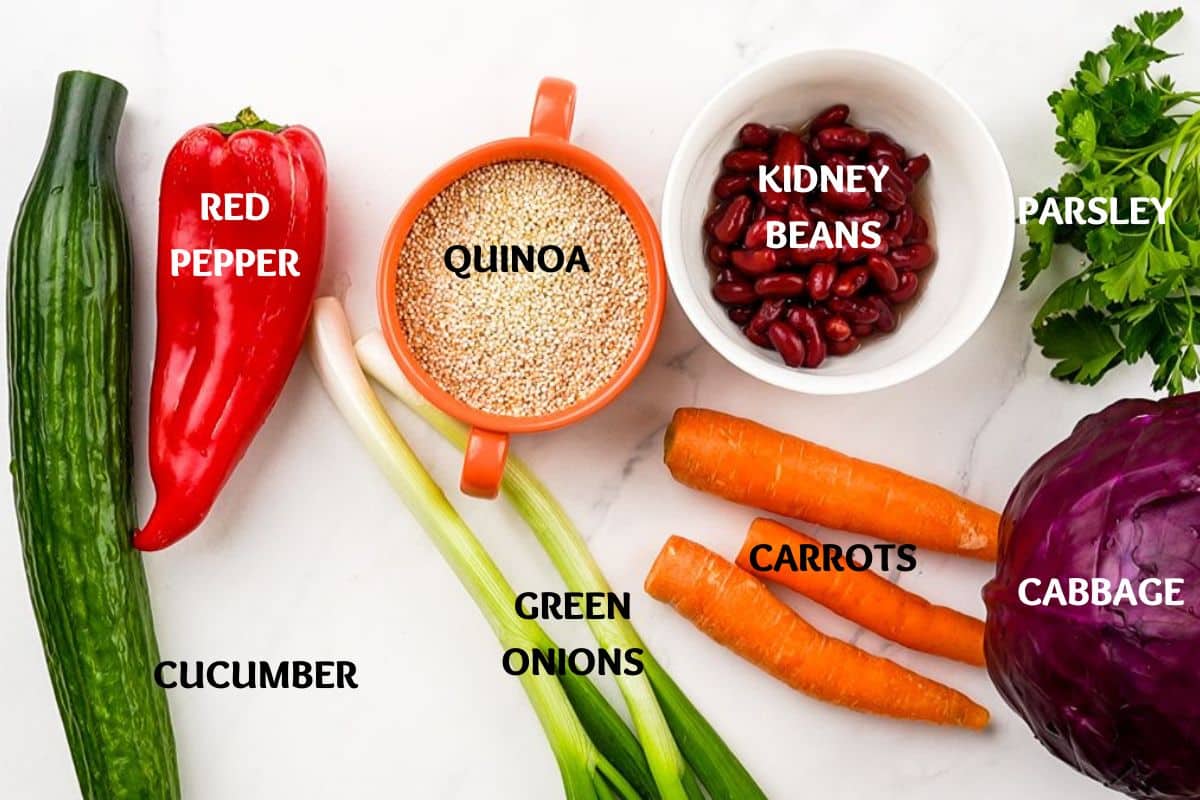 For the dressing:
Soy sauce
Vinegar
Water
Sesame oil
Fresh garlic
Ground ginger
Sesame seeds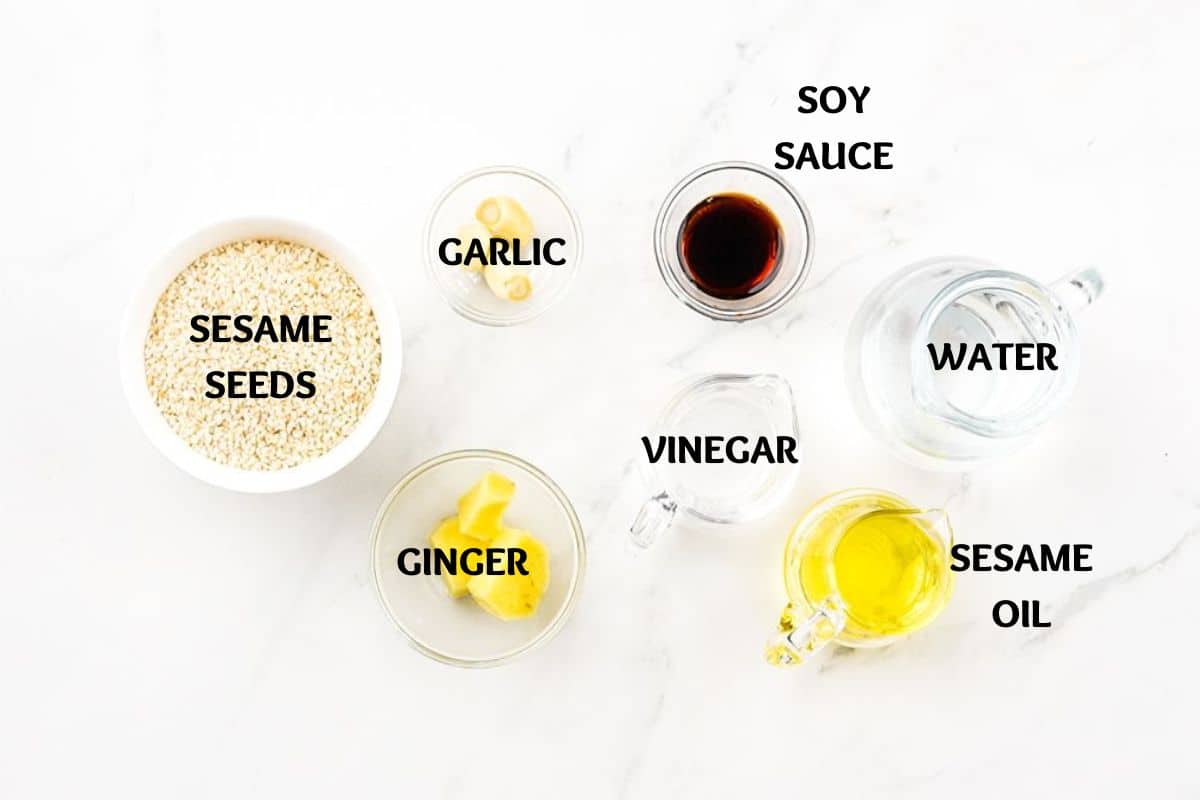 📋Instructions
Start with preparing the quinoa according to the package directions. Once this is cooked, fluff with a fork and set aside.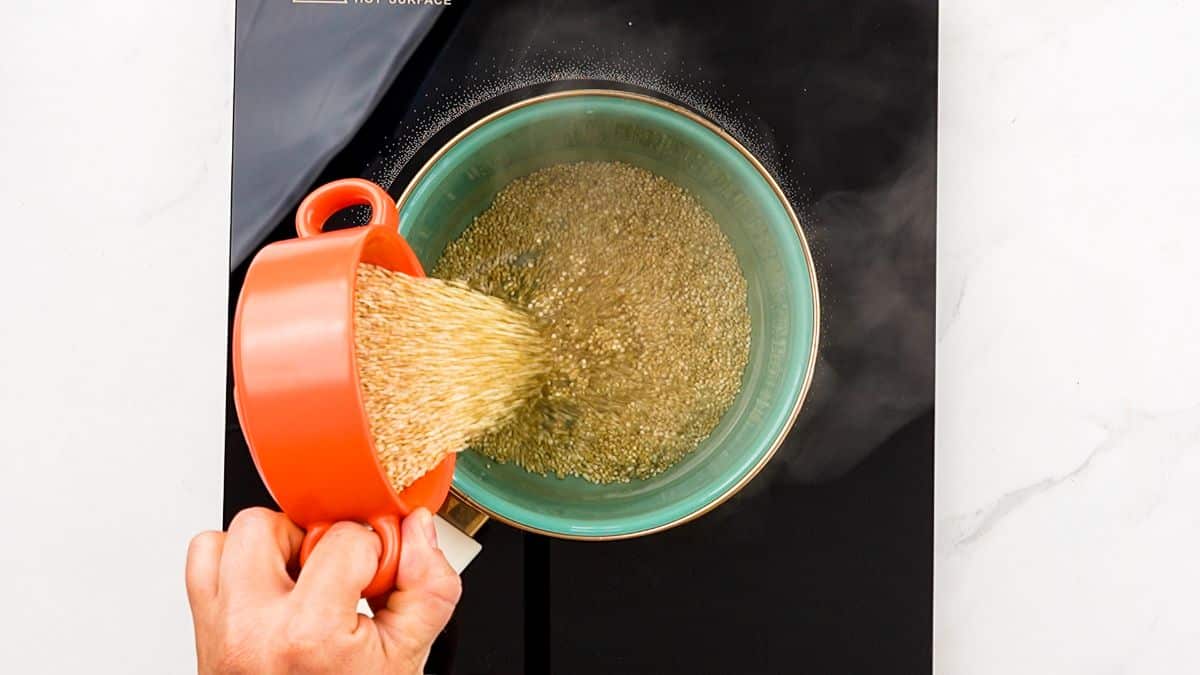 Now, you will prepare all of the vegetables. Start by chopping the cabbage into thin slices. Then, peel and cut the cucumber and carrot.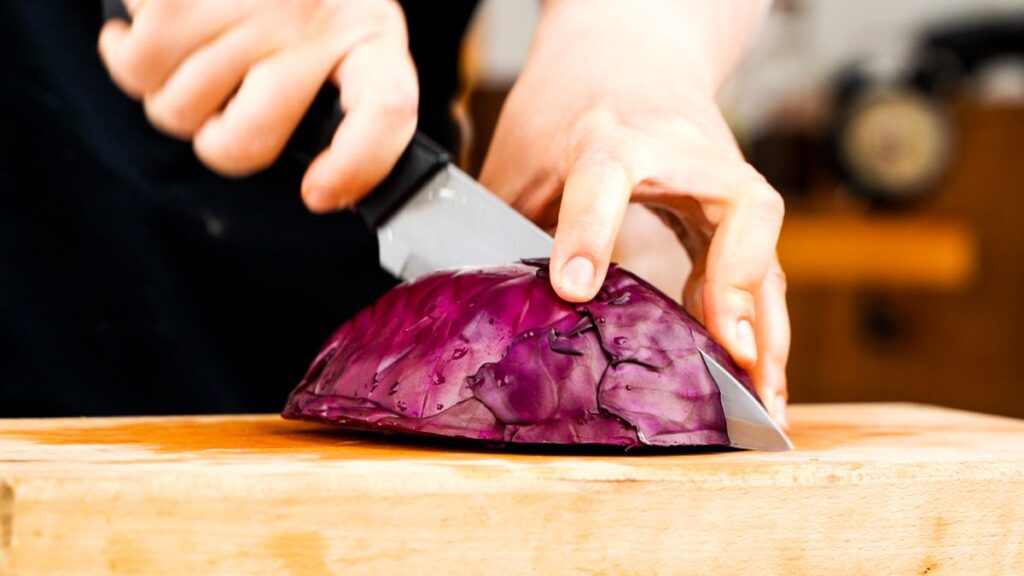 Dice the bell pepper and green onion into bite-sized pieces. Then set all of the vegetables aside.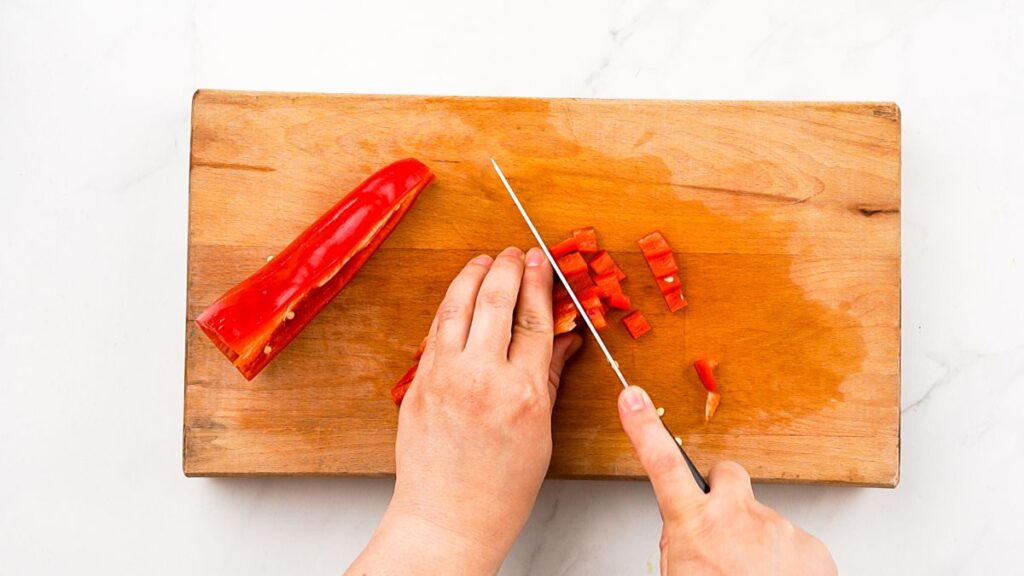 Next, you will add the soy sauce, vinegar, water, sesame oil, garlic, ginger, and sesame seeds to a blender or food processor. Pulse until combined and creamy.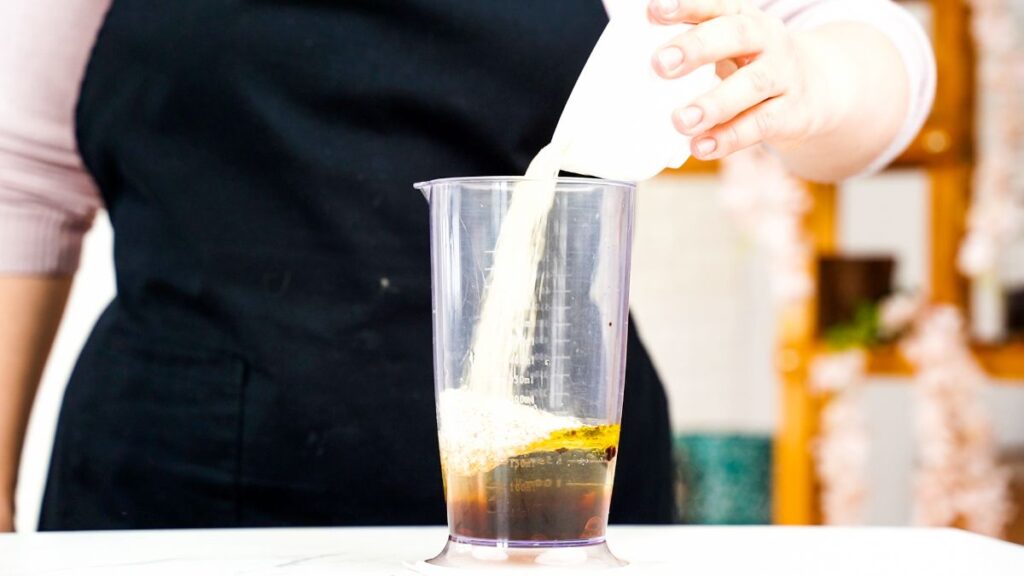 Serve the salad with quinoa topped with vegetables and a drizzle of dressing. Toss before serving.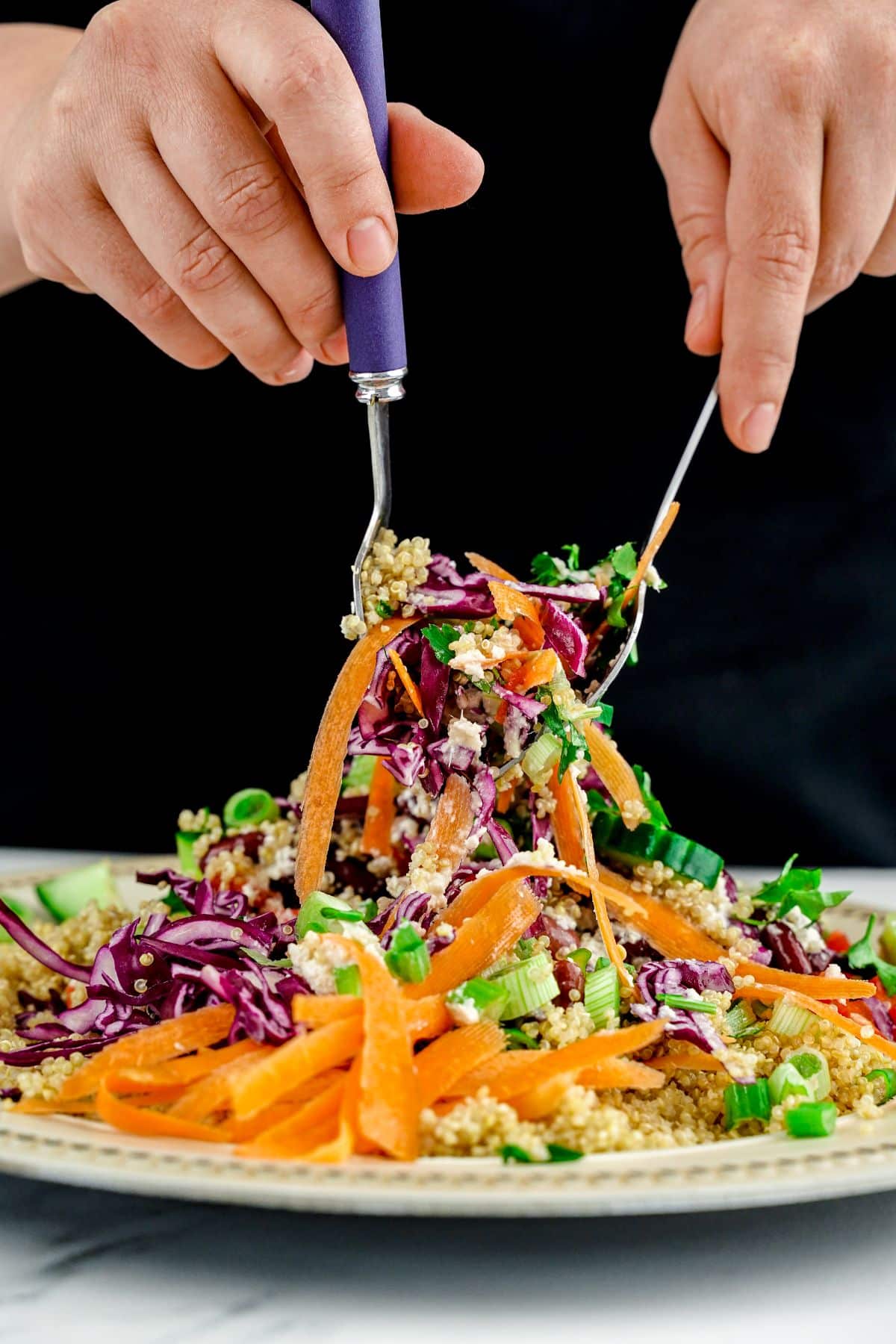 🔪Substitutions
If you happen to not have everything on hand, or you prefer a little different flavor, below are some common substitutes for the ingredients shown above.
Quinoa can be replaced with couscous, bulgur, farro, or brown rice
Avocado oil and olive oil can be used in place of sesame oil
Replace soy sauce with coconut aminos or tamari
Use green cabbage or napa cabbage in place of red cabbage if desired
Feel free to swap or add different vegetables based on your preferences or what you have available.
📖Variations
This recipe is pretty basic and easy to make different. Below are a few ideas for adding fresh flavor to a favorite salad.
Replace the parsley with fresh mint, cilantro, or basil
Add mustard to the dressing for more zip
Use hoisin sauce instead of soy sauce for a richer flavor
Top with toasted pecans, walnuts, almonds, or sunflower seeds
🫙Storage Tips
This salad is good for up to 4 days when stored in an airtight container in the refrigerator. I do recommend storing the separate ingredients until just before serving if possible. This makes sure all of your vegetables stay crisp.
While the vegetables and dressing aren't ideal or freezing, you can make quinoa in large batches and freeze it in 1-cup portions ahead of time. When doing this, label and freeze for up to 4 months.
🍽Equipment
Do you have everything needed to create delicious meals in your kitchen? Check out our tips for equipment you should always have on hand.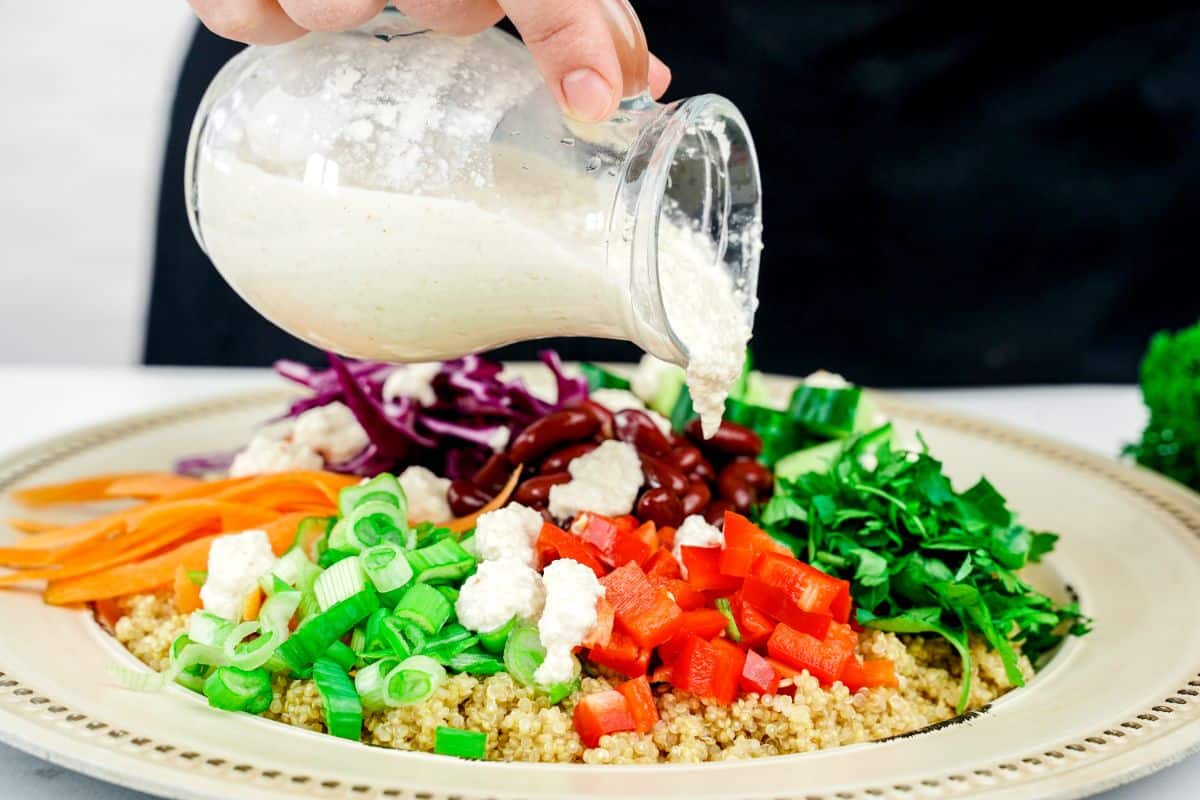 💭Top Tip
Toast the sesame seeds: Toasting the sesame seeds before adding them to the salad will intensify their flavor and add a delightful crunch. Simply heat a dry skillet over medium heat, add the sesame seeds, and toast them for a few minutes until golden brown. Be careful not to burn them.
❓FAQs
How can I make quinoa better?
After cooking the quinoa, make sure to fluff it with a fork to separate the grains and prevent clumping. This will give the salad a light and fluffy texture.
Can I use different vegetables?
Absolutely! Just make sure you have a nice mix of flavors and textures. I also recommend adding some greens, yellows, reds, and blues if possible.
Is soy sauce vegan?
In most cases, soy sauce is completely vegan. However, some brands add ingredients derived from animals to enhance flavors. I always recommend verifying before use. Kikkoman brand is a classic option that is certified vegan.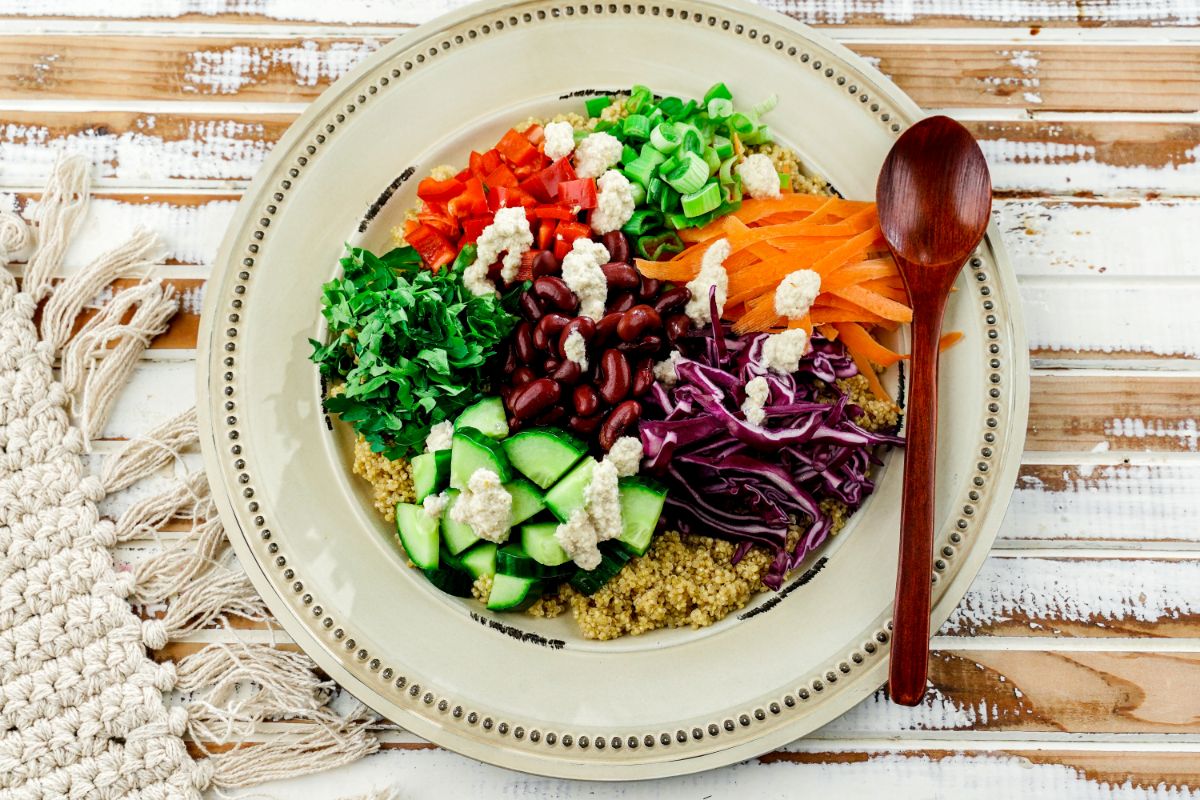 Related
Want more salads on your menu? Check out a few options below and add them to your meal plan.
Pairing
Want to serve this alongside something instead of as a stand-alone meal? Check out the ideas below for some tasty protein additions.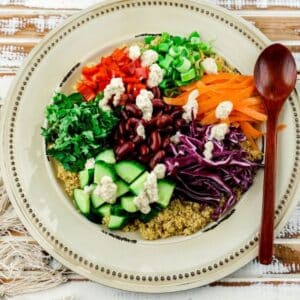 Rainbow Sesame Quinoa Salad
Try our delightful vegan rainbow sesame quinoa salad, featuring a medley of colorful vegetables and a creamy dressing. A nutritious and delicious choice!
Instructions
Cook the quinoa according to package directions. Season to taste, then fluff with a fork and set aside.

Prepare the vegetables by shredding the cabbage, peeling and chopping the cucumber and carrot, chopping the green onion and bell pepper, and removing the parsley from the stems and chopping it roughly.

¼ red cabbage,

1 green onion,

1 cucumber,

1 red bell pepper,

1 carrot,

1 bunch fresh parsley

Drain and rinse the canned kidney beans. Set these aside.

Now, begin to make the salad dressing. Combine all of the dressing ingredients into the blender and pulse until everything is combined and creamy. This will take 1 to 2 minutes. You may have some texture from the seeds remaining, that is okay.

1 cup water,

2 tablespoon sesame oil,

¼ cup vinegar,

3 tablespoon soy sauce,

2 teaspoon ground ginger,

1 ½ cup sesame seeds,

3 garlic cloves

When ready to serve, combine the quinoa, vegetables, and salad dressing. Toss together in a large bowl and serve.
Notes
For added flavor, season the water or use vegetable broth or mushroom broth when making the quinoa.
Save time and use a bag of cole slaw mix in place of the red cabbage.
Save money by buying sesame seeds from the bulk bins at your local Asian market.
Nutrition
Calories:
655
kcal
Carbohydrates:
62
g
Protein:
23
g
Fat:
38
g
Saturated Fat:
5
g
Polyunsaturated Fat:
17
g
Monounsaturated Fat:
14
g
Sodium:
795
mg
Potassium:
1083
mg
Fiber:
16
g
Sugar:
6
g
Vitamin A:
4181
IU
Vitamin C:
73
mg
Calcium:
635
mg
Iron:
13
mg
Food Safety
Are you always practicing food safety in your kitchen? It's so important that we keep things sanitized. Check out our top tips below and keep them in mind for next time you are in the kitchen preparing a meal.
Always sanitize countertops, cutting boards, utensils, and cookware thoroughly between each use.
Wash your hands in warm soapy water, rubbing for at least 20 seconds before rinsing. Remember, "FROG" means friction rubs off germs.
After serving food, allow it to cool, then place it into the refrigerator or proper storage immediately. Food should be at room temperature for no more than 2 hours for safety.