Tantalize your taste buds with this blueberry baby salad. This exciting and fun dish is perfect for a weekday dinner or an outdoor summer barbeque.
This combination of savory and sweet flavors is bound to delight the senses.
Loaded with freshness, this salad is sure to become a mainstay in your weekly meal plan.
If you like fruit in a salad, then you'll love this avocado mango salad with fresh cilantro dressing. It showcases the perfect sweet and savory flavor.
🥘 Ingredients
This salad has two lists of ingredients for your convenience. They are separated by the base of the salad and the dressing. For exact measurements, check the printable recipe card at the bottom of the post.
For the salad:
Salad greens (kale, spinach, spring mix, iceberg, or any preferred greens)
Red onion
Apple
Blueberries
Pistachios
Avocado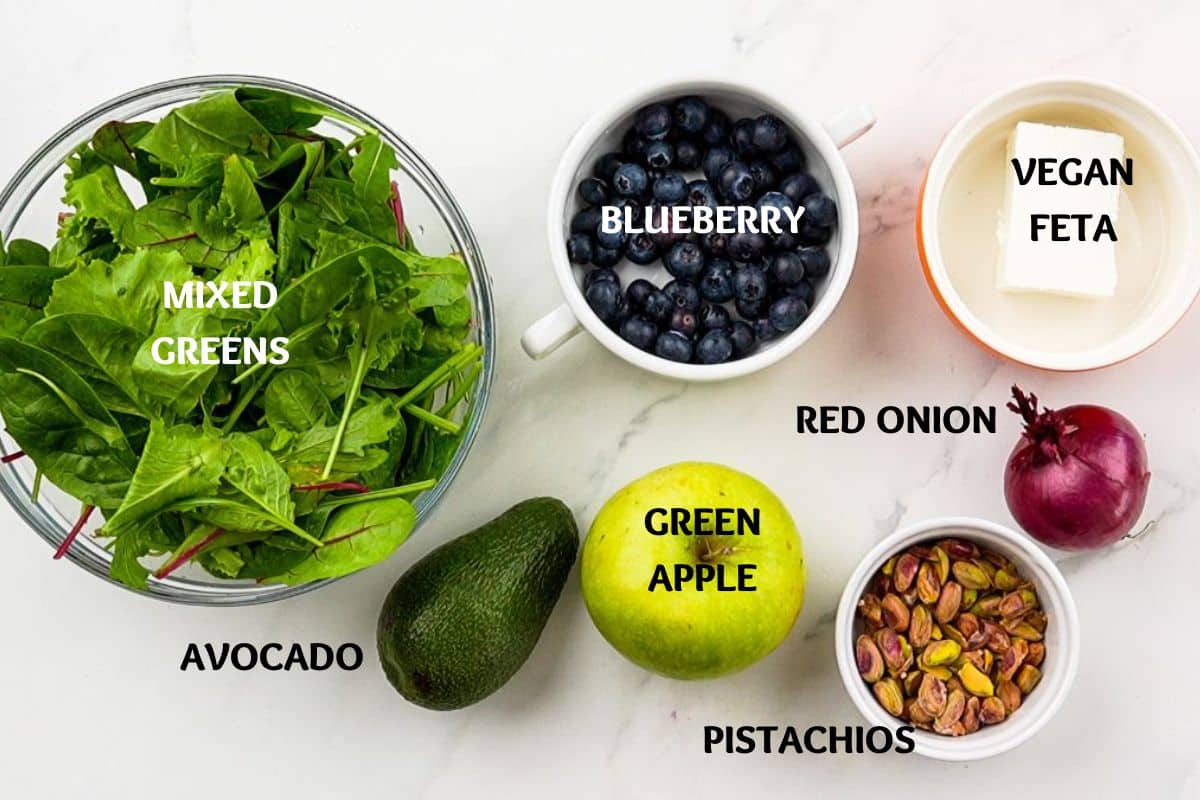 For the dressing:
Olive oil
Balsamic vinegar
Maple syrup
Dijon mustard
Blueberries
Salt and black pepper
📋Instructions
This recipe is super easy to make. Start by preparing the vegetables and fruits. Wash and pat them dry, then cut the red onion, apple, and avocado into small pieces. Set them aside.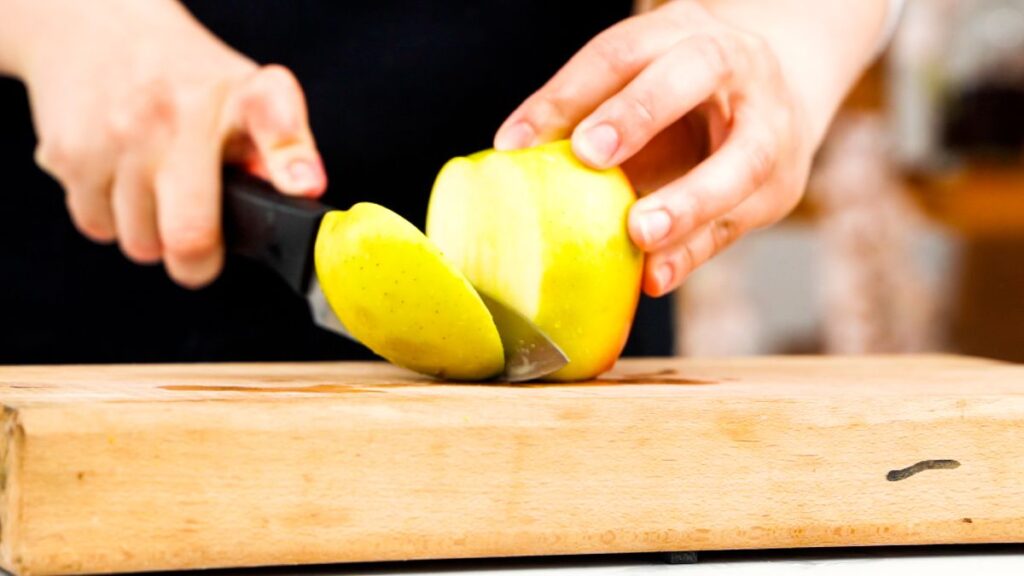 If desired, you can chop the pistachios and cut the blueberries into small pieces. Then, combine the vegetables and fruit in a large bowl with your salad greens. Add the vegan feta on top in small crumbles.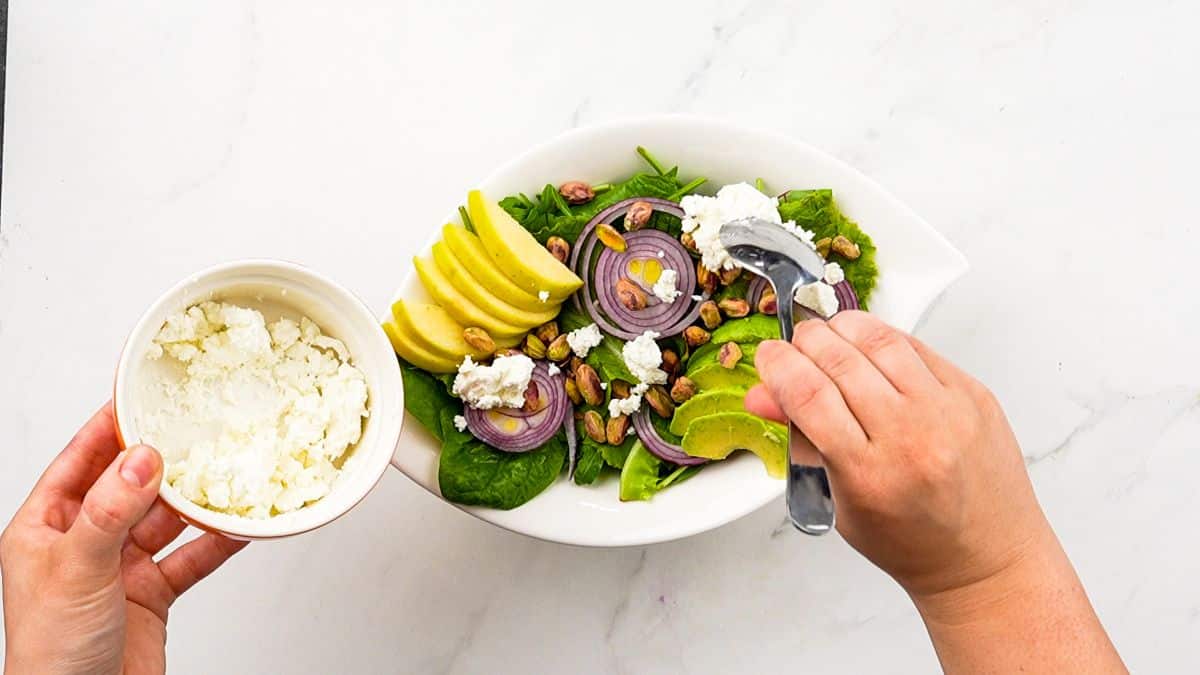 To make the blueberry dressing, add the olive oil, vinegar, maple syrup, mustard, blueberries, salt, and pepper to the blender. Pulse until smooth. Taste and season if needed.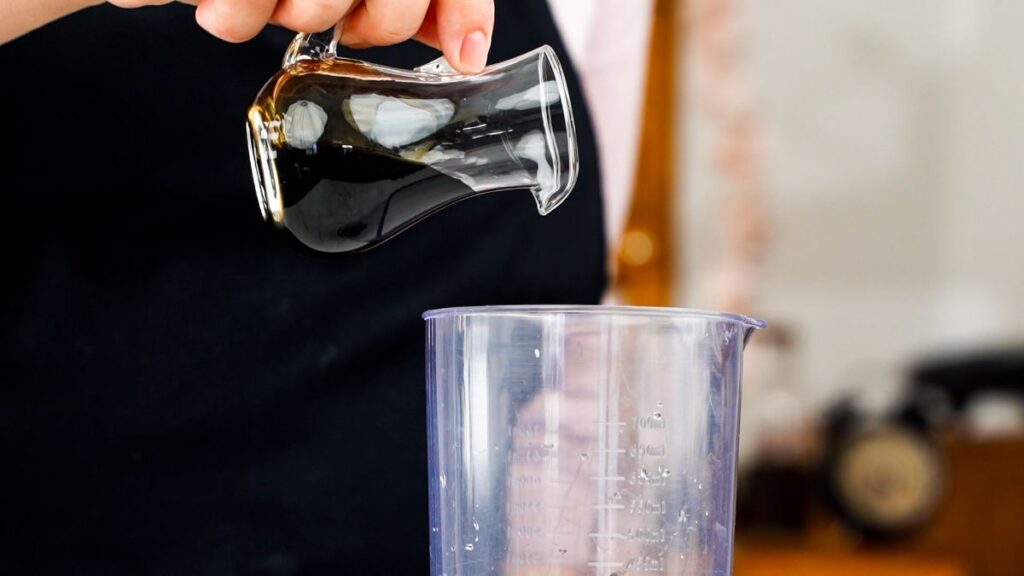 Toss the salad greens and vegetables with the dressing before serving.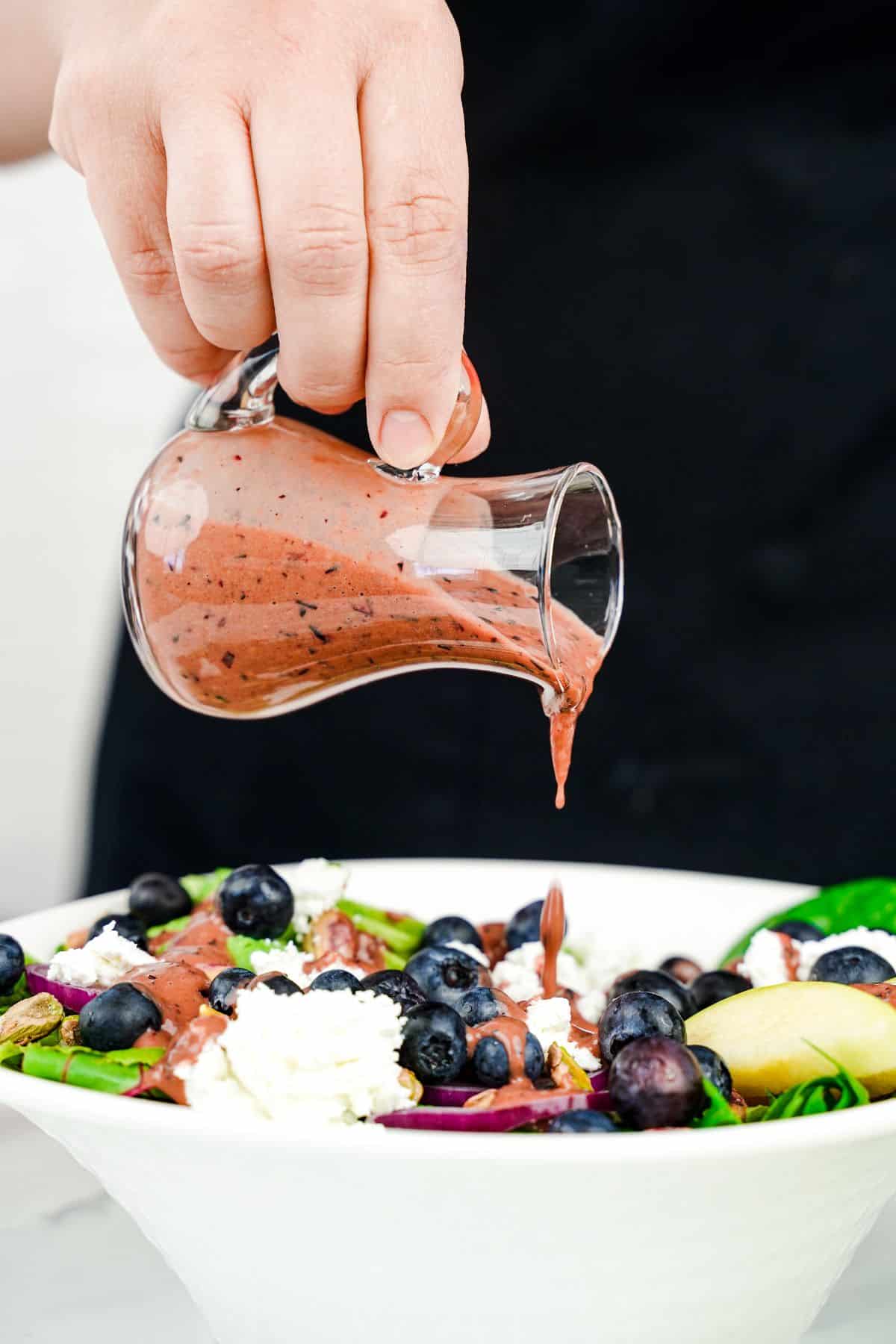 🔪Substitutions
If you want to make this different or don't have all ingredients on hand. Below are a few ideas that are great to use in place of the regular ingredients.
Use any preferred vegan cheese
Mix and match any greens you prefer including types of lettuce or cabbage
Swap out the pistachios for walnuts, pecans, hazelnuts, almonds, or peanuts if desired.
Use strawberries or raspberries in place of blueberries
Toss with a ready-made fruit vinaigrette instead of the homemade option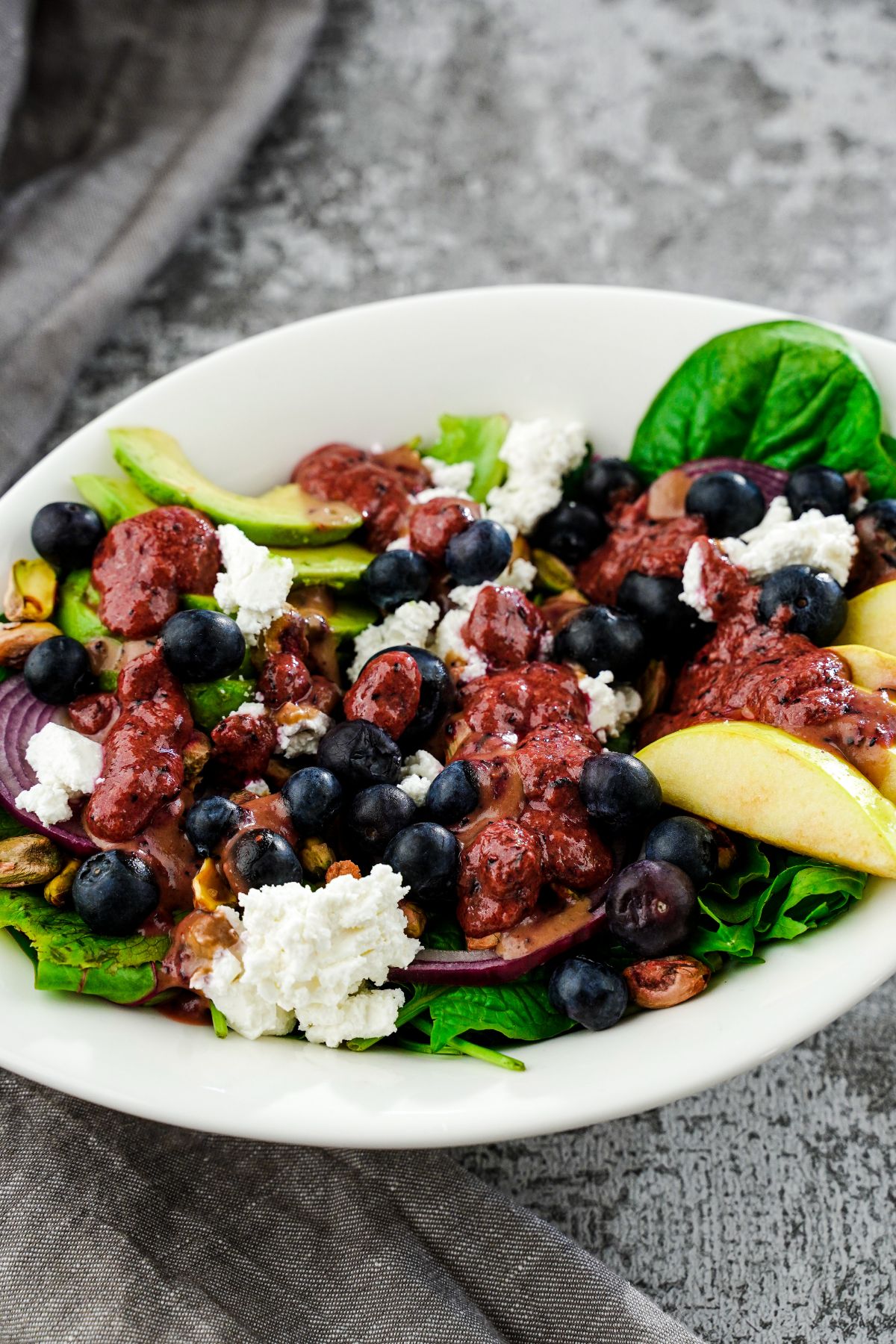 📖 Variations
If you love a recipe that you can change up to make something new each time, this is one of those recipes. Below are a few simple swaps that can make it unique and new to you.
For a sweeter flavor, add some dried cranberries or blueberries.
If you're looking for a heartier meal, feel free to add in cooked quinoa or brown rice. This will provide some extra protein and make the salad even more satisfying.
For those who prefer things on the spicy side, add in a few teaspoons of Sriracha or your favorite hot sauce.
Add diced jalapeno or chili to the salad with a sriracha or hot sauce dressing for extra heat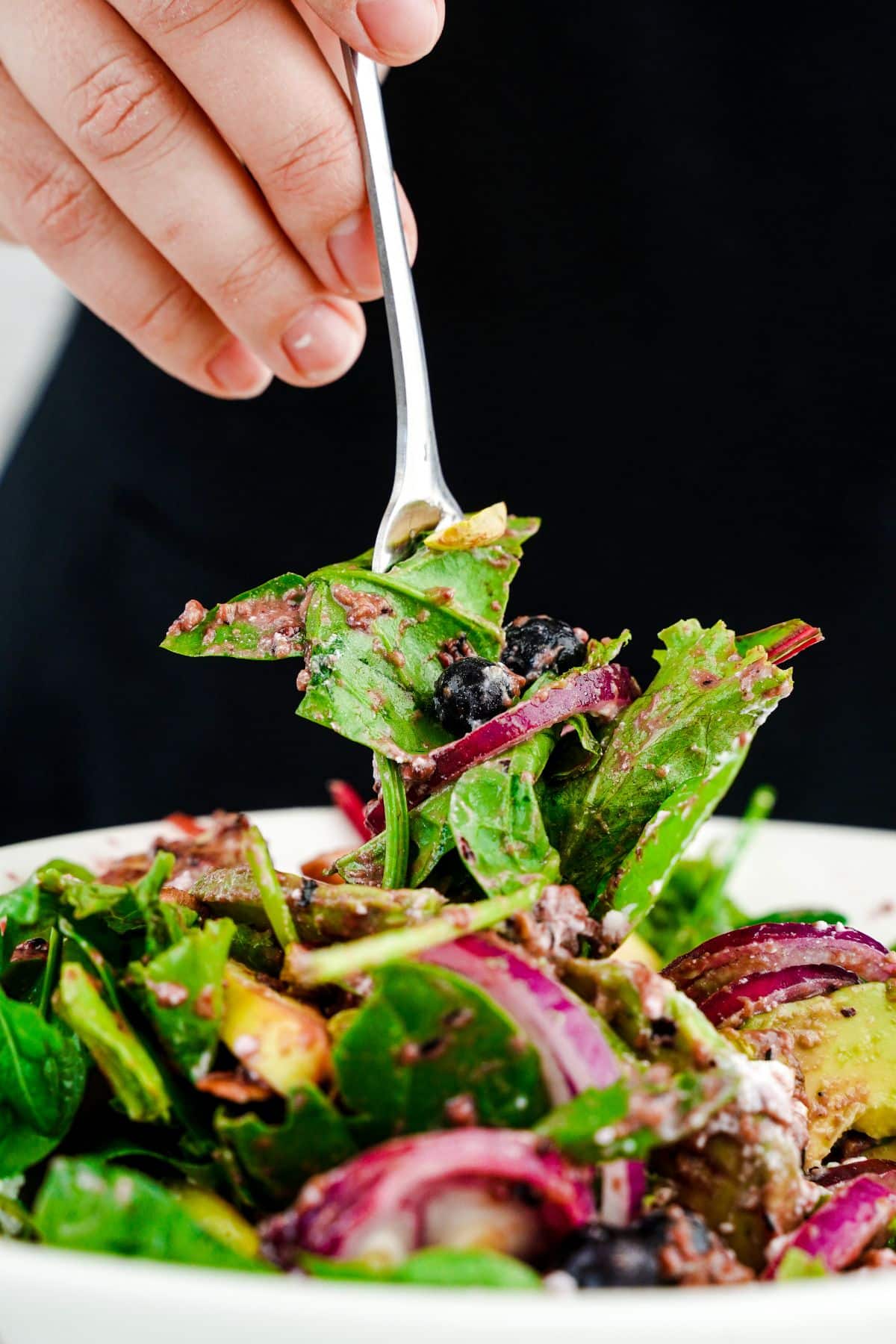 🫙Storage Tips
If you aren't making this ahead of time, I recommend keeping the chopped vegetables, lettuce, and dressing separate until time to serve. The ingredients will keep in the refrigerator for up to 4 days when stored in an airtight container.
🍽 Equipment
Is your kitchen fully prepared for any recipe? If not, you may want to check out some of our favorite supplies below.
💭 Top Tip
If you aren't going to serve this right away, the best thing to do is to keep the ingredients separate so nothing gets soggy. Just store in airtight containers in the refrigerator until ready to serve. Then you can toss them together.
❓FAQs
What are the best greens for a blueberry salad?
You can use any of your favorite greens, but I find that a spicier green works best with the sweetness of the berries. Arugula is a great choice, but it is best paired with some spinach and baby greens for this salad.
What goes with a blueberry baby salad?
This salad is bright and fresh, but it may need a bit more on the side to create a meal. I like to serve this with some tofu, quinoa, or seitan. A piece of crusty bread on the side is always a good choice.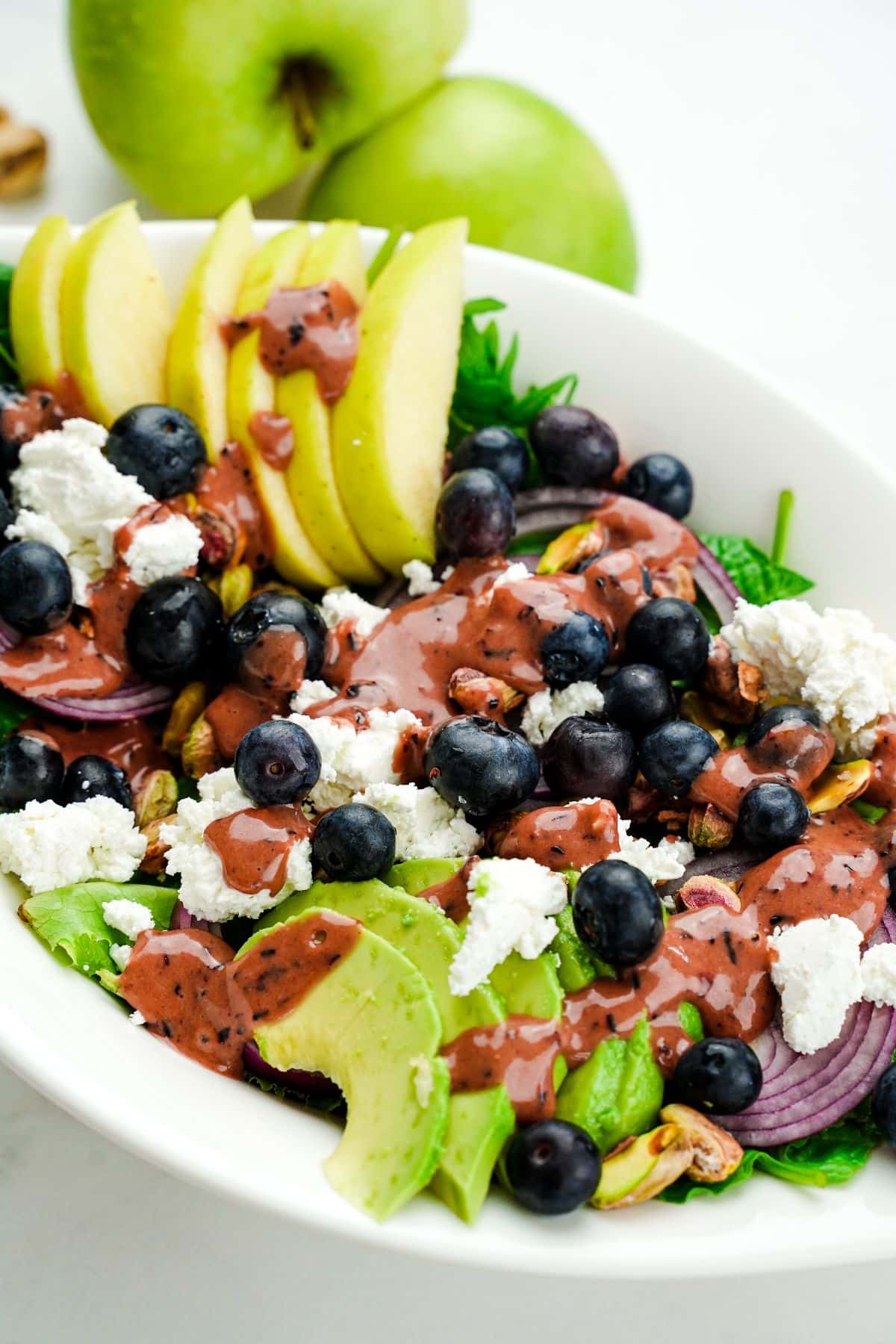 Related
If you like this recipe, then check out some more of our favorite salads below. Bookmark your favorites and make them soon.
Pairing
This salad needs a bit more protein to make a meal. Below are great choices to top or serve alongside the salad.
Blueberry Baby Salad with Vegan Feta
Delight in a vegan blueberry baby salad with savory feta. A refreshing and wholesome dish bursting with flavor
Instructions
Wash all the fruits and vegetables before using them. On a cutting board, slice the apple, avocado, and onion.

Make the dressing: Put all the dressing ingredients in a blender or food processor and blend until smooth.

1 tablespoon maple syrup,

2 teaspoon Dijon mustard,

¼ cup balsamic vinegar,

⅓ cup olive oil,

2 cups blueberries,

Salt and black pepper

In a big bowl, layer the green salad, sliced apple, avocado, onion, blueberries, pistachios, and crumbled feta cheese. Top with dressing.

1 cup blueberries,

⅓ cup pistachios,

½ cup vegan feta cheese
Notes
Save time by using a vegan ready-made blueberry vinaigrette dressing.
Top with any nuts or vegan cheese you prefer.
Nutrition
Calories:
455
kcal
Carbohydrates:
40
g
Protein:
8
g
Fat:
32
g
Saturated Fat:
4
g
Polyunsaturated Fat:
5
g
Monounsaturated Fat:
21
g
Sodium:
47
mg
Potassium:
608
mg
Fiber:
9
g
Sugar:
24
g
Vitamin A:
544
IU
Vitamin C:
27
mg
Calcium:
87
mg
Iron:
2
mg
Food Safety
This blueberry baby salad is such a tasty meal idea. Just make sure you are always following the best safety practices when preparing a meal at home. Below are our top tips to consider.
Always sanitize countertops, cutting boards, utensils, and cookware thoroughly between each use.
Wash your hands in warm soapy water, rubbing for at least 20 seconds before rinsing. Remember, "FROG" means friction rubs off germs.
After serving food, allow it to cool, then place it into the refrigerator or proper storage immediately. Food should be at room temperature for no more than 2 hours for safety.