Introducing my new vegan wedge salad with coconut bacon recipe! This refreshing salad is made with a lettuce wedge, cherry tomatoes, walnuts, and red onion, topped with crispy and flavorful coconut bacon and a creamy hemp seed ranch dressing.
It's the perfect starter for a full meal but can be used as a tasty lunch if you prefer.
If you like this, then you will love this simple vegan Buddha bowl recipe. So tasty and easy to prepare.
🥘 Ingredients
Below you will find three different lists of ingredients. One each for the salad, the coconut bacon, and the hemp dressing. You can find the exact measurements for this in the printable recipe card below.
For the salad:
Iceberg lettuce
Tomatoes
Walnuts
Red onion
Coconut flakes
For the coconut bacon:
Coconut flakes
Soy sauce
Liquid smoke
Maple syrup
Sea salt
For the hemp seed ranch dressing:
Water
Lemon juice
Hemp seeds
Dried dill
Dried parsley
Garlic powder
Onion powder
Salt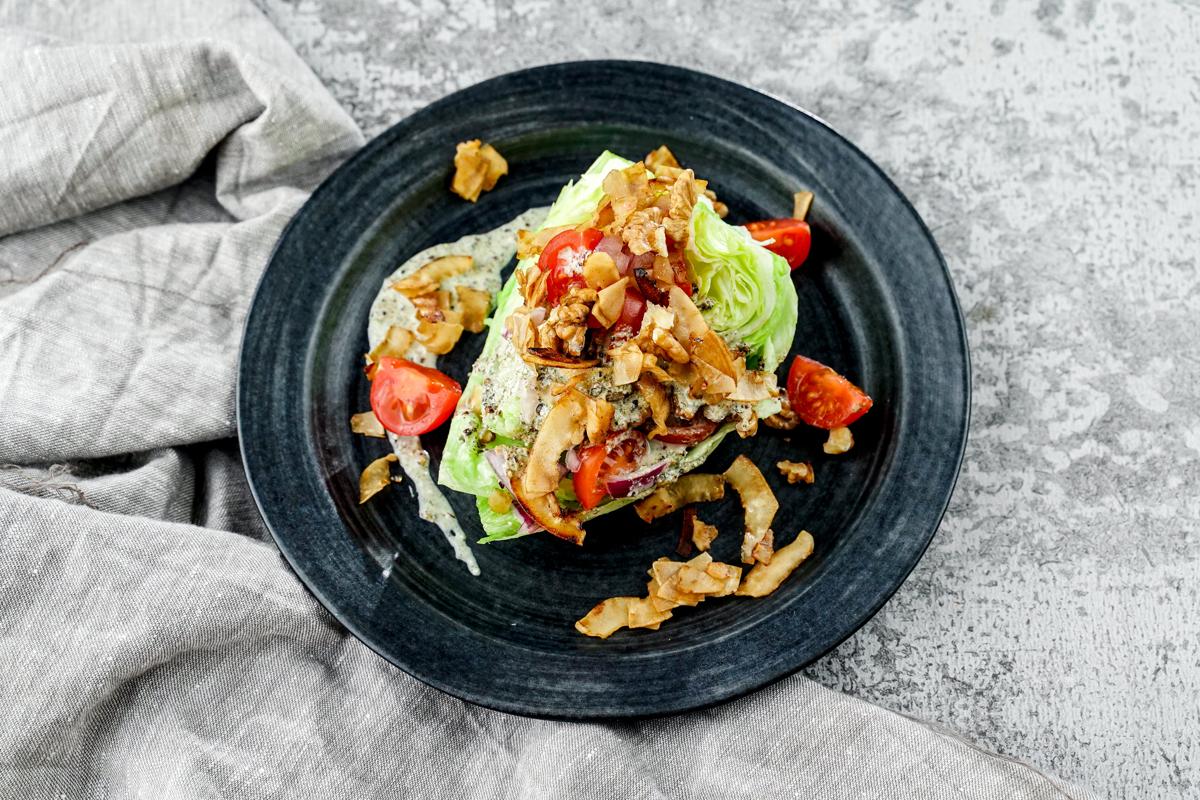 🔪Instructions
Video Recipe
To begin, you will toast the coconut flakes with soy sauce, liquid smoke, maple syrup, and sea salt. Place all into a skillet, over low heat, and cook for 5 minutes, or until golden. Set aside.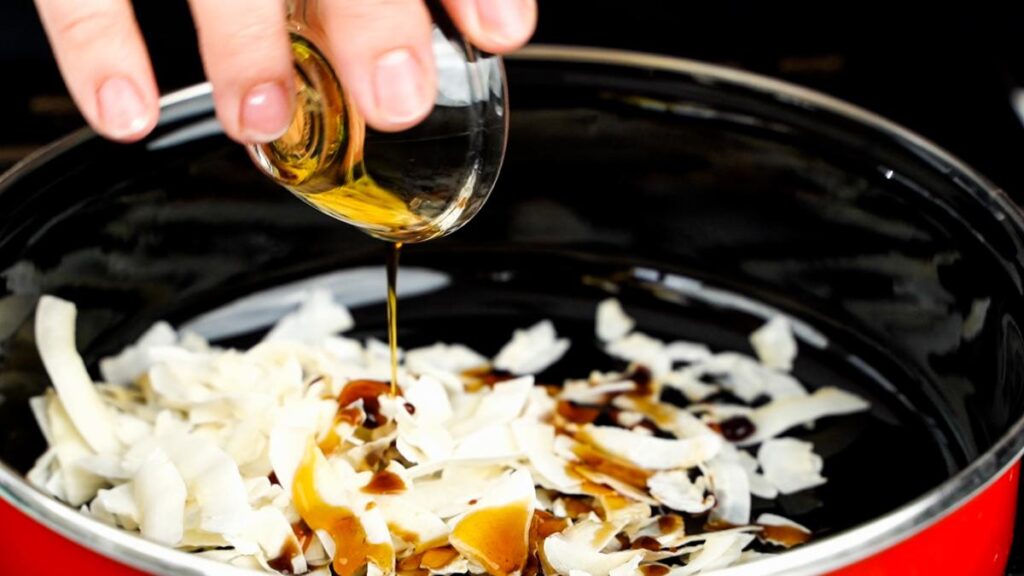 Then, prepare the dressing. Add the water, lemon juice, hemp seeds, dill, parsley, garlic powder, onion powder, and salt into a blender or food processor and pulse until smooth.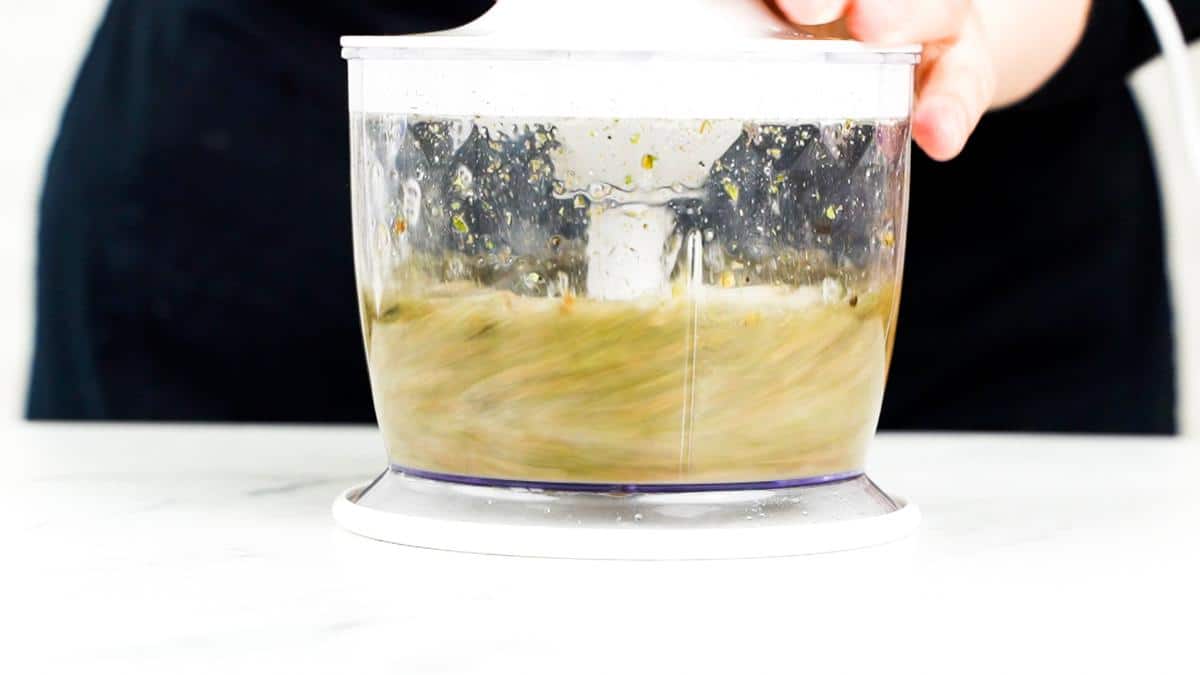 Next, you will prepare the vegetables. First, cut the iceberg into wedges (quartered), then cut the tomatoes, and onion, and chop the walnuts.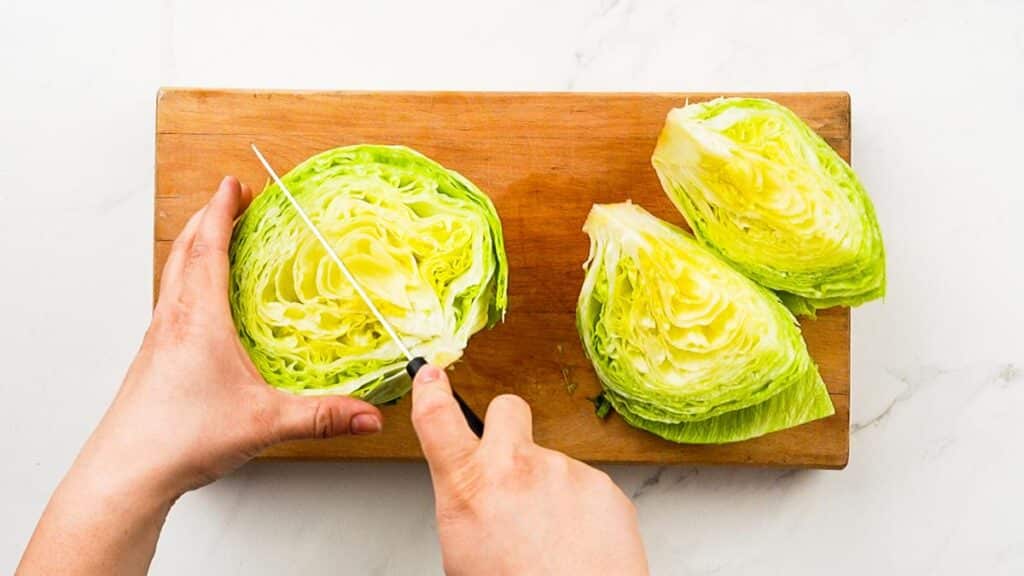 Assemble the salad by serving a wedge of the iceberg, topped with tomatoes, walnuts, onion, and coconut flakes.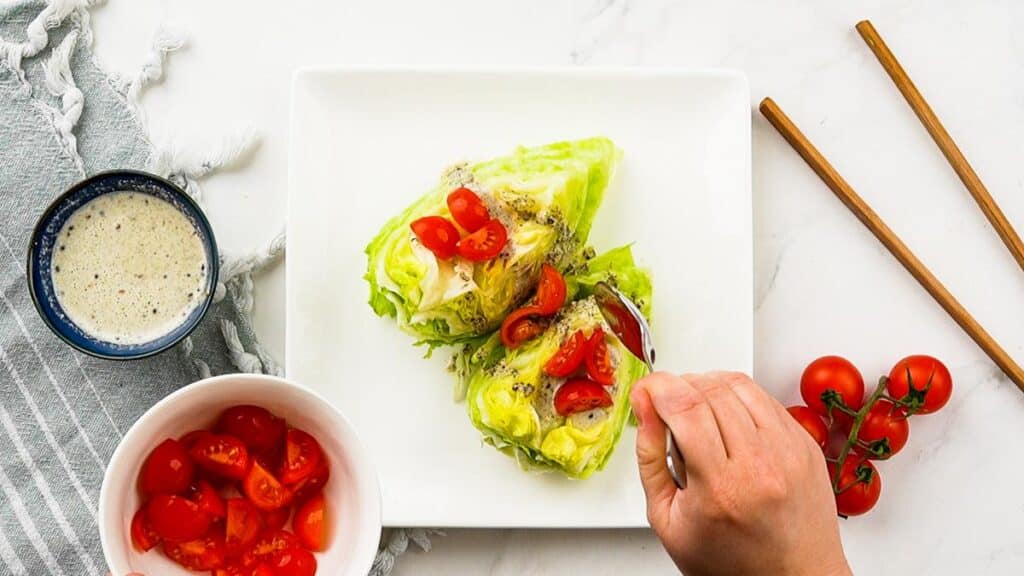 Drizzle with dressing before serving.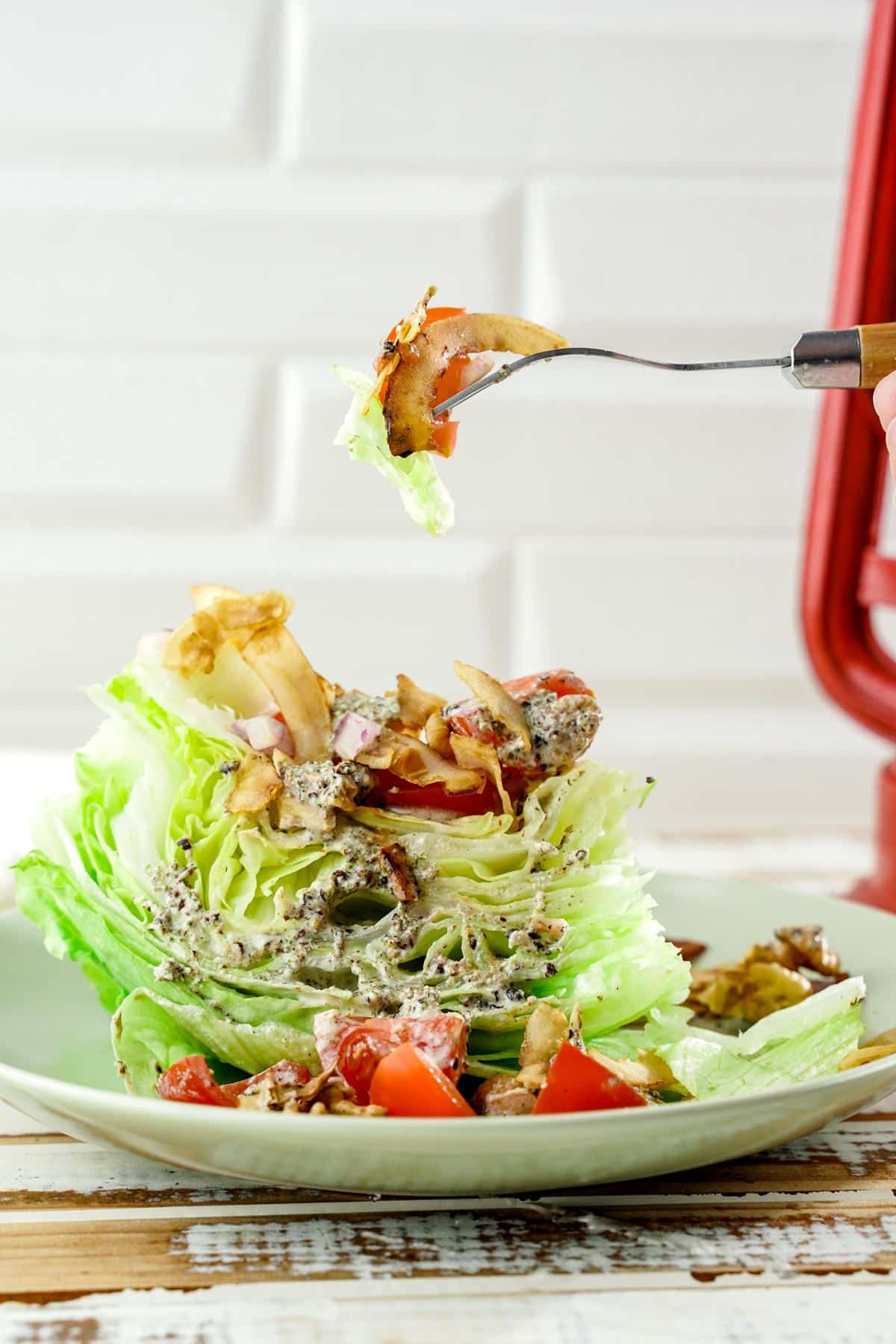 📋Substitutions
This is a simple recipe, so there aren't many items to substitute. You can, however, use our homemade vegan ranch recipe in place of the hemp dressing.
You can also make tofu bacon, or even purchase prepared vegan bacon at the grocery store.
And if you prefer, walnuts can be swapped for toasted pecans, macadamia nuts, cashews, or any other preferred nut.
📖 Variations
A wedge salad is a pretty classic recipe, but you can mix things up a bit. While we prefer this recipe, there are a few ideas below to add something unique to the recipe.
Diced avocado
Grilled corn
Roasted tomatoes or sun-dried tomatoes
Vegan blue cheese dressing
All of these can be added to this recipe to elevate the flavors and create something unique.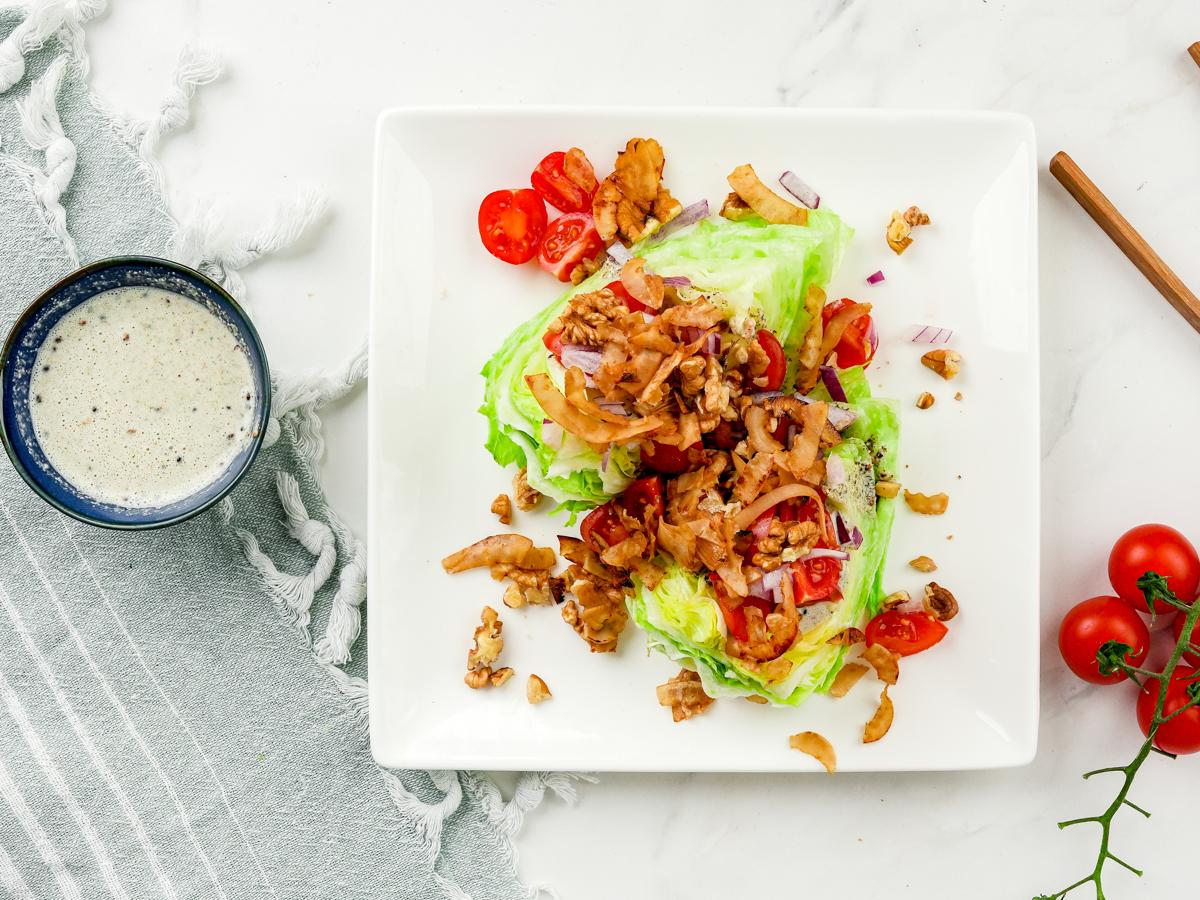 🫙Storage
You can store the salad ingredients separately in airtight containers in the fridge for up to 3 days. The dressing can be stored in an airtight container in the fridge for up to a week.
This recipe does not freeze well. Make only what you are able to eat within the time the ingredients would still be good.
🍽 Equipment
Is your kitchen fully supplied? If not, check out the supplies and tools below that we use to make this recipe. Check them out and add them to your kitchen soon.
Chef's knife
Cutting board
Mixing bowl
Measuring cups and spoons
Skillet
Wooden spoon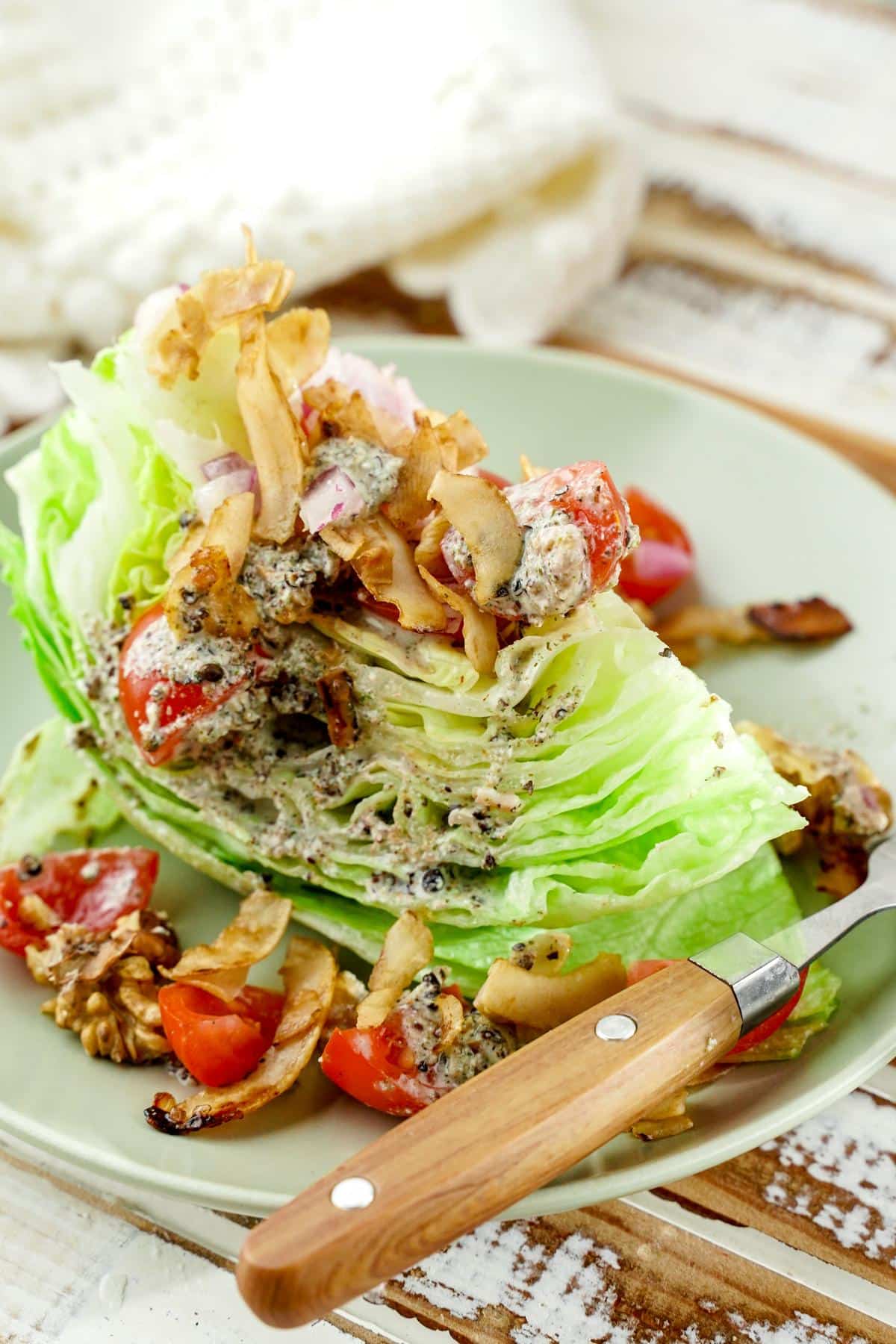 💭Top Tip
For extra crunch and flavor, toast the walnuts before adding them to the salad. This really elevates the recipe with both crunch and flavor.
❓ FAQ
How do I clean the iceberg wedges before serving?
One concern with a wedge salad is that the layers of lettuce may not be cleaned. It is easy to remove the core of the head of lettuce, discard it, and cut the head into 4 pieces. Then, run each piece under water, particularly using a spray nozzle if possible to go between layers. Shake out excess water and set aside to dry.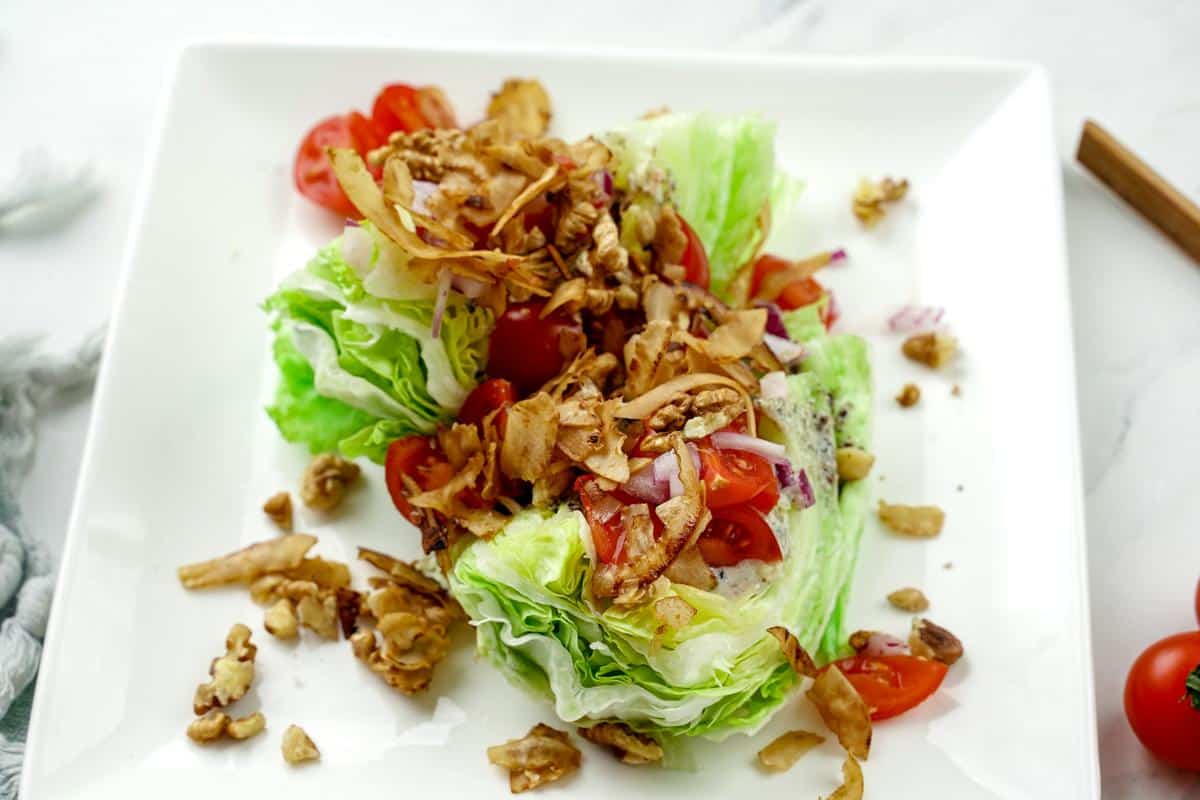 Related
If you want more salads in your menu, check out the ones below that are personal favorites.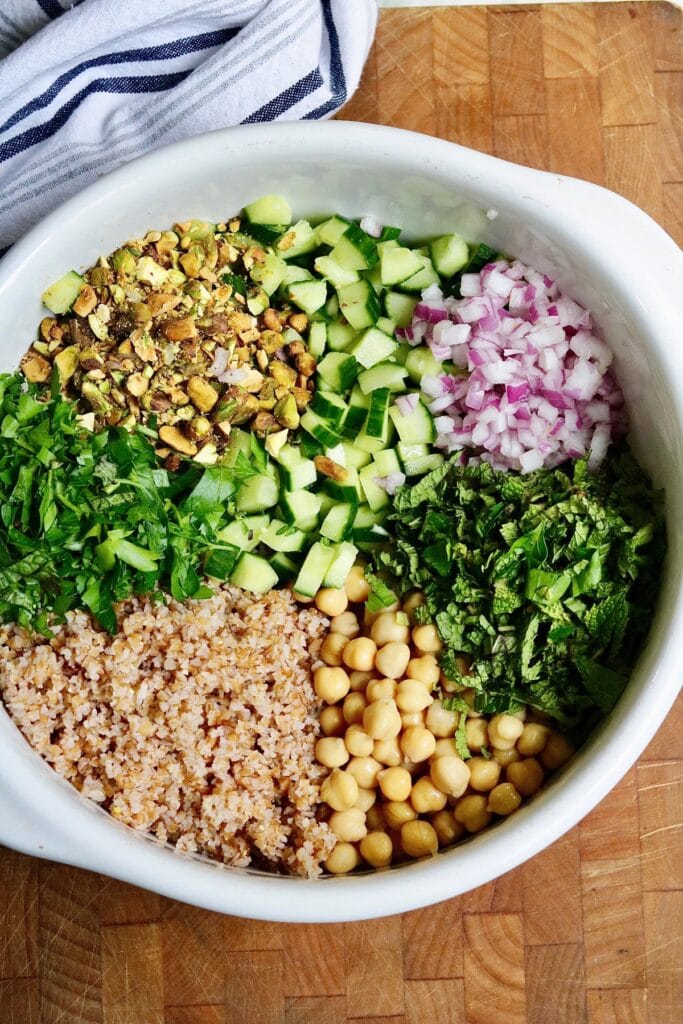 Pairing
This recipe is ideal for serving before or with a pasta dish. Below are some for you to check out, bookmark, and make to go with this salad.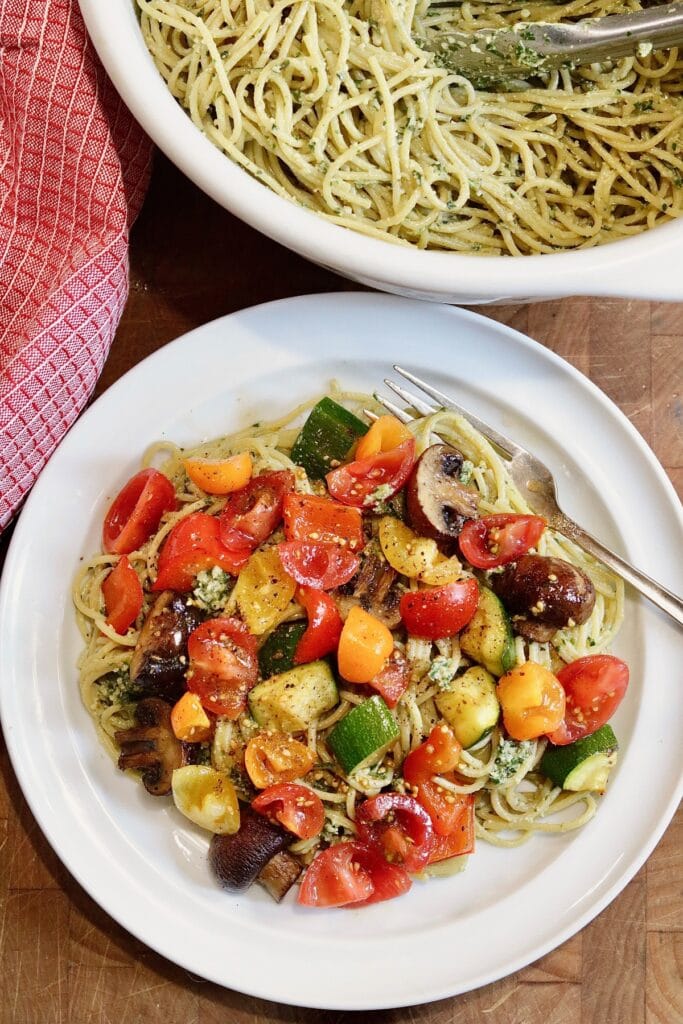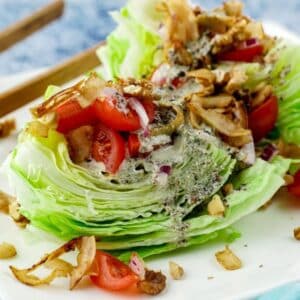 Vegan Wedge Salad with Coconut Bacon
Indulge in our flavorful vegan wedge salad! A fresh twist on a classic, featuring coconut bacon and plant-based ingredients
Ingredients
For the coconut bacon:
1

cup

coconut flakes

unsweetened

1

tablespoon

soy sauce

1-2

teaspoon

liquid smoke

1

tablespoon

maple syrup

optional, if you want to give a little sweetness

Pinch

of sea salt
For the hemp seed ranch dressing:
Instructions
To start, toast the coconut flakes with soy sauce, liquid smoke, maple syrup, and sea salt in a skillet over low heat for approximately 5 minutes or until golden brown. Leave it aside.

Next, prepare the dressing by adding water, lemon juice, hemp seeds, dill, parsley, garlic powder, onion powder, and salt to a blender or food processor. Pulse until the ingredients turn smooth.

Now, prepare the vegetables by cutting the iceberg into quarters, then chopping the tomatoes, onions, and walnuts.

Assemble the salad by placing a wedge of iceberg on a plate, topped with tomatoes, walnuts, onion, and coconut flakes. Drizzle the salad dressing on top and serve.
Notes
Replace the coconut bacon with a preferred ready-made vegan bacon.
While the wedge salad is typically made with iceberg, you can use butter lettuce if you prefer.
Nutrition
Calories:
1308
kcal
Carbohydrates:
56
g
Protein:
43
g
Fat:
108
g
Saturated Fat:
53
g
Polyunsaturated Fat:
42
g
Monounsaturated Fat:
9
g
Sodium:
1174
mg
Potassium:
1354
mg
Fiber:
23
g
Sugar:
23
g
Vitamin A:
2189
IU
Vitamin C:
40
mg
Calcium:
282
mg
Iron:
17
mg
Food Safety
Food safety is important no matter if you are cooking for yourself or for guests. Below you'll find some of our top tips that help keep you and your family safe in the kitchen.
Always sanitize countertops, cutting boards, utensils, and cookware thoroughly between each use.
Wash your hands in warm soapy water, rubbing for at least 20 seconds before rinsing. Remember, "FROG" means friction rubs off germs.
After serving food, allow it to cool, then place it into the refrigerator or proper storage immediately. Food should be at room temperature for no more than 2 hours for safety.