Indulge in the deliciousness of vegan Caesar wraps, packed with flavorful ingredients and a creamy cashew-based sauce. These plant-based wraps are a satisfying and nutritious choice for a quick and easy meal. Get ready to experience the perfect blend of textures and flavors in every bite.
They're packed with creamy cashew sauce, crunchy tofu, and colorful veggies. Not only are they super yummy, but they also show you how awesome vegan food can be.
If you like this wrap, then I know you will love our easy salad with vegan Caesar dressing.
Jump to:
🥘Ingredients
This recipe has two ingredient lists. The first is for your Caesar salad dressing, and the second will be for the wrap itself. For exact measurements, check the printable recipe at the bottom of the post.
For the dressing
Cashews (soak for at least 12 hours, then drain)
Water
Lemon juice
Soy sauce
Miso paste
Whole grain mustard
Garlic
Capers
For the wrap
Firm tofu
Cornstarch
Non-dairy milk
Breadcrumbs (Panko or Italian)
Vegetable oil
Croutons
Lettuce
Tomato
Red onion
Flour tortillas
🔪Instructions
Start by preparing your Caesar dressing. The cashews should be soaked for at least 8 to 12 hours. Drain them and pour them into a blender. To the cashews, add the water, lemon juice, soy sauce, miso paste, mustard, garlic, and capers.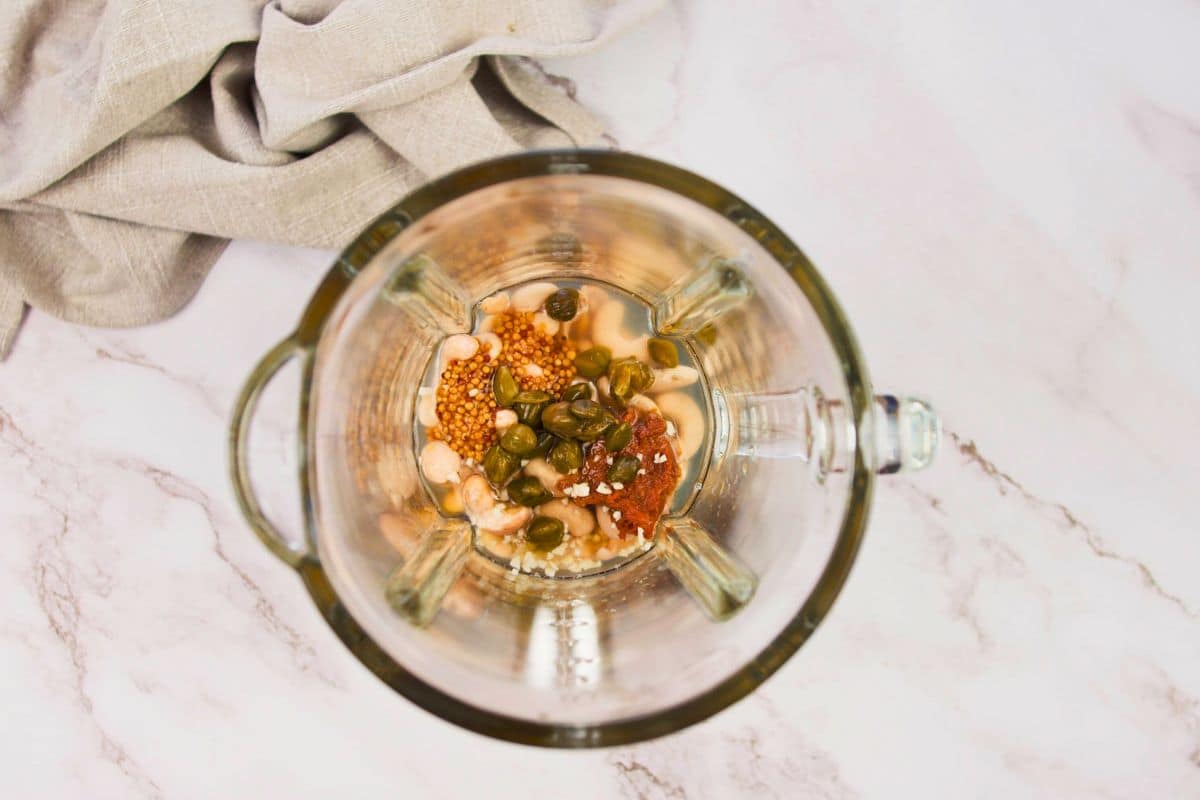 Pulse this mixture on high until it is a creamy sauce. Taste and add salt and pepper or additional capers if needed. Set this aside.
Now, cube the tofu and dredge it into the cornstarch to coat. Then, dip into the non-dairy milk, and finally into the breadcrumbs.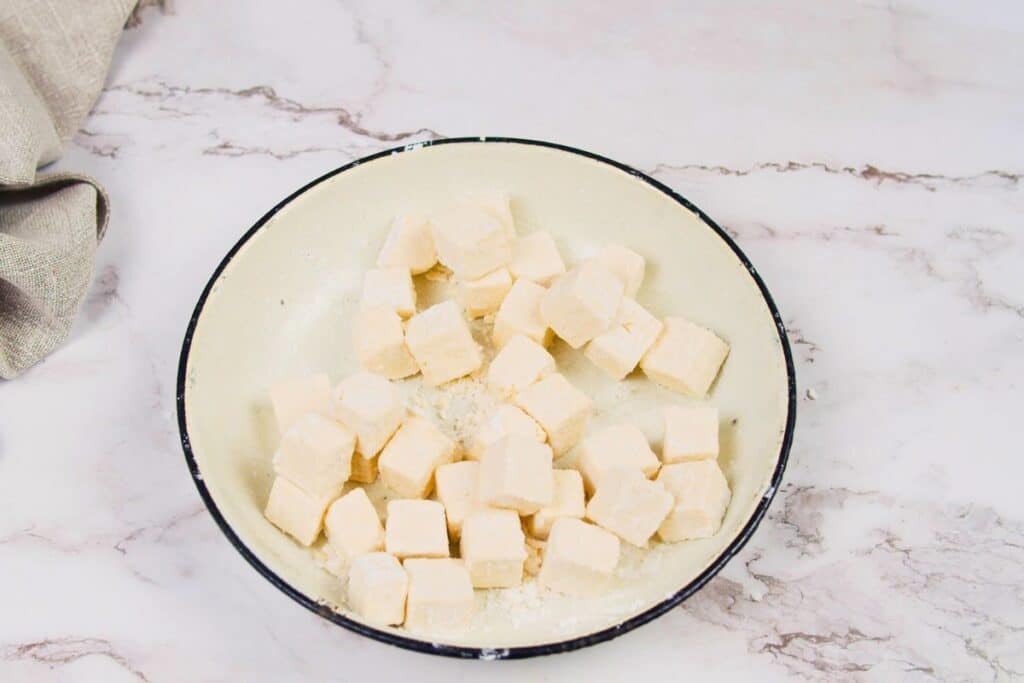 In a deep skillet, add the vegetable oil over medium heat. Once hot, place the tofu pieces into the skillet, in a single layer, with space between each piece. Depending on your skillet size, you may need to do this in batches.
Cook the tofu for 3 to 5 minutes, rotating to get crispy and brown on all sides. Remove and drain on a paper towel then sprinkle with salt.
Assemble the wrap by first mixing the lettuce, tofu, and croutons together with salad dressing. If you want to add tomatoes or onion, do so now.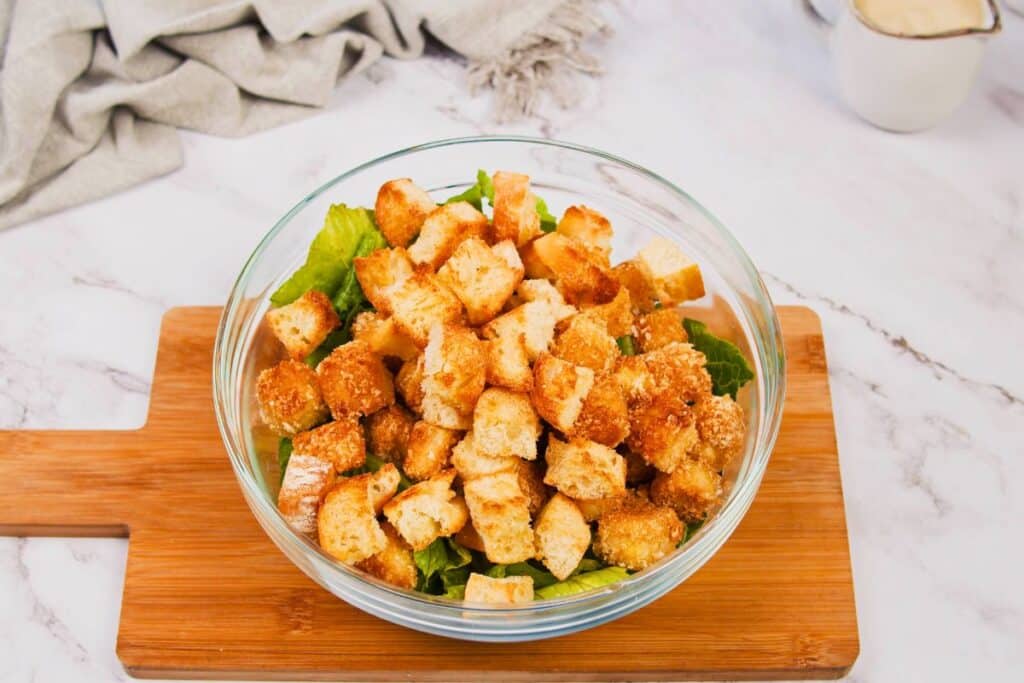 Then, scoop this into the center of the tortilla (divide into 4 to 8 portions, depending upon tortilla size). Fold the sides in and then roll the tortilla into a wrap/burrito shape.
Serve with additional dressing for dipping if desired.
📋 Substitutions
Don't have all of the ingredients on hand or want something a bit different? Check out the substitutions below!
Replace the cashews with almonds or sunflower seeds for a creamy texture
Use ½ teaspoon of garlic powder in place of fresh
Replace the capers with green olives or pickles
Vinegar or lime juice can replace lemon juice
Fill with any preferred vegan protein such as grilled tofu steaks, chicken seitan, or even just sauteed mushrooms
Replace cornstarch with arrowroot powder or tapioca starch
Toast nuts for a crunchy texture to replace a crouton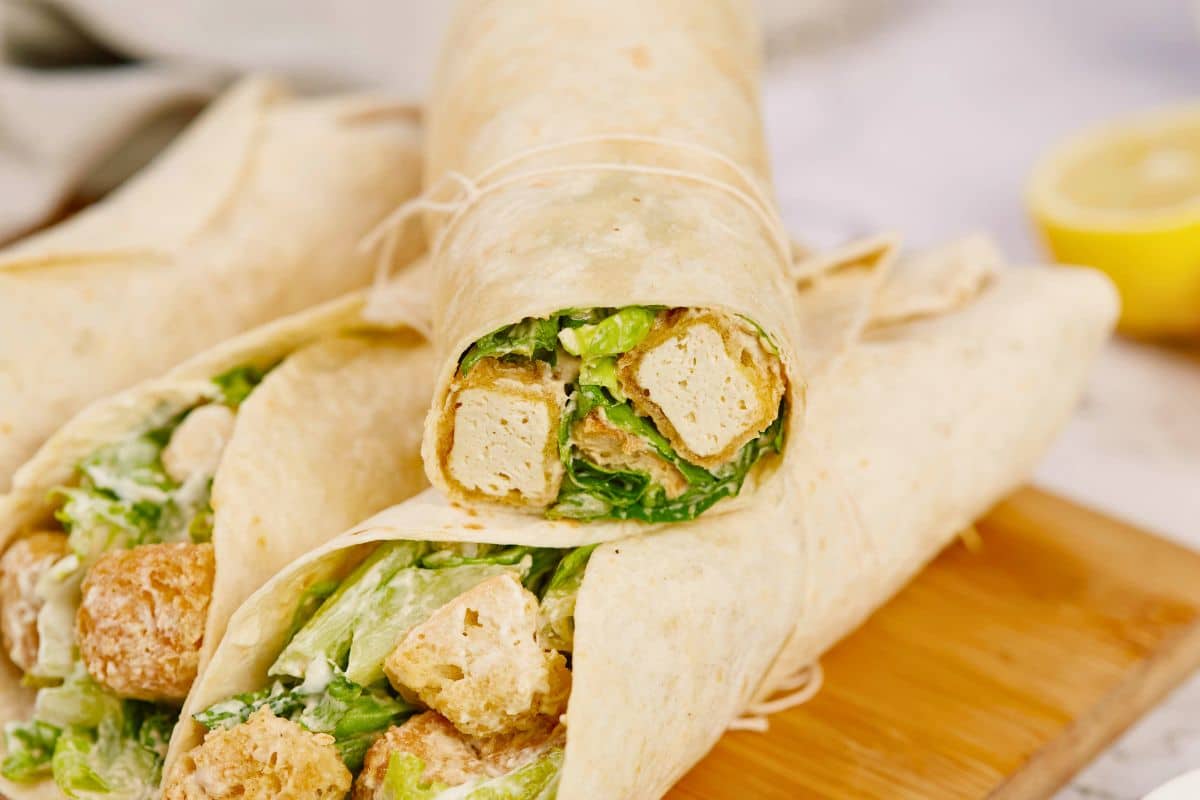 📖 Variations
Want to turn this wrap idea into something unique? Check out these great variations below!
Mediterranean Twist: Add sliced Kalamata olives, diced tomatoes, and crumbled vegan feta cheese to the filling. Drizzle with a lemon-herb vinaigrette for a Mediterranean-inspired flavor.
Spicy Kick: Incorporate sliced jalapeños or chipotle peppers in adobo sauce into the sauce for a spicy twist. You can also sprinkle some chili flakes or use spicy mustard for an extra kick.
Asian Fusion: Replace the croutons with crispy wonton strips or fried rice noodles for a crunchy Asian touch. Toss the filling with sesame oil, sliced scallions, and chopped cilantro for added flavor.
Roasted Veggie Delight: Roast a variety of vegetables like bell peppers, zucchini, and eggplant, and add them to the filling. Drizzle with balsamic glaze or tahini dressing for a roasted veggie delight.
BBQ Bliss: Instead of the cashew sauce, use vegan BBQ sauce as a tangy and smoky alternative. Swap out the croutons with crispy onion strings and add some grilled corn kernels to the filling for a BBQ-inspired twist.
Southwest Sensation: Add black beans, diced avocado, and roasted corn to the filling for a Southwestern flair. Top it off with a zesty lime-cilantro dressing or a dollop of vegan sour cream.
Thai-Inspired Delight: Mix in some chopped fresh basil, cilantro, and mint into the filling for a Thai-inspired flavor. Drizzle with a peanut or almond butter-based sauce and sprinkle crushed peanuts on top.
Protein Powerhouse: Include cooked quinoa, lentils, or chickpeas in the filling for an extra dose of protein and texture. You can al
🥘 Storage Tips
If you have any leftovers, store them in an airtight container in the refrigerator for up to three days. To keep the wraps fresh, separate the sauce, croutons, and lettuce from the tortillas and tofu. When ready to enjoy, assemble the wraps just before serving to maintain their crispy texture.
🍽 Equipment
Below are some of our top tools used frequently in our home kitchen. Check them out and add them to your kitchen.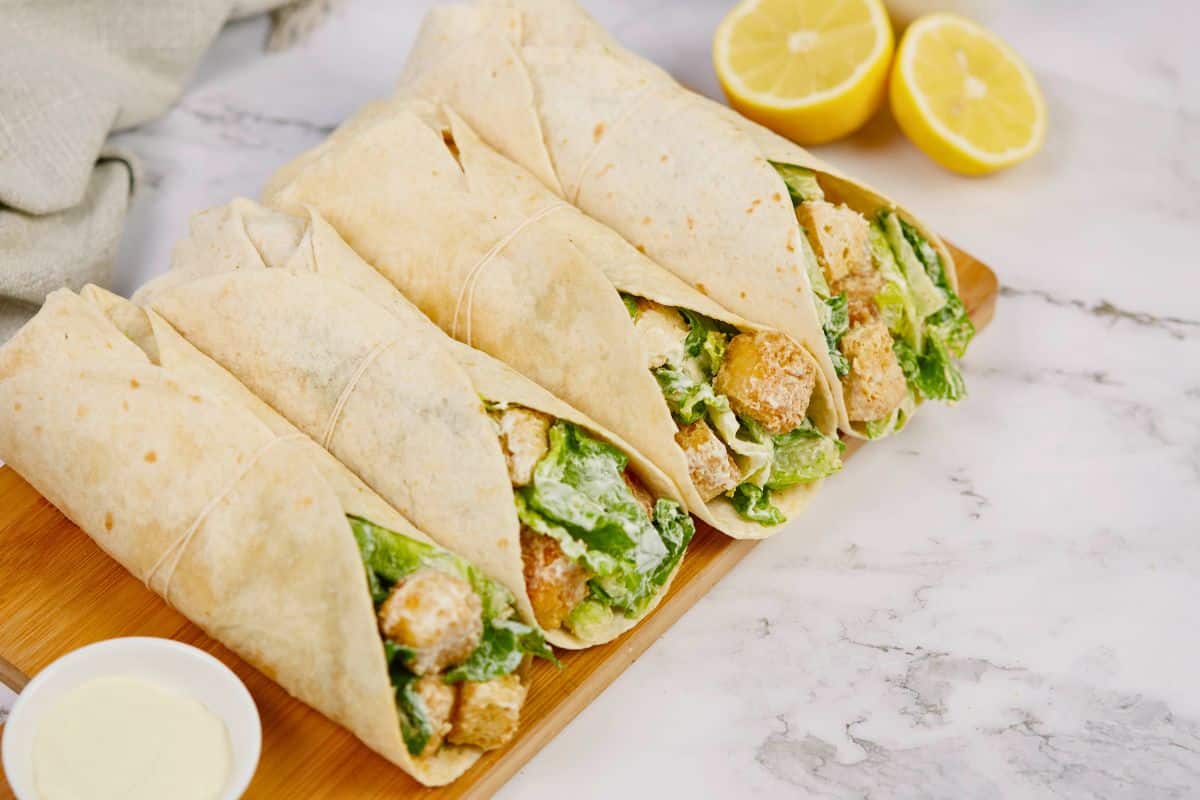 👩🏽‍🍳Top Tip
To achieve an extra crispy texture for the tofu, make sure to press it before cutting it into cubes. Use a tofu press or wrap the tofu in paper towels and place a heavy object on top for about 15-20 minutes to remove excess moisture.
💭 FAQs
How can I add flavor to my wrap?
For extra flavor, marinate the cubed tofu before coating them in cornstarch and cooking.
What tortilla is best for making wraps?
A flour tortilla is best for making a wrap. I recommend using the larger, 8" or 10" tortillas. The best part about this is you can find them gluten-free, whole-wheat, low-carb, or flavored with vegetables to make it unique.
Related
Want to add more sandwiches or wraps to your menu? Check out the ideas list below.
Pairing
What do you serve alongside a wrap like this? Below are some tasty sides that go great with this Ceasar wrap.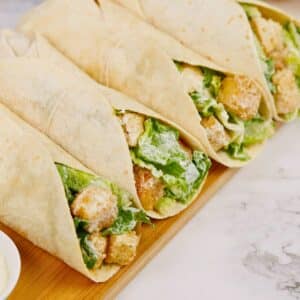 Vegan Caesar Salad Wraps
Delicious vegan Caesar wraps filled with plant-based goodness. Enjoy a healthy and flavorful meal today!
Ingredients
For Caesar dressing
⅔

cup

cashews

soaked

½

cup

water

2

tablespoon

lemon juice

1

tablespoon

miso paste

½

tablespoon

whole grain mustard

1

teaspoon

dark soy sauce

1

garlic clove

minced

1

tablespoon

capers
Instructions
Soak the cashews for 8 to 12 hours then drain. Cut the tofu into ½" to 1" cubes. Mince the garlic.

Combine all the sauce ingredients in a powerful blender and blend until the mixture turns into a velvety and luscious consistency. Season with salt and pepper to taste.

⅔ cup cashews,

½ cup water,

2 tablespoon lemon juice,

1 tablespoon miso paste,

½ tablespoon whole grain mustard,

1 teaspoon dark soy sauce,

1 garlic clove,

1 tablespoon capers

Coat tofu pieces with cornstarch, dip them in milk, and generously cover them with breadcrumbs.

10 oz firm tofu,

¼ cup cornstarch,

½ cup non-dairy milk,

½ cup panko breadcrumbs

Fry the tofu in preheated vegetable oil until it reaches a delightful golden crispiness. Place the cooked tofu on a paper towel to drain excess oil, and sprinkle with a pinch of salt.

3 tablespoon vegetable oil

In a spacious bowl, toss together salad leaves, tofu, croutons, and dressing until well combined.

½ cup Croutons,

2 cups Lettuce,

Tomato,

Red onion

Spread a generous amount of Caesar salad onto tortillas, then wrap them tightly for a satisfying and flavorful meal.
Notes
While a Caesar wrap cclassically has just the lettuce, croutons, "protein", and dressing, I like to add tomato and onion to bulk up the wrap and add flavor. Feel free to add any vegetables you prefer, or leave standard.
You can use any ready-made vegan Caesar salad (Primal Kitchen) to save time.
Nutrition
Calories:
468
kcal
Carbohydrates:
43
g
Protein:
16
g
Fat:
27
g
Saturated Fat:
5
g
Polyunsaturated Fat:
11
g
Monounsaturated Fat:
9
g
Trans Fat:
0.1
g
Sodium:
646
mg
Potassium:
318
mg
Fiber:
4
g
Sugar:
5
g
Vitamin A:
305
IU
Vitamin C:
6
mg
Calcium:
212
mg
Iron:
4
mg
Food Safety
Make sure you always prepare food in a safe environment. Below are some excellent tips to keep in mind for sanitizing your kitchen.
Always sanitize countertops, cutting boards, utensils, and cookware thoroughly between each use.
Wash your hands in warm soapy water, rubbing for at least 20 seconds before rinsing. Remember, "FROG" means friction rubs off germs.
After serving food, allow it to cool, then place it into the refrigerator or proper storage immediately. Food should be at room temperature for no more than 2 hours for safety.