As a vegan, finding the perfect buffalo wings can be tough. But fear not because I've got a recipe that will satisfy your cravings and impress your non-vegan friends. This recipe for jackfruit vegan wings is a delicious choice that has all of that flavor and texture you want!
Jump to:
Vegan Wings
Drenched in a simple vegan buffalo sauce, these vegan wings are a perfect combination of flavors. This recipe is a bit complex and definitely wouldn't be one I would put in an "easy" category, but it is worth the time and effort.
Jackfruit, the versatile and nutritious fruit that has taken the vegan world by storm, makes the perfect substitute for chicken wings. It pulls apart into strips that are very similar to the texture of shredded chicken. Combining these with a tofu base and a seasoned gluten mixture allows you to form the wings in any shape you want before cooking.
Like buffalo-flavored items? Check out this easier buffalo cauliflower wings recipe or this vegan buffalo "chicken" dip recipe.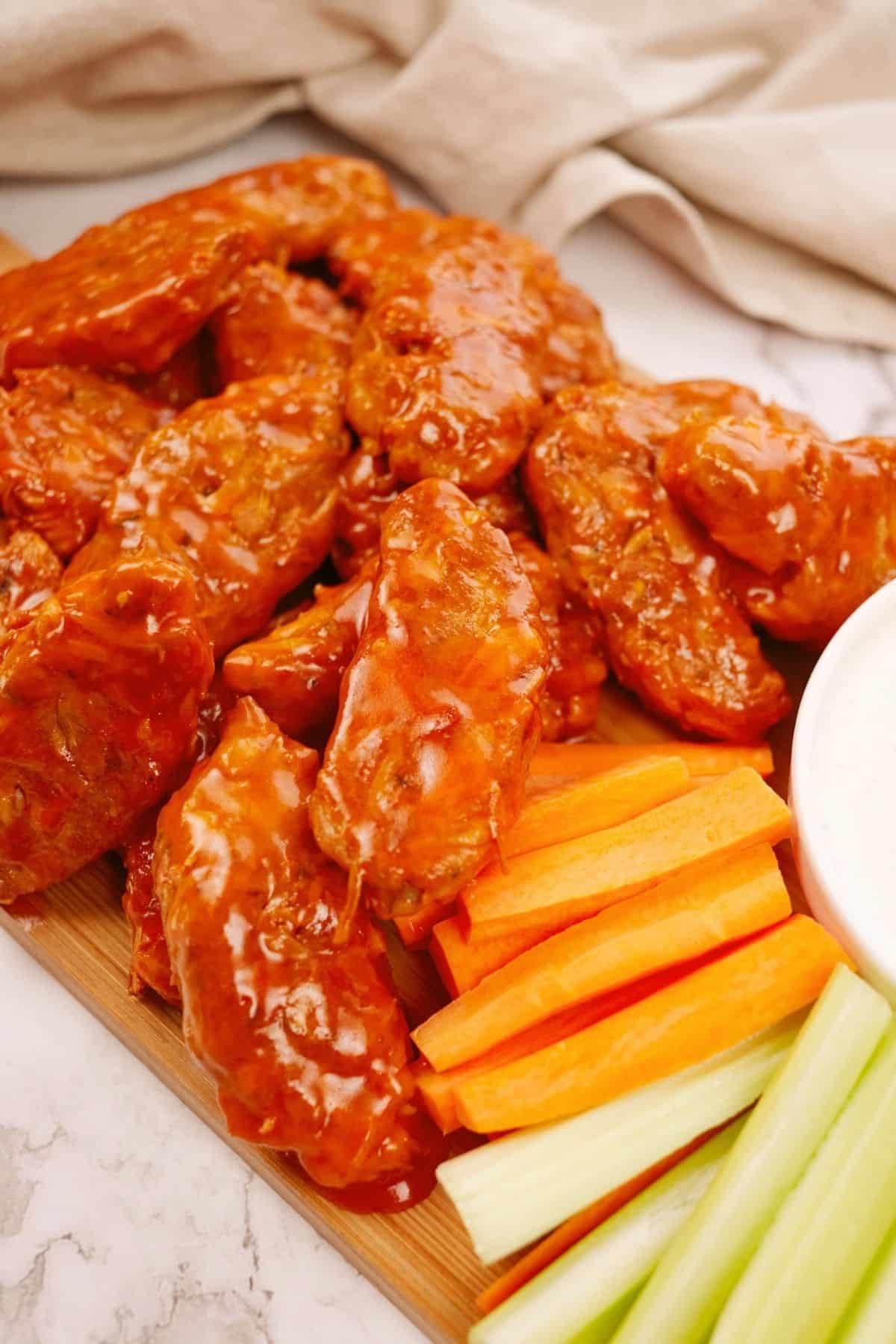 Ingredients
20 oz can jackfruit, in brine (600g)
7 oz firm tofu (200g)
1 tablespoon apple cider vinegar
½ cup water
1 cup vital wheat gluten
2 tablespoon all-purpose flour
1 teaspoon onion powder
1 teaspoon garlic powder
1 teaspoon dried Italian seasoning blend
1 teaspoon paprika
1 teaspoon salt
¼ cup vegetable oil for frying
1 ½ cups vegan buffalo sauce
Make this vegan ranch dressing for dipping your wings into once cooked!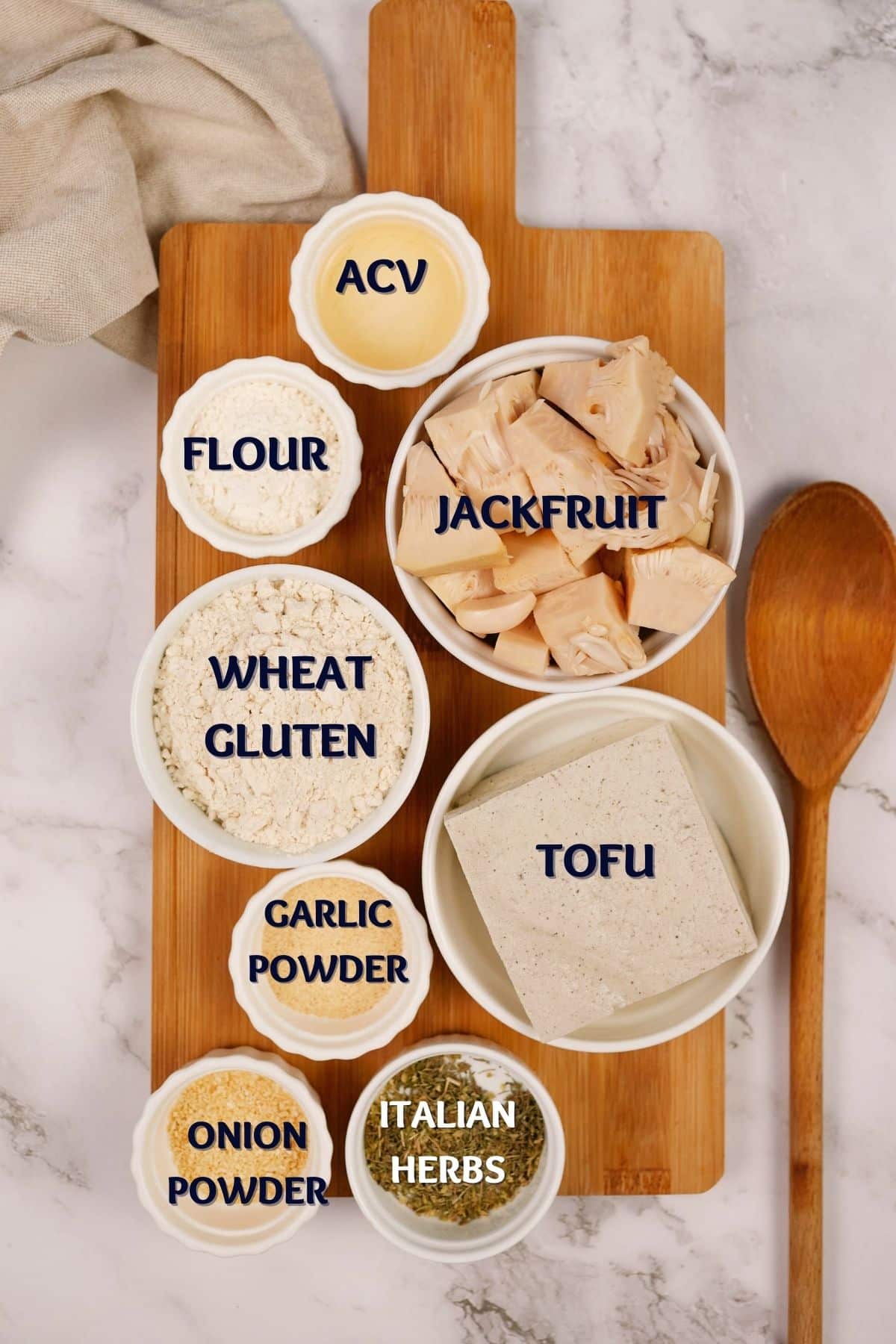 Tools Used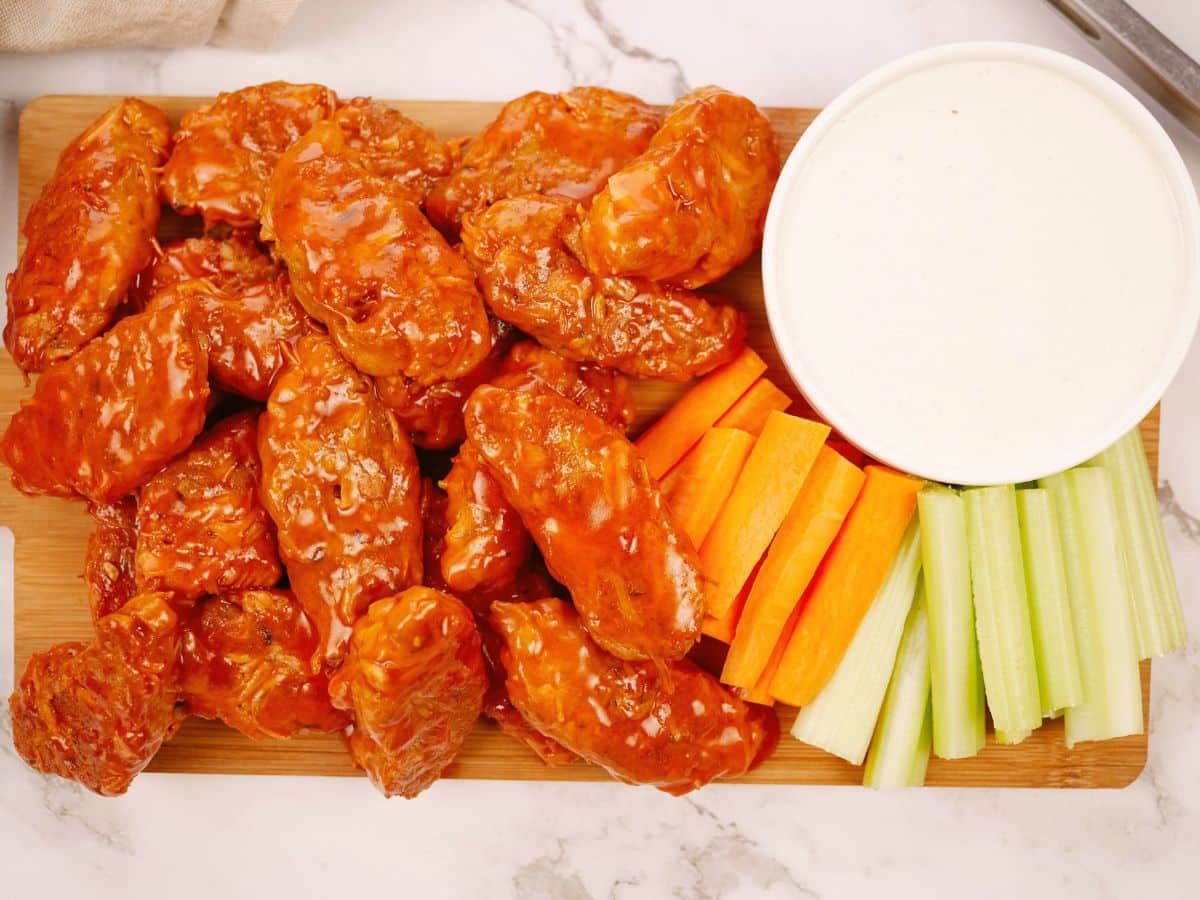 Video Recipe
How to Make Vegan Wings from Jackfruit
In a large bowl, crumble the tofu, then add water and apple cider vinegar. Use an immersion blender to pulse until it is smooth. Set this aside.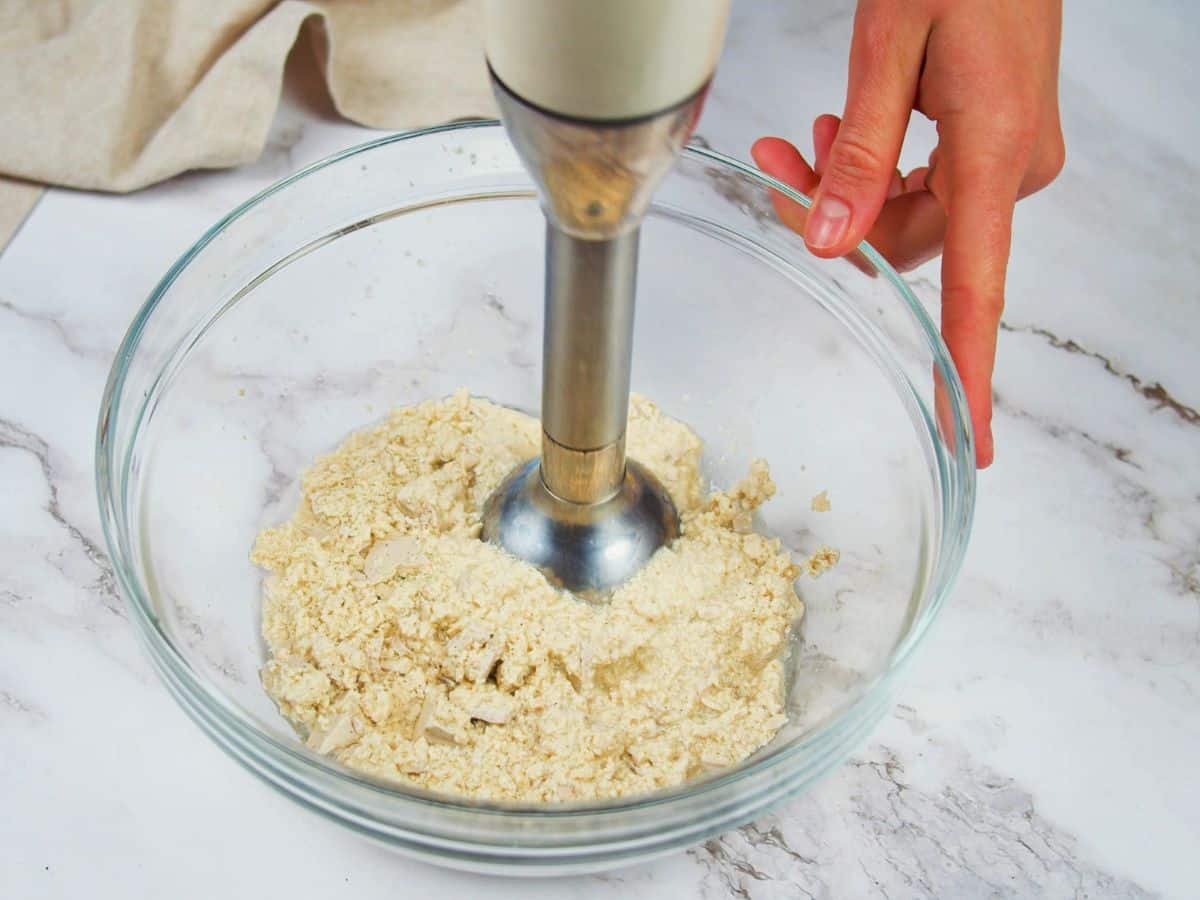 Next, drain the jackfruit and remove all of the seeds. Shred the remaining jackfruit and set it aside.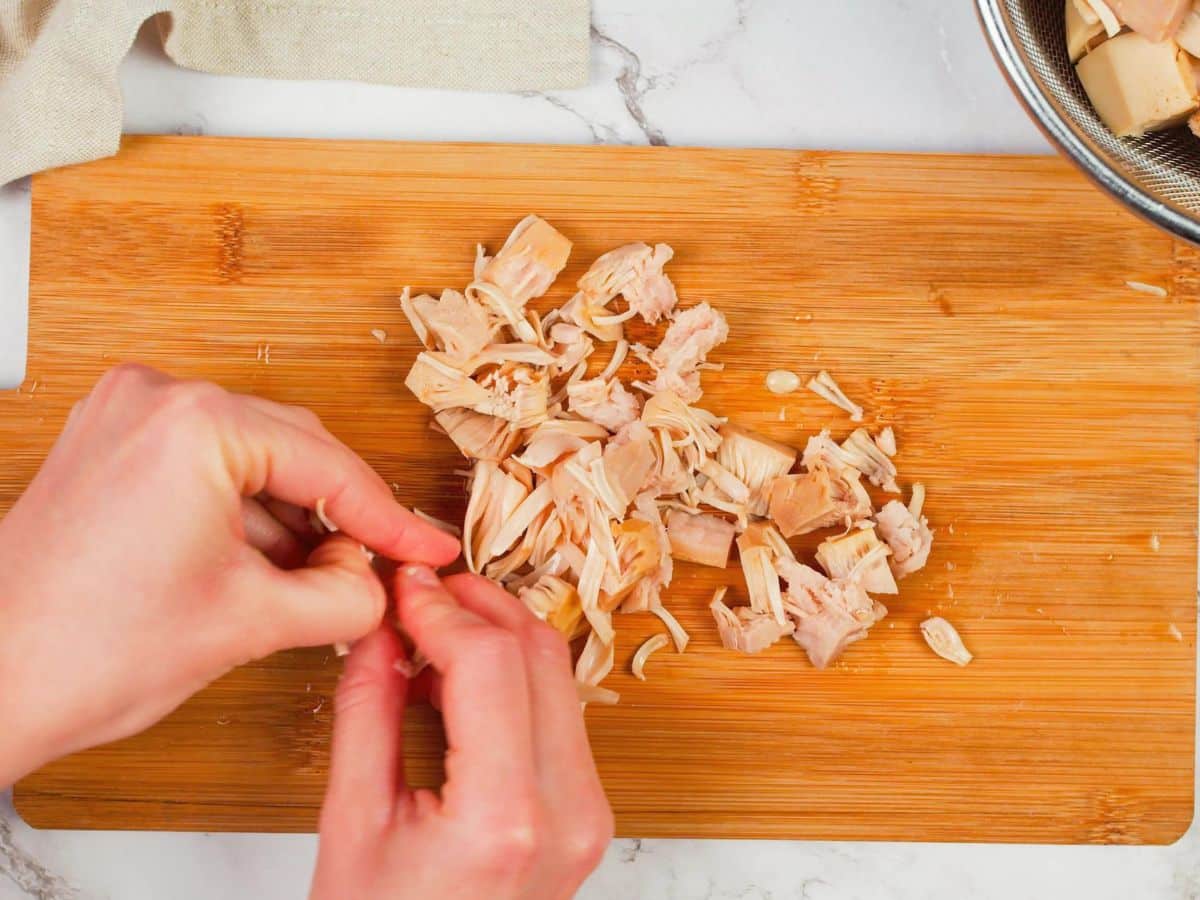 Now, in a large bowl, whisk together the vital wheat gluten, flour, onion powder, garlic powder, paprika, Italian seasoning, and salt.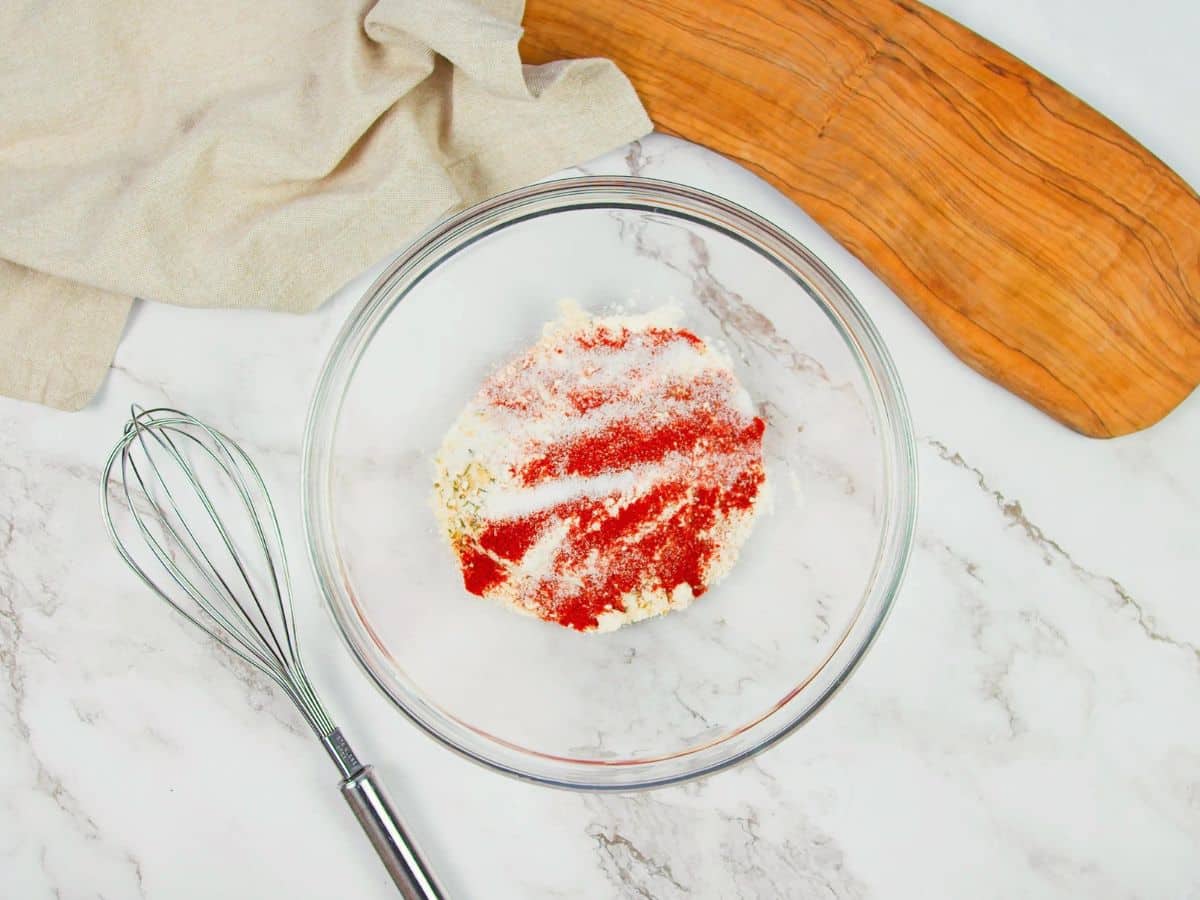 Combine the jackfruit with the tofu and the gluten flour mixture and stir to combine until a wet paste mixture is made.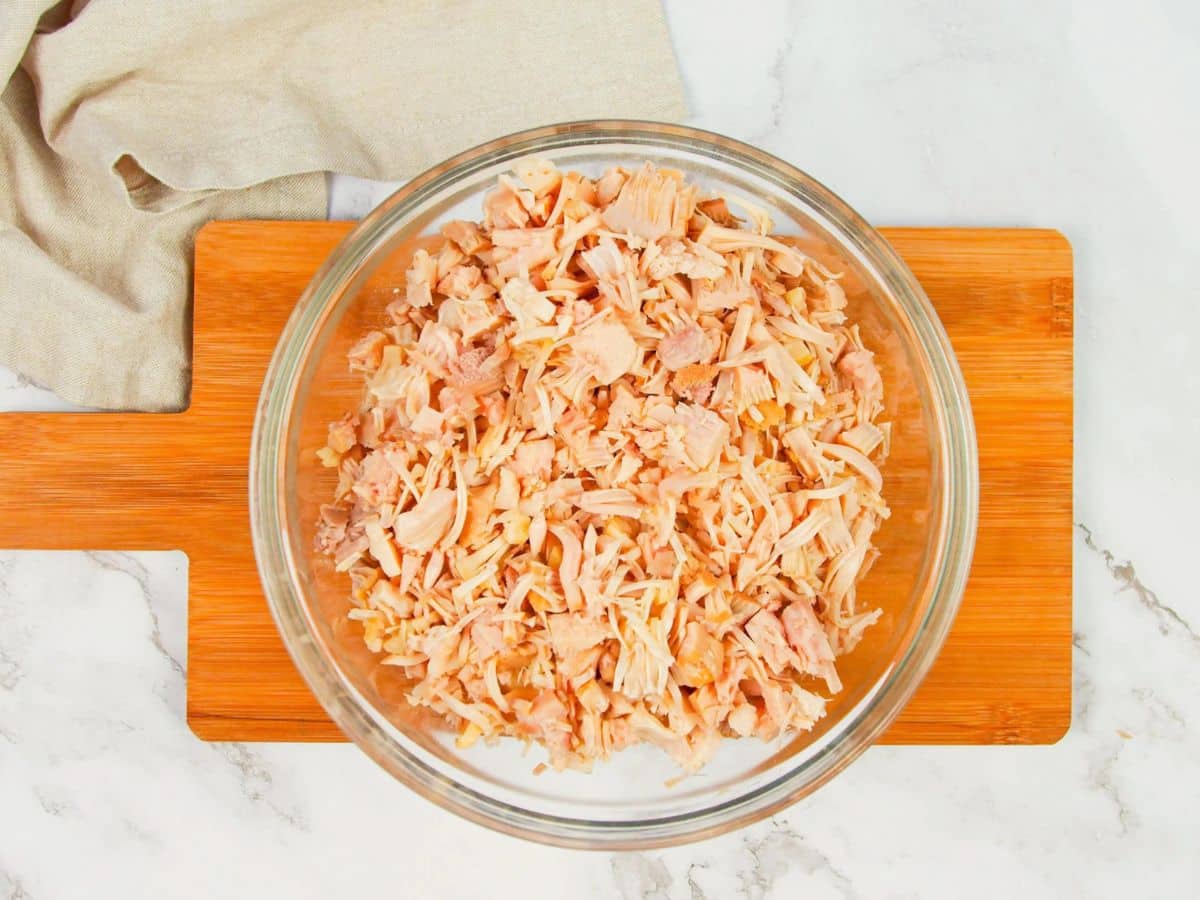 Then, divide the mixture into small portions and shape it into a "wing".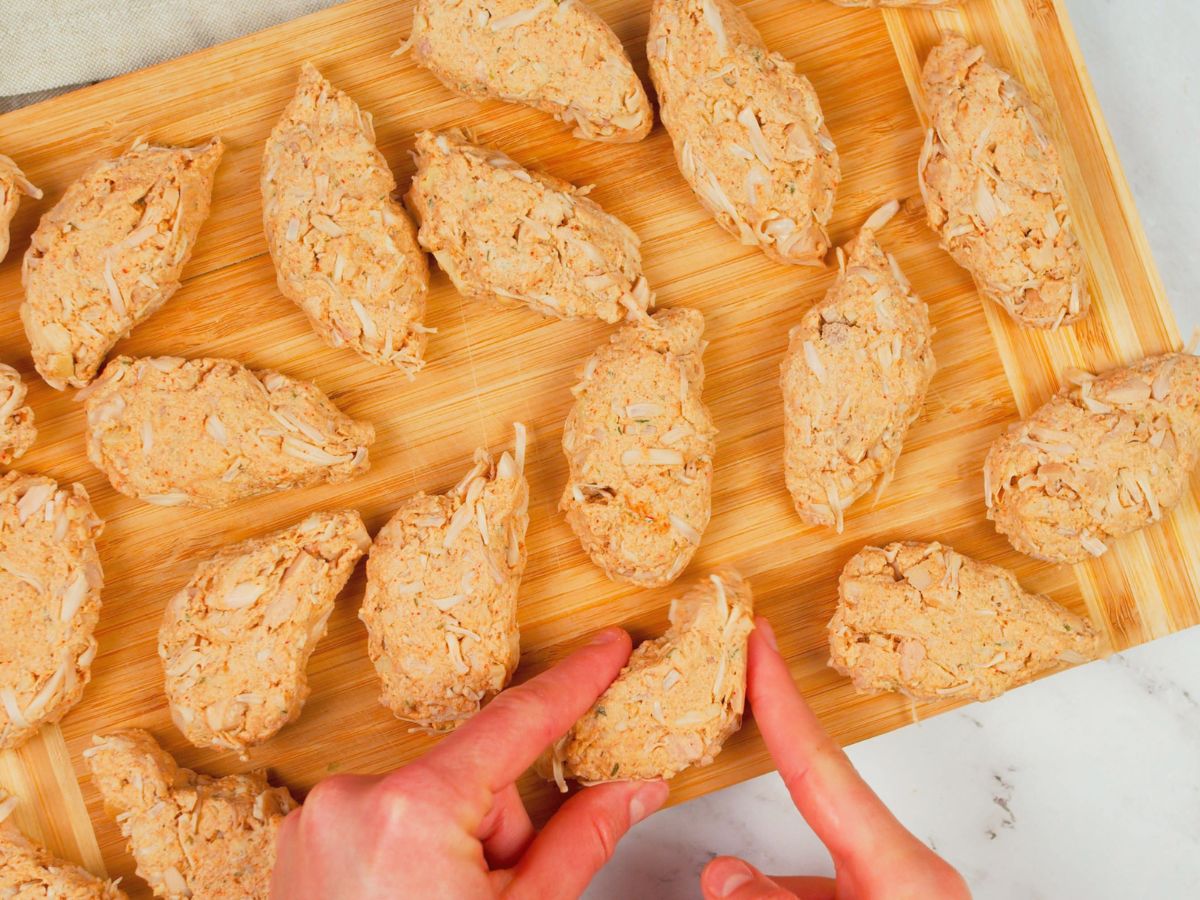 Place the "wings" in single layers in a steamer and cook for 30 minutes.
Remove from the steamer and let cool slightly before frying. To fry, heat the vegetable oil in a deep skillet over medium heat, and then cook the "wings" for 2 to 3 minutes per side, until golden brown and crisp.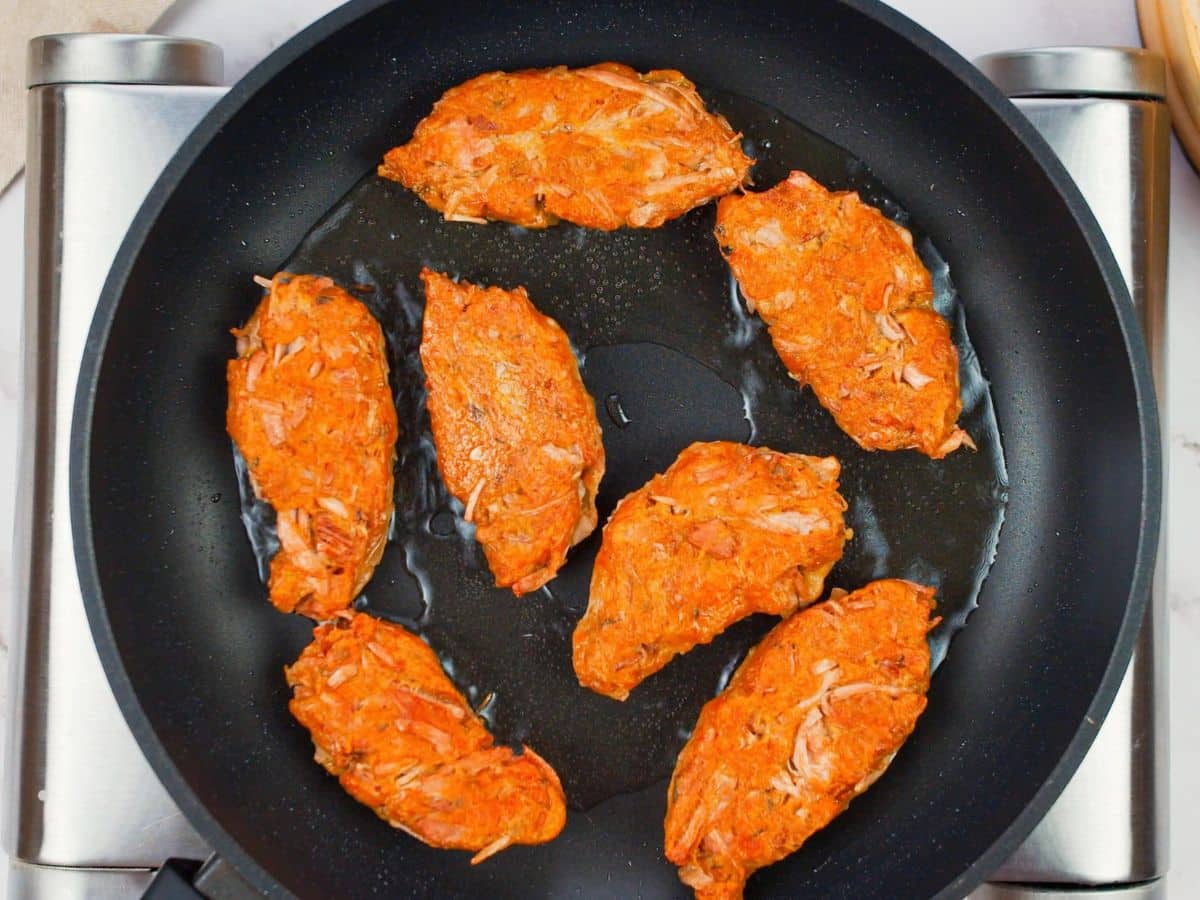 Drain on paper towels, then toss with the buffalo sauce.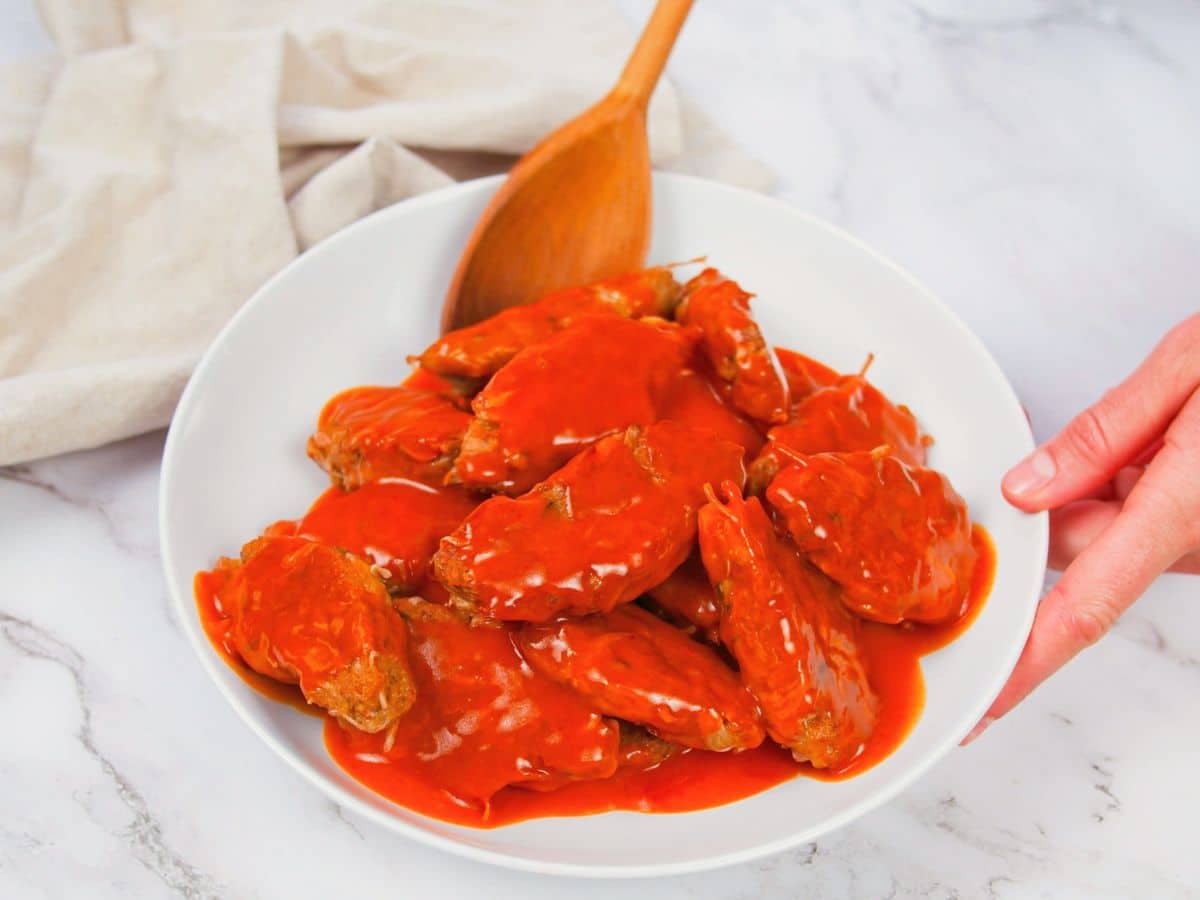 These are best served with a vegan ranch or blue cheese dipping sauce and the classic side of carrots and celery.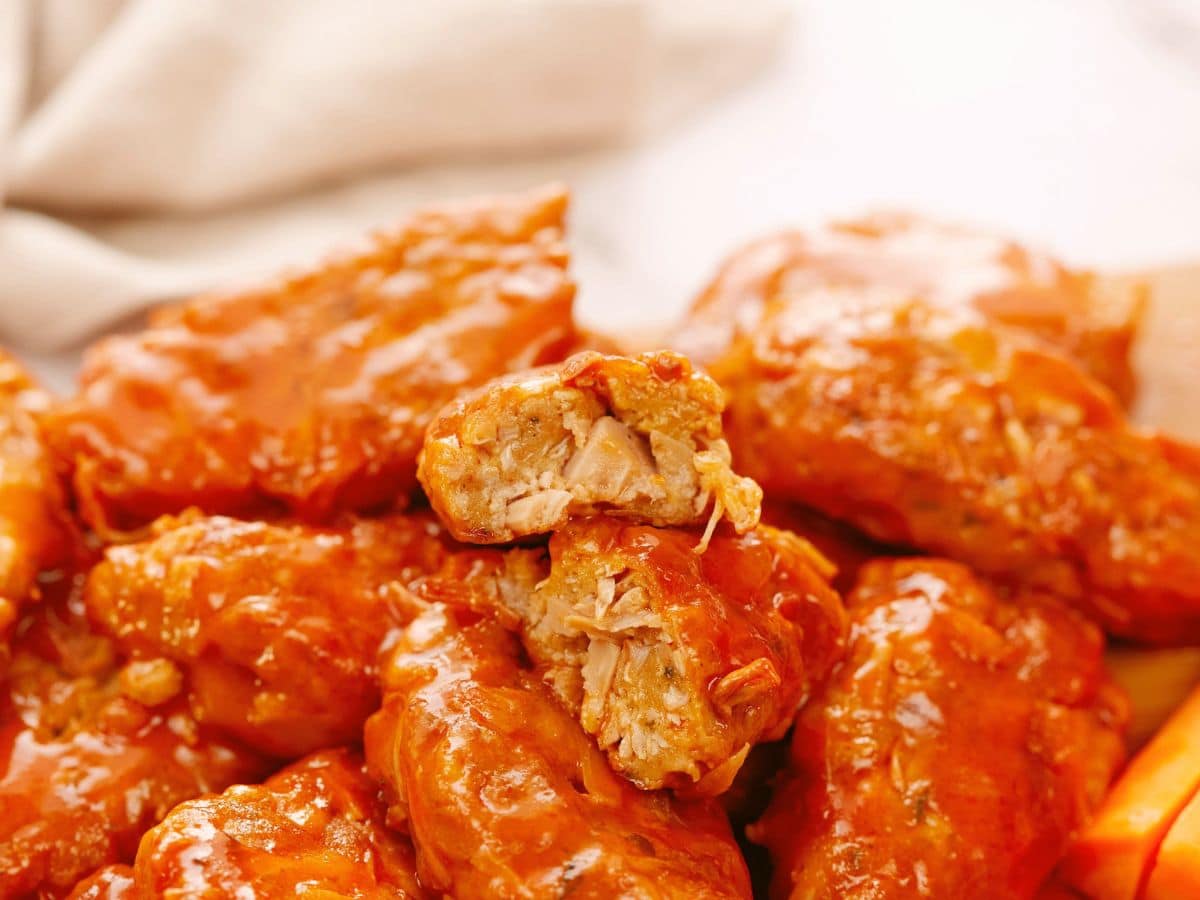 Frequently Asked Questions
What is jackfruit?
Jackfruit is a large, tropical fruit that is native to South and Southeast Asia. It is often used as a meat substitute in vegan and vegetarian dishes because of its meaty texture and neutral flavor. When cooked, jackfruit has a texture similar to pulled pork or chicken.
Is buffalo sauce vegan?
Buffalo sauce is typically made with hot sauce, vinegar, and butter, making it not vegan because of the butter. However, it is possible to make a vegan version of buffalo sauce by substituting the butter with a plant-based alternative, such as vegan butter or coconut oil. 1 cup of hot sauce and ½ cup melted vegan butter is the perfect ratio for this sauce.
Can I freeze jackfruit vegan wings?
Yes, you can freeze jackfruit vegan wings. It is recommended to freeze jackfruit in an airtight container or freezer bag to prevent freezer burn. So, in the case of these wings, I would recommend steaming them as directed, letting them cool completely, then freezing them together in a large bag.

When ready to make them, just thaw them overnight in the refrigerator and fry them as directed above.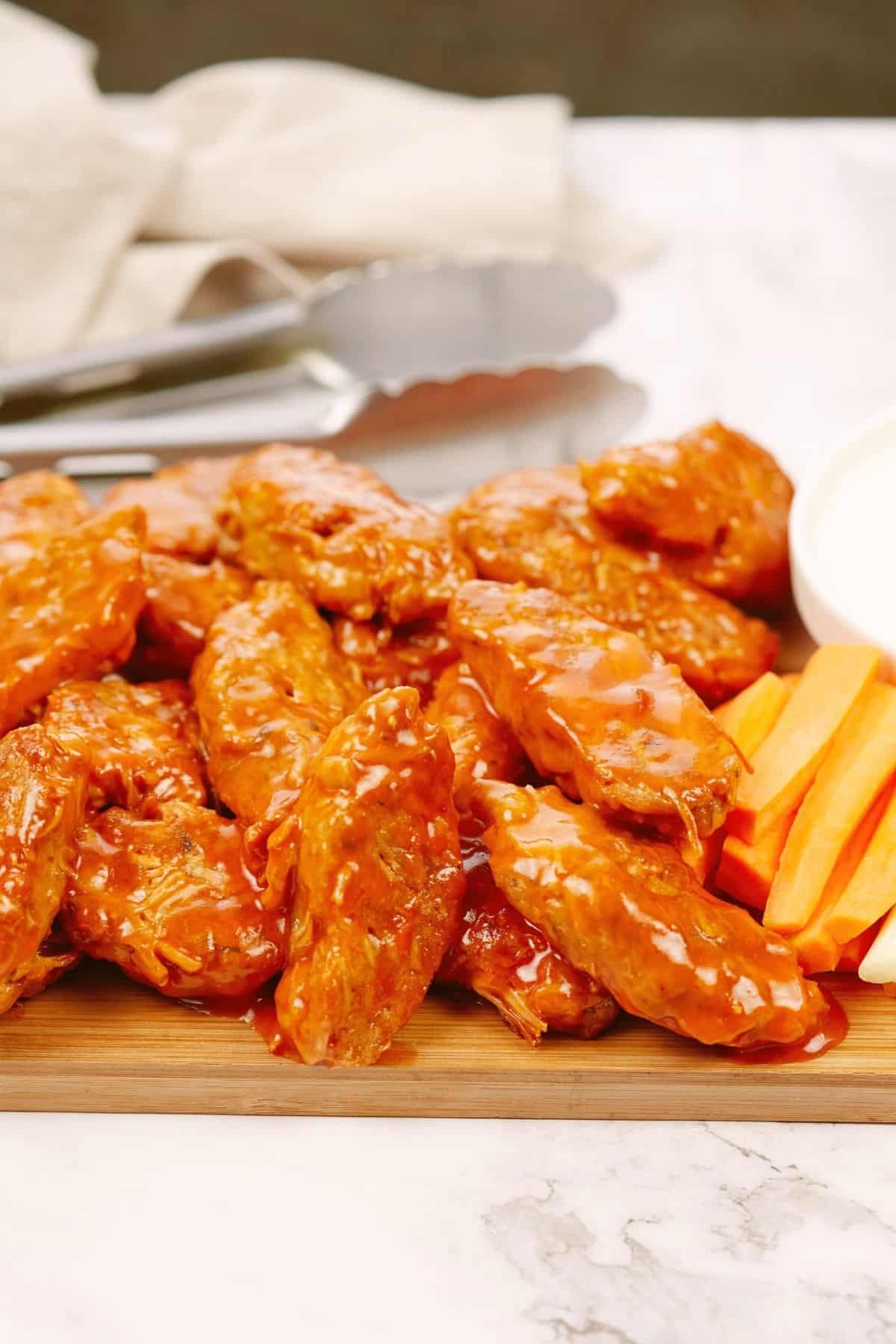 More Vegan Appetizers
Whether you are looking for an after-school snack or an appetizer for a party, we have some amazing ideas below that are sure to please a crowd. Pick your favorite recipes and bookmark them to keep them handy. You can also print out the recipes or pin them to Pinterest so they are easy to find when you need them.
Follow me on PINTEREST and INSTAGRAM for more tasty Plant Based & Vegan Recipes❤️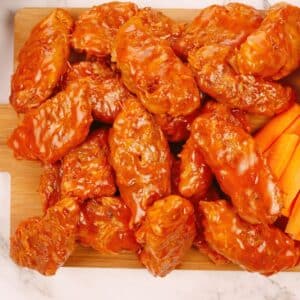 Jackfruit Vegan Wings in Buffalo Sauce
A delicious version of a favorite appetizer! These jackfruit vegan wings are perfect with a delicious buffalo sauce coating! Make them to share!
Instructions
In a medium bowl, crumble tofu and mix in water and apple cider vinegar. Blend until smooth then set aside.

Drain canned jackfruit and remove any hard parts or seeds. Shred each piece and set it aside.

In a large bowl, mix together flour, gluten, and all of the spices. Add the jackfruit and whipped tofu mixture to the bowl and knead until it forms a dough.

Take a portion of the dough and form it into chicken nugget/wing shapes.

Steam the chicken wings for 30 minutes, then let them cool down before continuing with the recipe.

Heat up some vegetable oil in a large pan over medium-high heat.

Brown each chicken wing on both sides in the hot oil until crispy and golden brown.

Mix the browned chicken wings with vegan buffalo sauce until fully coated.

Serve with plant-based ranch or blue cheese sauce and enjoy your delicious vegan buffalo wings!
Notes
These can be air-fried after steaming if desired. Cook for 5 to 6 minutes in a 380F air fryer. Turn halfway through the cooking time. If you want more color, spritz them with olive oil spray before putting them into the air fryer.
If you cannot find vegan buffalo sauce, make your own by combining 1 cup of hot sauce with ½ cup of melted vegan butter. Add 1 to 2 teaspoons of apple cider vinegar or vegan Worcestershire sauce if needed.
Make in larger batches, form into wing shapes, and them steam. Let them cool completely before wrapping and freezing for up to 3 months. Just thaw and fry when ready to serve.
Nutrition
Calories:
309
kcal
Carbohydrates:
43
g
Protein:
30
g
Fat:
4
g
Saturated Fat:
1
g
Polyunsaturated Fat:
2
g
Monounsaturated Fat:
1
g
Sodium:
598
mg
Potassium:
703
mg
Fiber:
3
g
Sugar:
27
g
Vitamin A:
411
IU
Vitamin C:
20
mg
Calcium:
152
mg
Iron:
3
mg