Crisp, juicy apples coated in a luscious brown sugar sauce and wrapped in a homemade vegan pie crust are the stars of this delectable Easy Vegan Apple Pie. Flaky, buttery, cozy, and delicious, this classic dessert is perfect for the holidays.
As soon as fall rolls around, I find myself wanting to do all of the baking—specifically baking up some warm, cozy, fruit-based desserts. On any given fall afternoon, you can find me in my kitchen whipping up a batch of Blueberry Muffins, Lemon Loaf, Pumpkin Cupcakes, or this Easy Vegan Apple Pie!
This cozy pie is filled to the brim with tart cinnamon apples and a brown sugar butter sauce. Wrapped and baked in a flaky homemade vegan pie crust, every bite practically melts in your mouth. It's a must-have when the chilly weather rolls in!
To make this vegan apple pie as nostalgic and comforting as possible, I based the recipe off of Allrecipes Grandma Ople Apple Pie and my mom's famous apple pie recipe. By combining techniques from the two and swapping some ingredients for vegan-friendly substitutions, I believe that I've created the most buttery and juiciest vegan apple pie you'll ever taste!
You've gotta make this dessert for the holidays! Not only is it delicious, but it's also:
Easy to make ahead of time and freezer-friendly.
Flexible! Make a gluten free apple pie instead or play with the flavors.
Perfect with a scoop of dairy-free vanilla ice cream!
Jump to: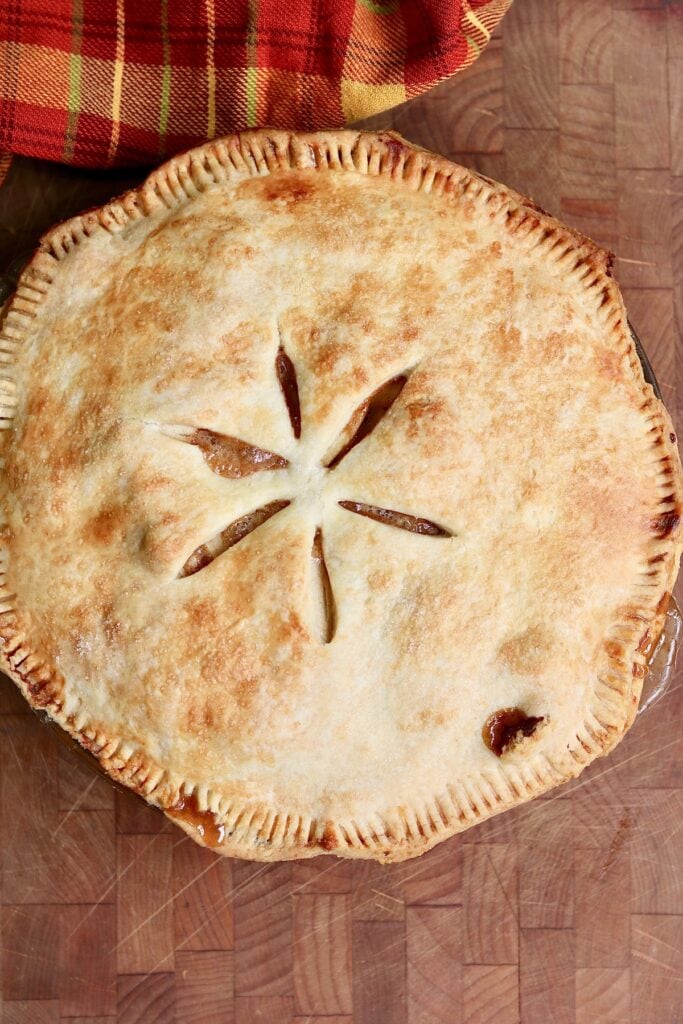 What apples are best for apple pie?
The slight sourness from Granny Smith, Honeycrisp, Gala, or Pink Lady apples balances nicely against the brown sugar and cinnamon used in the pie filling. Additionally, the crispness of these particular apples means that they will soften, but not turn to mush in the oven.
Vegan apple pie ingredients
Vegan pie crust - A double batch of my homemade vegan pie crust is best. Gluten free or store-bought vegan pie crust would also work.
Apples - I used half a dozen peeled, cored, and thinly sliced Granny Smith apples for a nice tartness. You can also use any of the apples I listed above!
Flour - All purpose flour or a 1:1 gluten free flour blend will do.
Lemon - The zest and juice add brightness and acidity.
Sugar - You need both white and brown sugar to create a caramel apple filling.
Cinnamon - Because apples and cinnamon is an award-winning combination!
Vegan butter - Make your own or use store-bought butter for the filling.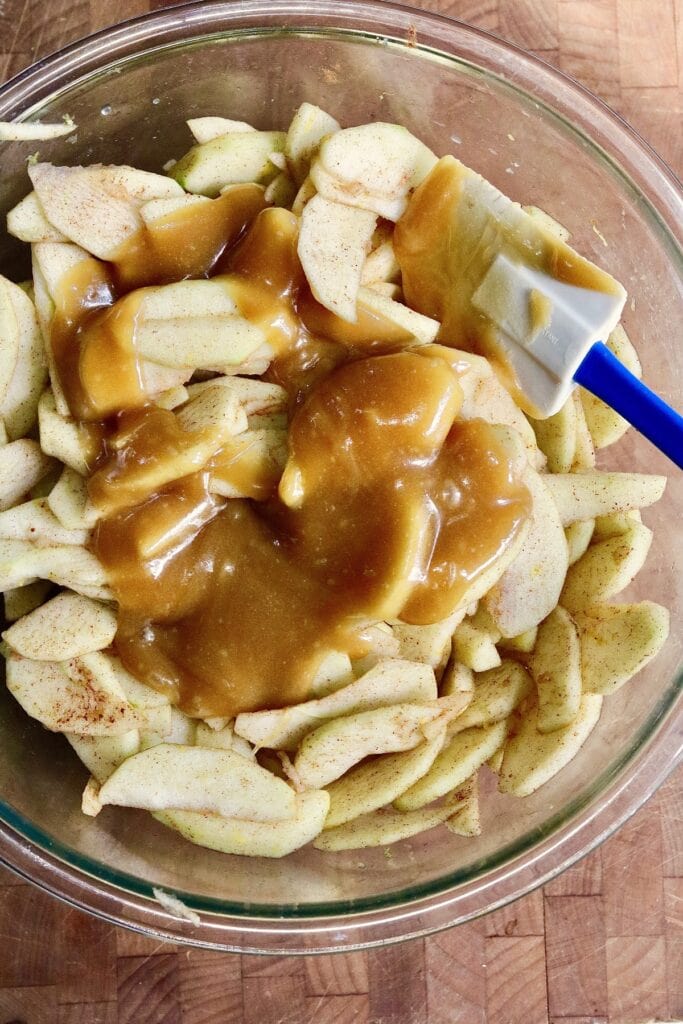 How to make the best vegan apple pie
This sweet and tangy apple pie is one of the best you will ever taste. Made by hand with simple ingredients, it's a fall favorite you can make over and over again:
Have the finished vegan pie dough chilling in the fridge while you prepare the filling.
Toss the peeled and thinly sliced apples in a bowl with the lemon zest, juice, and cinnamon.
In a saucepan over medium heat, melt the vegan butter and stir in the flour. Cook for 30 seconds before adding the water and sugars. Bring to a boil and cook for an additional minute before removing it from the heat and stirring in the vanilla.
Pour the caramel sauce over the apple mixture and stir to combine.
Roll out the pie dough and place it over a pie pan. Pour the apple caramel mixture into the pan with the dough and place the second rolled crust on top. Crimp the edges closed and cut a few slits on the top crust for ventilation.
Brush the top of the pie with some plant milk and a sprinkle of sugar.
Bake the pie at 425°F for 15 minutes, then reduce the heat to 350°F. Continue baking for about 50 minutes or until the apples are tender. Allow the pie to cool thoroughly before slicing, serving, and enjoying. For full ingredients and instructions see printable recipe card below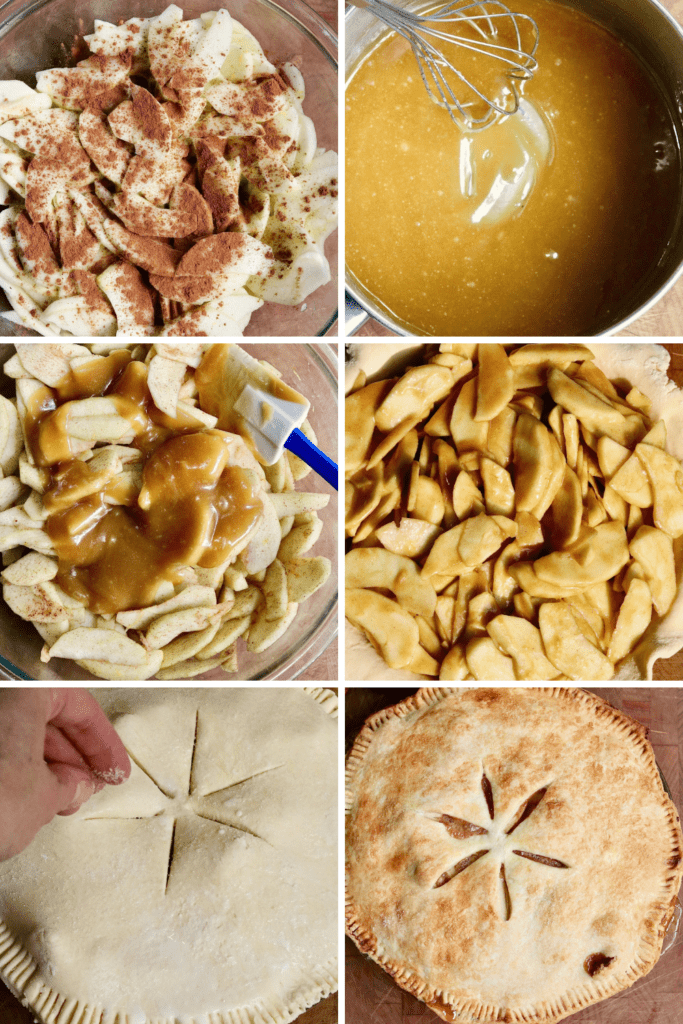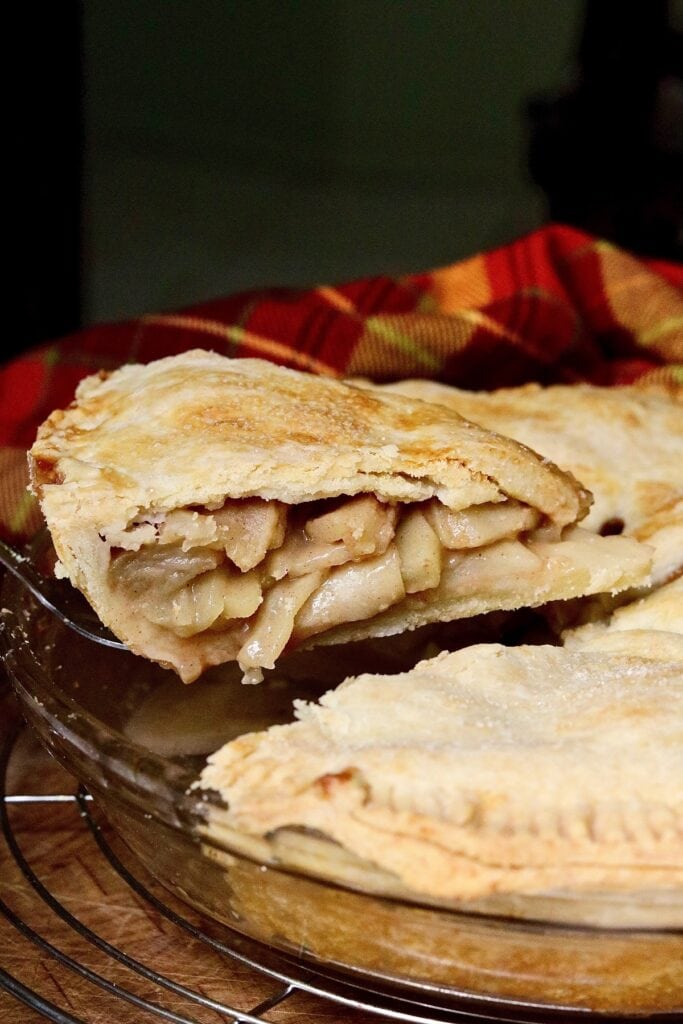 Tips for success
The pie needs to cool for at least an hour and a half before serving. This gives the filling time to thicken and set (as opposed to it oozing everywhere).
If you find that your pie crust is browning too quickly in the oven, place a ring of tin foil around the edge of the pie.
Be sure to slice the apples very thinly and consistently so they can all soften and cook evenly.
Serve each slice of apple pie with a scoop of dairy-free vanilla ice cream or coconut whipped cream.
Frequently asked questions
Can it be made gluten free?
Easily! Simply swap out the homemade pie crust for a gluten free version and replace the all purpose flour in the filling with a 1:1 gluten free flour blend.
Should you cook the apples before adding them to the pie?
As long as you slice the apples very thinly, there's no need to cook them first. They'll soften nicely in the oven.
How do you know when apple pie is done baking?
You'll know the pie is ready when the juices start to bubble up through the ventilation slits in the top crust. The crust should be golden brown as well.
How do you prevent the bottom from becoming soggy?
I've never had a problem with this pie being soggy. If you're really concerned, you can blind bake the bottom pie crust in a 375°F oven for 15 minutes before adding the filling and top crust.
Can you make it ahead of time?
Absolutely! Prepare and bake your pie as normal before allowing it to cool completely. Wrap the top in foil and store it in the fridge for up to 4 days or in the freezer for up to 4 months. To reheat, pop the chilled pie in a 350°F oven and heat until warmed through.
Hungry for more vegan dessert recipes?
Enjoy everyone! Happy Day! Please feel free to comment below and give this recipe a rating. Your feedback is greatly appreciated!
Follow me on PINTEREST and INSTAGRAM for more tasty Plant Based & Vegan Recipes❤️
Subscribe here for free weekly recipes delivered right to your inbox! No need to scour the internet. Your one stop shop for recipes is here😊 No spam I promise!
Print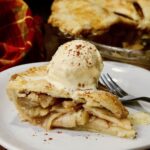 Easy Vegan Apple Pie
---
Author:

Verna

Total Time:

1 hour 5 minutes

Yield:

8 Servings

Diet:

Vegan
Description
Crisp, juicy apples coated in a luscious brown sugar sauce and wrapped in a homemade vegan pie crust are the stars of this delectable Easy Vegan Apple Pie. Flaky, buttery, cozy, and delicious, this classic dessert is perfect for the holidays.
---
Homemade vegan pie crust recipe

(double it)

6-7 granny smith apples (7 ½ to 8 cups)*

Zest of ½ lemon

2 tablespoons fresh lemon juice

1 teaspoon cinnamon

4 tablespoons vegan butter

3 tablespoons all-purpose flour

¼ cup water

½ cup white sugar

¼ cup dark brown sugar, packed

½ teaspoon pure vanilla extract

A little nondairy milk and sugar for topping pie crust
---
Instructions
Make the

pie crust

recipe (remember to double it) divide dough in 2 portions and wrap in cling wrap and set in fridge until needed

Peel apples, remove cores, thinly slice and place in a large bowl. Toss with the lemon juice and zest then sprinkle on the cinnamon and mix again. Set apples aside

Melt butter in a medium saucepan over medium heat. Whisk in the flour and cook for 30 seconds constantly whisking. Whisk in the water and sugars. Bring to boil on medium heat and cook for 1 minute while continually whisking. Remove from heat and stir in vanilla

Pour sauce over the apples and gently mix together until thoroughly combined

Preheat oven to 425° Roll out bottom crust with rolling pin, 12-13 inches in diameter on lightly floured parchment paper per recipe instructions and transfer to pie plate. Add the apple filling, mounding slightly in the middle.

Roll out the top crust. Place on top of the filling. Trim edges and crimp with fork to seal or flute them. Cut a few slits in the crust for venting. Brush crust with a little plant milk and sprinkle with a little sugar

Bake at 425° for 15 minutes then reduce heat to 350° and continue baking for another 45 to 50 minutes until apples are tender and juices are bubbling through the vents. Let rest at room temperature for at least 1 and ½ hours before serving. Enjoy with vegan vanilla ice cream or coconut whipped cream topping and a sprinkle of cinnamon. For step by step photos, FAQ, suggestions and tips see above post
Notes
Can use honey crisp apples or even gala will work but granny smith are my favourite
Tent pie edges with tin foil towards end of baking if needed to prevent over browning (I have never had to do this)
Do not be tempted to mix the cinnamon in with the sauce
Be sure to slice apples thinly so they cook properly
For gluten free pie: use a gluten free crust and a 1:1 gluten free flour blend for sauce
Can use store bought pie crust just read ingredients to make sure it vegan (homemade is so much better)
To store and freeze: Wrap baked pie in tin foil or cling wrap store in fridge for up to 4 days. Store in the freezer for up to 4 months. Can freeze pie either baked or unbaked. To reheat frozen baked pie remove from freezer onto baking sheet lightly tent with foil bake at 350° for 15-20 minutes or until warmed through. To reheat frozen unbaked pie remove from freezer, bake at 425° for 15 minutes reduce oven 350° continue baking for 50-60 minutes (or longer) watch closely towards end and tent edges with foil if needed to prevent over browning
Prep Time:

20 Minutes

Cook Time:

45 Minutes

Category:

Desserts, Gluten free, Vegan Holiday Recipes

Method:

Bake

Cuisine:

American, Canadian
Keywords: vegan apple pie