Indulge in a guilt-free, dairy-free delight with our creamy cauliflower Alfredo recipe. Made with simple ingredients, it's a delicious choice for pasta, in casseroles, or as a dipping sauce.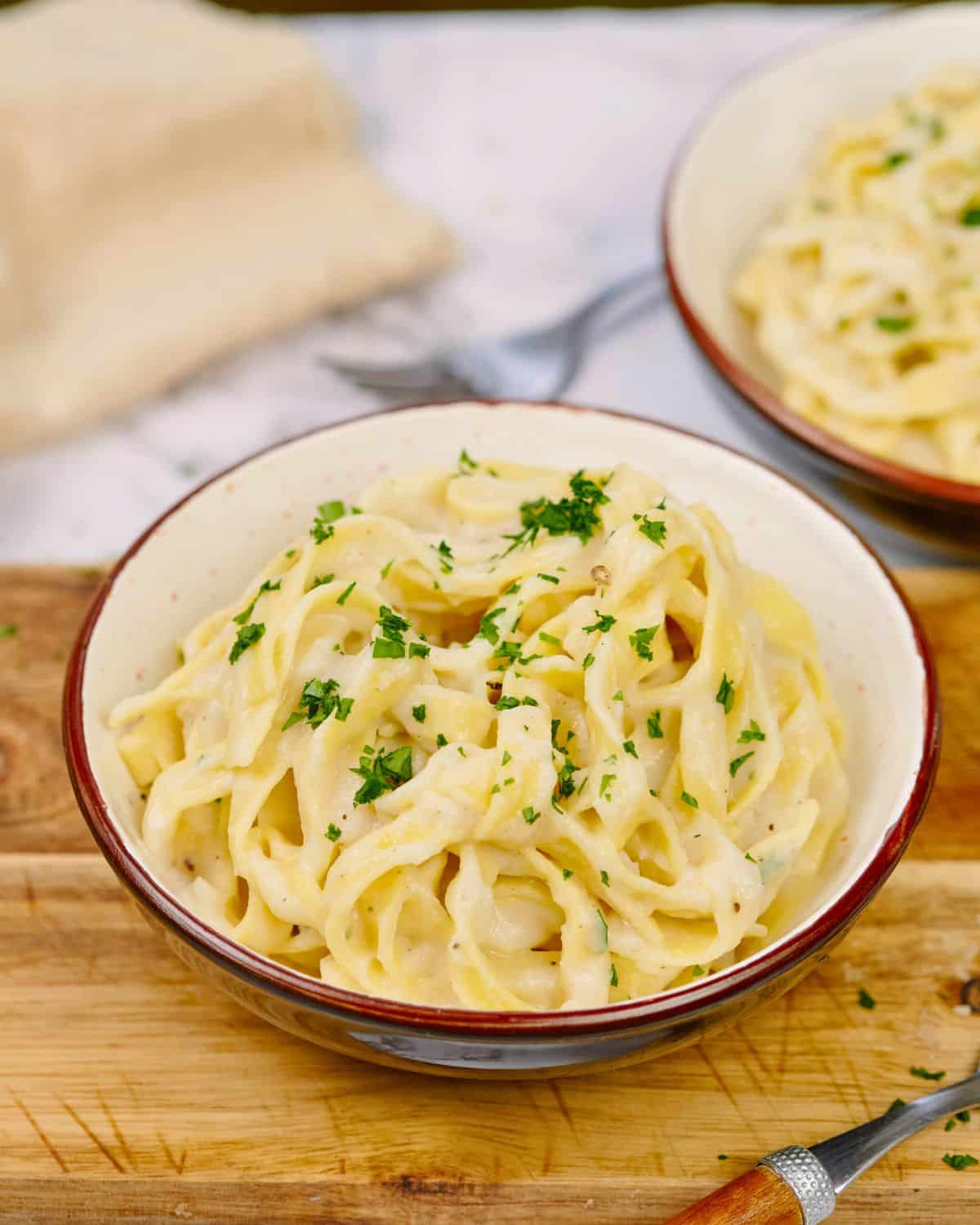 This mouthwatering dish takes a traditional favorite and gives it a healthy, flavorful twist. Picture a velvety sauce that boasts the creaminess you crave but without the guilt.
If you like this recipe, then I know you'll love our vegan creamy garlic pasta too!
Jump to:
🥘Ingredients
The exact quantities and measurements for this cauliflower Alfredo recipe can be found in the printable recipe card at the bottom of the post.
Olive oil or vegan butter
Cauliflower
Fresh garlic
Salt
Non-dairy milk
Nutritional yeast
Fresh parsley
Pasta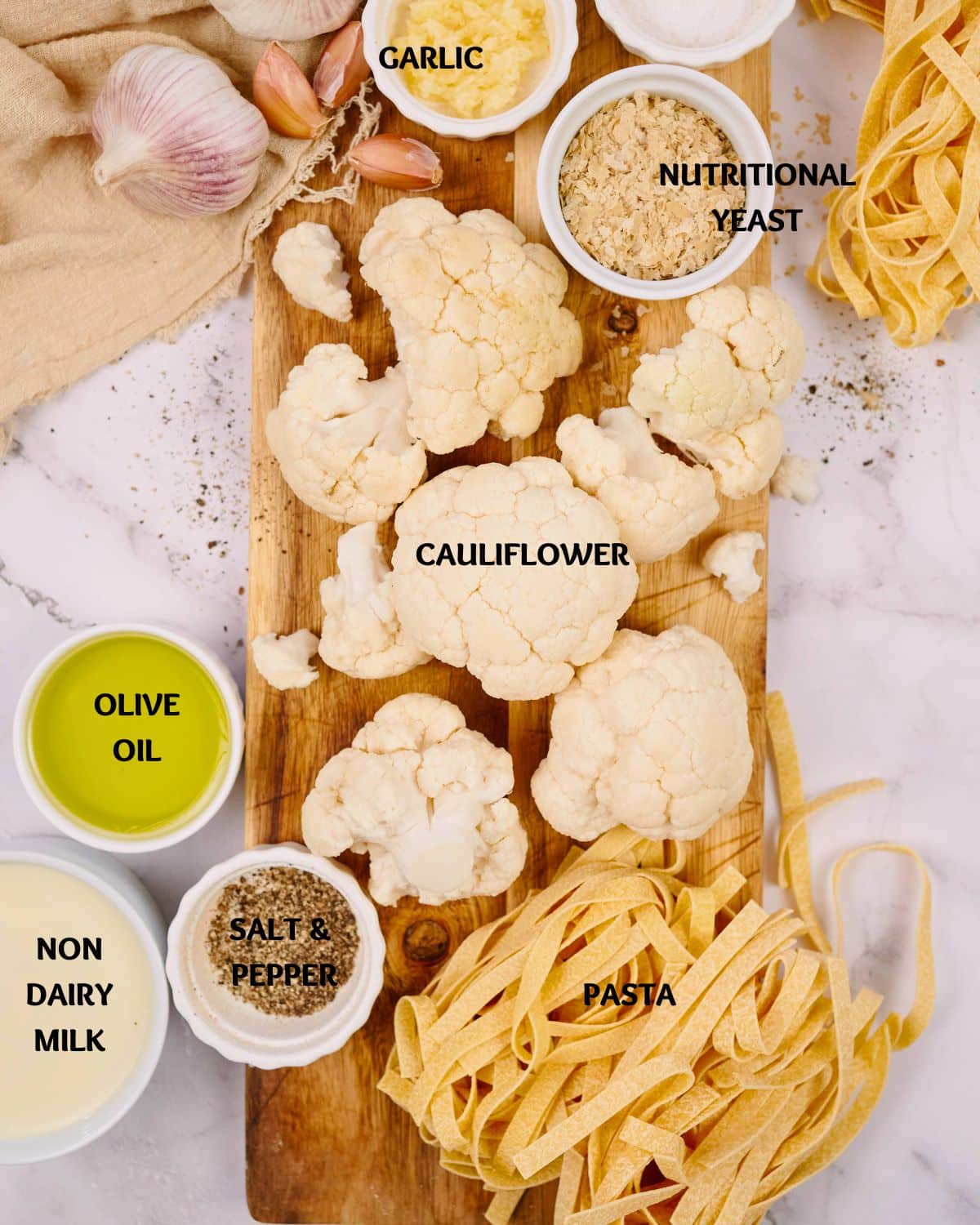 🔪Instructions
First, you will want to wash and cut the head of cauliflower into florets. Then, place them in a large bot of salted water over medium heat. Bring to a boil, and cook for 15 minutes, or until the cauliflower is tender. Once tender, drain and set aside.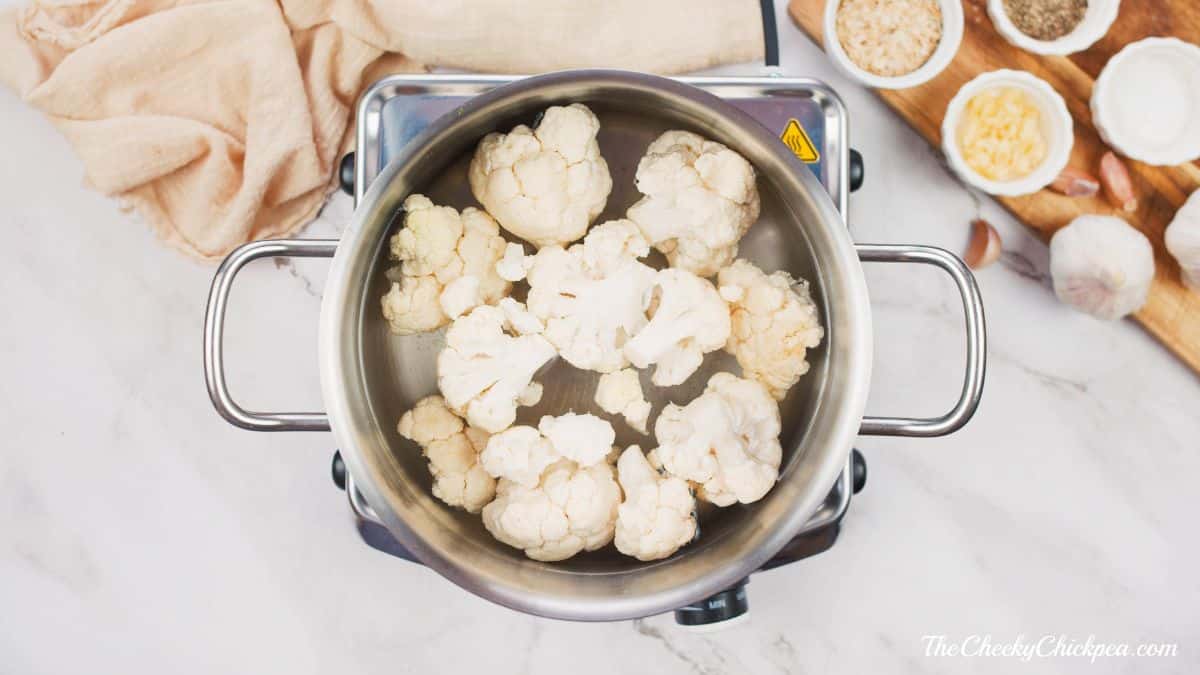 While the cauliflower is cooking, bring salted water to a boil. Then add the pasta and cook for 5 to 7 minutes, until just tender. Reserve 1 cup of pasta water, then drain the pasta and set it aside.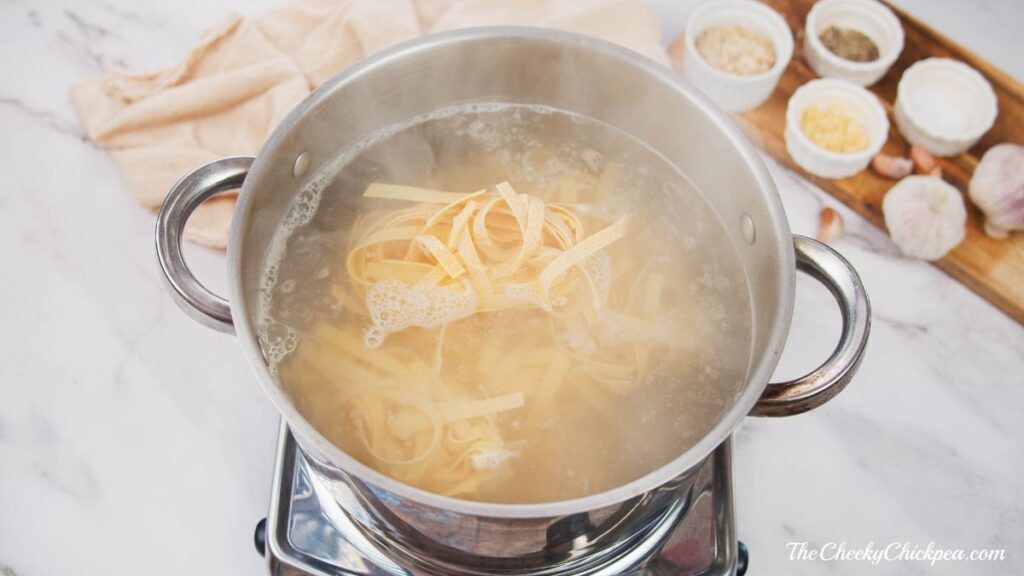 Now in a blender, add the cooked cauliflower, non-dairy milk, reserved pasta water, salt, and nutritional yeast. Pulse this until it is smooth and creamy.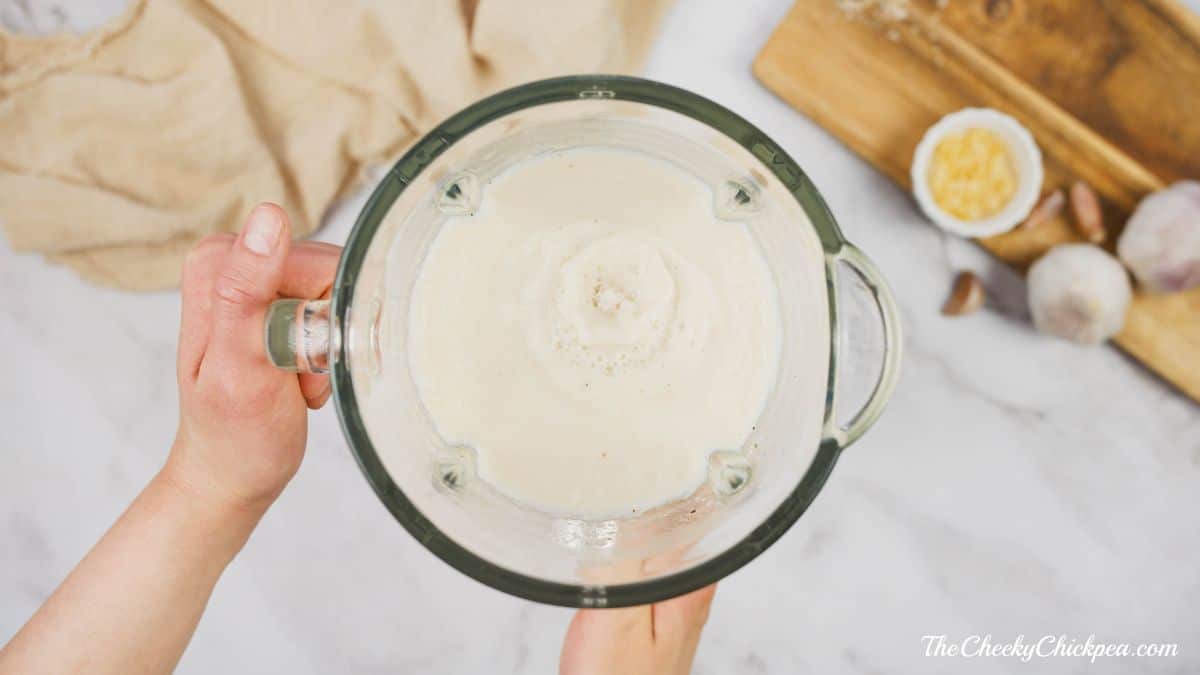 In a small skillet, add the olive oil and garlic. Cook for 30 seconds to 1 minute. You want the garlic aromatic but not browned.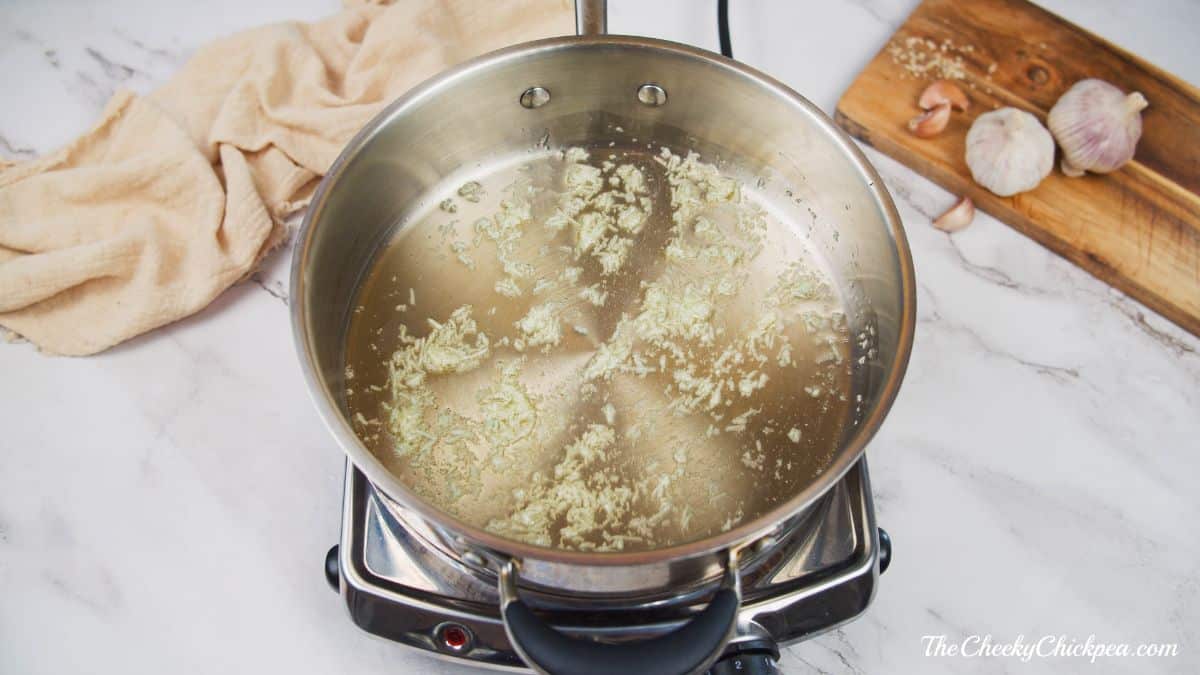 Pour the sauce into a saucepan, and add the garlic and pasta. Simmer until heated through.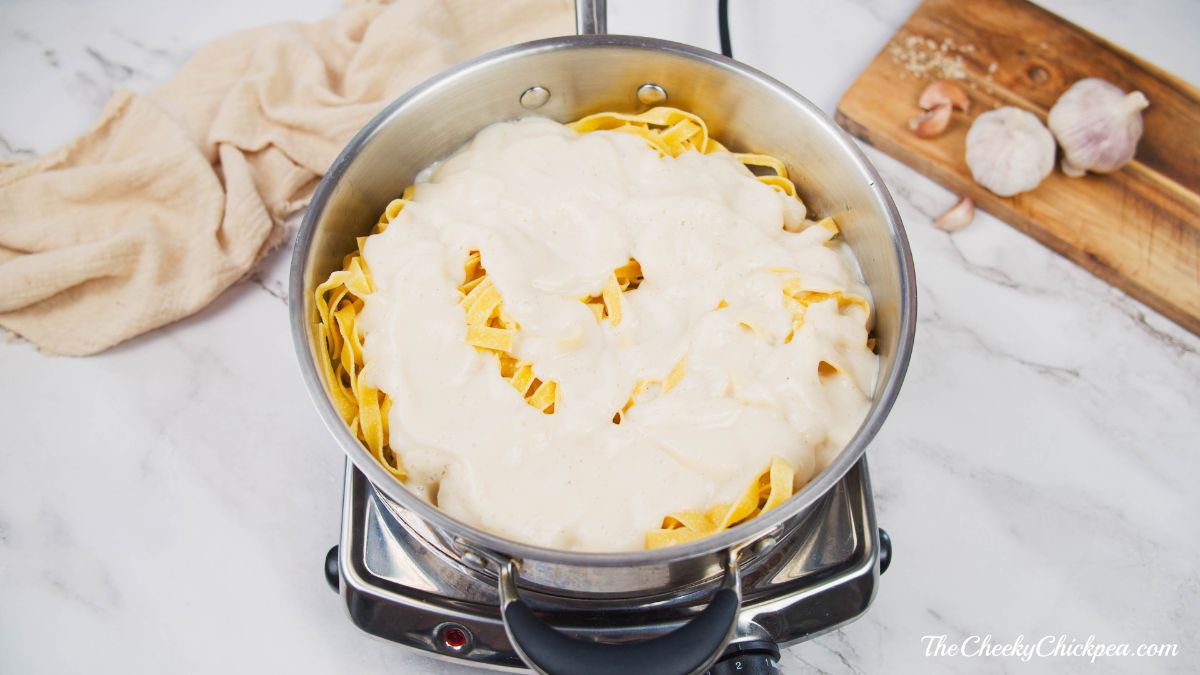 Serve hot with fresh chopped parsley and a sprinkle of ground pepper.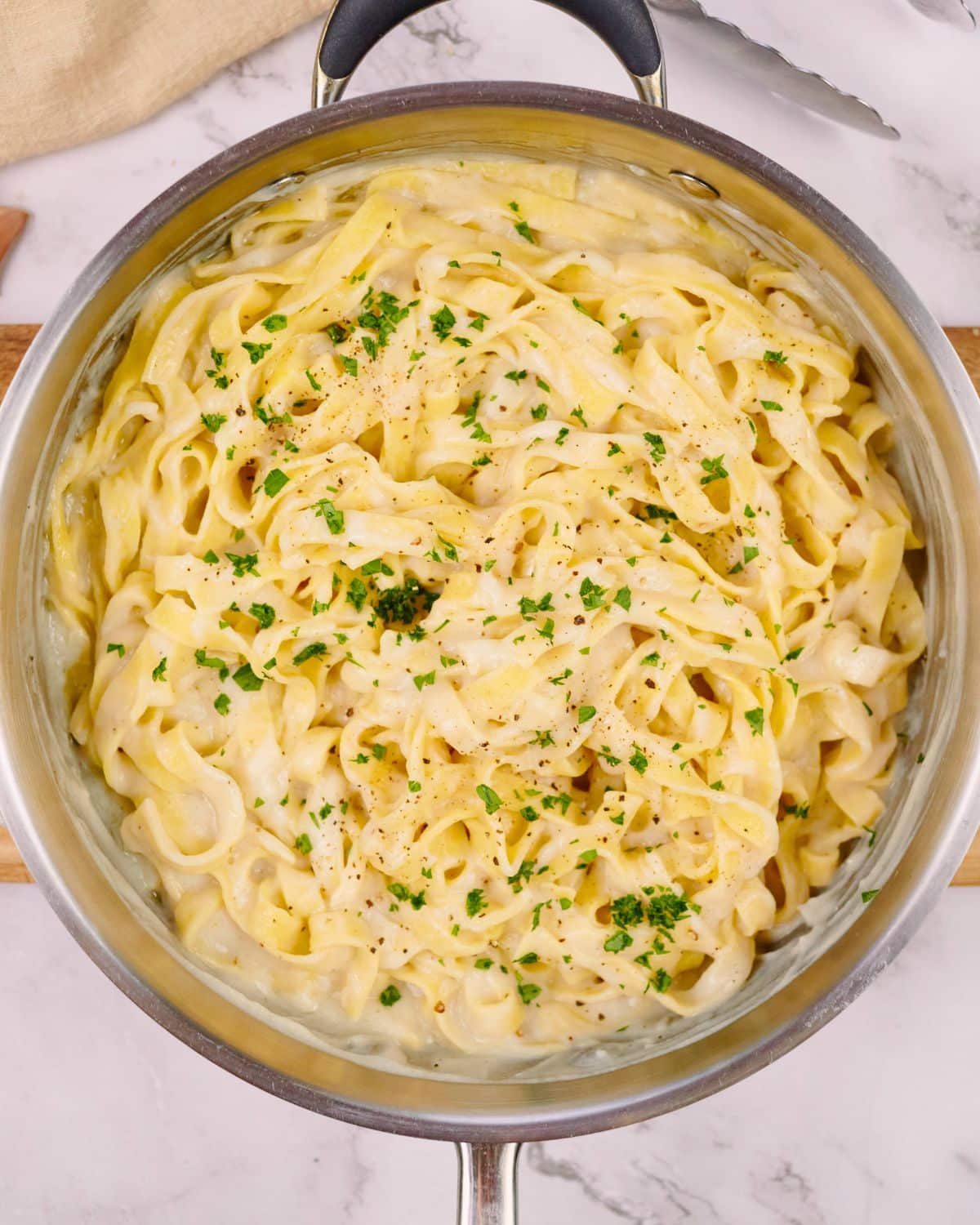 📋 Substitutions
If you don't have everything on hand but still want to make a homemade vegan Alfredo, don't worry! I have you covered with a few substitution ideas below.
Replace cauliflower with butternut squash, sweet potatoes, or cashews for creaminess.
Use any non-dairy milk you prefer - just make sure it is unsweetened.
A ready-made vegan parmesan cheese can be used in place of nutritional yeast, or in a pinch brewer's yeast.
📖 Variations
If you love this base but want to add something unique, check out the variation ideas below for inspiration.
Roast the garlic in the oven for an hour until it is soft and caramelized. Then squeeze it into the mixture when you blend the sauce.
Add fresh herbs such as basil, thyme, or rosemary to the sauce before serving. You can even add an herb sachet to the sauce to infuse it with flavor then remove it before serving.
Add sauteed vegetables such as mushrooms, onions, tomatoes, bell peppers, zucchini, or squash when serving.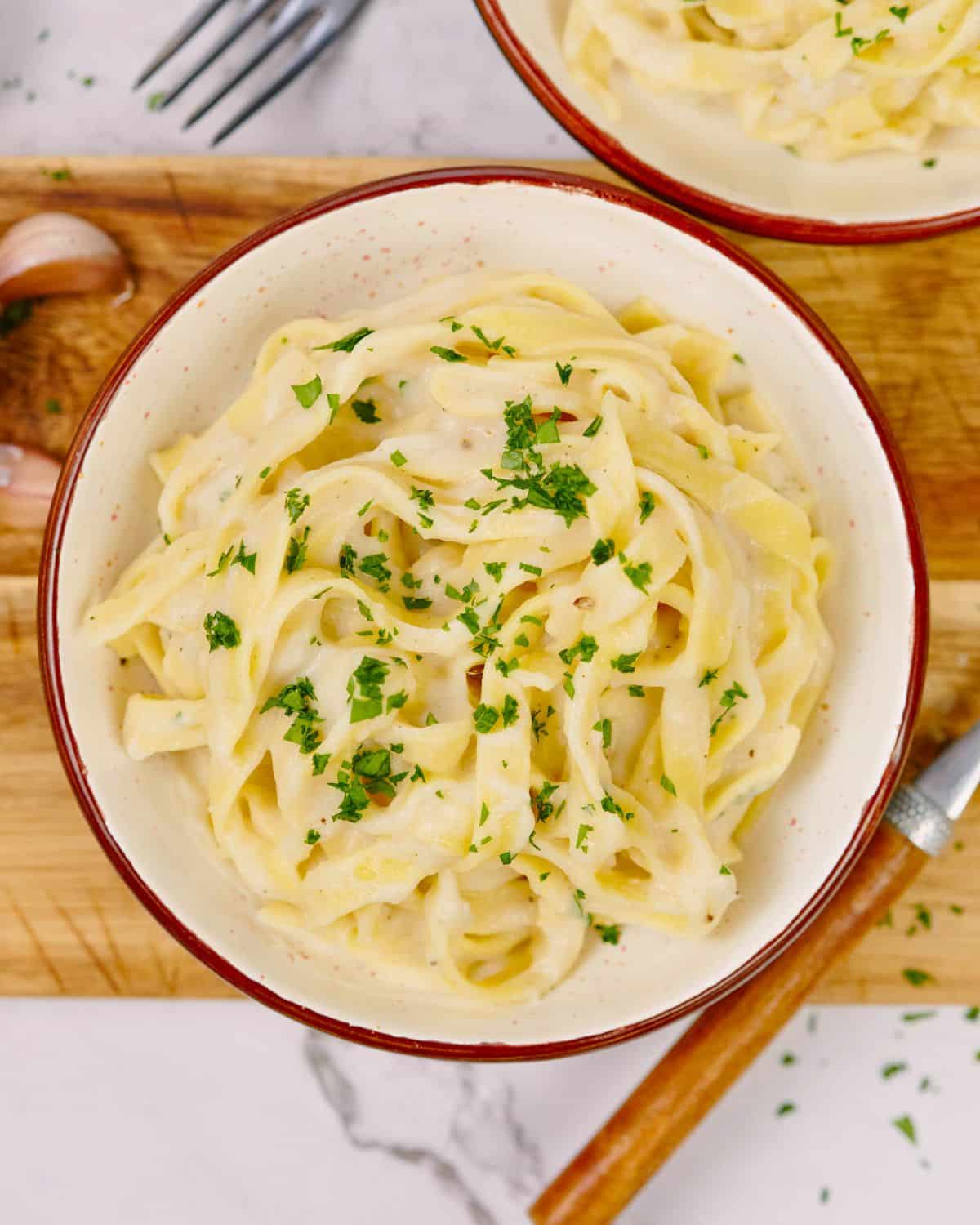 🥘 Storage Tips
This is a great meal, but if you have leftovers, you may want to store them for later. The sauce, once prepared, can be stored in the refrigerator for up to 4 days. Allow it to cool completely, then pour it into an airtight container. When you are ready to heat, just warm it over medium heat on the stovetop.
This sauce is also perfect for freezing. I recommend pouring into 1-cup containers or bags and freezing. Allow a bit of extra space at the top of the containers for expansion. Label and date them, and keep them in the freezer for up to 3 months. Thaw overnight in the refrigerator before reheating on the stovetop.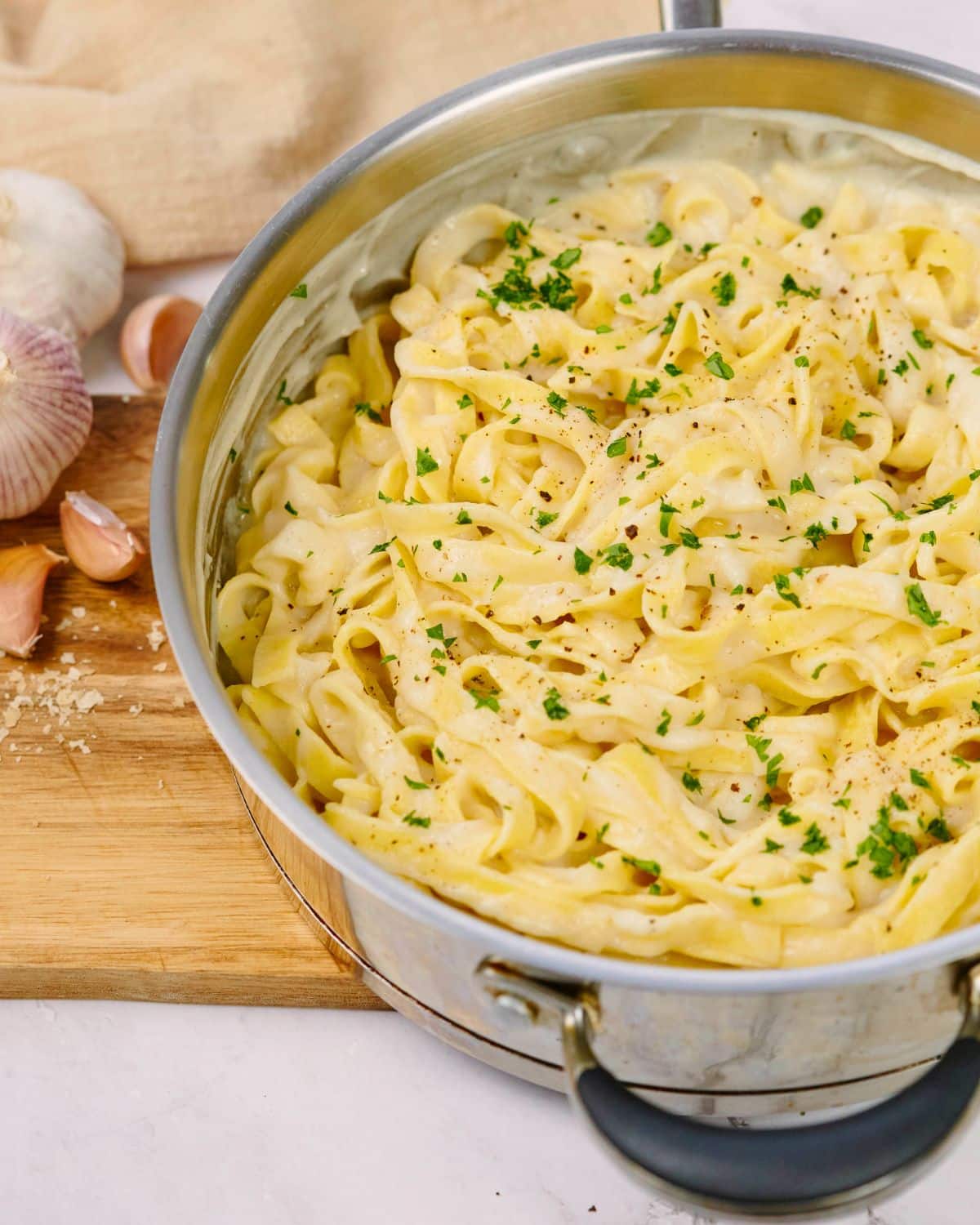 👩🏽‍🍳Top Tip
When making this sauce, the key is to make sure that your cauliflower is cooked well. This will give you the velvety texture you prefer.
💭 FAQs
What non-dairy milk can I use in making Alfredo?
Soy milk is the most popular choice, but this can also be made with almond milk, hemp milk, oat milk, or rice milk. I prefer the richer options of soy or almond because they more closely resemble the thicker cream traditionally used in the sauce.
How can I mask the cauliflower flavor in this sauce?
If you aren't a fan of the cauliflower flavor, then make sure you use plenty of seasonings. The nutritional yeast and garlic are typically enough to create the savory cheese flavor. However, you can also include garlic powder, onion powder, fresh or dried herbs, paprika, nutmeg, or additional salt and black pepper.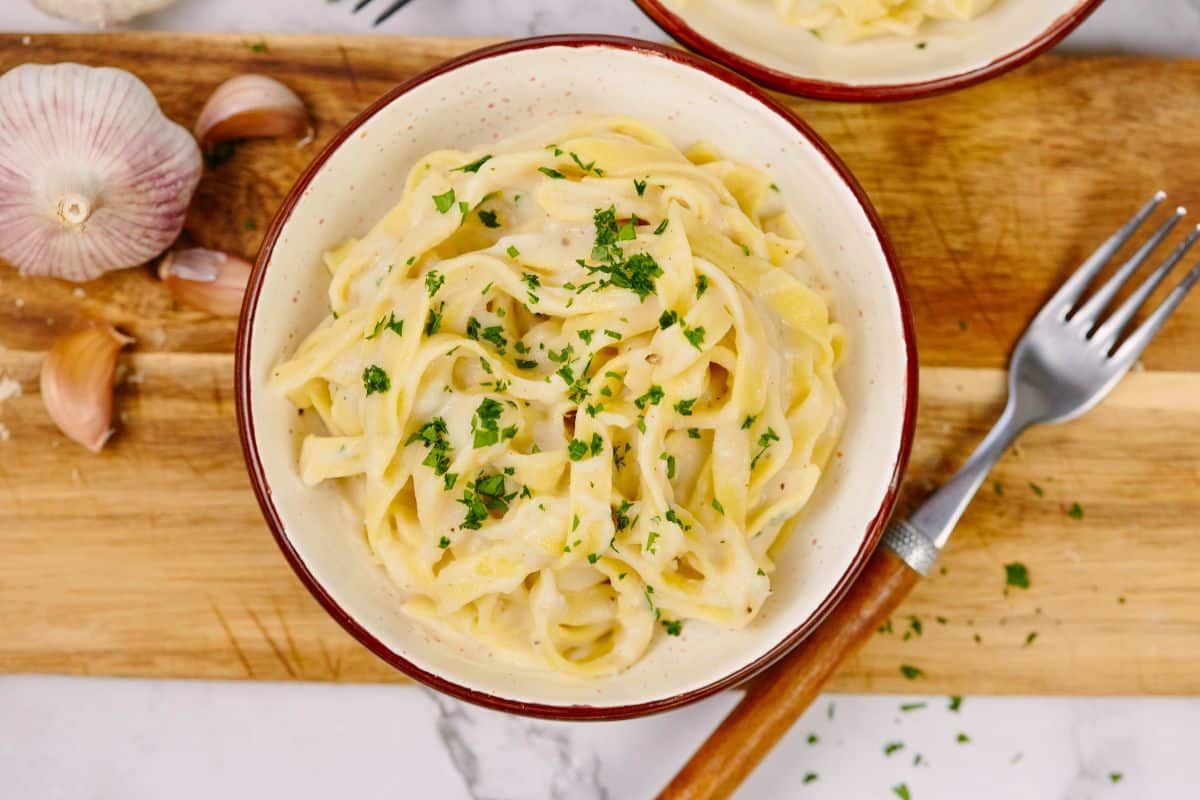 Related
If you enjoy this recipe, then make sure you check out our other pasta dishes below. Bookmark these or add them to your meal plan soon.
Pairing
This recipe is perfect all by itself, but we like to add a bit more protein and vegetables to it sometimes. Below are some options to pair with the vegan cauliflower Alfredo sauce.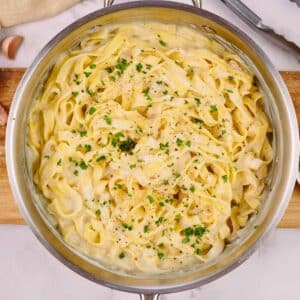 Vegan Creamy Cauliflower Alfredo
Indulge in a guilt-free creamy vegan cauliflower Alfredo sauce for a flavorful pasta dish.
Instructions
Start by washing and cutting the cauliflower into small florets. Place the florets in a large pot of salted water over medium heat and bring it to a boil. Cook for about 15 minutes or until the cauliflower becomes tender. Once done, drain the water and set the cauliflower aside.

While the cauliflower cooks, bring another pot of salted water to a boil. Add the pasta and cook it for 3 to 4 minutes, approximately half of the suggested cooking time. Remember to reserve 1 cup of pasta water before draining the pasta. Set the pasta aside.

Using a blender, combine the cooked cauliflower, non-dairy milk, reserved pasta water, salt, and nutritional yeast. Blend until the mixture becomes smooth and creamy.

1 ¼ teaspoon salt,

⅔ cup non-dairy milk,

¼ cup nutritional yeast

In a small skillet, heat the olive oil and add the garlic. Cook for 30 seconds to 1 minute until the garlic becomes fragrant, but be careful not to let it brown.

3 tablespoon olive oil,

4 cloves garlic

Pour the cauliflower sauce into a saucepan and add the cooked garlic and pasta. Simmer the mixture until it is heated through.

Serve the dish hot and garnish with freshly chopped parsley and a sprinkle of ground pepper.

¼ teaspoon black pepper,

¼ cup fresh parsley
Notes
Season the sauce generously after blending.
When freezing, leave ½" space in the container for expansion.
Use this as a dipping sauce, in casseroles, or alone as shown.
Nutrition
Calories:
366
kcal
Carbohydrates:
52
g
Protein:
12
g
Fat:
13
g
Saturated Fat:
2
g
Polyunsaturated Fat:
2
g
Monounsaturated Fat:
8
g
Sodium:
787
mg
Potassium:
611
mg
Fiber:
5
g
Sugar:
5
g
Vitamin A:
471
IU
Vitamin C:
63
mg
Calcium:
104
mg
Iron:
2
mg
Food Safety
Don't forget to be careful when preparing meals at home. Follow the top tips for food safety below.
Always sanitize countertops, cutting boards, utensils, and cookware thoroughly between each use.
Wash your hands in warm soapy water, rubbing for at least 20 seconds before rinsing. Remember, "FROG" means friction rubs off germs.
After serving food, allow it to cool, then place it into the refrigerator or proper storage immediately. Food should be at room temperature for no more than 2 hours for safety.