Whether you are looking for an entree, snack, appetizer, or side dish, the crispy chickpea corn patties are going to become a favorite at your table. Loaded with fresh cilantro, smoky paprika and pepper, it easily packs a punch of flavor.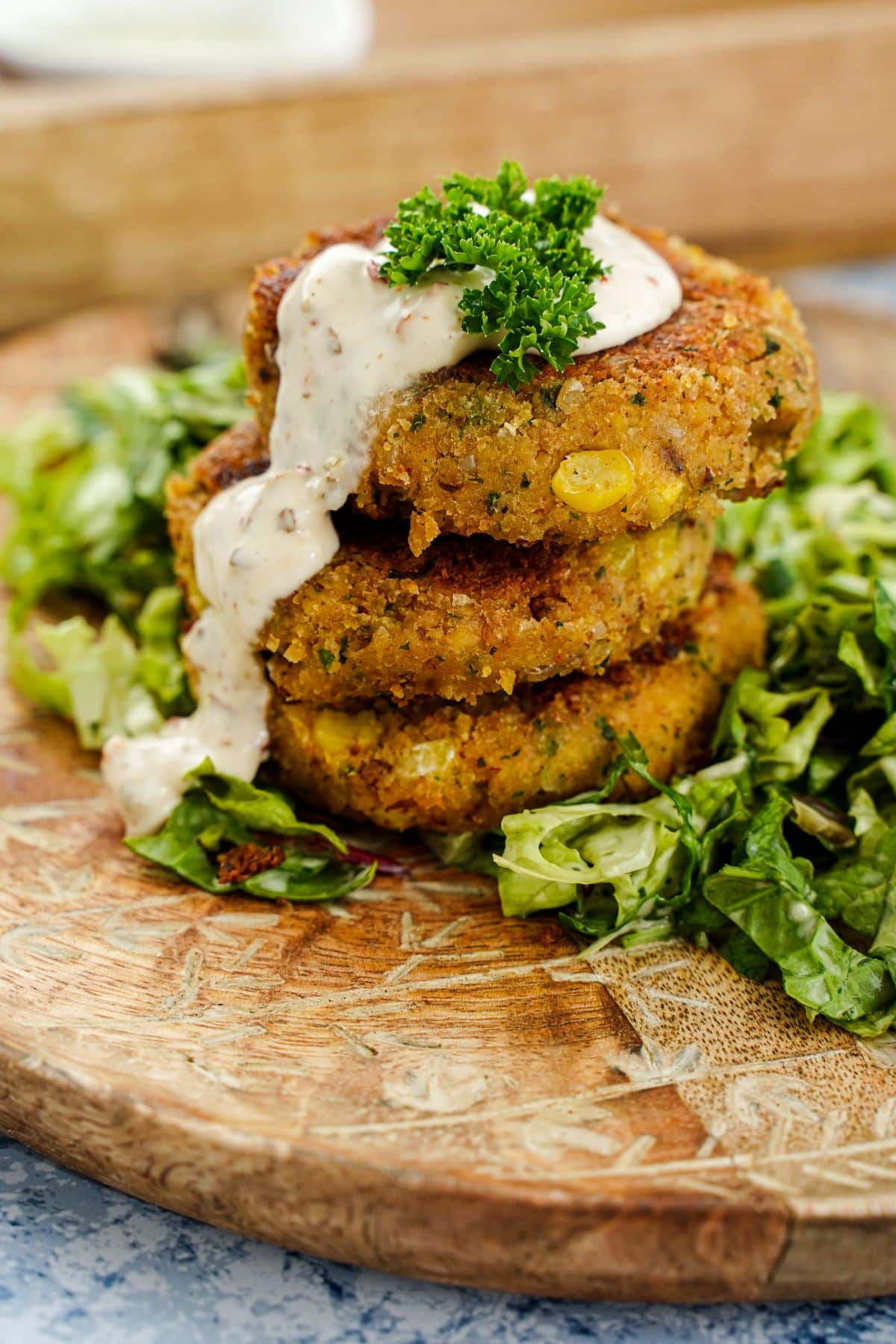 A simple patty that is fried and served with dipping sauce and inspired in some ways by the falafel. This version is moist and has corn for a brighter taste.
This pairs wonderfully with a simple tzatziki or even a rich tahini dressing for dipping.
Jump to:
Ingredients
The main recipe is for the patties, but it is also served with a chipotle aioli as well as a recommended side salad. The ingredients for each are listed separately below for convenience. See the recipe card below for the quantities needed.
For the chickpea corn patties
Cooked or canned chickpeas
Prepared brown rice
Fresh cilantro
Red onion
Smoked paprika
Chili powder
Ground cumin
Black pepper
Garlic salt
Whole kernel corn
Breadcrumbs
Oil for frying
For the chipotle aioli
Vegan mayonnaise
Fresh garlic cloves
Lime juice
Ground cumin
Chipotle pepper (dry or in adobo sauce)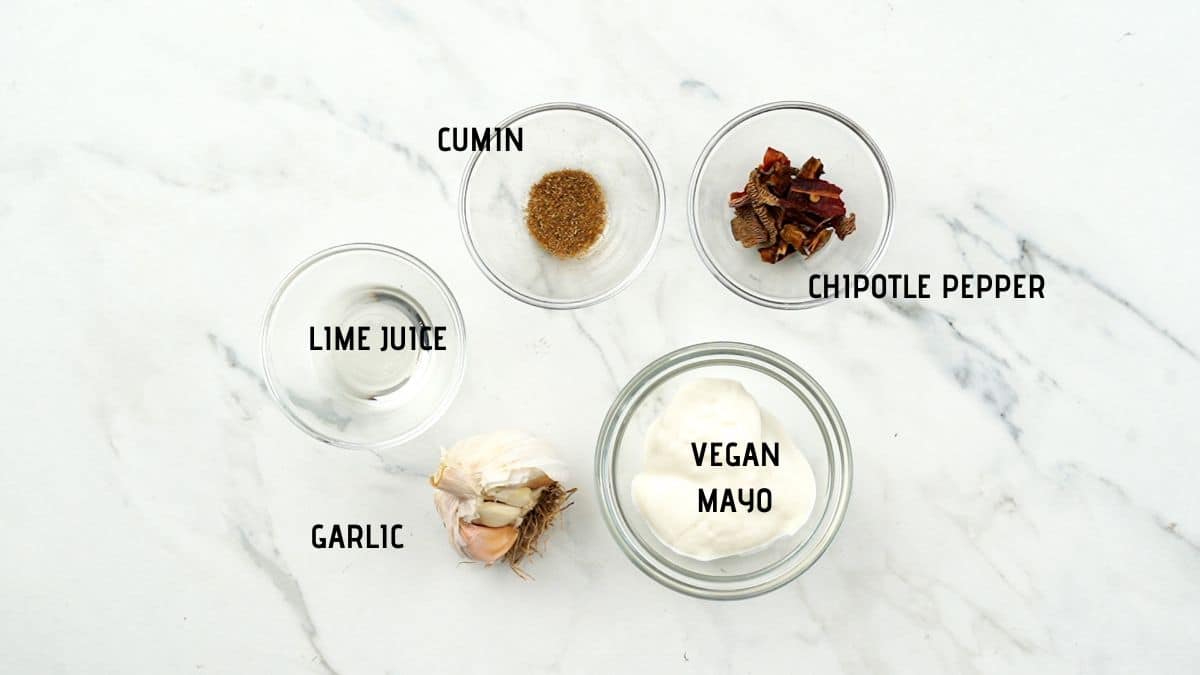 For the side salad
Vegan mayonnaise
Fresh garlic cloves
Fresh basil
Olive oil
Salt
Black pepper
Apple cider vinegar
Water (if needed)
Salad greens and vegetables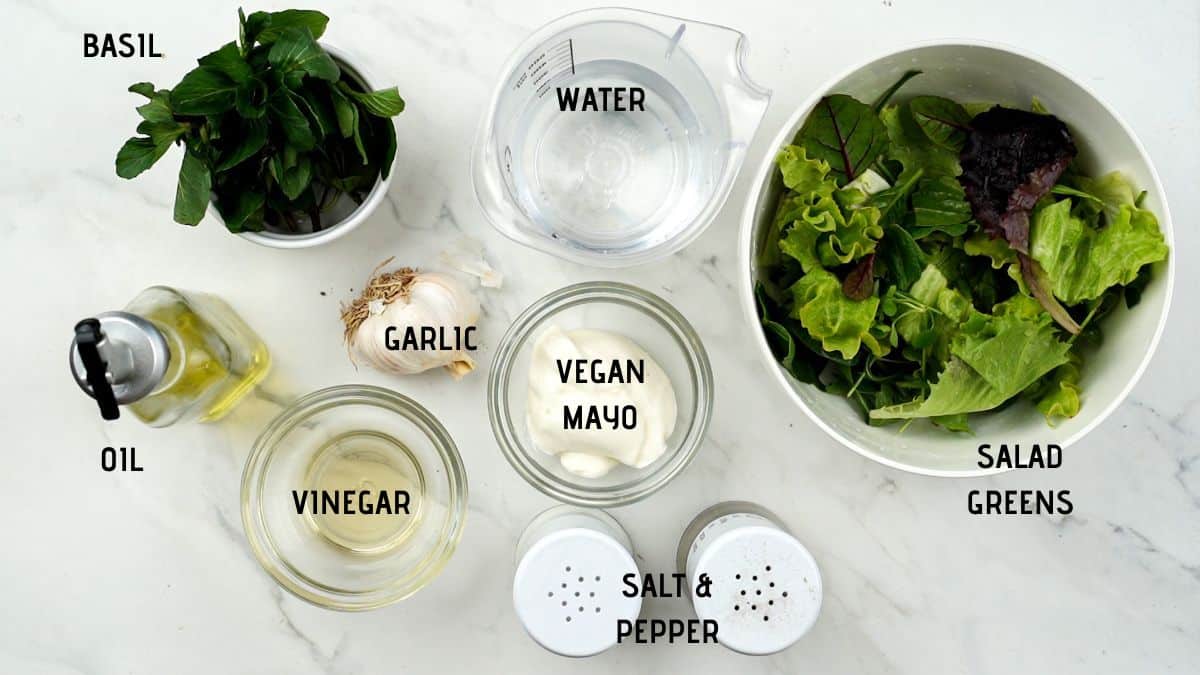 Instructions
Get started making this recipe by measuring out all ingredients needed. If you are planning to use dry chickpeas rather than canned ones, you will need to plan ahead to have those cooked before you begin. Then, begin by putting the chickpeas (in liquid), rice, cilantro, onion, paprika, chili powder, cumin, salt, black pepper, and garlic salt together in a food processor. Pulse the mixture until it is combined and the chickpeas are ground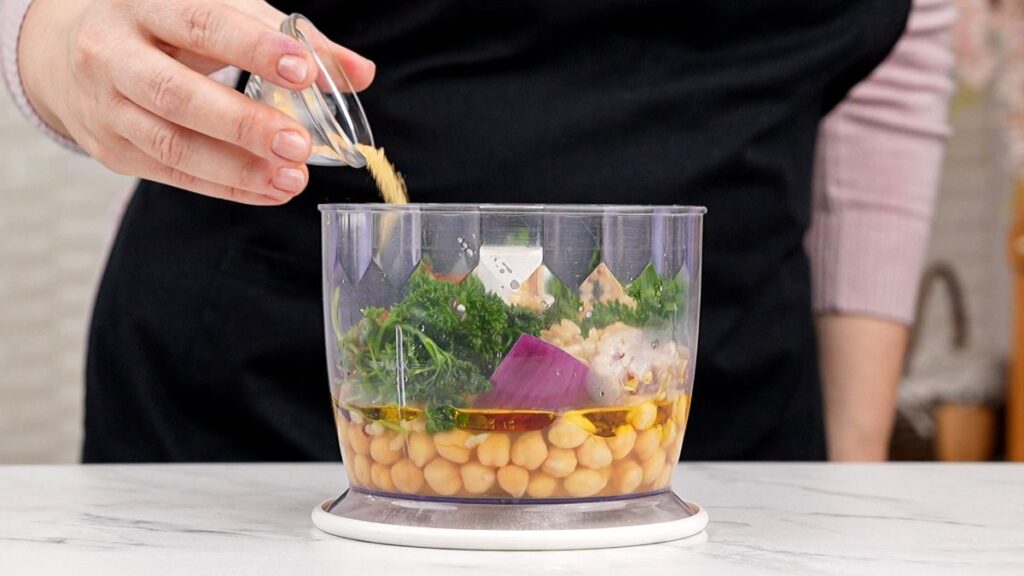 Pour this mixture into a large bowl, and then combine it with the whole kernel corn and breadcrumbs. Stir it together until thickened into a paste like mixture.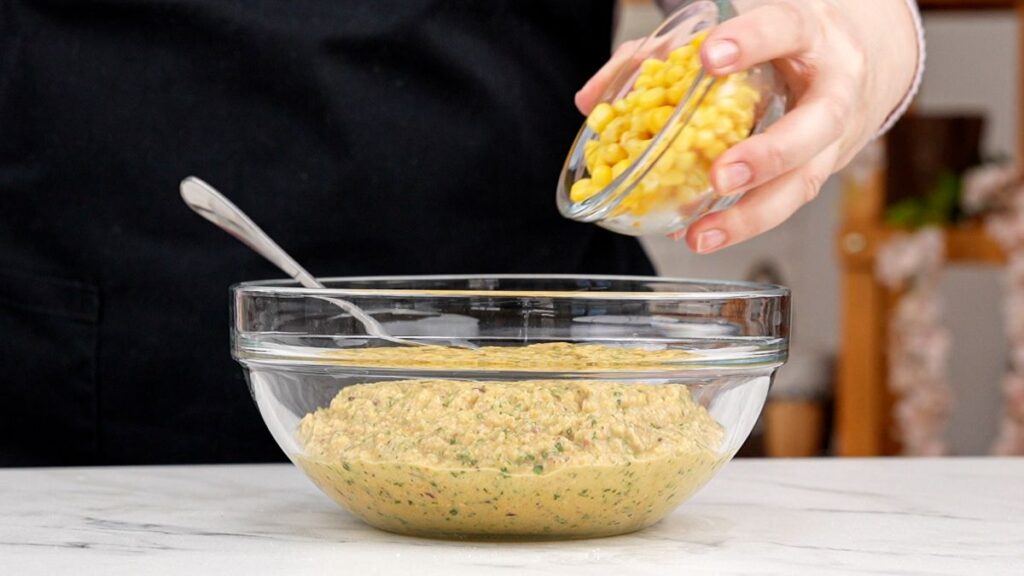 Then, using clean hands, divide the mixture and shape it into patties. Once shaped, sprinkle with paprika and freeze for 20 minutes.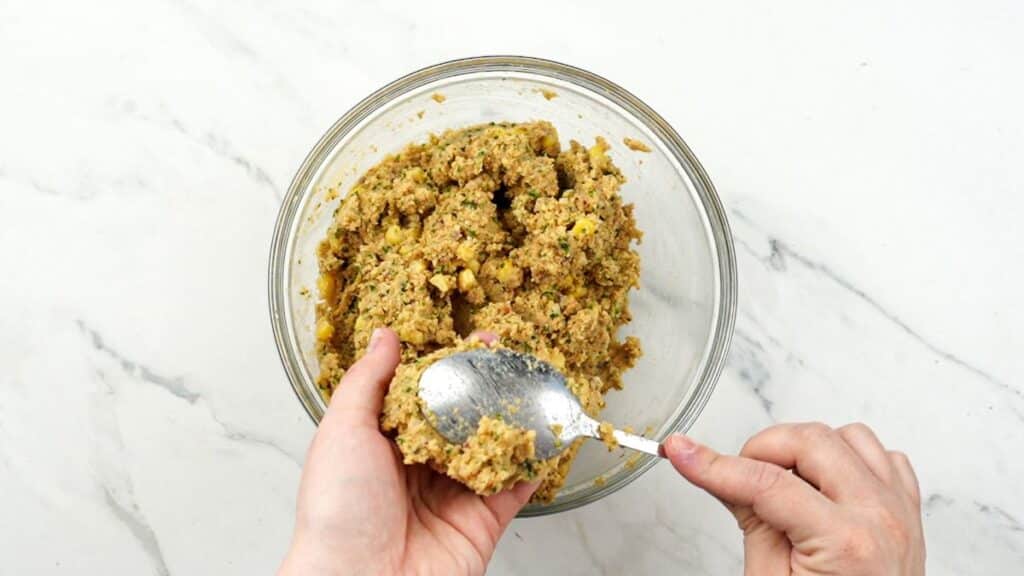 After they have been frozen for 20 minutes, remove them and heat your preferred oil in a large skillet over medium heat. Once hot, place the patties into the pan, being careful not to crowd them, and fry for 4 to 5 minutes per side, until golden, heated through, and crispy.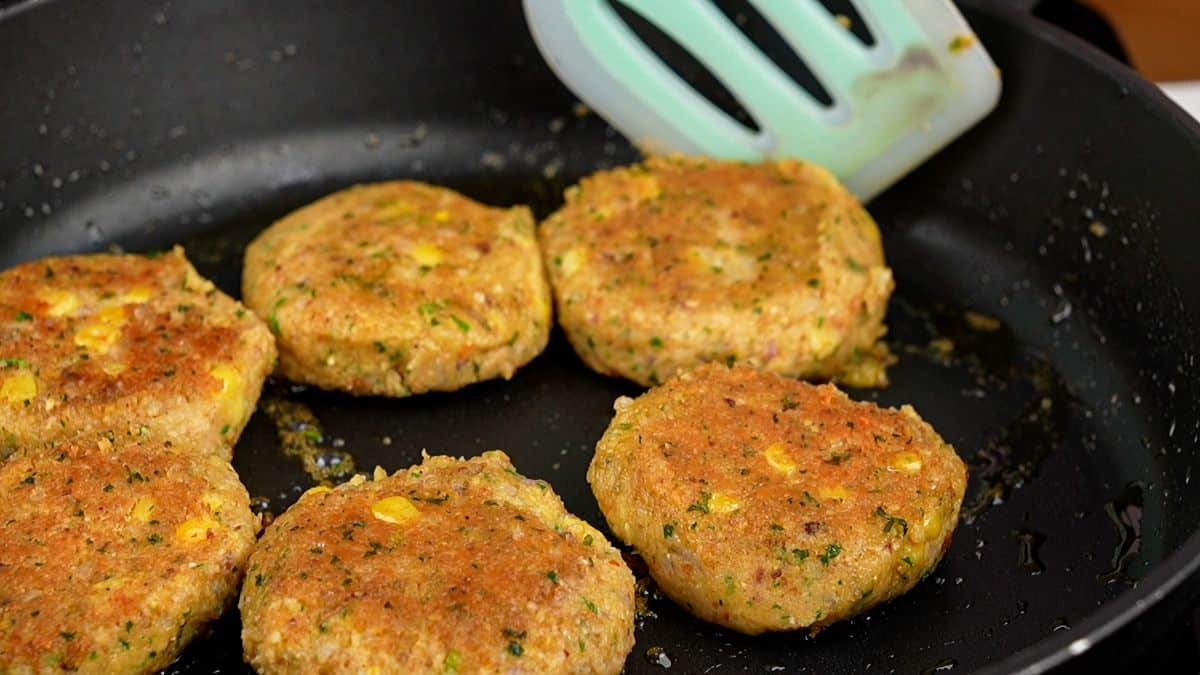 Chipotle Aioli Instructions
While the chickpea corn patties are freezing, you can prepare your aioli and salad dressing. In a food processor, you will pulse the vegan mayonnaise, garlic, lime juice, cumin, and chipotle pepper together. If using chipotle in adobo sauce, you will use just 1 pepper, and whatever sauce is clinging to it, but no additional sauce. Pulse this until a sauce forms, then set it aside.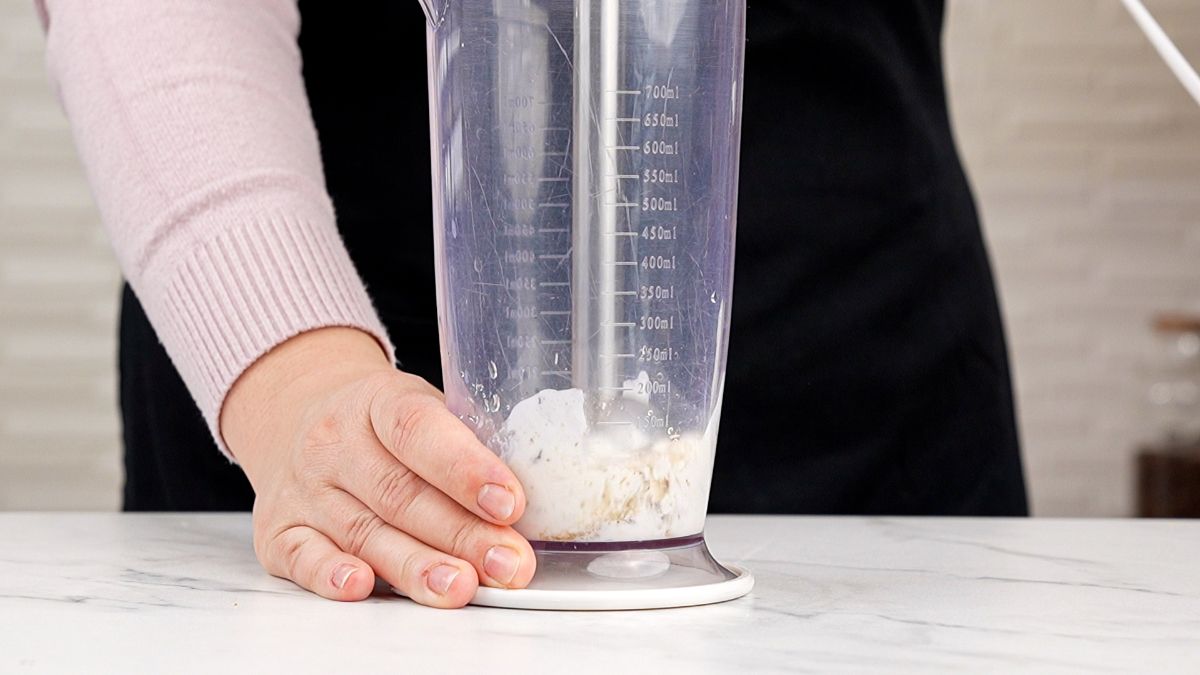 You can prepare the salad by assembling your greens and any other toppings such as onions, corn, tomato, cucumber, or bell pepper. Then make the dressing by putting the mayonnaise, garlic, basil, pepper, vinegar, olive oil, and salt together and pulsing in a food processor. If it is too thick, add additional water until desired texture. Set this aside.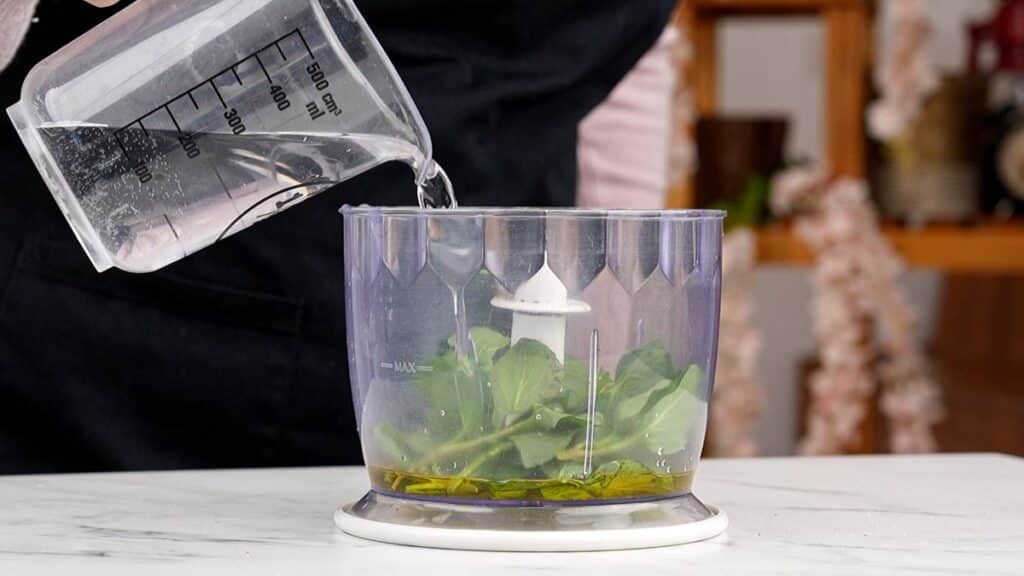 Serve the patties with aioli for dipping beside a side salad or your favorite greens.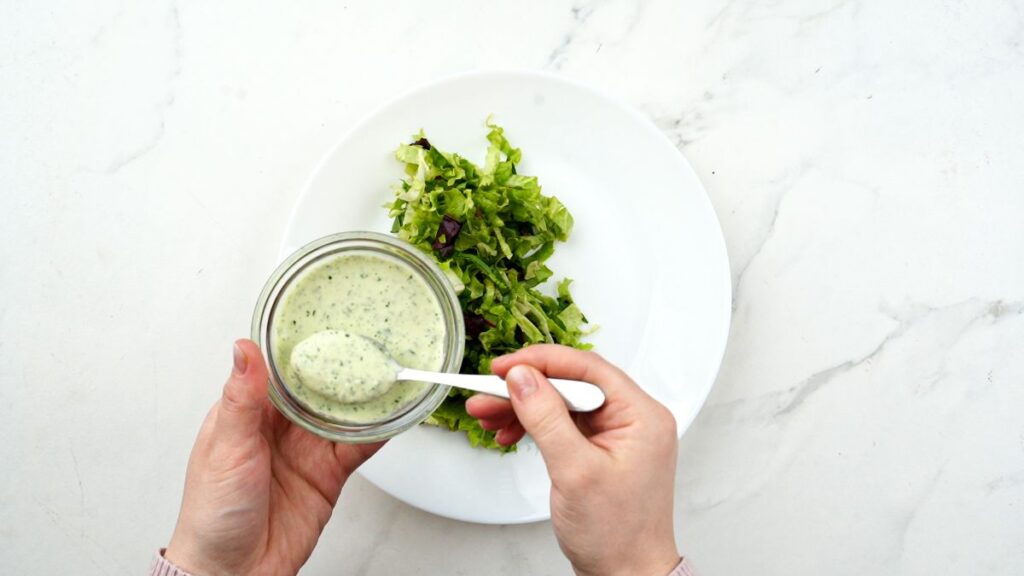 Substitutions
For this recipe, there are a few things you may want or need to change, depending on what is available to you. Below are some suggestions to consider.
Make your own homemade tofu mayonnaise to reduce preservatives in your meal.
Use fresh parsley if fresh cilantro is not available.
Fresh, canned, or frozen whole-kernel corn can be used with the same results.
Use seasoned breadcrumbs for more flavor.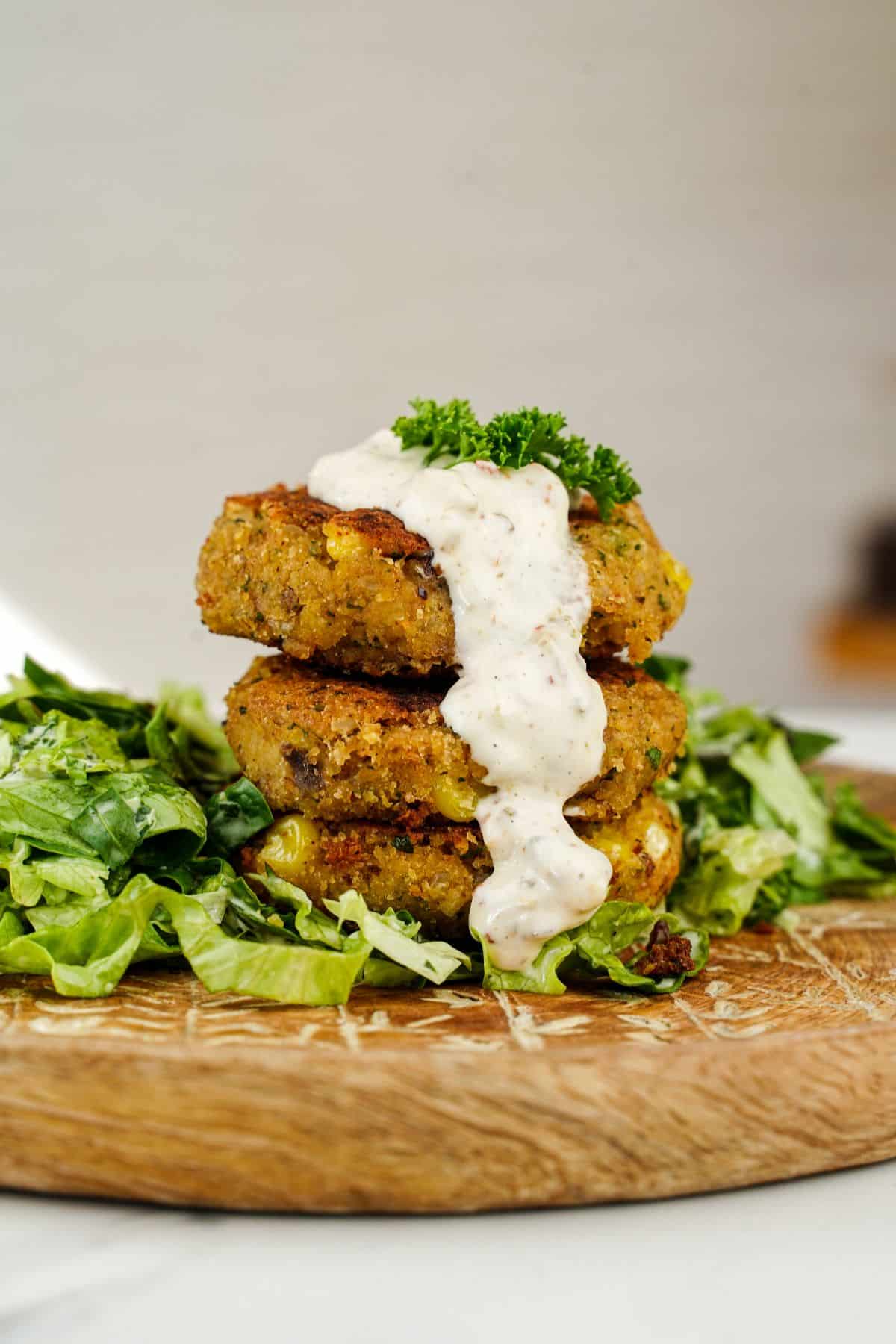 Variations
While this is a pretty basic recipe with not a lot of variation options, there are two that are nice for adding unique texture or flavor.
Use ½ cream corn and ½ whole kernel corn. This may require additional 1 or 2 tablespoons of bread crumbs.
Replace the brown rice with quinoa for added protein.
Equipment
Ideally, your kitchen is stocked already, but for this particular recipe, you will need the kitchen tools below.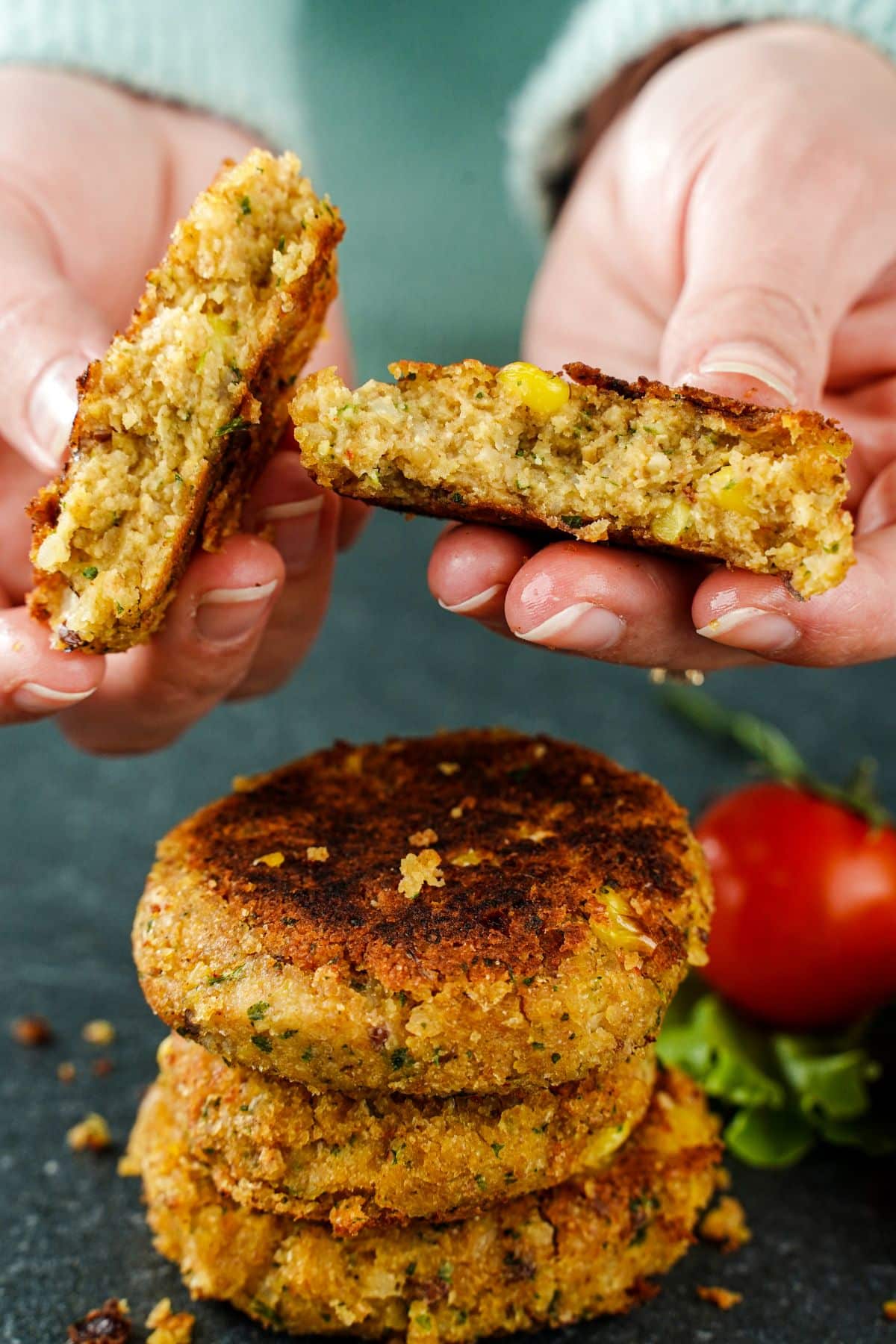 Storage
Chickpea corn patties can be stored in the fridge for up to 3 days or in the freezer for up to 2 months. To reheat, thaw the patties in the fridge overnight and then cook them in a skillet over medium heat for a few minutes per side, or until heated through.
Top Tip
Make large batches of these, freeze them, then put into a large freezer bag that has been dated and labeled. Pull them out to make just 2 or 3 at a time when needed.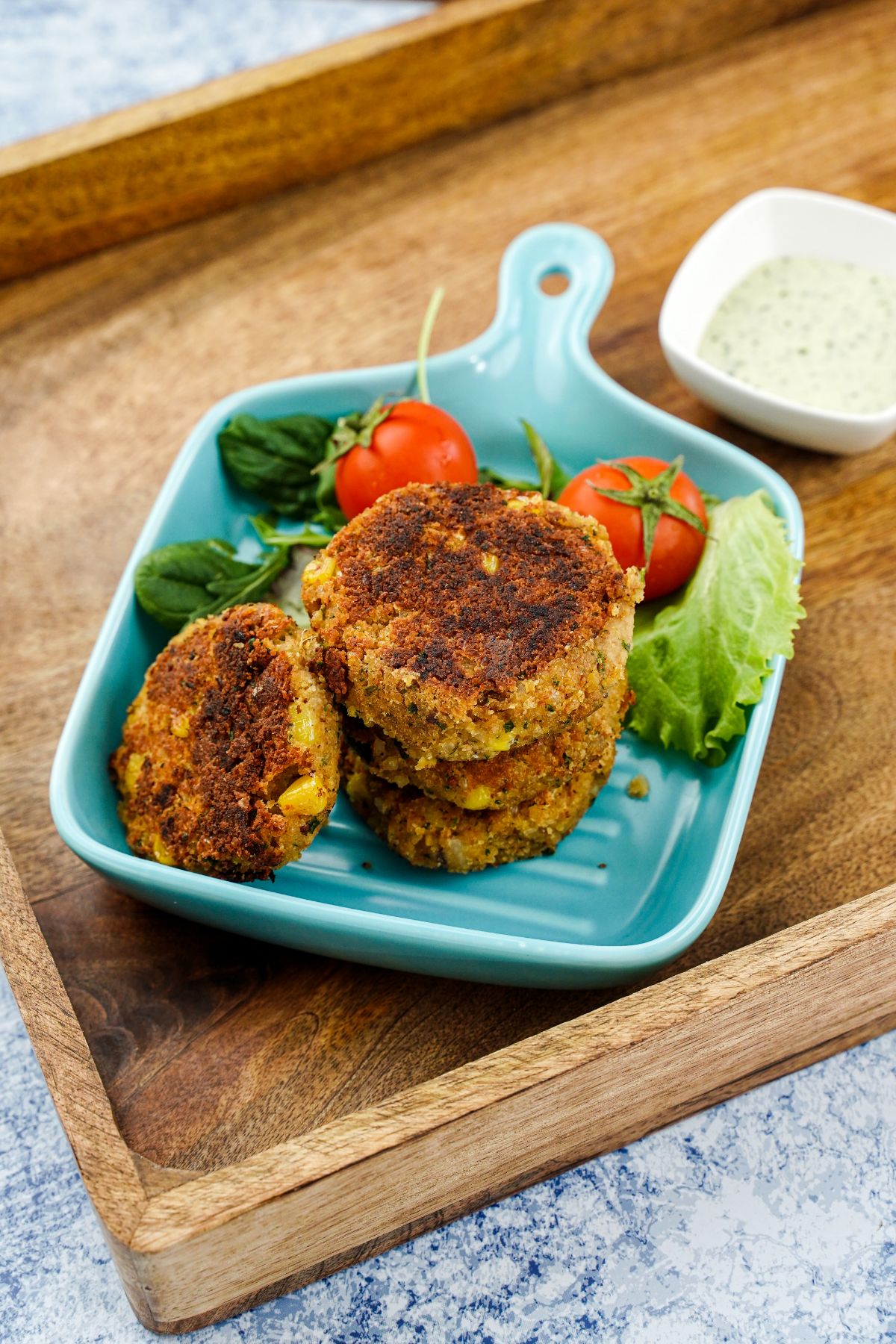 FAQ
How do I keep chickpea corn patties from falling apart?
To keep chickpea corn patties from falling apart, make sure the mixture is well-combined and that you use enough binder. The additional step of freezing them before frying also helps to keep their shape.
Can I make these in the air fryer?
Absolutely! If you prefer not to fry the patties, you can place them in an air fryer basket at 360°F for 2 minutes, flip them, and cook an additional 2 minutes. To get the brown edges you like, just spritz with olive oil spray before cooking.
Related
Want more tasty ideas for your menu? Check out these recipes using chickpeas.
Pairing
Not sure what to serve with these chickpea corn patties? These salads are perfect!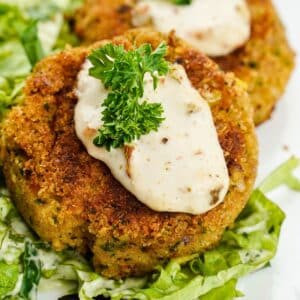 Crispy Chickpea Corn Patties
Elevate your snacking game with our vegan crispy chickpea corn patties that are a tasty, healthy, and satisfying option to munch on. You won't be able to resist asking for more!
Ingredients
For the chipotle aioli
Instructions
Place all the ingredients for the patties except the corn and the bread crumbs in a hand mixer and process until you get a paste. Pour the mixture in a big bowl, add the corn and the bread crumbs and stir the mixture until everything is well combined. You should get a thick mixture.

Form the patties with your hands and place them in a previously prepared baking sheet with baking paper. Sprinkle each of the patties with red paprika and freeze them for 20 minutes.

Meanwhile create the aioli by placing all the ingredients in a hand blender and mesh until you get a sauce.

Make the dressing for the side salad as well by blending and mixing all the ingredients except the green salad.

Now in a hot pot add some olive oil and fry the patties a few minutes on each side until they get a nice brown color.

Serve the patties in a big dish wide side salad together with the dressing for the salad. Lay a few patties in the dish and garnish them with aioli sauce.
Notes
Serve with tzatziki or vegan ranch instead of the chipotle aoli if desired.
If cooking chickpeas from dry, allow yourself the added time needed to cook these until tender.
Make in large batches and freeze for up to 3 months.
Nutrition
Calories:
630
kcal
Carbohydrates:
81
g
Protein:
15
g
Fat:
27
g
Saturated Fat:
3
g
Polyunsaturated Fat:
2
g
Monounsaturated Fat:
3
g
Sodium:
810
mg
Potassium:
546
mg
Fiber:
11
g
Sugar:
7
g
Vitamin A:
285
IU
Vitamin C:
6
mg
Calcium:
112
mg
Iron:
5
mg
Food Safety
Food safety is always important, even when creating vegan meals. Below are some tips for making sure you and your guests are always served safe foods from your kitchen.
Always sanitize countertops, cutting boards, utensils, and cookware thoroughly between each use.
Wash your hands in warm soapy water, rubbing for at least 20 seconds before rinsing. Remember, "FROG" means friction rubs off germs.
After serving food, allow it to cool, then place it into the refrigerator or proper storage immediately. Food should be at room temperature for no more than 2 hours for safety.