This Easy JUST Egg Omelette is so realistic, you'll have a hard time believing it's vegan! Stuffed with sauteed veggies and vegan cheese, this savory breakfast is an eggy delight you can turn to when you're craving the real thing.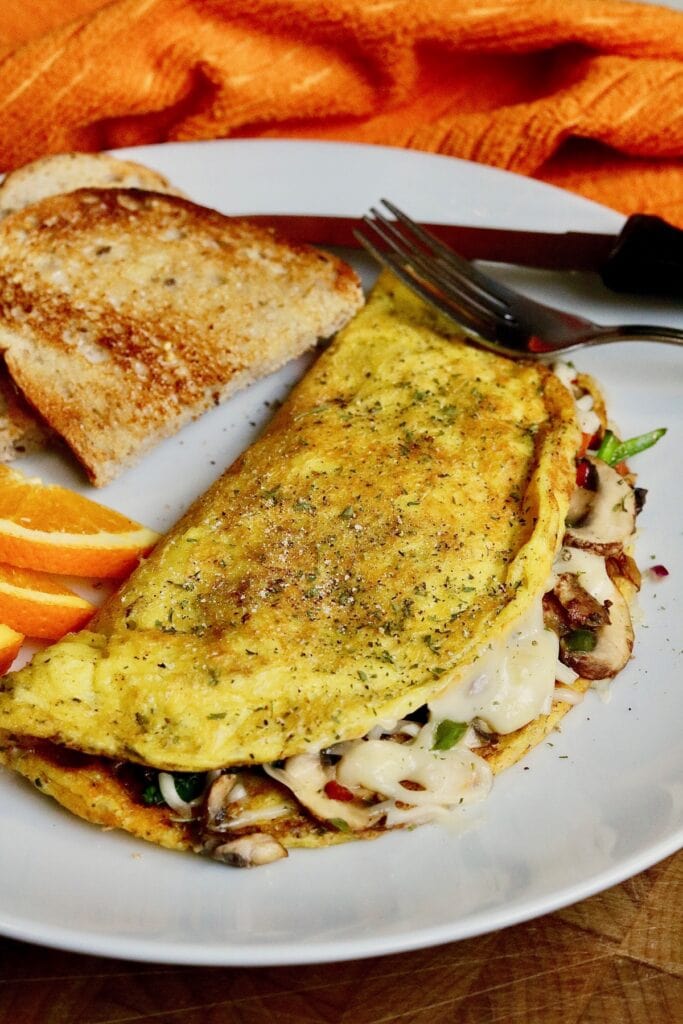 There's no way I would ever turn my nose up at Tofu Scramble or a chickpea flour omelette, but this Easy JUST Egg Omelette is just way too good to pass up! Made with the revolutionary JUST Egg liquid egg replacer, it looks, tastes, and feels just like a real one or two egg omelette.

Mixing the yellow egg replacer with a little flour, baking powder, and Italian seasoning helps the vegan egg fluff up just like a real egg omelette would. Filled with sauteed veggies and vegan cheese, every bite is super savory and irresistible! Make it a part of the ultimate savory vegan breakfast by serving it next to Breakfast Potatoes, Tofu Bacon, and bagels with cream cheese.
Jump to:
What is the JUST Egg and what does it taste like?
JUST Egg is a liquid vegan egg replacer made from simple plant based ingredients. The yellow liquid scrambles, fluffs, and cooks just like real eggs! You can use it to make more JUST Egg recipes like vegan omelettes, french toast, quiche, and more.
The taste is very similar to real eggs. Once it's done cooking, the JUST Egg omelette is nicely seasoned, savory, and tender. The texture is pretty much the same as the real thing too!
JUST Egg omelette ingredients
JUST Egg - This is just like liquid eggs, but made completely from plants! It tastes, looks, and feels just like real eggs.
Flour - All purpose flour mixed with JUST Egg will help keep the omelette held together. You can swap it for a 1:1 gluten free flour blend to make this a vegan gluten free omelette.
Baking powder - To help the vegan omelette fluff up.
Seasoning - I like Italian seasoning or dried dill for an herby flavor but you can garlic powder, paprika, or even nutritional yeast to elevate the flavors. Add a pinch of black salt (kala namak) to help it taste eggy.
Filling - I used a mixture of bell pepper, mushrooms, spinach, and vegan cheese. See below for even more filling options!
How to make a JUST Egg omelette
You'll need a 9 ½ inch non stick pan for this recipe. You can still use a smaller pan, like an 8-inch or less, but the omelette will be thicker and take a little longer to cook.
Make the vegan "egg" batter: Whisk the JUST egg, flour, baking powder, seasonings, and black salt together in a bowl.
Cook the filling: Saute the peppers, onions, and mushrooms in a nonstick skillet over medium-high heat with melted butter. Stir in the spinach. Transfer the cooked filling from the pan to a bowl.
Cook the vegan omelette: Lower the heat and add more butter to the pan. Pour the JUST Egg mixture into the pan. Cover with a lid so the top and edges can cook. When it's looking more set, flip the omelette over and cook for another minute or so.
Add the filling and serve: Sprinkle some vegan cheese, filling, and more cheese on one half of the omelette. Fold the other half over top and cover the pan with a lid so the cheese can melt. Serve and enjoy!
Vegan omelette filling and topping ideas
Vegetables: Onions, shallots, artichokes, broccoli, avocado, asparagus, tomatoes, black olives, bell peppers, or scallions.
Greens: Spinach, kale, or arugula.
Vegan cheese: Any shredded vegan cheese that melts well will do!
Beans: Black or pinto beans.
Vegan meat: Tofu bacon, diced vegan ham, or vegan sausage.
Toppings: Chives, green onions, cilantro, hot sauce, pico de gallo, salsa, chopped avocado, or guacamole.
Tips for success
Shake the bottle of JUST egg really well before using.
Saute the veggies in your omelette filling so they're more flavorful and tender.
Use a good quality non stick frying pan so the JUST Egg doesn't stick.
Instead of vegan butter, feel free to use olive oil or avocado oil instead.
Instead of cooking the vegan egg and filling separately, you can leave the filling in the skillet and pour the liquid JUST Egg right over top and let it cook.
Frequently asked questions
What is JUST Egg made of?
The main ingredients in the liquid JUST Egg are mung beans, carrot extract, and turmeric.
How much Just Egg is equivalent to one egg?
¼ cup from One bottle (or one serving) of JUST Egg is equivalent to one chicken egg. I'd suggest buying a few bottles at a time if you'd like to double the recipe or feed a crowd.
How else can you use JUST Egg?
Use it to make vegan scrambled eggs, wrap them up into a breakfast burrito, use it to make vegan quiche, dip bread in the liquid "egg" for french toast, or stuff the cooked "eggs" in a breakfast sandwich. The options are endless!
Where can you buy JUST Egg?
I'm so excited that JUST Egg is now in Canada! It's available in the refrigerated or egg section of and most Walmarts, some specialty grocery stores, across North America or you can buy it online. Use their website to find it in a store near you.


Looking for more vegan breakfast recipes?
Enjoy everyone! Happy Day! Please feel free to comment below and give this recipe a rating. Your feedback is greatly appreciated!
Follow me on PINTEREST and INSTAGRAM for more tasty Plant Based & Vegan Recipes❤️
Subscribe here for free weekly recipes delivered right to your inbox! No need to scour the internet. Your one stop shop for recipes is here😊 No spam I promise!
Print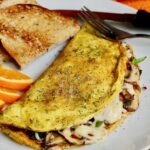 Easy JUST Egg Omelette
---
Author:

Verna

Total Time:

17 minutes

Yield:

1 Omelette

Diet:

Vegan
Description
This Easy JUST Egg Omelette is so realistic, you'll have a hard time believing it's vegan! Stuffed with sauteed veggies and vegan cheese, this savory breakfast is an eggy delight you can turn to when you're craving the real thing.
---
For omelette:
½ cup liquid JUST Egg

1 tablespoon all-purpose flour, or gluten free blend*

¼ teaspoon baking powder

¼ teaspoon italian seasoning, or dried dill (or use favourite blend)

Pinch of black salt (optional for eggy flavour)
For filling:
2 teaspoons vegan butter or oil, divided

Pinch of garlic salt, or one garlic clove chopped

⅓ cup (total) mixed bell peppers and red onions, diced small

½ cup sliced mushrooms

½ cup baby spinach, packed

⅓ cup vegan cheese, grated
---
Instructions
In a small bowl whisk together the omelette ingredients: JUST egg (shake well), flour, baking powder, seasonings and black salt. Set aside while you cook the filling

For filling: add 1 teaspoon vegan butter, peppers, onions, mushrooms, pinch of salt and pepper and garlic salt to a small non-stick frying pan (8 to 9 ½ inches). Saute over medium-high heat for a few minutes. Stir in spinach until wilted. Transfer veggies from the pan to a bowl, cover and set aside while you cook the omelette.

To cook the omelette: Lower heat to medium-low, to the same skillet add 1 teaspoon vegan butter, swirl the pan to coat evenly. Whisk and pour in the JUST egg mixture. As the edges start to set, run a flexible spatula around edges lifting up omelette slightly and tilting pan to let excess egg to pour underneath. Cover with a lid until the top of the omelette is almost cooked, just takes a couple of minutes. Gently and quickly flip over the omelette with a solid turner and cook for another minute or so.

Sprinkle half cheese on one side of the omelette followed by veggies and remainder of cheese. Fold over the omelette. Cover with lid to let cheese melt. Serve and enjoy! For step by step photos, FAQ, Tips and suggestions see above post.
Notes
Flour is optional

but the omelette will be more delicate and harder to flip so I suggest if not using flour, to cook the omelette completely with lid and without flipping, add filling and fold over.

Alternate cooking method:

Instead of cooking the vegan egg and filling separately, you can leave the filling in the skillet and pour the liquid JUST Egg right over top and let it cook.

For gluten free:

use gluten free flour blend

I use a non-stick

9 ½ inch pan

for this recipe. If using a smaller pan like 8 inch or less the omelette will be thicker and take a little longer to cook.

Alternative filling ideas

: asparagus, diced tomatoes, black olives, artichokes, broccoli, diced

vegan ham

or sausage, tofu bacon, and more! There's so many choices!

Toppings ideas:

chives, green onions, cilantro, hot sauce,

pico de gallo

, salsa, chopped avocado or

guacamole
Adapted from JUST egg omelette recipe
Prep Time:

10 Minutes

Cook Time:

7 Minutes

Category:

Breakfast & Baking, Gluten free

Method:

Stovetop

Cuisine:

American, Canadian
Keywords: just egg omelette