You'll Love my Easy Vegan Quiche! Puff pastry pie crust loaded with spinach, mushrooms and a delicious tofu 'eggy' filling! Perfect for Sunday brunch or holiday breakfast. Gluten free and crustless option!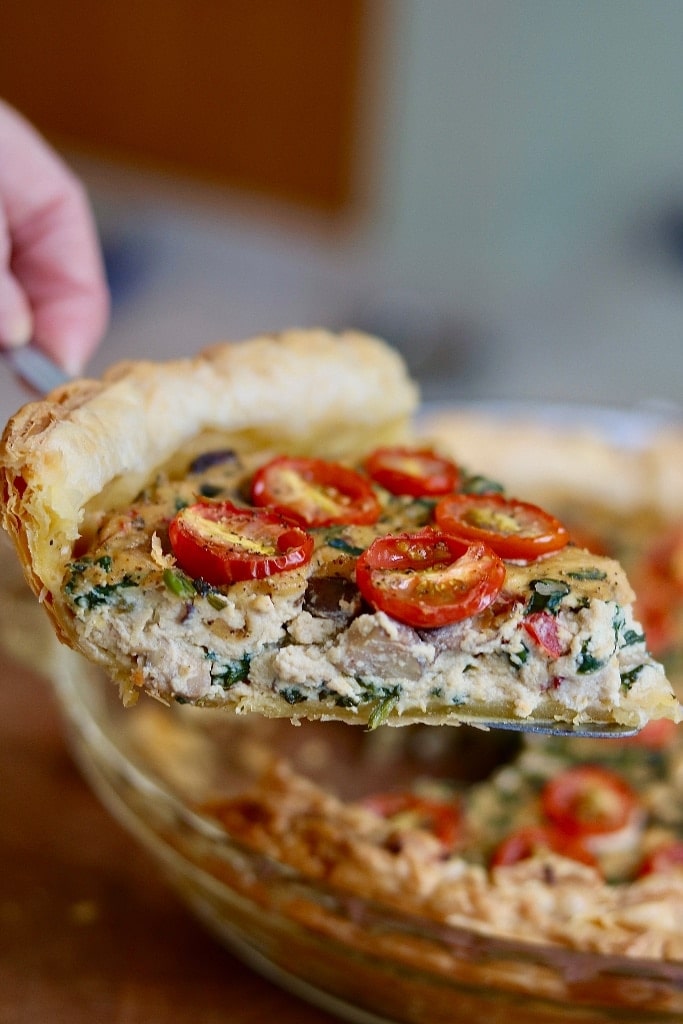 Ok we've all heard of Quiche Lorraine right? Sounds fancy doesn't it! Well my vegan quiche recipe tastes quite similar! Slightly smoky flavour, little cheesy with lots of wholesome and healthy vegetables! It's the best!
And it's very versatile so don't panic! You want broccoli or asparagus instead of mushrooms? go for it! Keep it cheeseless or add some grated vegan cheese? No problem! Maybe add some vegan bacon bits, yum!…Read on and I'll tell you more!
You don't have to be a vegan to enjoy this eggless quiche, everyone I've served it to raves about it! Egg eaters, vegetarians and meat eaters too! And don't worry it really is easy to make! and the filling is firm, not mushy at all!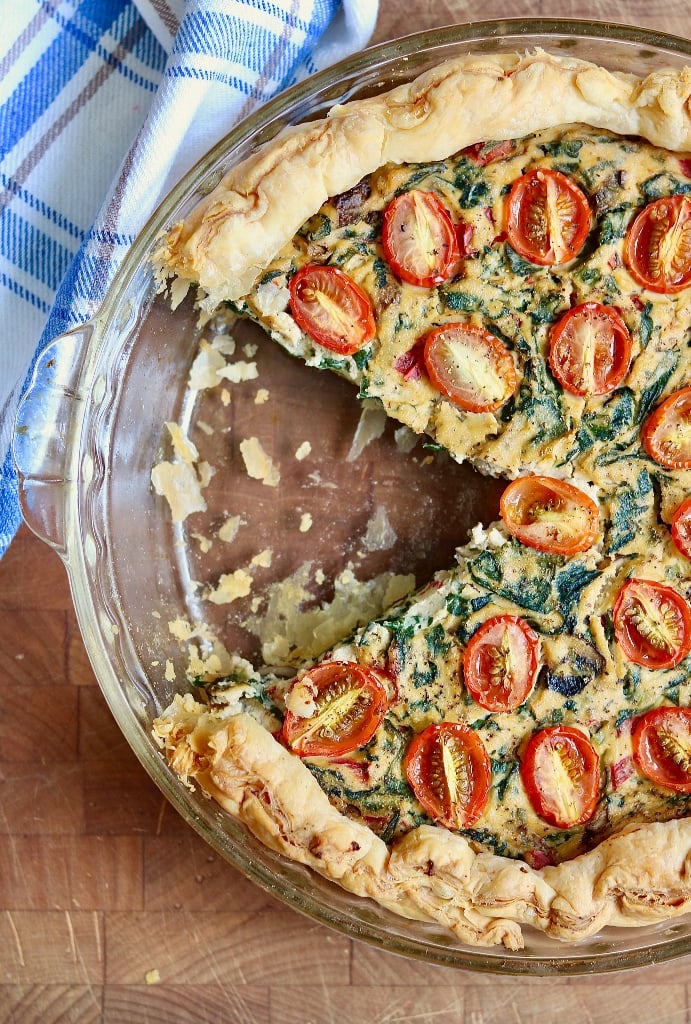 I used tofu as the egg replacer and black salt (kala namak) for the eggy flavour it works beautifully! And I totally cheat with a store bought puff pastry crust and it's so scrumptious!!
If you need an amazing easter quiche recipe this one's for you!
Options for the vegan quiche pie crust:
I use puff pastry for my tofu quiche recipe and it's fabulous just check ingredients to make sure it's dairy free and contains no lard. You could also use any pre-made regular, gluten free or home made pie crust. Frozen tart shells would be great also for vegan mini quiche! Or for a flourless quiche option go crustless (like a Frittata!)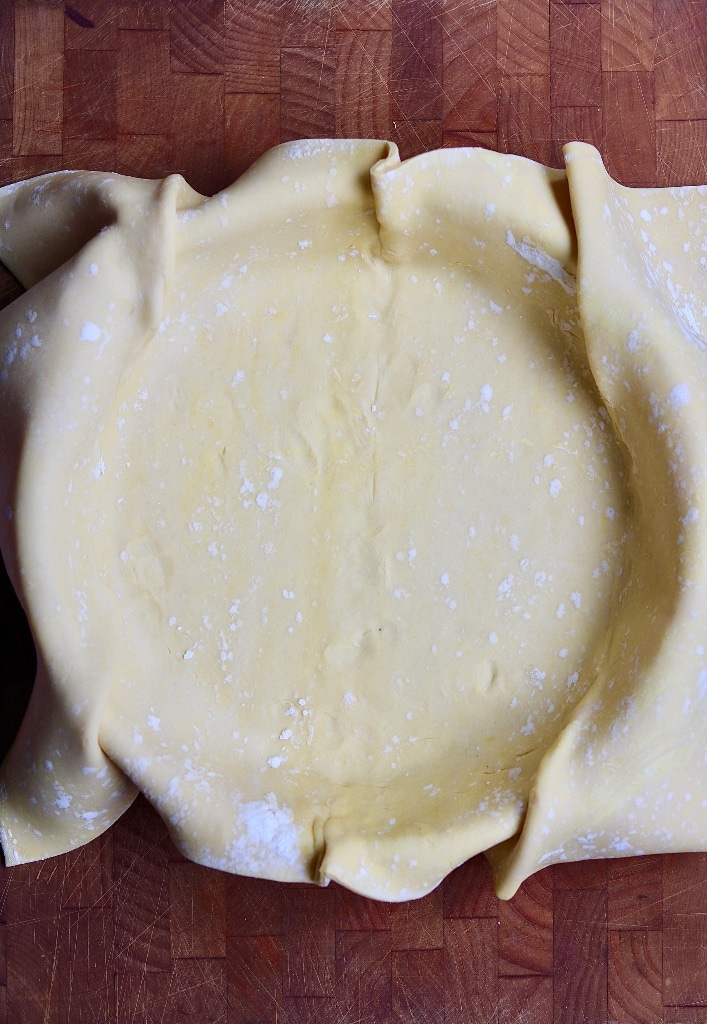 What is the best tofu to buy for vegan quiche?
I use only pre pressed tofu from the grocery store, I find it yields the best results in my opinion (not firm or silken tofu)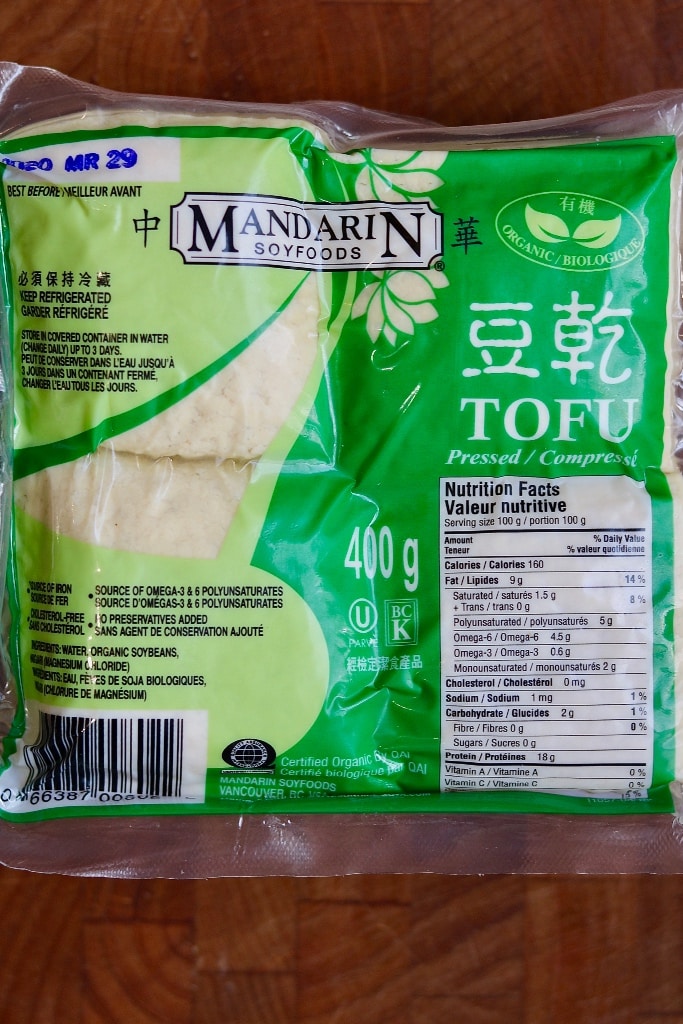 Substitutions/add ins for filling:
1 to 1 and ½ cups chopped broccoli florets or asparagus instead of 2 cups mushrooms (mushrooms shrink in volume that's why it's 2 cups)
stir in a couple tablespoons of vegan bacon bits
add ½ cup of your favourite vegan cheese, grated
sub fresh or dried dill instead of rosemary or a mixture of your favourite herbs
Can you freeze Vegan Quiche?
the quiche will keep in the fridge for 4-5 days and in the freezer for up to a month.

To reheat from frozen: defrost in the fridge overnight and reheat in the oven or microwave
How to make Vegan Quiche?
Preheat your oven to 400°
For the tofu filling: Break apart the tofu and add to your food processor along with the nutritional yeast, baking powder, salt, black salt, granulated garlic, granulated onion, and miso. Process until completely broken down, it will look like tiny little crumbles
Now add the plant milk, vinegar, Tamari and liquid smoke. Process until it is paste like. It will be really thick. You will have to stop and scrape down side a few times and push the mixture around with your spatula to help get it going. This will take a few minutes.
If you find it is not coming together then add one more tablespoon of plant milk. (this has to be very thick for the best texture when cooked so if you can avoid adding additional liquid don't👍). Set aside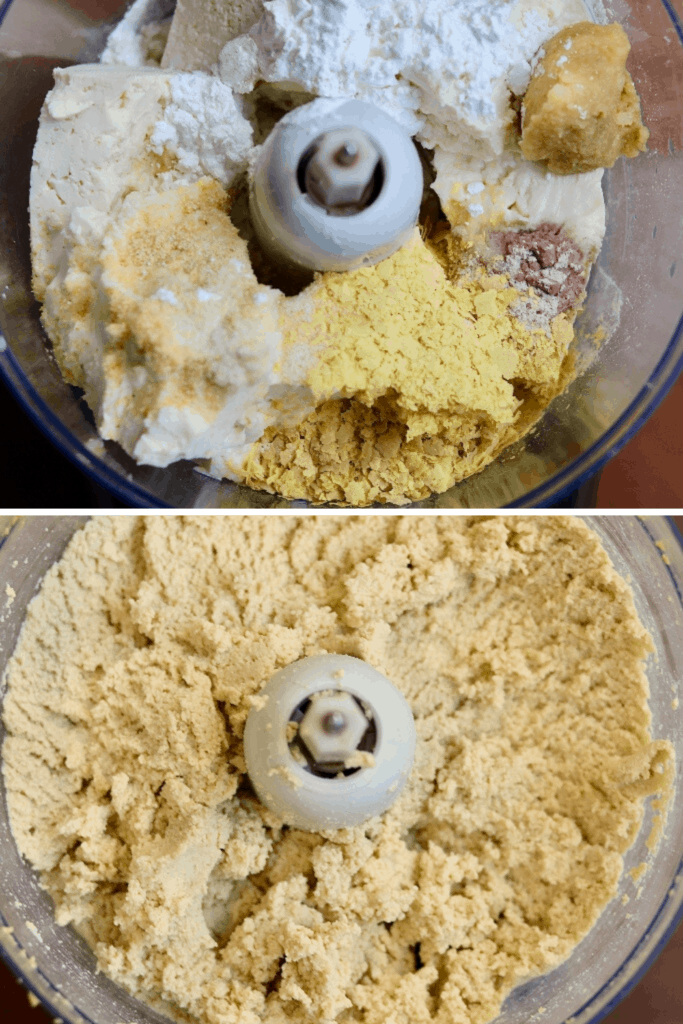 For the vegetable mix: Set a large non stick skillet to medium heat. once hot add the onions and peppers. Sauté over medium heat for 3 minutes. add the mushrooms, garlic and rosemary. Cook for 3 minutes or so until mushrooms are completely cooked down and have released their juices. Stir in the spinach and cook for another minute or so until it is wilted. Set aside to cool for 1-2 minutes.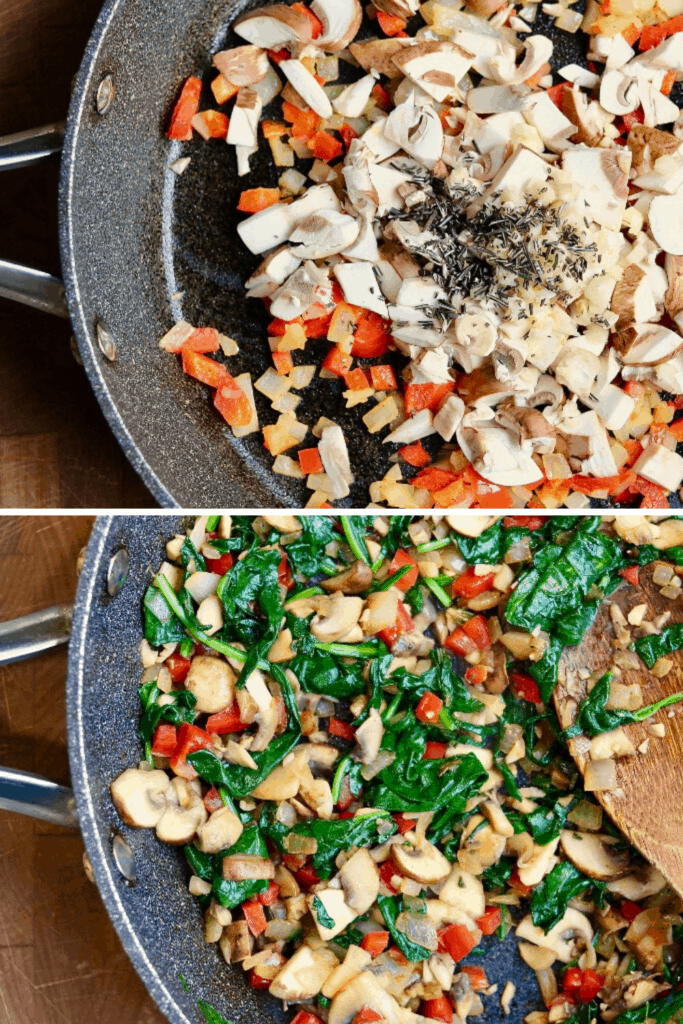 To assemble the quiche: Add the tofu filling to the cooked vegetables in the skillet. Mix well. (if using vegan cheese stir it in now). Set aside.
Place the puff pastry sheet over the pie plate and mold to fit. Trim the edges with a knife and flute them if you like.
Pour the quiche filling into the crust, making sure it's evenly distributed and pressed down. Add the tomatoes pushing them down slightly into the filling. Season with a little salt and pepper.
Bake uncovered for 1 hour. Cool for 20 minutes before serving so the filling sets. Enjoy! For full recipe ingredients and instructions see recipe card below.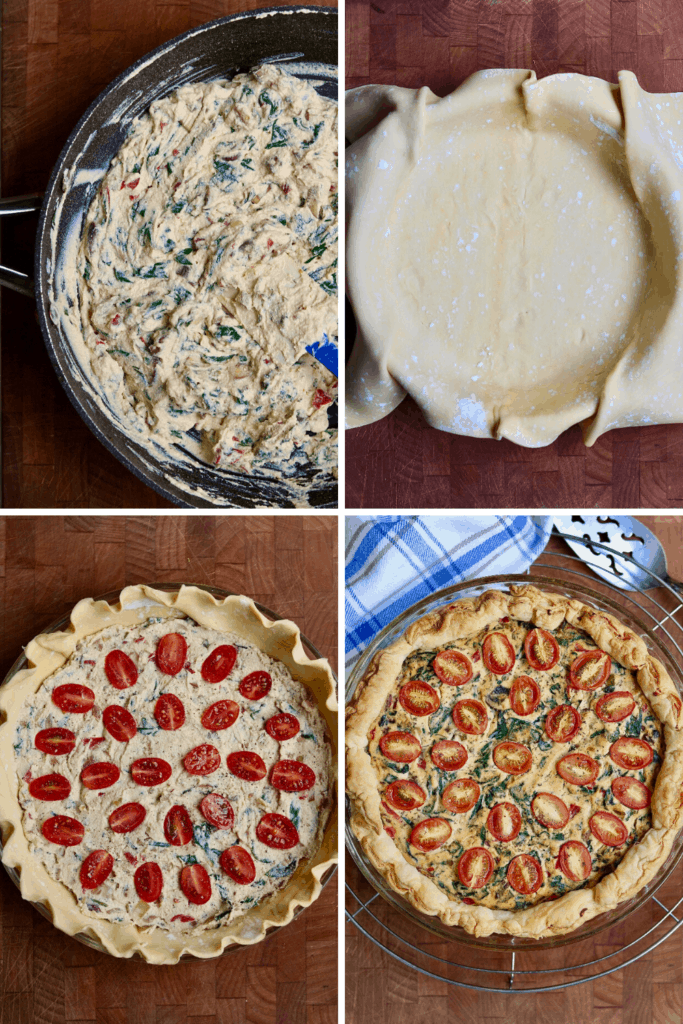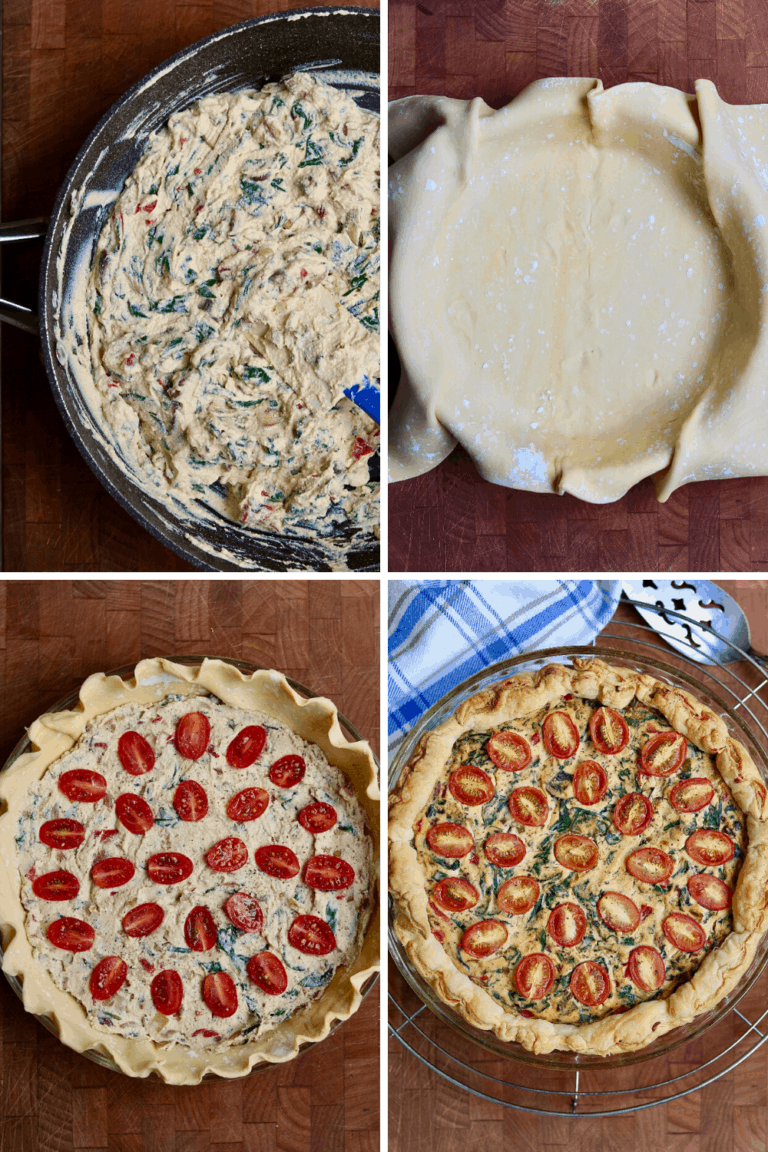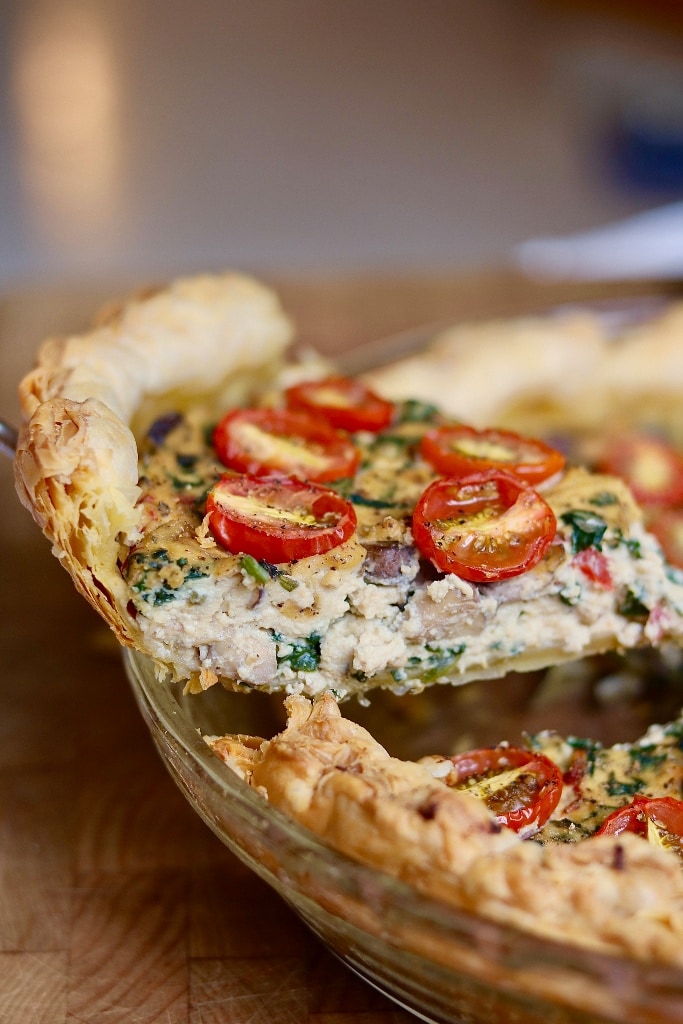 OK GUYS LETS MAKE VEGAN QUICHE, IT'S:
easy
full of protein
easily gluten free
healthy
hearty and filling!
great for breakfast, brunch or lunch!
customizable!
fabulous hot or cold
Enjoy guys! Happy day to you! feel free to leave a comment and a rating below. I would love to hear from you.
Follow me on PINTEREST and INSTAGRAM for more tasty Plant Based Vegan Recipes❤️
WANT MORE VEGAN BRUNCH RECIPES? CHECK THESE OUT!
Recipe adapted from Loving It Vegan, and my Vegan Spinach Artichoke Dip
Print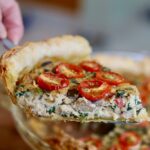 The Best & Easiest Vegan Quiche Recipe (Tofu)
---
Author:

Verna

Total Time:

1 hour 20 minutes

Yield:

6

-

8

Servings

1

x

Diet:

Vegan
Description
You'll Love my Easy Vegan Quiche! Puff pastry pie crust loaded with spinach, mushrooms and a delicious tofu 'eggy' filling! Perfect for Sunday brunch or holiday breakfast. Gluten free and crustless option!
---
1

sheet of puff pastry, defrosted*
For the tofu filling:
1

400 gram package pre pressed tofu (just under a lb) *

2 tablespoons

nutritional yeast

1 tablespoon

miso, I use Shiro Miso

½ teaspoon

baking powder

¾ teaspoon

black salt

½ teaspoon

salt

¼ teaspoon

granulated onion

¼ teaspoon

granulated garlic

4 tablespoons

unsweetened non dairy milk, I used unsweetened almond milk

1 tablespoon

vinegar

1 tablespoon

tamari

½ teaspoon

liquid smoke
For the Vegetable mix:
1

-

2

tablespoons vegan butter or olive oil

½

medium onion, diced

½ cup

red pepper, diced (or any colour)

2

-

3

cloves garlic, chopped small (minced)

2 cups

chopped mushrooms, cremini or white

2 cups

fresh spinach, packed then rough chopped

1 teaspoon

fresh rosemary, finely chopped
For topping:
½ cup

or so grape tomatoes, halved
---
Instructions
Preheat your oven to 400°
For the tofu filling: Break apart the tofu and add to your food processor along with the nutritional yeast, baking powder, salt, black salt, granulated garlic, granulated onion, and miso. Process until completely broken down, it will look like tiny little crumbles
Now add the plant milk, vinegar, Tamari and liquid smoke. Process until it is paste like. It will be really thick. You will have to stop and scrape down side a few times and push the mixture around with your spatula to help get it going. This will take a few minutes. If you find it is not coming together then add one more tablespoon of plant milk. (this has to be very thick for the best texture when cooked so if you can avoid adding additional liquid don't). Set aside
For the vegetable mix: Set a large non stick skillet to medium heat. once hot add the onions and peppers. Saute over medium heat for 3 minutes. add the mushrooms, garlic and rosemary. Cook for 3 minutes or so until mushrooms are completely cooked down and have released their juices. Stir in the spinach and cook for another minute or so until it is wilted. Set aside to cool for 1-2 minutes.
To assemble the quiche: Add the tofu filling to the cooked vegetables in the skillet. Mix well. (if using vegan cheese stir it in now). Set aside.
Place the puff pastry sheet over the pie plate and mold to fit. Trim the edges with a knife and flute them if you like.
Pour the quiche filling into the crust, making sure it's evenly distributed and pressed down. Add the tomatoes pushing them down slightly into the filling. Season with a little salt and pepper.
Bake uncovered for 1 hour. (Towards end of baking, if your crust is getting to brown for your liking, loosely tent the edges with tin foil). Cool for 20 minutes before serving so the filling sets. Enjoy hot or cold for breakfast or brunch! Delicious served with my breakfast potatoes, restaurant style salsa and a green salad! For step by step photos see above post 🔼
Notes
For gluten free: use a gluten free pie crust or make it crustless, spray pie plate lightly with cooking spray, add filling and bake for 45 minutes at 375°
Use any use any pre-made regular, or home made pie crust in place of puff pastry crust
If you can only find pre pressed tofu sold in 1 lb blocks just add another 1-2 tablespoons of plant milk to food processor
I ONLY use pre pressed tofu for this recipe, not firm or extra firm!😊 the results will not be the same!
Quiche will keep covered in the fridge for 4-5 days and will keep frozen for up to 1 month
To reheat from frozen: defrost in the fridge overnight and reheat in the oven or microwave
If you can't find black salt locally you can find it HERE this is where I buy mine
Substitutions/add ins for filling:
1 to 1 and ½ cups chopped broccoli florets or asparagus instead of 2 cups mushrooms (mushrooms shrink in volume that's why it's 2 cups)
stir in a couple tablespoons of vegan bacon bits
add ½ cup of your favourite vegan cheese, grated, my vegan mozzarella is great!
sub fresh or dried dill instead of rosemary or a mixture of your favourite herbs like basil,...etc
omit fresh tomatoes and instead add couple tablespoons finely chopped sun-dried tomatoes right to vegetable mix
Prep Time:

20 Minutes

Cook Time:

60 Minutes

Category:

Vegan Holiday Recipes, Breakfast & Baking, Gluten Free,

Method:

Oven/Stovetop

Cuisine:

French, American, Canadian
Keywords: easy vegan quiche, vegan quiche, vegan quiche lorraine, vegan quiche recipe, vegan quiche recipe tofu, eggless quiche, tofu quiche, brunch, holiday, easter