This meaty Vegan Lasagna recipe is layered with vegan bolognese sauce, tofu ricotta, zucchini, spinach, and vegan cheese sauce. It's hearty and so satisfying!
Can you think of a more comforting dinner than lasagna? I sure can't. This Vegan Zucchini and Spinach Lasagna Recipe is a must-have on your weekly dinner plan because it's meaty (without the real meat), family-friendly, and just plain satisfying!
Don't let "vegan" in the title sway you. A vegan lasagna is just as comforting, hearty, and cheesy as the real thing. You just need the right ingredients.
In this recipe, you'll find layers of homemade vegan bolognese (or vegan meat sauce) and vegan ricotta cheese to help replicate the cozy flavors from the classic. Zucchini, spinach, and tomatoes sneak in some extra nutrition while contributing to those crave-worthy Italian flavors. When all of the layers are combined, it's a flavor explosion.
And while you can follow this recipe to a tee and still be left with an epic dinner, lasagna recipes are very flexible. Add as much vegan cheese as you want (vegan mozzarella is always welcome here), swap the homemade stuff with storebought to speed up the process, or add even more veggies. Making this recipe your own is fun and always delicious.
Jump to:
Ingredients and substitutions
This lasagna recipe looks and tastes just like the classic, but it's made entirely with vegan ingredients:
Sauce - A meaty sauce is the best way to replicate the heartiness of a classic meat lasagna. You can achieve this by using my homemade vegan bolognese or vegan meat sauce. Both are easy to make with vegan "meat", tomatoes, vegetables, and simple seasonings. Make a fresh batch or do 1 or 2 days ahead of time and keep it in the fridge or freezer.
Vegan ricotta cheese - This creamy and spreadable vegan cheese is a must in the lasagna!
Lasagna noodles - You can use regular lasagna noodles or no-boil noodles.
Vegetables - Grilled zucchini, spinach, and sliced tomatoes are layered in with the lasagna for extra nutrition.
Vegan cheese sauce - This is a super simple sauce made with vegan mozzarella cheese shreds, dairy free milk, vegan butter, and yellow mustard (dijon works too). It bubbles and firms up as the lasagna bakes, making every bite extra cheesy. Keep this recipe handy, as the sauce can be used to make vegan mac and cheese or even on a vegetarian pizza.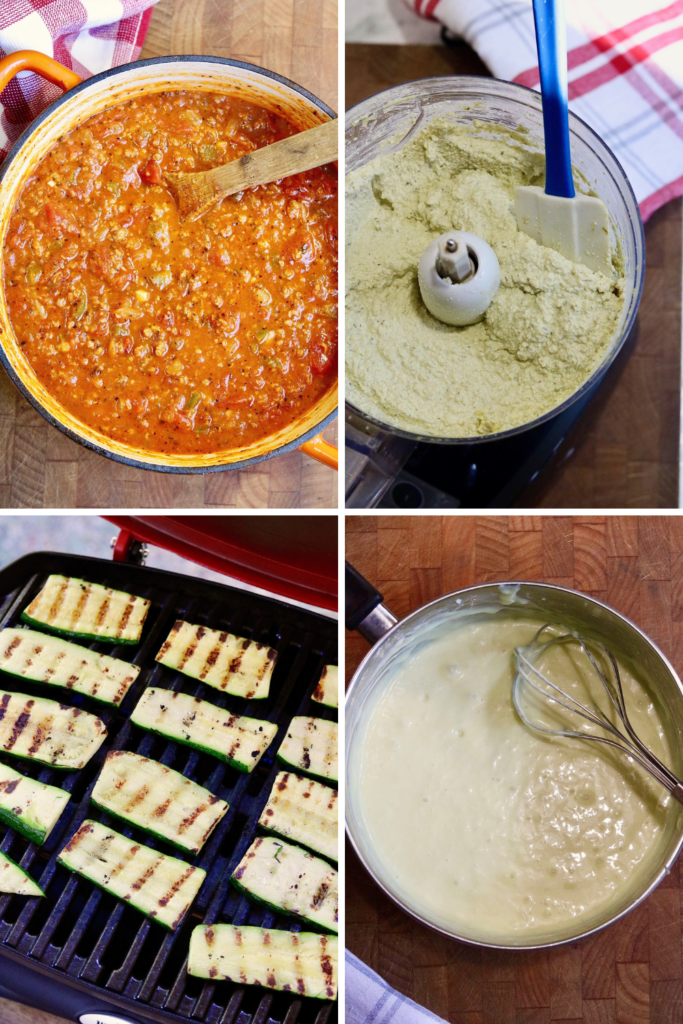 How to make vegan lasagna
Step 1: Make the sauce and ricotta. Make the vegan bolognese or meat sauce and ricotta cheese if you haven't already done so.
Step 2: Cook the zucchini. Slice the zucchini into strips and toss them in a bowl with oil. Pan fry the strips until they're almost tender.
Step 3: Cook the noodles. If using regular noodles, boil them according to the package instructions. Drain and rinse under cold water to prevent them from sticking.
Step 4: Make the cheese sauce. Add the ingredients to a saucepan. Cook over medium heat while stirring until the vegan cheese has melted and you're left with a gooey sauce. If it's too thick, add a little more plant milk to thin it out.
Step 5: Assemble the lasagna. You can follow the order below or use it as a basic guide before doing your own thing:
Spread a scoop of sauce on the bottom of the baking dish.
Add a layer of noodles.
Spread more sauce on top of the noodles. Top with sliced zucchini and tomato slices.
Add a layer of noodles.
Spread the cashew ricotta over the noodles.
Top with spinach, then more sauce.
Add the final layer of noodles.
Spoon the cheese sauce evenly over top and season with a little salt and pepper.
Step 6: Bake. Cover the dish with foil, then bake the lasagna.
Step 7: Slice and serve. Let the lasagna cool for at least 10 minutes before slicing and serving. Enjoy!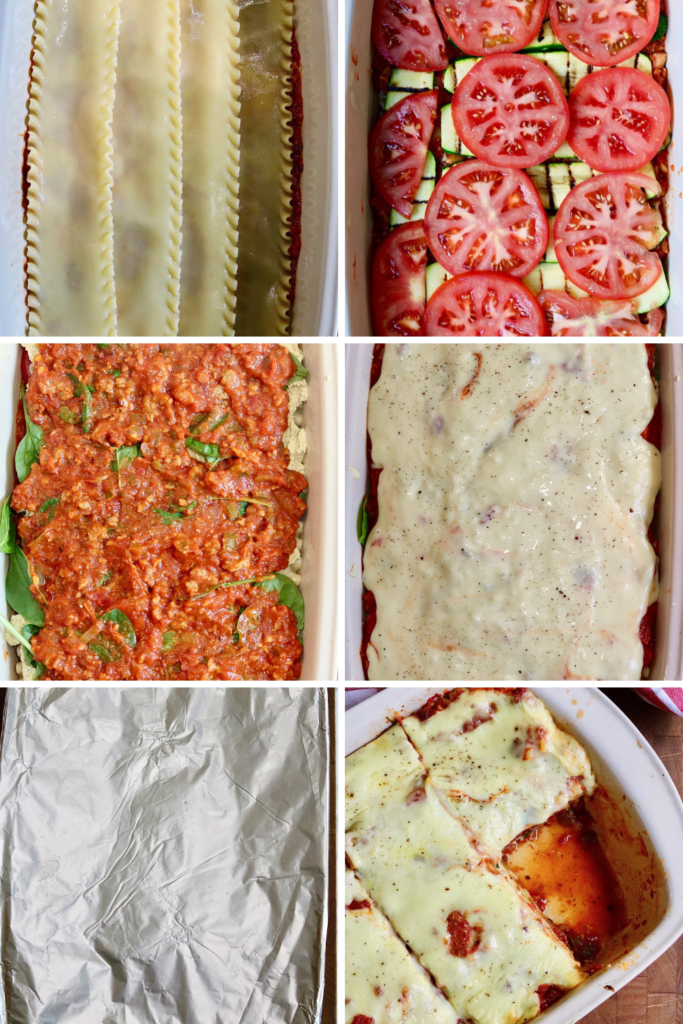 Serving suggestions
Lasagna for dinner only gets better with the right sides! Some fresh artisan bread or focaccia is a must. Complete the meal with a side of caesar salad, broccoli salad, or split pea soup and enjoy!
Variations
Save time with storebought ingredients - While homemade is always the best way to go, this vegan lasagna can be made with storebought marinara sauce, vegan ricotta, or vegan shredded cheese instead.
Use different vegetables - Like thin carrot strips, sliced and grilled eggplant, sauteed mushrooms, or steamed kale.
Instead of the cheese sauce - Top the lasagna with a layer of shredded vegan mozzarella or cashew cheese sauce instead.
Make a vegan white lasagna instead - Swap the tomato sauce for a vegan bechamel sauce or alfredo sauce.
Add more cheese - Go all out with as much shredded or sliced cheese in between the layers as you want. Sprinkle vegan parmesan over the cheese sauce on top to really make it cheesy. There's nothing wrong with more cheese!
Frequently asked questions
Do you have to pre-cook the lasagna noodles?
Only if you use regular lasagna noodles. No-boil or oven-ready noodles don't need to be pre-cooked.
Can it be made gluten free?
Sure! Just swap the regular lasagna noodles for gluten free lasagna noodles.
Is it nut free?
No, the vegan lasagna is not nut free because the dairy free ricotta is made with cashews. If you need it to be nut free, omit the cashews from the ricotta or use a store-bought nut free vegan ricotta instead.
How long do the leftovers last?
Any leftover lasagna can be stored in an airtight container in the fridge for 4 to 5 days.
How do you freeze lasagna?
Both the assembled unbaked or baked lasagna can be frozen for up to 3 months. Keep the baking dish wrapped in plastic or foil to prevent freezer burn. When it's time to eat, defrost the lasagna in the fridge overnight, then bake in a 350ºF oven until warmed through.
Want more vegan comfort food recipes?
Enjoy everyone! Happy Day! Please feel free to comment below and give this recipe a rating. Your feedback is greatly appreciated!
Follow me on PINTEREST and INSTAGRAM for more tasty Plant Based & Vegan Recipes❤️
Subscribe here for free weekly recipes delivered right to your inbox! No need to scour the internet. Your one stop shop for recipes is here😊 No spam I promise!
Print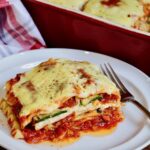 Vegan Zucchini and Spinach Lasagna Recipe
---
Author:

Verna

Total Time:

1 hour 25 minutes

Yield:

8-12 Servings

Diet:

Vegan
---
For lasagna:
5 and 1/2 to 6 cups vegan meat sauce or bolognese sauce (see notes)

1 and 1/2 cups vegan ricotta cheese

2 small zucchini, cut lengthwise into 1/4 inch slices

2 large tomatoes sliced into ¼ inch slices (enough for a layer)

Handful of fresh spinach

12 lasagna sheets (I always cook a few extra noodles) use gluten free if needed

Vegan cheese sauce, recipe below (see notes for options*)
Cheese sauce:
1- 200g package of vegan mozzarella cheese shreds

3/4 cup unsweetened plant milk, I use soy milk

1 tablespoon vegan butter

1 and 1/2 teaspoons yellow mustard
---
Instructions
Sauce:

First make the

vegan meat sauce

or

bolognese

according to instructions. Set aside, off the heat uncovered until needed.

Ricotta: Make tofu ricotta in your food processor. Set aside

Veggies: Toss sliced zucchini with a little olive oil and grill or pan fry a couple minutes on each side until almost tender. Set aside on a plate. Slice tomatoes as well and set aside

Noodles: Cook lasagna noodles according to package instructions in a large pot of boiling water with a good pinch of salt and drizzle of oil. Drain and add back to the pot with cold water until needed.

Cheese sauce: While noodles are cooking add cheese sauce ingredients to a medium saucepan/pot cook while stirring until completely melted and gooey, add a little more plant milk if needed. Set aside.

Assemble Lasagna: Preheat oven to 350° First layer: In a 9x13 deep dish lasagna pan spread 1 cup of 'meat' sauce evenly on the bottom. Add 4 noodles lengthwise overlapping a bit for the bottom layer. Top with 1 and 1/2 cups sauce, add a layer of zucchini, then a layer of tomatoes.

Second layer: Add another 4 noodles, spread 1 and 1/2 cups vegan ricotta over noodles followed by a single layer of spinach and another 1 and 1/2 cups meat sauce.

Third layer: Layer on another 4 noodles (final layer) spread 1 and 1/2 cups pasta sauce over noodles. Pour or spoon cheese sauce evenly over the top. Season top with a little salt and pepper. Cover the dish tightly with tin foil.

Bake for 50 minutes. Uncover and broil for a couple of minutes if desired. Cool for 10-15 minutes. Slice, serve and enjoy!
Notes
Cheese sauce:

instead of making sauce you could simply add a layer of vegan cheese shreds, store bought or homemade

vegan mozzarella.

Or for a more plant based topping use my cheese sauce from my enchilada recipe.
No boil noodles: if using ready made noodles for lasagna I suggest adding more sauce and baking an additional 10 minutes.
Sauce: Make sure sauce is sufficiently thick -cook a little longer at the end uncovered if necessary to achieve the right consistency (you don't want a watery lasagna)

Can easily make the sauce and ricotta a day or two ahead just let come to room temp before using.

Store:

will keep covered in the fridge for 4-5 days and freezes well. To reheat from frozen: defrost in the fridge overnight and reheat in the microwave or a 350° oven for 30 minutes or until heated through.
Recipe originally published Nov, 2018. It has been updated with new photos and easy to follow instructions. Recipe itself is unchanged.
Prep Time:

30 minutes

Cook Time:

55 minutes

Category:

Mains, Gluten free

Method:

Oven baked

Cuisine:

Italian, American, Canadian